Paris or Madrid? City Comparison for Expats & Tourists
May 30, 2023
Updated:

May 30, 2023
Published: May 30, 2023
The City of Lights or "De Madrid al Cielo"? Both are iconic and energetic cities with many activities and things to do and an incredible cultural experience, raising the dilemma for people looking for one that better suits their needs.
In this article, I'll compare Madrid and Paris regarding cultural offerings, overall quality of life, affordability, transportation, vibes, and so on. With this, I would like you to have the best information to weigh your options in case you can only choose one.
In terms of size, it is important to begin by stating that, compared to Madrid, the Parisian region has 1.8 times more inhabitants. However, in extension, it is only 1.5 times larger.
With this said, let's travel to Europe's prime destinations!
---
Madrid vs. Paris: A Clash of Lifestyles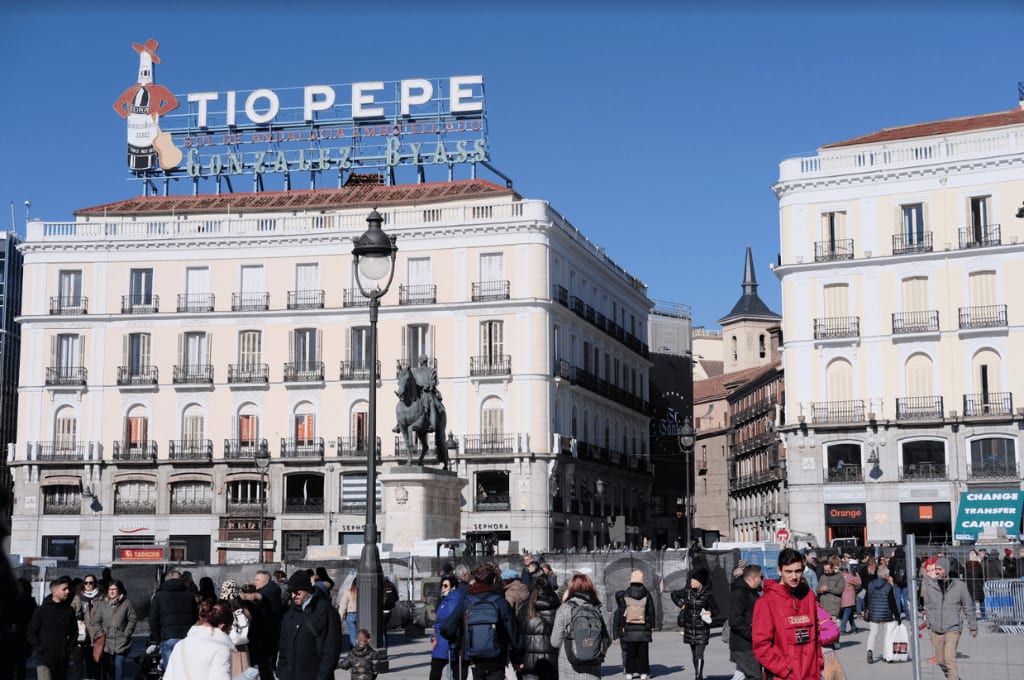 According to an analysis that the Deutsche Bank has done, Madrid is a city with an excellent quality of life. It is ranked 23rd among the 50 cities in the world with the highest quality of life, ahead of cities such as London, Paris, and New York.
The quality of life in Madrid is higher than in other European cities such as London (ranked 33rd), Paris (32nd), or Dublin (28th). The quality of life in Madrid is even better than in New York! (31st place).
Why is this? Very easy; Madrid has excellent air connections, good salaries, a great cultural mix, the weather, health care, and a wide range of cultural and leisure activities, among many other significant characteristics. Also, Madrid excels as a long-stay destination for those who want to work here. The city offers the perfect work-life balance.
📌Read more: 12 Best Tips for Living in Madrid: Real-Life Pros & Cons
Affordability: Madrid's Budget-Friendly Appeal
Every Spaniard knows that the average daily cost (per person) in Paris is €233. If we compare with the average everyday price in Madrid, there is a massive difference as the average is €136.
These costs include accommodation (assuming double occupancy), food, transportation, and entertainment. Going on, if we only compare the average cost for one night in a hotel, we see that in Paris, the price is two times the price in Madrid (302€ in Paris vs. 153€ in Madrid). 
🥘Food
| Food | Madrid | Paris |
| --- | --- | --- |
| Meal, Inexpensive Restaurant | 12.85 $ | 16.06 $ |
| Meal for 2 People, Mid-range Restaurant, Three-course | 50.86 $ | 64.25 $ |
| McMeal at McDonalds | 8.57 $ | 10.71 $ |
| Domestic Beer (0.5 liter draught) | 3.11 $ | 7.50 $ |
| Imported Beer (0.33 liter bottle) | 3.21 $ | 6.42 $ |
| Cappuccino (regular) | 2.13 $ | 4.04 $ |
| Coke/Pepsi (0.33 liter bottle) | 2.50 $ | 3.22 $ |
| Water (0.33 liter bottle) | 1.64 $ | 2.66 $ |
🚊Transportation
| Transportation | Madrid | Paris |
| --- | --- | --- |
| One-way Ticket (Local Transport) | 1.61 $ | 2.25 $ |
| Monthly Pass (Regular Price) | 54.61 $ | 90.06 $ |
| Taxi Start (Normal Tariff) | 3.75 $ | 5.35 $ |
| Taxi 1km (Normal Tariff) | 1.12 $ | 2.00 $ |
| Taxi 1hour Waiting (Normal Tariff) | 23.56 $ | 48.19 $ |
| Gasoline (1 liter) | 1.77 $ | 2.11 $ |
🧰Utilities
Utilities
Madrid
Paris
Basic (Electricity, Heating, Cooling, Water, Garbage) for 85m2 Apartment
148.83 $
210.93 $
1 min. of Prepaid Mobile Tariff Local (No Discounts or Plans)
0.05 $
(0.04 €)
0.25 $
Internet (60 Mbps or More, Unlimited Data, Cable/ADSL)
31.55 $
32.67 $
🏘️Rent
| Rent | Madrid | Paris |
| --- | --- | --- |
| Apartment (1 bedroom) in City Centre | 1,072.73 $ | 1,298.37 $ |
| Apartment (1 bedroom) Outside of Centre | 810.79 $ | 990.15 $ |
| Apartment (3 bedrooms) in City Centre | 1,802.13 $ | 3,002.34 $ |
Museums Galore: Paris' Artistic Splendor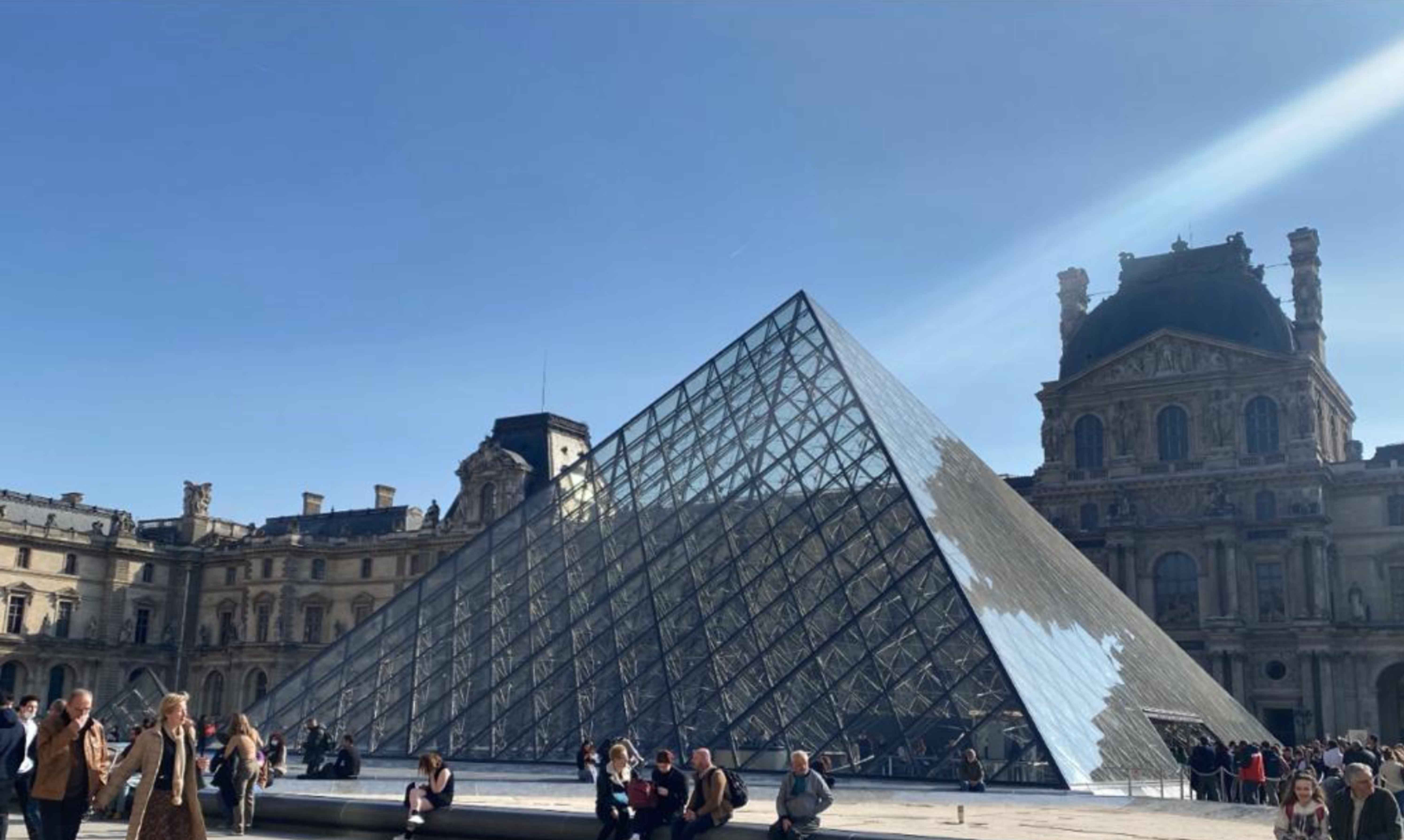 As an artistic capital and one of the world's top tourist destinations, Paris has more than 150 museums. These are just three essential museums that you can't miss on your visit to Paris:
Louvre Museum: The Louvre Museum is the most important in the country and one of the most visited worldwide; more than 10 million people visit its collections yearly.
Orsay Museum: The Musée d'Orsay is dedicated to 19th-century art and covers the artistic periods between the Louvre collection and that of the Pompidou Center.
Pompidou Center: Also known as Beaubourg, the Pompidou Center is a museum that houses one of the best collections of modern and contemporary art in the world.
On the other hand, Madrid has excellent museums such as Prado, Thyssen or Reina Sofia. Still, Paris has 107 more museums than Madrid, as Madrid has 45 museums in total.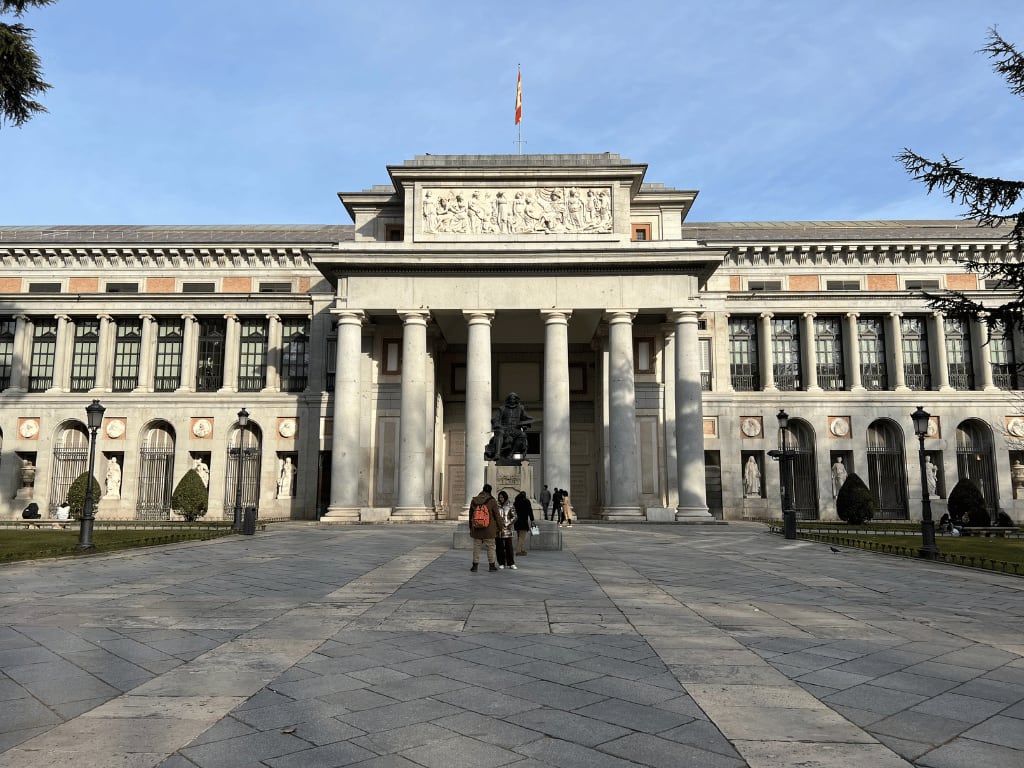 And wouldn't you think that Madrid doesn't have significant museums because of this? On the contrary! The Prado Museum is a remarkable national museum of Spanish art with more than 7,500 priceless European masterpieces dating from the 12th century to the early 20th century, visited by more than 2,000,000 people yearly. 
📌Read more: The Best 13 + 1 Museums in Madrid: It's Not All About Art!
Sustainability Showdown: Madrid's Eco-Friendly Ranking
Madrid is the second most sustainable city in the world; Paris is in 24th place.
Our Spanish city that takes sustainability very seriously, and I will tell you why! 
According to a study by Uswitch, Madrid is the second most sustainable city in the world. The study is about energy, transportation infrastructures, affordability, pollution, air quality, CO2 emissions, and % of green space. 
The main reason to have Madrid in the second position of this ranking is that it obtains 77% of its energy sustainably and achieves 82.6% thanks to its transport infrastructure. The initiative of planting one tree for every 20 inhabitants has been very effective. As a result, the city has more than 300.000 trees with 6.400 hectares of green areas.
Just see how many activities visitors can enjoy here… It's amazing!
📌Read more: Spring in Madrid: 13 Best Places To See & Things To Do
So, Madrid is surrounded by green areas and nature. Because of this advantage, most people who live here and move to the city outskirts to settle down and have their families can enjoy many natural places, green paradises, and quick getaways. What a luxury!
Festive Charm: Christmas in Madrid and Paris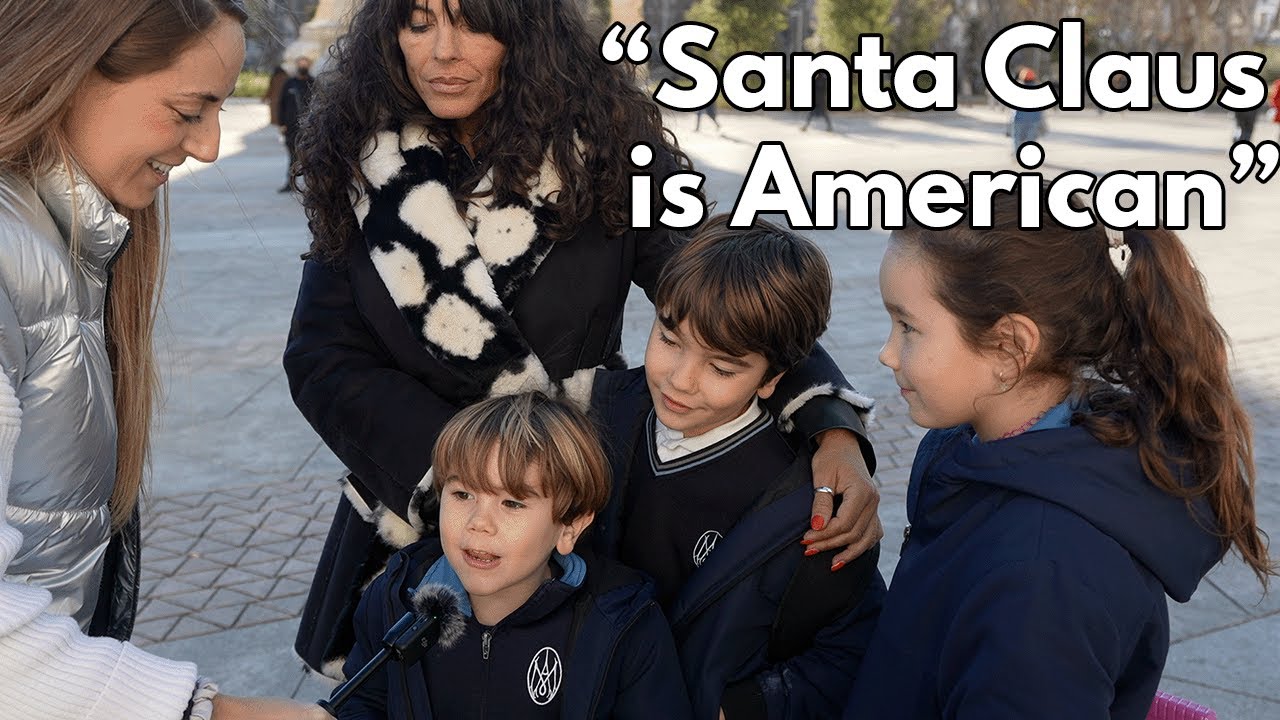 In Paris, there are usually many activities and places to see, but during Christmas, its charm multiplies. The French capital dresses up for Christmas with its elegant illumination, where visitors will have entertainment activities for adults and children. 
Each avenue is filled with Christmas decorations creating the most diverse projections and luminous arches. All its historic buildings and monuments have Christmas lights. It would be best if you took advantage of strolling through its most important streets to see the illumination of Paris during this time.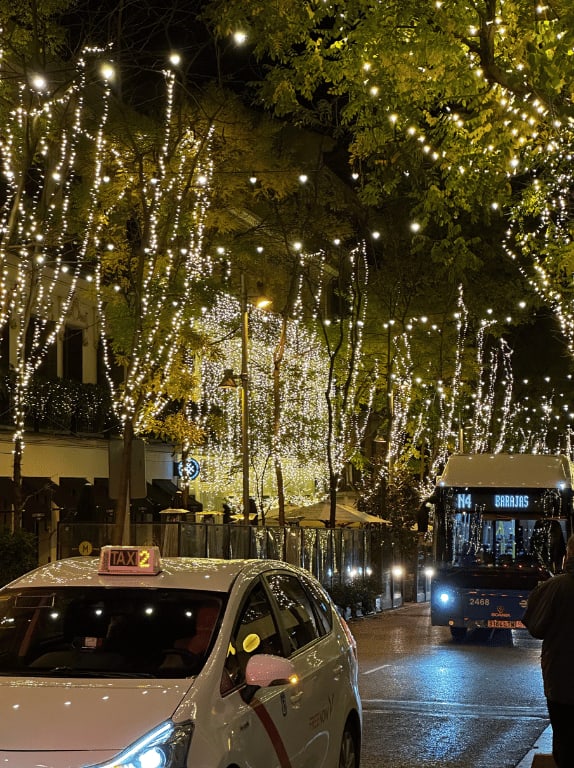 Conversely, Madrid is also one of the top destinations worldwide and a magnificent place to visit during Christmas! A large number of activities are displayed all over the city of Madrid.
During these dates, several cultural and leisure activities occur in the capital, making this time of the year one of the most visited by tourists in Madrid.
The Christmas illumination, as is traditional, becomes the protagonist of the streets of Madrid. It is an excellent excuse to stroll during these dates through the squares and streets of the city center.
I promise you there's nothing like the feeling of waking up to the sound of Christmas carols and songs, with zambombas and tambourines, eating castañas asadas from small kiosks at street level, and spending some quality family time in Madrid's beautiful atmosphere. 
Safety First: Madrid's Secure Environment
According to an analysis in The Economist, which evaluates the most secure cities, the list includes two Spanish cities. Madrid is in the 21st place on the list, especially for its citizens' health and safety.
It appears ahead of others, such as Paris or Taipei. Madrid and Barcelona are the only Spanish cities among the 25 safest in the world.
Madrid is one of the cities with the lowest crime rates on the continent. The Numbeo portal, which is a portal that compares different statistics and standards of living between cities around the world, ranks the Spanish capital 79th in the world in terms of safety and among the safest cities in the world. 
Romantic Retreat: Paris' Charm for Couples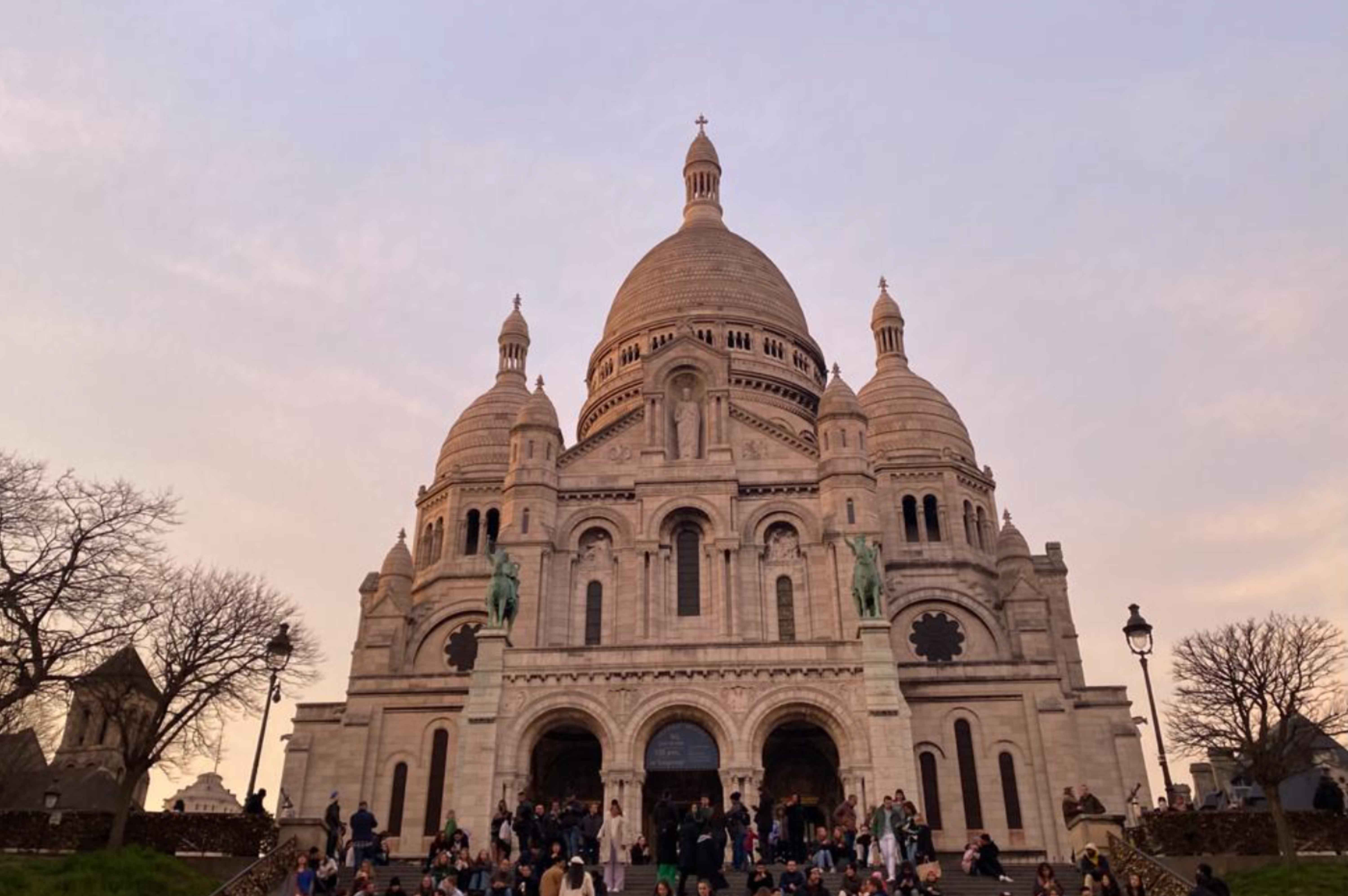 Madrid and Paris have fun activities for couples and are good places to visit. However, Paris is indeed known as the city of love. 
Paris is filled with romance, which has always been sold as the ideal destination for a European honeymoon or a couple's getaway.
Plans such as going to the top of the Eiffel Tower, visiting the Arc de Triumphed, going to the beautiful cathedral of Notre Dame, the Basilica of the Sacred Heart, its stately avenues, its magnificent bridges, and its large squares and avenues make Paris the city of love par excellence in Europe.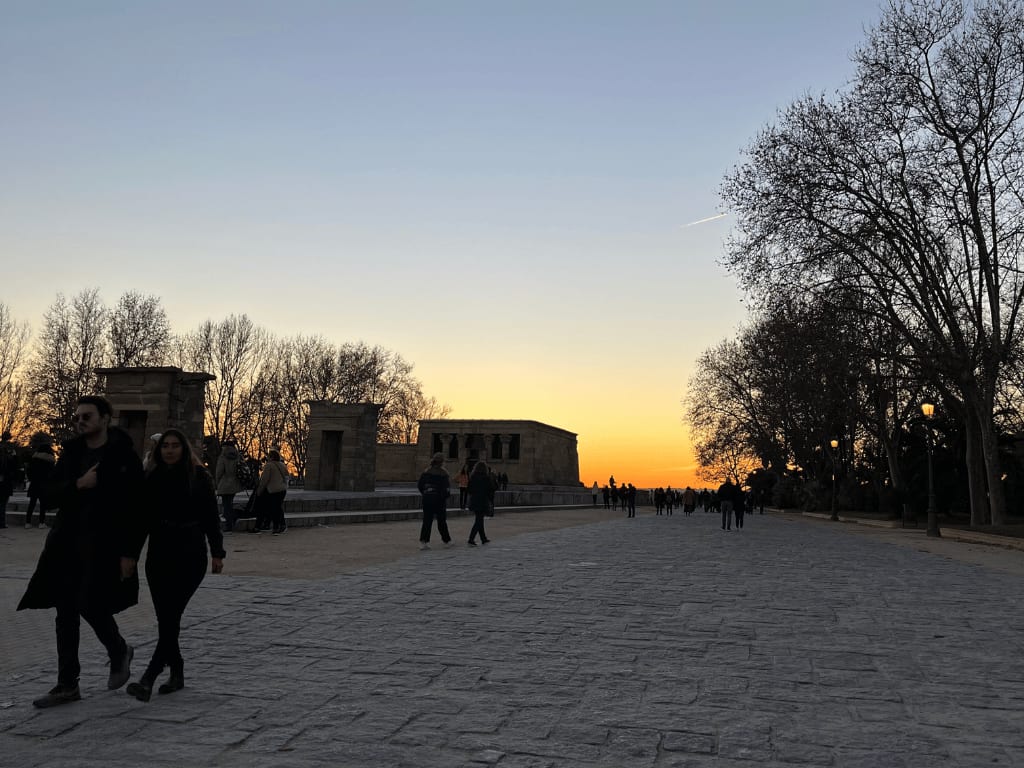 Overall, the vibes are more romantic in general. Still, if you'd like to enjoy some romantic activities in Madrid, please watch the sunset at Templo de Debot. You'll see it has nothing to envy in any other city!
If you want to know what it is like to date in Spain, watch the following video.
Captivating Nicknames: "De Madrid al Cielo" vs. City of Light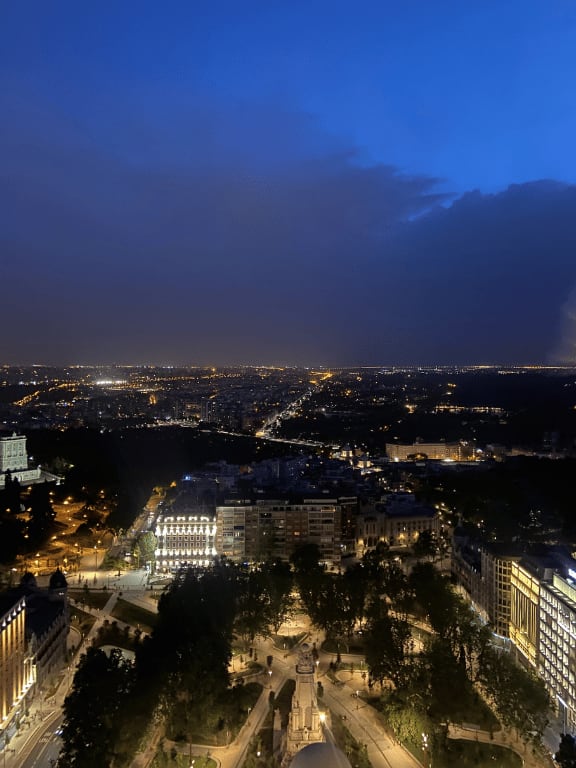 One of the nicknames people say about Paris is the "city of light." But why do they call the city with this nickname? At the beginning of the 19th century, Paris became the first European city to use gas lamps for public lighting.
They used this nickname because of its public lighting and because it was the world capital of the Enlightenment in the 18th century.
This technological progress led to inventions such as the cinema, the use of electric light in streets and homes, the production of steel, and new means of transportation.
These developments greatly influenced the way of life and the new art trends of the early 20th century.
Whereas this nickname has caught everyone's attention, a motto that so many people currently have in mind when they visit the capital of Madrid is: "De Madrid al cielo" This means that the best place in the world to live is in Madrid and after Madrid, only heaven is better. 
There are many theories about where that saying came from. One of the ones that I like the most is from a proverb by Luis Quiñones de Benavente in his work "Baile del invierno y del Verano," by Luis Quiñones de Benavente, a well-known playwright of the Golden Age.
Guess you have to live it to understand it!
Efficient Transport: Madrid's Metro Advantage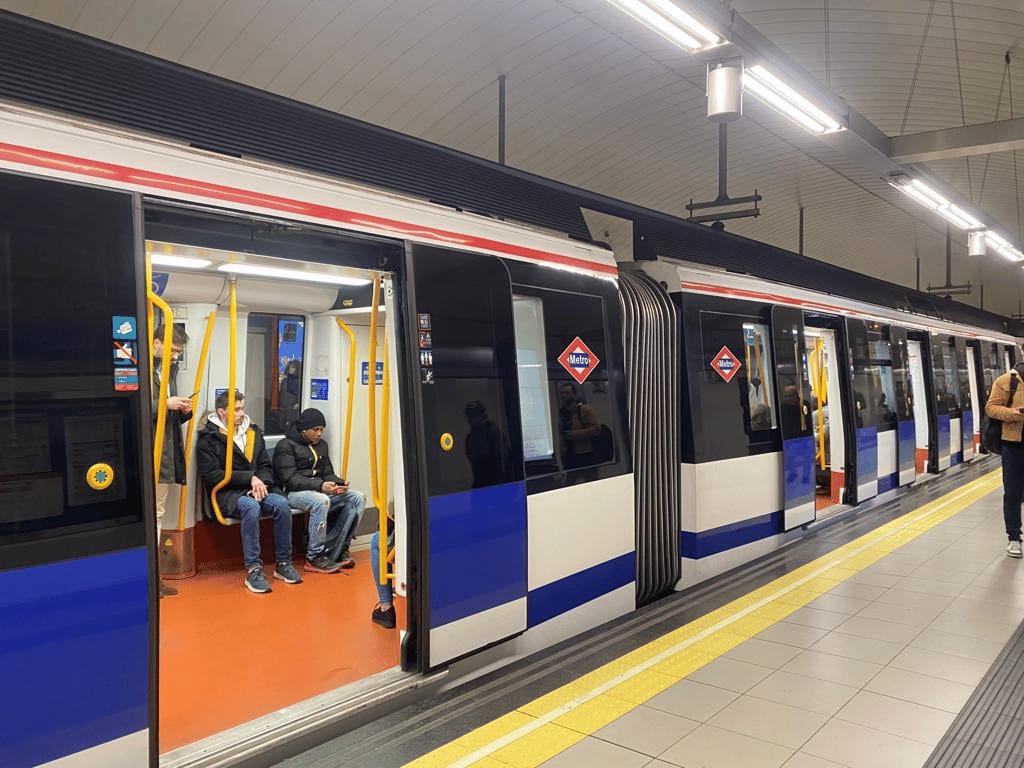 The Madrid metro is an extensive and well-developed system, with 13 main lines and a network of stations covering almost all of the city and its surroundings.
What I like the most about the metro of Madrid is that metro stations are located at reasonable distances from each other, which facilitates mobility and access to different areas of the city. 
The Madrid metro is generally known for being punctual and efficient, with regular train frequencies and good waiting times in between.
Although the Madrid metro can be busy, especially during peak hours, it tends to be less congested than the Paris metro, which as a result Madrid metro make more comfortable journeys. As well, the Madrid Metro is cheaper compared with Paris. 
But both the Paris and Madrid metro are reliable and efficient transportation systems. 
Bike-Friendly Rivalry: Paris vs. Madrid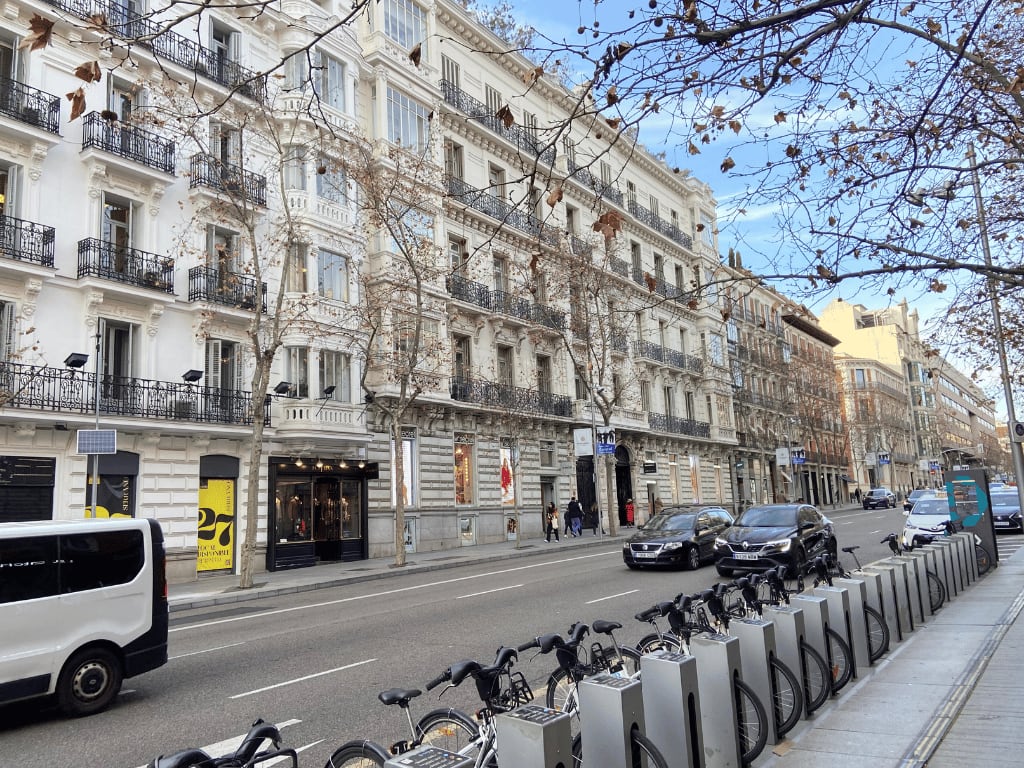 Paris is one of the significant cities investing the most in cycle paths in the entire European Union. The pandemic and the need to move around the city accelerated the process, as the people were away from the metro or buses. 
For the next few years, the network of safe bike lanes is expected to be expanded to 390 km from the current 240 km.
As Paris is a vast city and you have so many things to visit, it is a city where you have to walk a lot for sightseeing. For this reason, cycling is becoming an increasingly attractive option for locals and tourists. It is a great option to cycle through the city and get to know all the beautiful things it offers. 
There are thousands of options to rent a bike. You can rent it for a few hours, a whole day, a weekend, or even a week. It is a cheap and different option to get to know the city. 
In this way, Paris is better for bikers than Madrid. Still, Madrid has a better transportation system inside the city, and some initiatives are taking place to introduce bikes to the town!
Driving Dynamics: Paris' Challenges vs. Madrid's Ease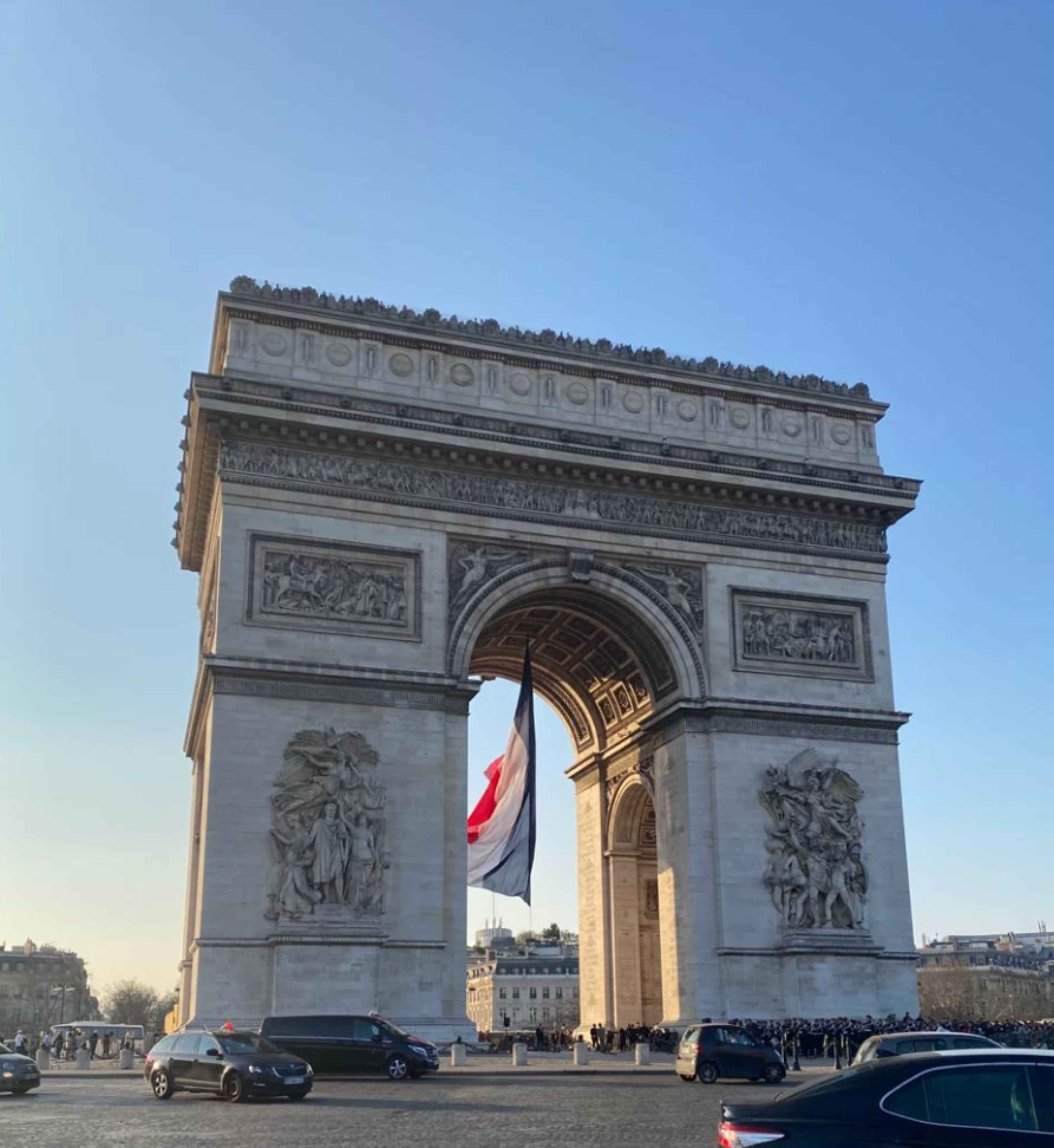 Paris is one of the worst cities in the world for driving. A ranking made a few years ago says it. The order is based on the average hour's drivers had to wait due to traffic. The report examines traffic and mobility trends in over 200 cities in 38 countries. 
Within the top 10 are cities such as Moscow, St. Petersburg, Milan, or London, and this French capital has been ranked as the number 5 of desperate places to put your car in. I have been there and can assure you that driving is chaotic. 
An essential factor is that the roads are ancient. Many of them date back to classical Rome. As a result, cars can drive on roads that were basically designed for horse-drawn carriages and walking. The total annual hours people lost to gobbled up by traffic in Paris is 237 hours; isn't that unbelievable?
It is easier to drive in Madrid than in Paris, a more chaotic city. 
---
Now that you know the main differences between two of the best European destinations, it's on your preferences, interests, and lifestyle goals which city you should go for. I promise either of them will be a perfect match for you!
Thank you for reading this article. I hope it helps a buddy out, and don't hesitate to ask any questions regarding your travel to Spain. We'd love to help you!