The 15 Magical Islands in Spain to Visit Once in a Lifetime
December 23, 2022
Updated:

June 1, 2023
Published: December 23, 2022
Did you know that Spain has some of the most beautiful islands on the planet?
On the one hand, in the spectacular Mediterranean Sea, you will find the Balearic archipelago, a popular destination visited by people worldwide, especially in the European summer. On the other hand, in the massive Atlantic Ocean, you will find the Spanish-African Canary Islands, where you will find all kinds of landscapes and the paradise of the Cíes with beaches that will make you feel like you are in the Caribbean.
All our islands are unique! In each of them, you will find something that makes it special, whether its landscapes, gastronomy, people, or beaches. Some of them even have places that have been cataloged by Unesco! I am sure you will always want to return to all of them!
Are you ready to discover the 15 best Spanish islands and the ones you will have to visit at least once? Take note and start organizing your summer vacations in Spain!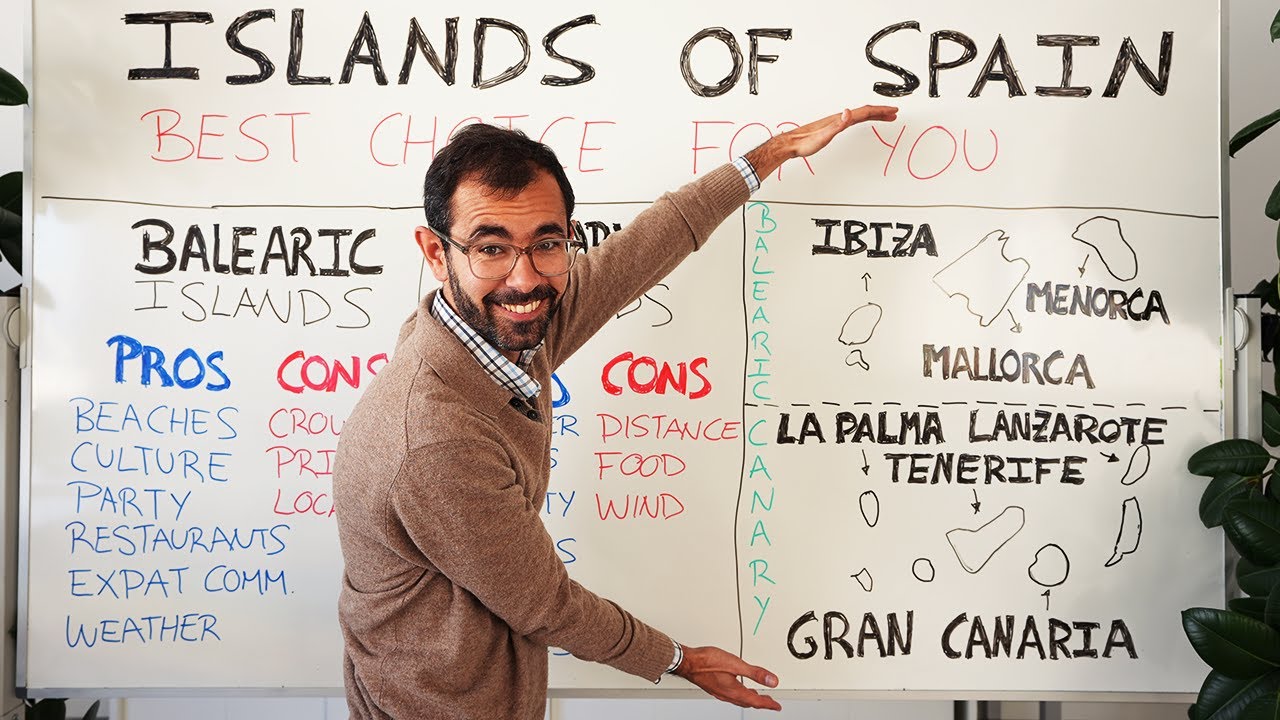 ---
Balearic Islands
1. Mallorca
Mallorca, with its 3640.11 km² (with a maximum distance from end to end of 100 km), is Spain's largest island. With more than 1 million inhabitants, it's the most populated island of the Balearic archipelago and the second most populated in Spain after Tenerife.
In the past, due to its peaceful environment, it was also known as "the island of calm." But nowadays, it's a very important destination with more than 13 million annual visits of national and international tourists.
With 550 km of coastline, Mallorca offers more than 345 beaches of very varied types, from small coves with turquoise blue water to long beaches of fine white sand, cliffs, and palm groves by the sea.
Other natural spectacles Mallorca has to offer are its caves (Drach, dels Hams, or Artá) with its fresh and saltwater lakes inside or its impressive stalactites and stalagmites.
Besides, each of its 53 municipalities offers its own history and traditions, with the charming villages (many of them medieval) of Capdepera, Alcudia, Valldemossa, Deià, Sóller, or Pollensa, among others.
The island is also a natural paradise with multiple protected areas, such as Dragonera, S'Albufera, and Mondragó. In its northeastern region is the great Sierra de Tramontana, with large mountain ranges that form dizzying cliffs and dreamlike coves overlooking the Mediterranean. This Sierra was declared a World Heritage Site in June 2011 in the cultural landscape category.
To the south of the island of Mallorca is the Cabrera Archipelago, which, together with the surrounding waters, make up the Maritime-Terrestrial National Park, the first in Spain with this type of protection.
---
2. Ibiza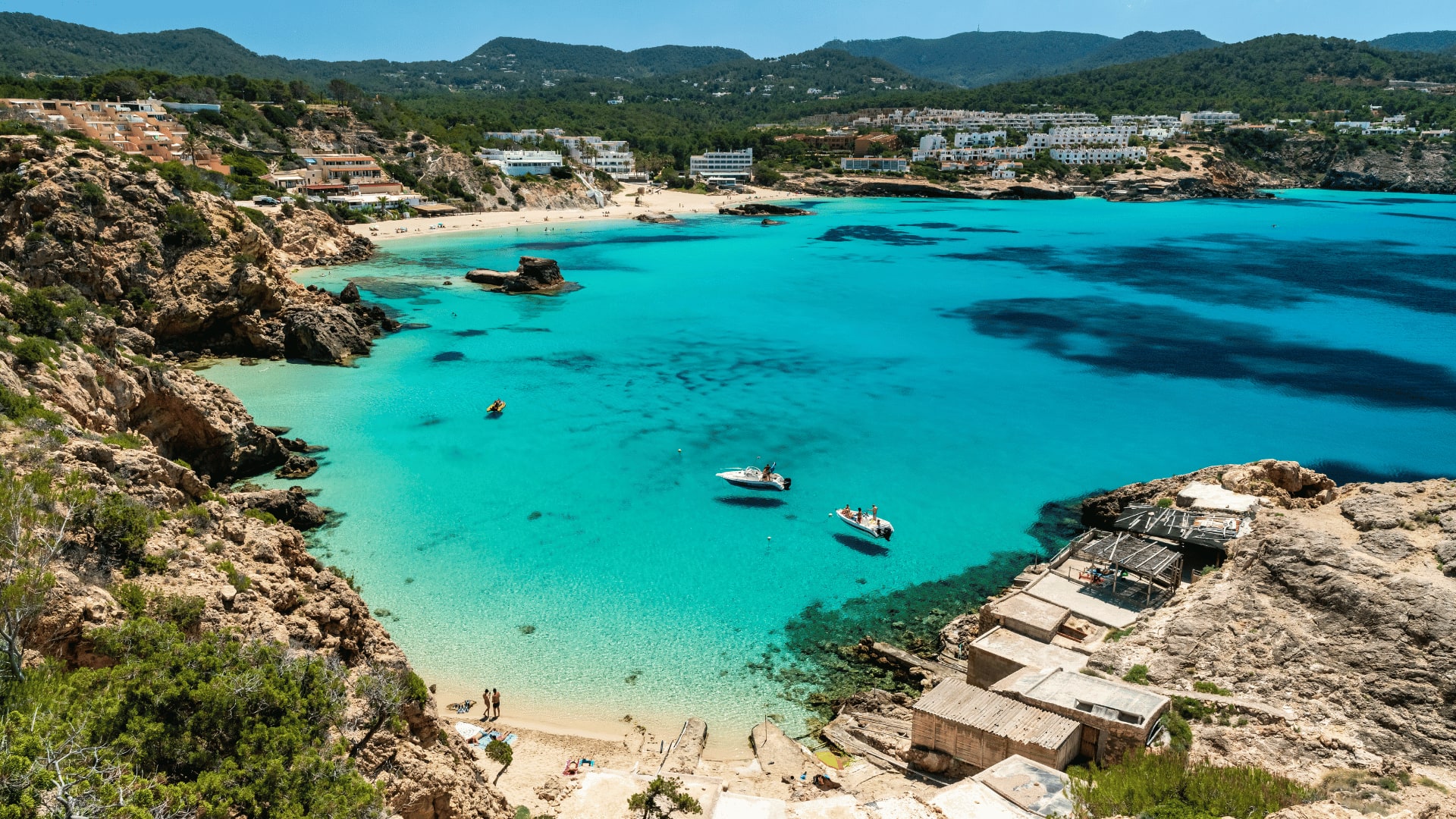 Ibiza is an island in the Mediterranean Sea belonging to the Balearic Islands.
With an area of 572 km² and a population of 151,827 inhabitants, Ibiza is the second island of the Balearic Islands in terms of population after Mallorca and the third in extension, after Mallorca and Menorca.
Along its 210 km length, it offers a very irregular morphology formed by several mountains, the highest of which is Atalayasa (475 meters high).
The island enjoys international renown for the beauty of its coves, beaches, and villages of white houses, as well as for its lifestyle, in many cases defined as hippy and eccentric, and in which fun and nightlife are assured! The well-known "Pacha" is the oldest club on the island where you have to go at least once!
But not everything is about partying; there's also a quiet Ibiza that offers around 180 beaches and coves, some only accessible by boat. Let's check them out!
The Natural Reserve of Cala d'Hort: has enormous biodiversity, including protected flora and bird colonies.
Cala d'en Serra: with its spectacular seabed
The Natural Park of Els Amunts: which combines a mountainous environment with steep cliffs, Mediterranean vegetation, and secluded coves
The island of Tagomago: destination of the jet set, artists, elite athletes, and millionaires.
These places are just some of the proposals offered by the island. There's also time to visit the historic city of Ibiza, protected by UNESCO, highlighting its old quarter (known as Dalt Vila) with its 16th-century walls, steep cobbled streets, and numerous places of interest, such as the Cathedral of the Virgin of the Snows or the Town Hall, located in a former Dominican Convent, among others.
If you want to complete your knowledge about Ibiza, take a look at this post:
Is Ibiza a Country? The Natural Paradise That is Also a Celebrity Magnet
---
3. Formentera
Formentera, better known as "the blue island," is the smallest island of the Balearic Islands in the Mediterranean Sea. It has an area of 83.24 km² (20 km long and only 2 km wide) and a population of approximately 11,708 inhabitants.
It has 69 kilometers of coastline with cliffs and wonderful beaches of white sand and crystal-clear waters (it's one of my favorite islands!). If you want to get to the island, you need to know that the only way to reach it is by sea, as it has no airport!
Let's check out some of the best beaches:
Ses Illetes: possibly the most famous beach of Formentera. Located in the Natural Park of Salinas, has been chosen on several occasions as one of the most beautiful beaches in the world!
Cala Saona: is considered the best beach in Formentera.
Espalmador: more specifically, S'Alga beach, which can be reached on foot when the tide is low, and enjoy its clear waters, and natural mud are just some examples of idyllic places to visit.
Formentera is also full of caves, subway passages, and caves due to its peculiar geomorphological formation. Snorkeling, scuba diving, nordic walking, or bicycle routes can be practiced since it has 32 green trails with more than 100 kilometers of incredible beauty and patrimonial value. It also offers sunrises seen from its lighthouses, such as the Mola or Barbaria lighthouses, leaving visitors with unforgettable moments!
---
4. Menorca
Menorca, was declared a Biosphere Reserve in 1993 by UNESCO. With an approximate extension of 700km² and a longitude of 53 km, it's the second Balearic Island in extension. It's also the easternmost Spanish territory and the first place where the sun rises and sets in Spain.
With a population of 95,641 inhabitants distributed in 8 municipalities, Menorca is a quiet island with 216 kilometers of varied coastline. Its coasts offer reddish beaches in the north and golden sandy beaches surrounded by pine trees in the south, but all of them always with a common denominator: its clean and crystalline waters!
Cala Turqueta, Cala Macarella, Cala Galdana, Cala Pregonda, and Cala Mitjana stand out among many others. Nautical sports, especially scuba diving, are widespread on the island due to the spectacular seabed that the island offers.
Menorca also has an excellent ecological and scenic wealth, which favors excursions on horseback, on foot, or by bicycle along the established paths and routes.
The Natural Park of S'Albufera d'Es Grau, a refuge area for numerous aquatic and migratory birds, is also one of the most important wetlands in southern Europe.
If you are a bird fanatic, take advantage of these two articles we have created with everything you need to know!
Another attraction is the archaeological and cultural heritage with interesting monumental sites such as the old town of Ciudadela or prehistoric remains such as the Naveta des Tudons and those of Mahon.
Even you can see small fishing villages that still preserve the ancient traditions and where you can enjoy, as in the rest of the island, a rich gastronomy in which one of the most famous dishes worldwide is undoubtedly the lobster stew, you should try it!
These four Balearic Islands are located in the spectacular Mediterranean Sea. If you want to know everything about our beloved sea, I recommend you to read the following articles:
---
Canary Islands
5. Gran Canaria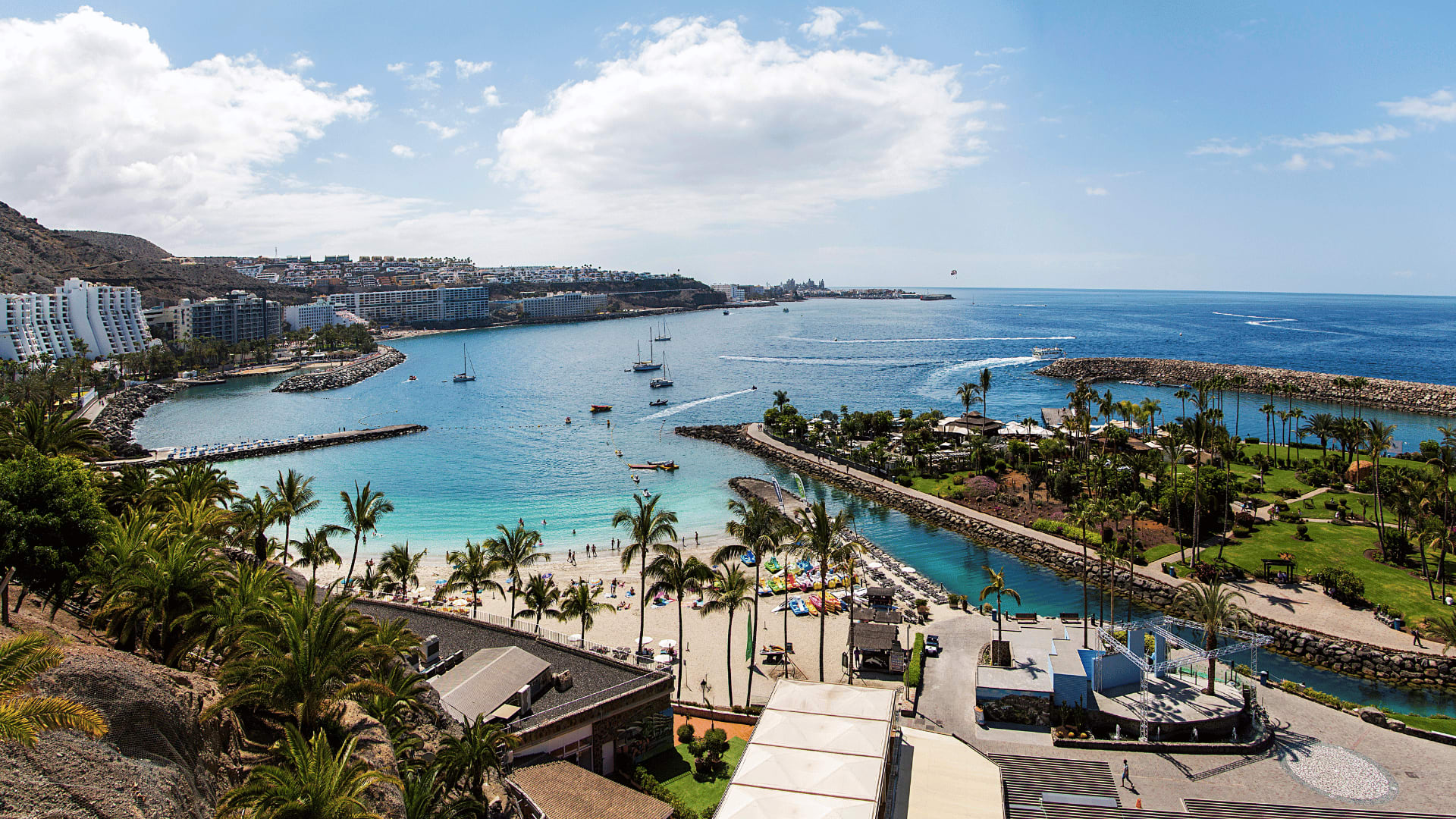 Gran Canaria is an island located in the Atlantic Ocean belonging to the Canary archipelago. It has an area of 1560 km2 and is the archipelago's third-largest island. Gran Canaria is also known as "the round island."
Due to its location, it's closer to Africa (210 km) than to Spain (Cádiz, the nearest Spanish port, is about 1,250 km away). The island's population is 876,200, making it the second most populated island in the Canary Islands.
The island has many faces along its entire length: large white beaches (Playa del Inglés); impressive dunes (Maspalomas); black lava beaches, volcanic rocks (Roque Nublo), cliffs, mountains, craters, ravines full of subtropical vegetation, as well as nature reserves (Tamadaba Natural Park) and beautiful villages (Arguineguín, Arucas, Telde…) that are 100% worth a visit!
Gran Canaria also has an important historical, cultural, and artistic heritage, such as the Columbus House Museum or the Cathedral of the Canary Islands, which is considered the most important monument of the Canary religious architecture.
Since 2005, part of the island has been a Biosphere Reserve. In 2019, the Fallen Crag and the Sacred Mountains complex was declared a World Heritage Site by UNESCO.
For all the reasons mentioned above, its mild climate with average annual temperatures (ranging between 18ºC in winter and 25ºC in summer) and the fact that the Canary archipelago is the place with the most hours of daylight in Europe (more than 4,800 hours per year), Gran Canaria is one of the most important tourist destinations with more than four million visitors per year!!
---
6. Tenerife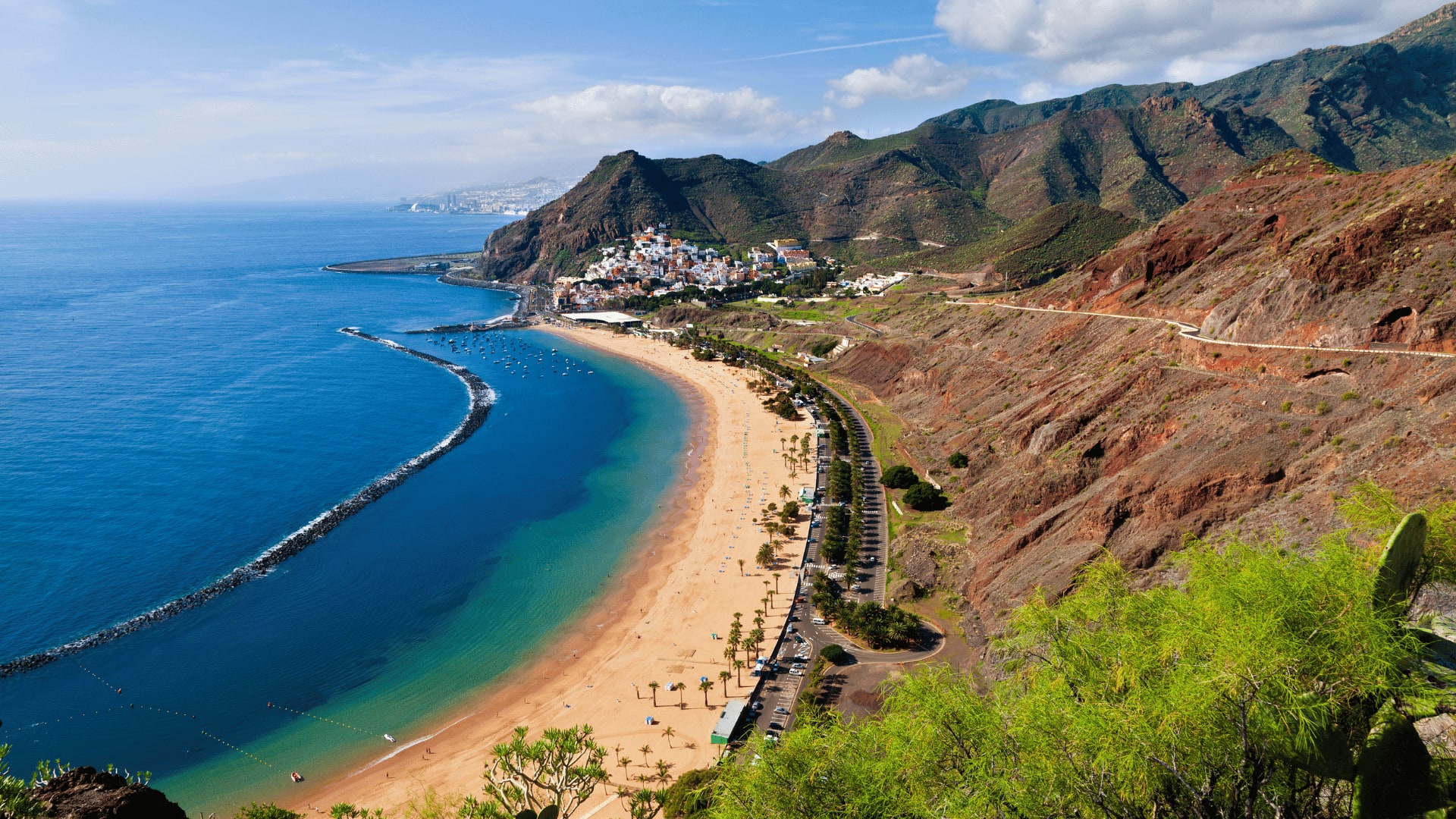 Tenerife, along with La Palma, La Gomera, and El Hierro, forms the province of Santa Cruz de Tenerife. With an area of 2,034,38 km², a length of 269 km, and a population of 927,993 inhabitants, it's the largest island of the Canary archipelago and the most populated island in Spain.
Tenerife is the island of the thousand plans possible at any time of the year, thanks to its good climate. Both beaches of golden sand (Las Americas, Los Cristianos, Las Teresitas…) and volcanic sand or in the form of fantastic natural pools (Bollullo, Las Gabiotas, Charco Verde…), where in addition to the practice of water sports, it is possible to observe different species of whales, dolphins, and killer whales swimming in freedom.
This incredible island also offers beautiful historic centers of great artistic value and charming villages full of tradition (Candelaria, La Orotava, San Cristobal de la Laguna…). But undoubtedly, there is something that Tenerife can be proud of, and that is its extraordinary natural spaces:
The Teide National Park: is the most visited in Europe, with the Teide volcano, the highest peak in Spain (altitude of 3,715 meters), and a Natural Heritage Site.
The Natural Park of Corona Forestal: a lush forest of Canary pine forest that extends through ravines and valleys
The Biosphere Reserve of the Anaga Massif: a refuge for species of laurel forest already extinct in most of the planet
The Rural Park of Teno: with impressive cliffs, valleys, and wooded areas.
The mountains of Tenerife are also one of the three Starlight Reserves of the Canary Islands for their exceptional conditions for stargazing. You can have one of the most beautiful views at the Teide observatory. 
Tenerife is also famous for its Carnival, which has a critical and international projection, being declared a Festival of National Tourist Interest.
If you want to know everything about how Carnival is celebrated in Tenerife and other important places in Spain, take a look at this post:
The Authentic Carnival in Spain and the 5 Places You Can't Miss
---
7. Lanzarote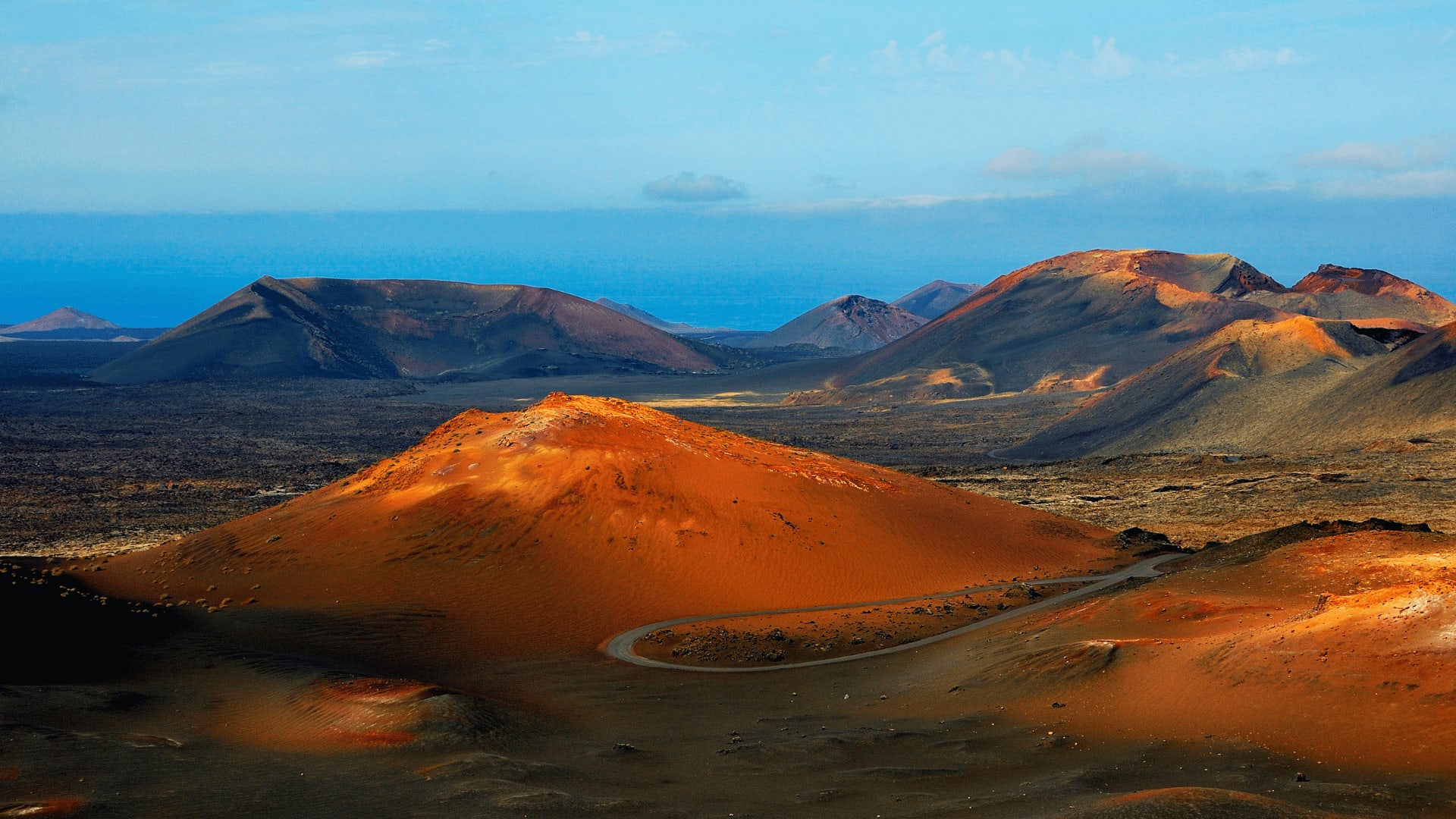 Lanzarote is part of the province of Las Palmas. With 2,252,465 inhabitants, it's the third most populated island of the Canary Islands. It has an area of 845,94 km², and its size is relatively small (62 kilometers from north to south and 21 kilometers from east to west).
The island, declared a Biosphere Reserve, offers impressive landscapes similar to the surface of Mars. More than 300 volcanoes, lava fields, impossibly shaped rocks, and black soil contrast with white houses and the blue sea. The landscape also offers beautiful white sand beaches (Famara, La Cera, El Risco, Cala del Papagayo…).
The Timanfaya National Park represents the maximum expression of volcanism on the island. Actually, the restaurant "El Diablo" is located there, where food is cooked with the heat that comes from the earth's interior and rises to the surface in the form of small geysers.
La Geria is also a place to visit. It consists of a large expanse of small fragments of volcanic rock, which is used by farmers for the production of internationally recognized wines with Denomination of Origin.
Lanzarote also had César Manrique, a universal multifaceted artist who knew how to combine art and nature and whose legacy can be visited in "Jameos del Agua," one of the most visited tourist centers of the island. It's a volcanic tunnel with a natural auditorium and an interior lake originated by marine filtrations in which lives a small white and blind crustacean, unique in the world.
Check out our YouTube video!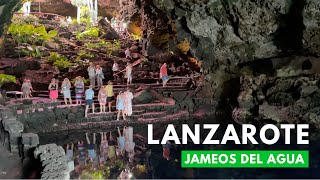 The villages of Lanzarote are also different because life runs between volcanoes and lava:
"El Golfo": located in the Natural Park of the Volcanoes. It is a fishing town famous for its delicious fish.
Yaiza: located on the edge of the area buried by the volcanic eruptions of Timanfaya.
Teguise: a stately town with cobbled streets.
Haría: known as the Valley of the Thousand Palm Trees.
Likewise, the island has made a niche in the training agendas of European elite athletes. Important sports competitions are held here, such as the Ironman, one of the toughest triathlons in the world!!
---
8. Fuerteventura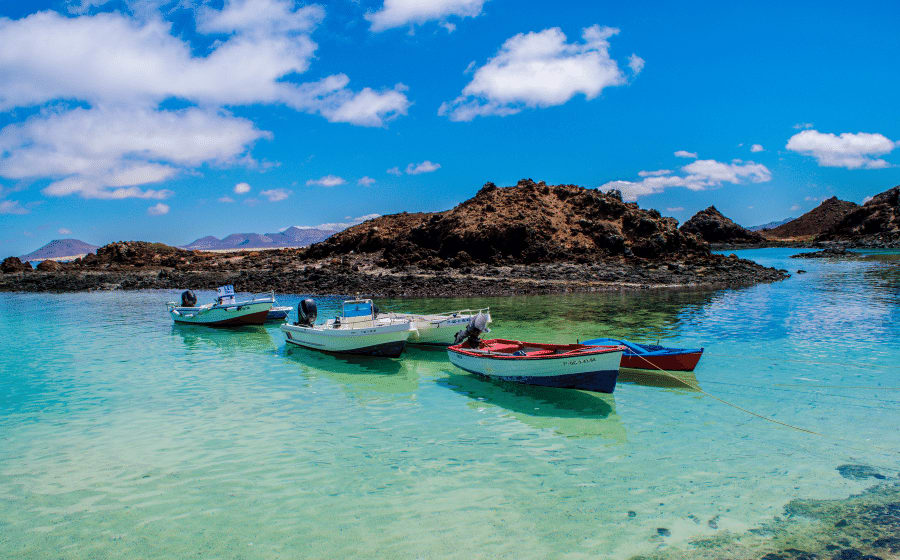 Fuerteventura, declared a Biosphere Reserve by UNESCO, is an island in the Atlantic Ocean belonging to the province of Las Palmas. With a population of approximately 120,000 inhabitants and an area of 1659,74 km² and 210 km long, it is the least populated archipelago and the second in extension. From a geological point of view, it's also the oldest archipelago island.
With more than 150 beaches of shallow and crystalline waters, it's the obligatory destination for windsurfing lovers (the island has been consolidated within the circuit of the World Cup of this sport). Beaches like Corralejo, Cotillo, Jandía, Caleta de Fuste, and Cofete are the most suitable for it!
Something similar happens with diving, thanks to its ocean depths' cracks, caves, tunnels, and rocky formations. It's also a privileged place to observe stars, having been declared a Starlight Reserve.
Fuerteventura also contains up to 50 paleontological sites of worldwide interest and is a unique place for observing volcanic areas with fascinating geomorphological structures such as:
The mountain of Tindaya: considered by the ancient aborigines a sacred mountain to which magical properties were attributed.
The Natural Park of Ajuy: with its set of volcanic caves of ancient lava flows sculpted by the force of the sea.
The Natural Park of Corralejo: the most extensive set of dunes of all the Canary Islands and a special protection area for seabirds.
The Natural Park of Jandía: a natural park of great biological importance for its almost virgin state of conservation with very representative endemic species.
Cofete: the only place in Europe where the leatherback turtle nests on its beaches.
All these places are some of the must-visits of the island!
---
9. La Palma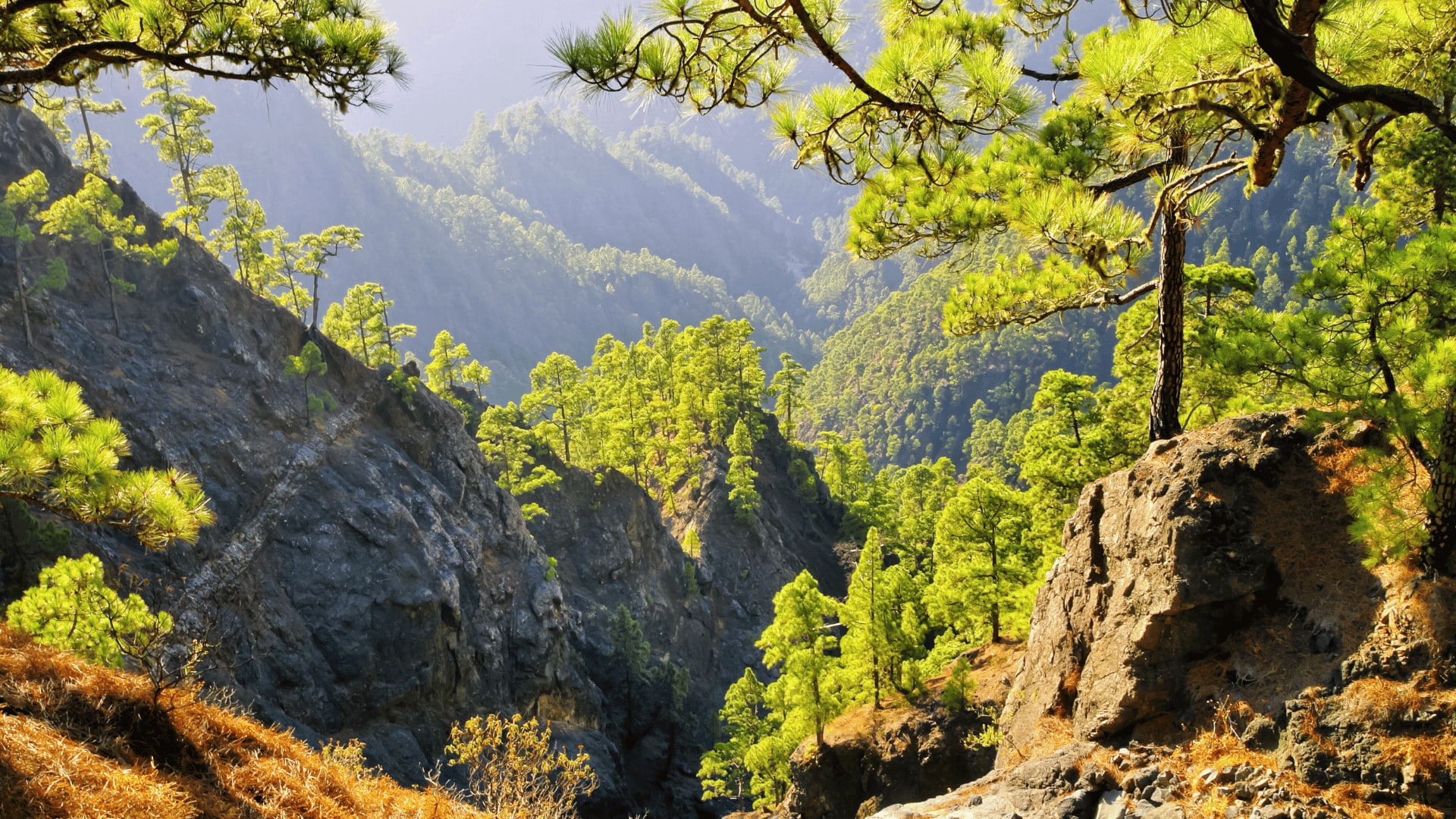 La Palma is located in the northwesternmost tip of the Canary Islands and belongs to the province of Santa Cruz de Tenerife. It has an area of about 708 km2 with a length of 47km in its longest part. Its population, distributed in 14 municipalities, exceeds 85,000 inhabitants, occupying the fifth place both in extension and people in the Canary archipelago.
Known as "the beautiful island," it's the greenest and most tropical of all the Canary Islands. La Palma has a wide diversity of landscapes and climates that have led it to be declared a Biosphere Reserve and Starlight Reserve and Destination, whose main attribute is its environmental quality.
An island to visit for its imposing volcanoes, highlighting craters such as the Cumbre Vieja Natural Park; its black sand beaches such as Puerto Naos, Charco Verde, or Los Cancajos, among many; its natural pools in Charco Azul, and La Fajana; its primitive forests (Los Tilos and Cubo de la Galga); its viewpoints and routes to observe the imposing sea of clouds; its protected natural spaces (La Palma is pure nature); or the cultural, historical and architectural heritage of its cities and towns, such as the historical-artistic ensemble of Santa Cruz de La Palma.
The skies of La Palma are equally unique and spectacular, making it one of the best skies in the world for astronomical observation. You can find here one of the most important astrophysical observatories in the northern hemisphere known as "Roque de Los Muchachos."
---
10. El Hierro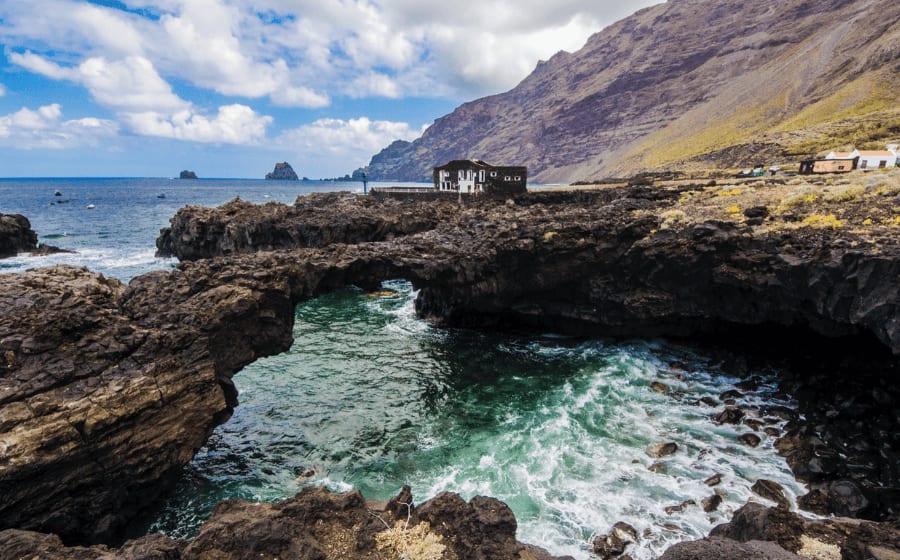 El Hierro belongs to the province of Santa Cruz de Tenerife, being the smallest island of the eight that make up the Canary archipelago. From one end to the other, it is at most 30 kilometers.
It has an area of 268.71km² and a population of 11,147 inhabitants. El Hierro is preserved in a pure state, very little altered by man's hand. It promotes numerous sustainability and environmental care projects, which have earned it international recognition and the attractions of tourists and scientists. UNESCO has declared the island a Biosphere Reserve.
The island is ranked among the greenest in the world, finding its authentic charm in its nature. It has few beaches but different natural pools of blue and transparent waters, such as El Charco Azul, Charco de Los Sargos, and La Maceta.
It also offers exceptional underwater life, considered one of the best places for diving. The island has a submarine volcano that rises from the sea in the Marine Reserve of La Restinga. This place's conditions are perfect for generating ecosystems with much marine flora and fauna.
Another of its attractions are its millenary forests, as well as the spectacular panoramic views that can be enjoyed from the top of its cliffs in viewpoints such as La Peña, Isora, or Las Playas.
El Sabinar is another of the most famous places in El Hierro and has even become the logo of its tourist office. It is a curious plant formation that offers the vision of its roots and branches wholly twisted. The incredible inclination of these centennial junipers has been their best defense mechanism against the furious wind that often hits the area.
---
11. La Gomera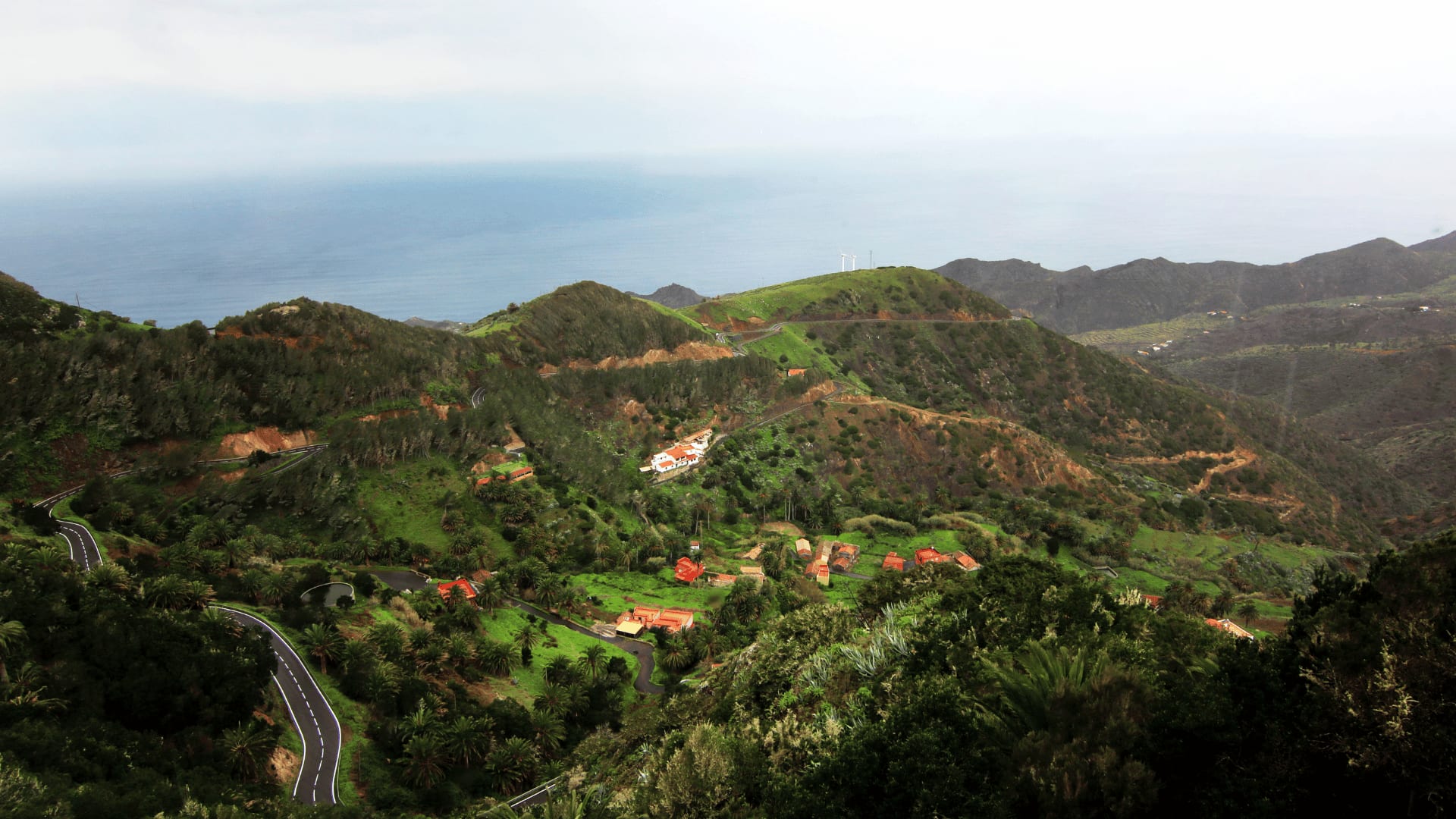 La Gomera belongs to the province of Santa Cruz de Tenerife. It is the second smallest island, with an area of 369.76 km² (25 km long) and a population of 2,261,654 inhabitants. It was declared a Biosphere Reserve by UNESCO in 2012.
Far from mass tourism, La Gomera is access to virgin territories and millenary natural enclaves. Its beaches stand out, primarily black volcanic sand with clean and clear water, although some with white sand. The best beaches on the island, among many, are Alojera, Argaga, Vueltas, La Calera, and La Cueva.
There are also natural areas of great beauty. The island has its heart occupied by the Garajonay National Park, a World Heritage Site since 1981. It is one of the most unique forests in Spain because the constant presence of fog has allowed the development of forest formations as old as the laurel forest.
La Gomera villages are also full of charm:
Agulo: stands out with its picturesque tile houses.
Alajeró: with beautiful stone houses.
Hermigua: with terraces full of banana trees.
Vallehermoso: whose steep crops look like a real work of engineering.
Valle Gran Rey
La Gomera has its own language, the "silbo gomero," with thousands of years of history. It is the only whistled language in the world still used today to send and receive messages several kilometers away. For centuries, the "silbo gomero" was passed down from generation to generation, and since 1999, it has been taught as a compulsory language in the schools of La Gomera and as an elective in the rest of the islands of the archipelago.
---
12. La Graciosa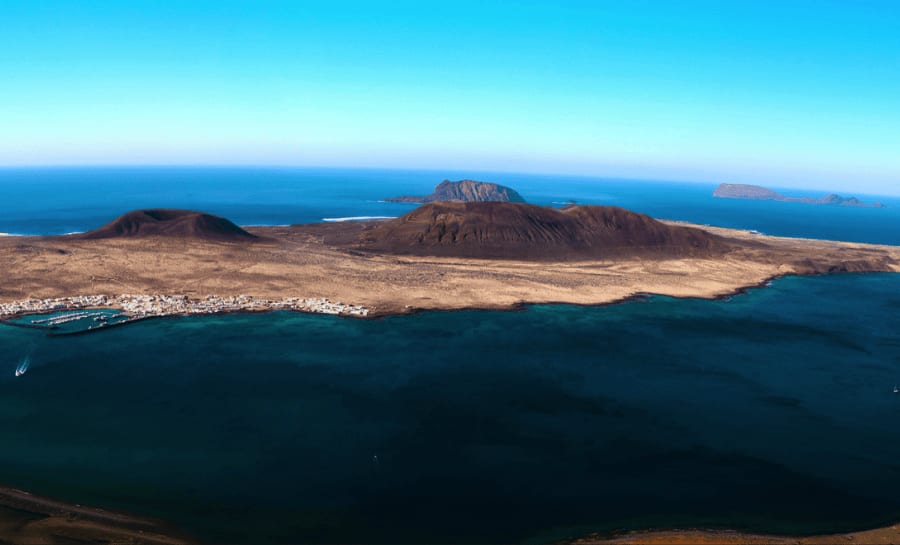 La Graciosa is located north of Lanzarote, on which it depends administratively. It is a very small island, with no more than 1,000 inhabitants, and about 29 km² where the only two villages of the whole island are located: Caleta del Sebo (island capital) and Pedro Barba.
La Graciosa is one of the islands belonging to the Chinijo Archipelago, declared a Natural Park and Marine Reserve. It has been officially considered (since 2018) the eighth island of the Canary archipelago, shedding the noun "islet" that was assigned to it to date.
The island is located near one of the richest fishing grounds in the world. This, along with tourism, are the primary sources of income for its inhabitants.
La Graciosa offers virgin beaches, turquoise waters, volcanic landscapes, and dunes. It is one of the few places in Europe where there are still no paved roads.
It is the most unknown and the most serene of the Canary Islands. This island is also a passage route for protected migratory birds, as well as a breeding place for some birds in danger of extinction.
This curious and incredible island also offers an enormous biological richness of endemic floral species. It is perfect for enjoying bicycle routes, trekking, 4x4 excursions, or strolling along its quiet and beautiful virgin beaches of golden sand, such as Playa de las Conchas, Lambra, Cocina, Francesa, or Playa de Pedro Barba.
If you want to know everything about the Canary Islands, take a look at this article, where we tell you everything!
And if you are also interested in knowing what territories Spain has in the African continent, be sure to read this post:
Is Spain in Africa? The 5 Spanish Territories in The African Continent
---
Cíes Islands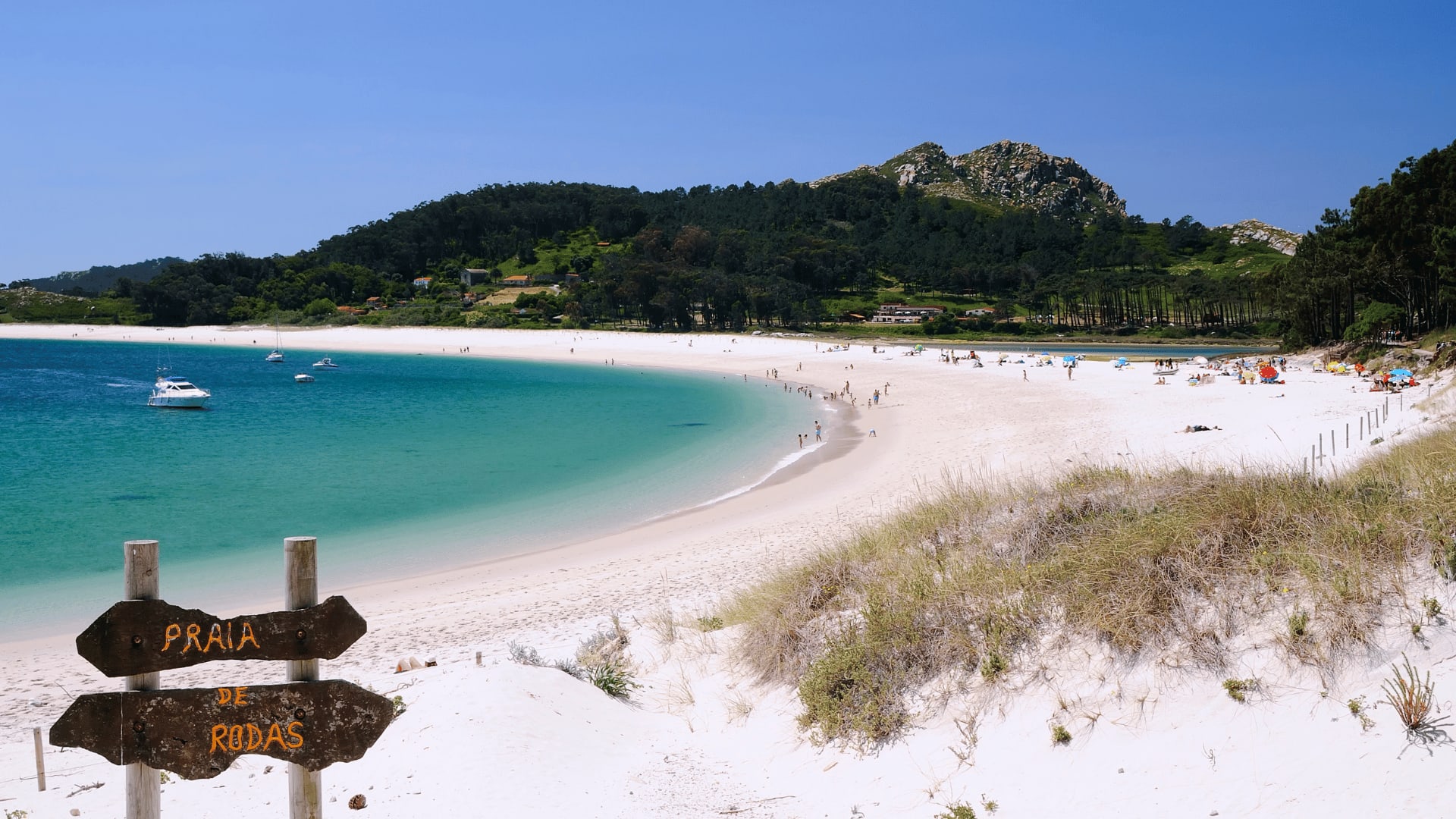 The Cíes Islands are part of the Maritime-Terrestrial National Park of the Atlantic Islands of Galicia, located in front of Vigo (Pontevedra).
The archipelago occupies more than 8,000 hectares, of which only 14% is terrestrial. It is 7.1 km long and 2 km wide. Distinguished as a National Park in 2002, it is a Special Protection Area for Birds (it has the most important colony of yellow-legged gulls and cormorants in southern Europe).
If you want to know which are the most common birds of Spain and their eagles, take a look at these two articles:
The Most Common Birds found in Spain + 8 Endemic Species
It has also been named a Starlight Destination and is currently promoted as a candidate for UNESCO World Heritage Site.
The archipelago is an eminently maritime space with dream beaches, wild cliffs, and paths through forests leading to lighthouses and extraordinary corners in the middle of the ocean. It is also an exceptional place for diving and, with luck, swimming, surrounded by "arroaces" (the native dolphins).
This paradise on earth has 9 virgin beaches, with crystalline waters, distributed among the 3 islands that form it: North Island or "Monteagudo," Middle Island or "Do Faro," and South Island or "San Martiño."
---
13. Monteagudo Island
This is the largest of the 3 islands (1,795 km²). It is joined to Do Faro Island, forming a territory for visitors.
This island has the most significant number of beaches, being Rodas beach (with 1km of fine white sand), the natural link with Do Faro Island. When the tide rises, the access between the two islands can be flooded).
Rodas beach is the most famous worldwide for being distinguished as "the best beach in the world" by The Guardian newspaper. Its backdrop is provided by forests and cliffs.
There are also other beaches, such as Figueiras or Alemanes beach (the second largest of the archipelago and a nudist beach), Cantareira, Margaridas, and Muxieiro.
One of the most visited and beautiful hiking routes starts from the island of Monteagudo: "La Ruta do Faro." It starts from the port of the Illa de Monteagudo and passes to the Illa do Faro through the bridge that joins them.
---
14. Faro Island
Faro island is the smallest of the 3 islands, with 1,066 km². It is the only one that allows tourists to sleep in the Cíes at their campsite. The best places on this island are Nosa Señora, Porta Lighthouse, and the Cíes Lighthouse (probably the most famous and visited point of the island). This is the highest place that can be accessed and offers stunning 360º views of the area.
---
15. San Martiño Island
This island, of 1,455 km² and triangular shape, is wider than the North ones, separated by the "Freu da Porta" channel. The island can only be accessed by private transport or by hiring a kayak route.
There is only a beach to visit on this island called "Praia de San Martiño." Hence, there is no hotel, camping, hiking trail, or viewpoint.
Here's a map with these 15 Spanish islands so you can locate them:
---
Have you had the opportunity to visit any of our islands? Which one do you most want to visit?
If you don't know which one to choose, don't worry because no matter which one you choose, you won't go wrong! You will find dream beaches, delicious food, and lots of activities to do in all of them.
Our Spanish islands are waiting for you!