10 Best Street Food Dishes in Spain. You'll Love them!
May 29, 2023
Updated:

May 30, 2023
Published: May 29, 2023
Some of the finest food in Spain is rumored to be at the street markets and in food halls (and eaten with our hands, of course).
In this article, we'll dive deep into those dishes you must try when visiting Spain. Especially if you're a foodie and want to try the authentic flavors of the city.
But first, let me get something clear. You won't see "street food" per se in Spain. Or at least, just a few like Churrerías, roasted chestnut stalls in autumn and winter, and some stalls at fairs. (I've given you too much information at this point)
However, there is no custom of stalls on the street in Spain like you can see in New York or Bangkok. Mainly because people cannot put a street stall wherever they want, even less if it is for food, except on particular dates and places by law, to prevent it from being contaminated.
This logically favors the bars, taverns, and restaurants, benefiting Spain's "terrace culture" characteristic.
With this said, here are the country's top grab-and-go eats!
---
Jamón Iberico and Sausages (Morcilla, Chorizo, Fuet)
The sausages are one of the most classic street food meals that you will find in Spain. Among them is the morcilla, one of the most traditional in towns.
This sausage is made from cooked blood, generally from a cow. The different types of Spanish blood sausages are dark mahogany in color. They are usually mixed with pork fat and served with a mixture of onion, rice, potato, or bread, as well as other ingredients that further determine their flavor.
On the other hand, we have the famous chorizo, which is made with minced meat and pork fat, seasoned with paprika and garlic, all stuffed into a natural casing. This has a red color thanks to the paprika, which differentiates it from other sausages and chorizos from other places.
Also, Fuet is very common; it is a sausage made from lean pork typical of Catalan cuisine. There is also the sausage, of Greek and Roman origin, which is thicker and larger than the fuet.
A little more stylish than those above, we have Iberico ham, key in our Spanish gastronomy, but other variants of ham are also part of our daily lives, which can sometimes be confused with Iberian ham.
At first glance, Iberian and Serrano ham are very similar. Still, if you try them, you will realize they are entirely different.
Iberian ham comes from Iberian pigs, native to our country; its production is more traditional and has a higher price than Serrano.
In addition, the Serrano ham has a pale red tone, pulling towards pink. On the other hand, the Iberian ham is a more intense red, and the more Iberian it is, the more red wine color the ham will have.
Either way, you can taste different types of sausages in Spain, and they are a classic street food you cannot miss on your visit.
Must read: I have created a guide for Eating Out in Spain that is also very helpful— Eating Out in Spain: Where to Eat & Best Food to Order
Cartuchitos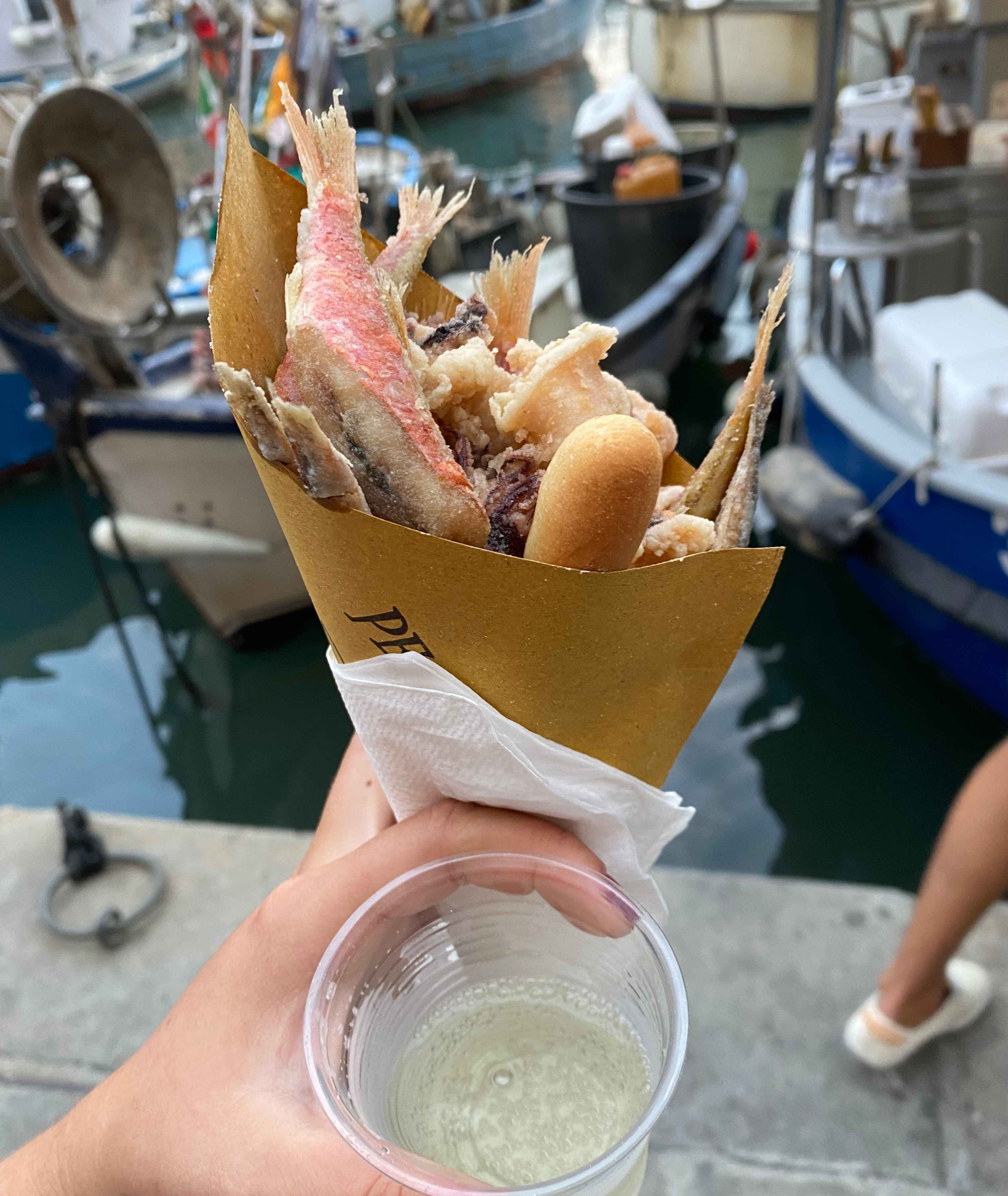 Cartuchitos are one of the most popular dishes in Andalucia and are eaten on the street. They are a kind of brown paper cones that contain any variety of "fried fish" (they can be prawns, squid, or whatever) to be eaten with your hands.
You can get them on the street or in a casual bar, you choose the type of fish you want, and they serve it to you at the moment.
The "pescaíto" is one of the most incredible delicacies you will try in Andalusia. There is no greater pleasure than savoring it in any beach bar, by the sea, with a good, cold beer and good company.
In Cádiz, it is very typical to buy the classic little fish cartuchitos in stalls along the streets of the city center and eat them while walking down the street or sitting on any bench in a cool square. Perfect for a Mediterranean Summer in Southern Spain.
Camperos
The campero is a kind of mollete (a type of round bread), a sandwich usually filled with ham, cheese, lettuce, tomato, and mayonnaise. However, there are multiple variants of chicken, egg, bacon, hamburger, sausages, etc. Most people say it is a regular sandwich, but this heavenly piece of earth is everything but your typical sandwich. You must try it!
In Málaga, they are a must! The mollete is much loved for being tender on the inside, without many crumbs, and crunchy and light on the outside, which allows you to add endless combinations of ingredients and sauces until you get the one you like best. In addition, the bread is pressed in a ribbed sandwich maker or grill and served cut in half, which gives it the perfect touch.
This sandwich or bocadillo is eaten anytime in bars and is the perfect ally for a coffee, soft drink, or beer.
Pinchitos or Crespas
Pinchitos or Crespas is a skewer made with marinated meat cubes, usually chicken or pork marinated in paprika and garlic, or accompanied by grilled Padrón peppers, which are generally spicy.
Some say it is the Spanish version of the kebab meat, as it is usual to see the Moorish meat skewers marinated with paprika in bars in Spain.
It is one of the typical dishes of Andalusian fairs, served in beach bars and kiosks. These Pinchitos are grilled and inserted into a metal skewer with a ring at the end. However, you can also use a wooden skewer. Then, these are often eaten as a tapa with wine or beer.
The origin of its name comes from the Arab countries of North Africa, and the original skewer was not pork, since it is prohibited by Islam, but lamb. 
Churros
Churros consists of deep-fried yeast dough encrusted with sugar. I am aware that they are very well-known worldwide, but they are deeply rooted in Spanish traditions.
Churros are typical for Sunday breakfast, festival days, special occasions at work, celebrations, etc. But there's nothing better than having churros at 6:00am after a long night out. The vibes are unmatched! 
📌Read more: Spain Nightlife Guide: 9 Best Places to Party in 2023
They are also eaten for breakfast with the family and as a New Year's Eve tradition. Otherwise, they are also eaten for a snack at 6:00 pm in the afternoon. 
Churro stalls are almost required by law, or at least by common sense at any fair or fiestas throughout the year. You will see the Churros wrapped up in a white paper bundle.
📌Read more: 13 Delicious Foods My Spanish Family Eats on New Year
This food is thought to have originated in Spain from nomadic Spanish shepherds who lived in barren mountains without access to bakeries, and churros could be easily and quickly cooked in frying pans.
Castañas Asadas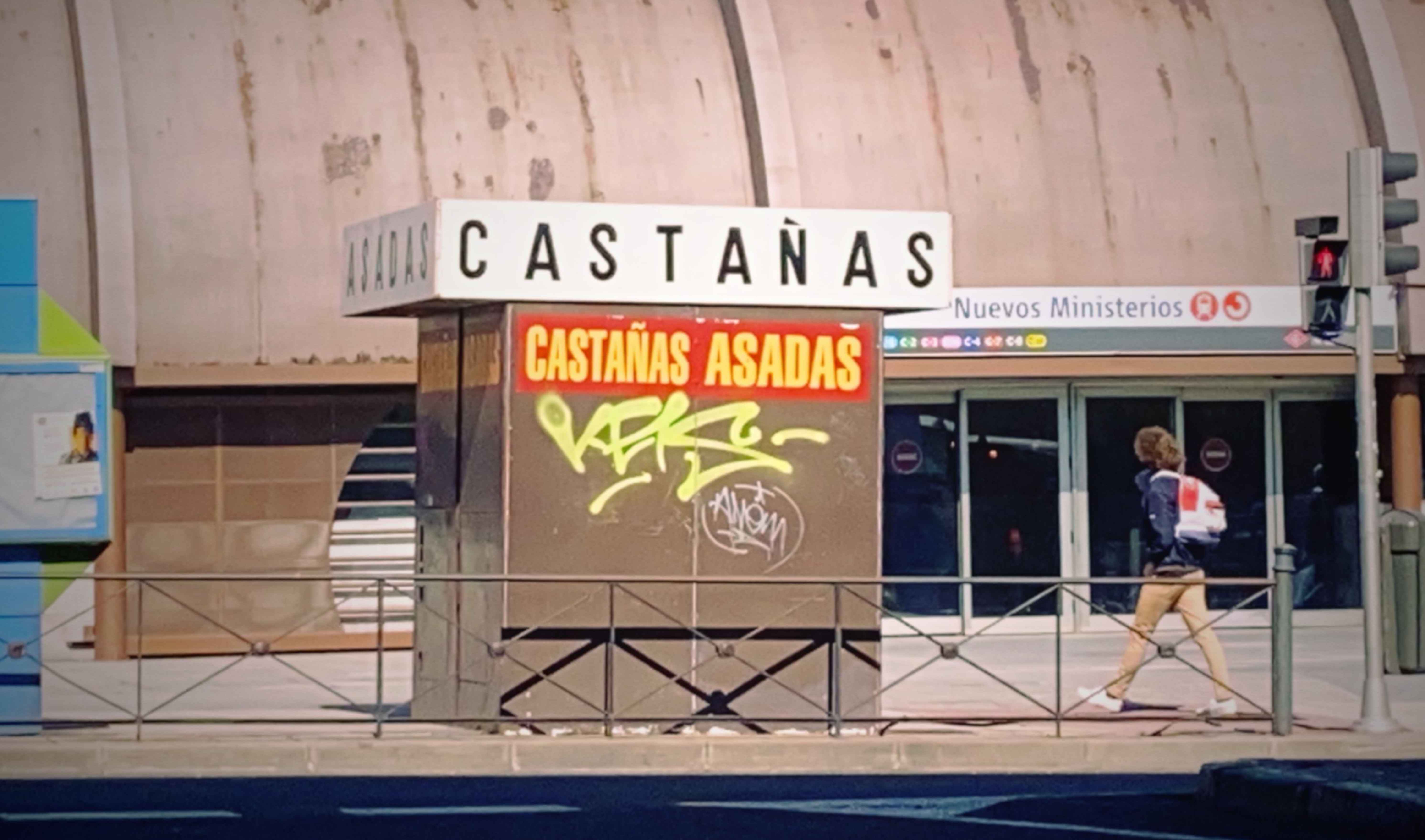 Along with churros, Castañas Asadas is one of the few "dishes" that can be found in a kiosk selling the snack at street level in Spain
But when autumn arrives and the cold approaches, it is very typical to see roasted chestnut stalls in the cities, and eating them at this time of year can be one of the most deeply rooted traditions in Spain.
Since the last third of the 18th century and up to the present day, the chestnut stalls next to a small fire are one of the most popular winter images in Madrid and any city in Spain.
Chestnuts can be made in different ways, roasted, in cake, ice cream, and even chestnut sauce for pasta or meat! But the ones you will see on the streets are burned. I recommend that you live this experience. It will be extraordinary.
Empanadas
No person in the world can dislike empanadas. I mean, it is a thin bread dough, shortcrust pastry, and puff pastry filled with a savory or sweet preparation and baked or fried. Who can say no to that?
They are delicious and versatile since they can be filled with anything. For this reason, in the villages it is very typical to prepare this dish since it is filled with food that was left over from the day before, what we now call "trash cooking" in Spain and in many parts of the world has been done for a lifetime.
Also, if you travel to different places in Spain, you can get to know our gastronomy's top types of empanadas.
La Madrileña, from Madrid, prepares veal stuffed with tuna with puff pastry. Then in the Catalan community, they are called Clotxa, made from a loaf of farmhouse bread. It contains tomatoes, bacon, garlic, herrings, and roasted vegetables or sausages.
For example, the Castilian empanada is mainly filled with local sausages such as chorizo or ham and egg.
There is also the Galician empanada, possibly the most famous empanada in Spain. The most common is made with tuna as an essential element. However, there are also sardines or cockles and pork or chicken meat.
On the other hand, there is the Asturian empanada from the north. Which usually has tuna from the north, zucchini, onion, green pepper, and egg. It's delicious!
I could talk forever about different types of empanadas. So there's no excuse to try at least one of them!
Banderillas
The banderillas are super common in taverns, bars, and popular celebrations. It is a tapa of some "gildas," pickles, which can be gherkins, olives, anchovies, onions, and chili pepper dipped in vinegar and inserted into the toothpick as a skewer.
Before the concept of tapas and pinchos arose, these were the queens of the most typical bars. They should be taken with beer, never with wine, because the vinegar from the pickles spoils their flavor.
And these are usually served in two banderillas per diner, on a plate, or you can take them to eat while you walk.
Patatas bravas and Croquetas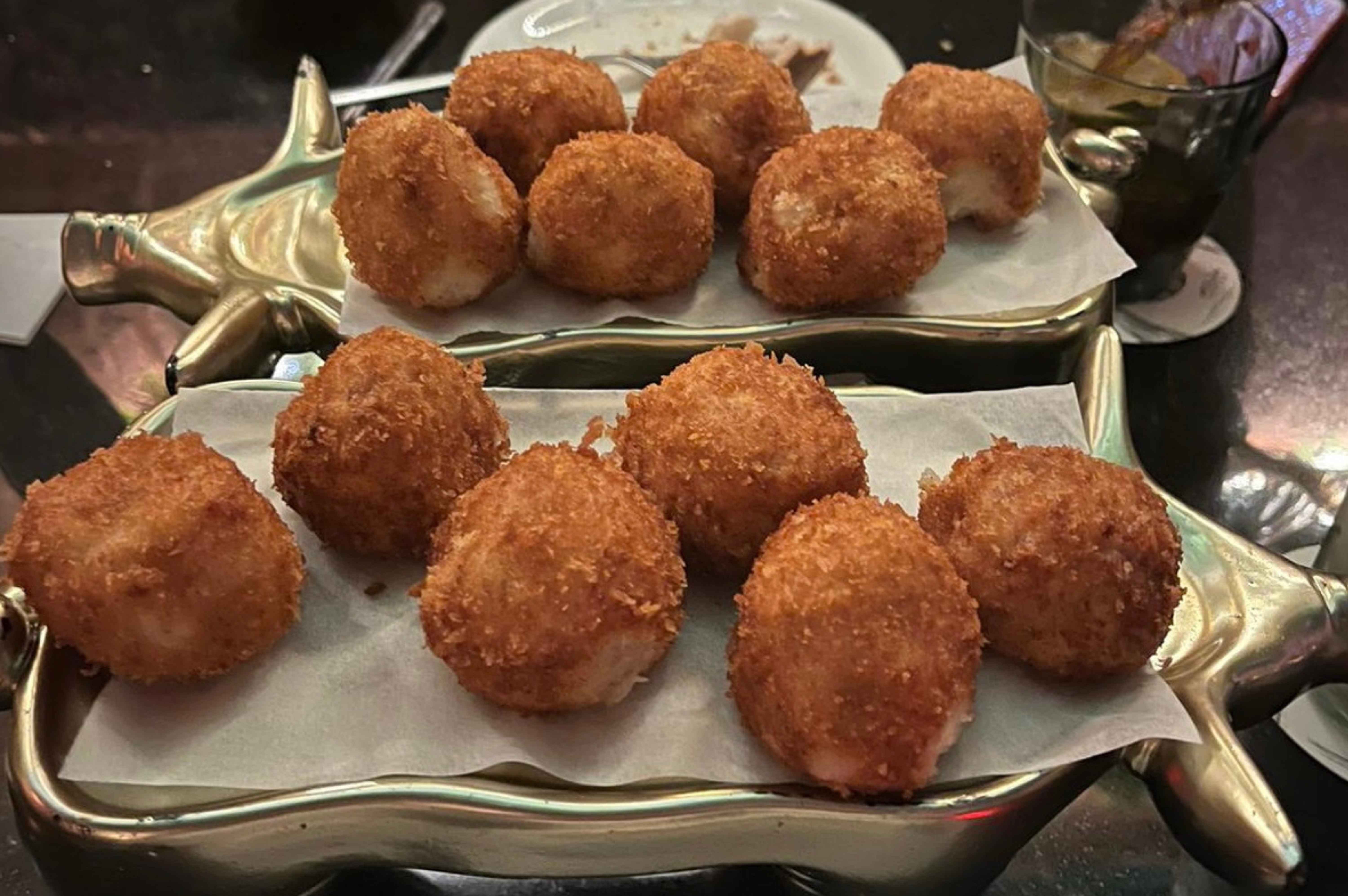 Okay, now these are very common, and everyone who has traveled to Spain at least once might know that the hype about croquetas and patatas bravas is true. 
They are just the perfect companion to every meal, conversation, sobremesa, afternoon snack, you name it! They can be eaten at any time of the day. 
On one hand, we have the famous croquettes. These are fried buns consisting of a thick binder and a filling. 
The dough contains oil, milk, flour, garlic, onion, parsley, egg, and bread crumbs. While the filling can be whatever you want, but preferably usually, proteins such as chicken, ham, cod, and mushrooms.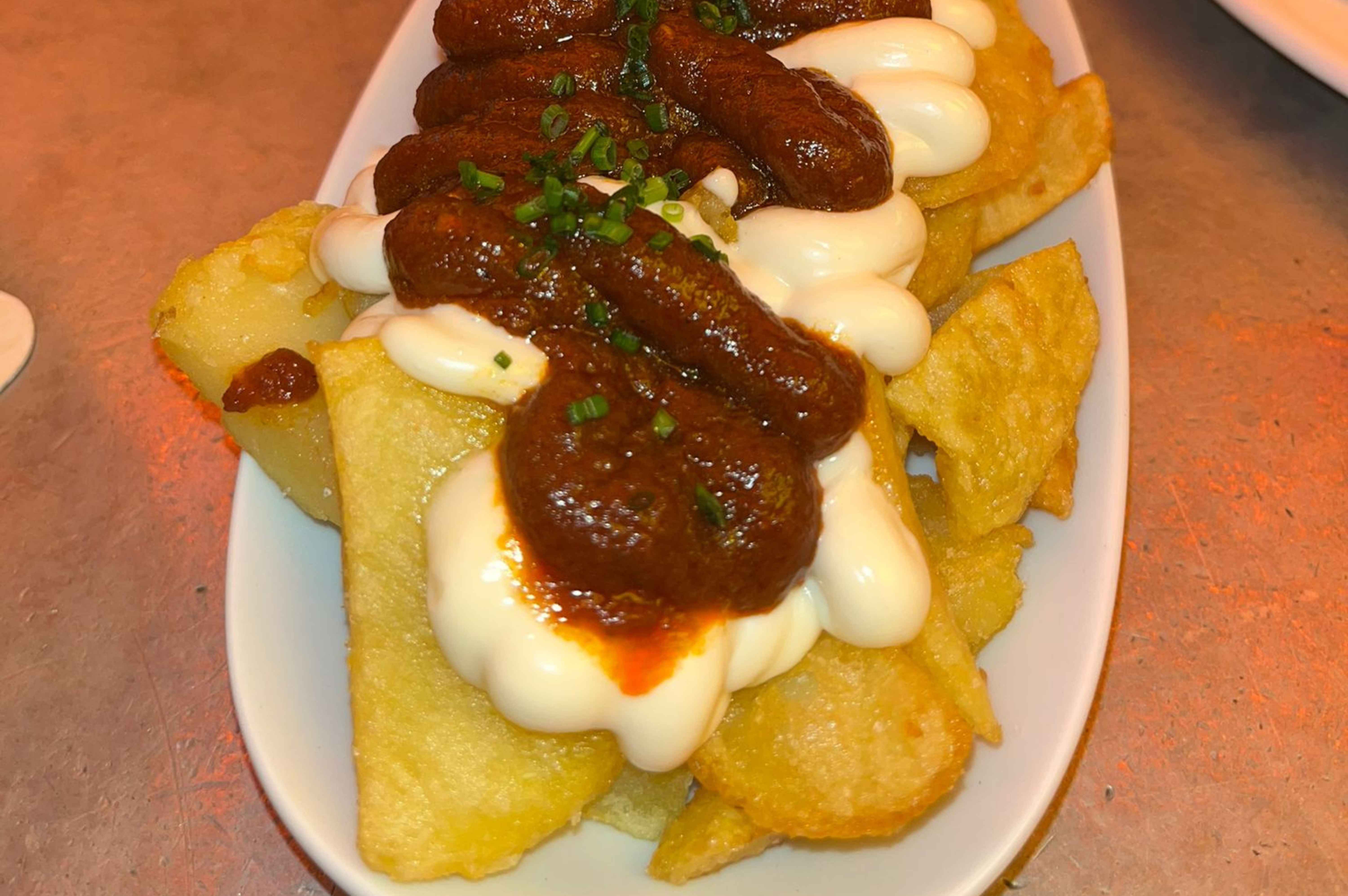 Then we have the delicious papas bravas, also known as patatas bravas or patatas a la brava, a classic tapa you will find in ANY local bar.
The exciting thing about this dish is that there are infinite variants and ways to prepare them, depending on the cook, which has become a matter of who prepares the best bravas.
Please, if you want to pay heaven a visit, pair your bravas with alioli on top. Thank me later!
Must read: If you don't know what to Eat in Spain, here's the answer — What to Eat in Spain: 31 Tasty & Traditional Dishes
Tortilla de Patata
Last but not least, here's people's favorite street food dish! 
The famous Tortilla de Patata, one of the most popular dishes in Spain, is consumed in every home and is the most requested tapa in bars and restaurants, no matter in which province or region you are.
Any time of the day becomes an excuse to enjoy this dish, and it is a must at any party or gathering with family and friends. 
It has simple ingredients: eggs, potatoes, and salt. Although you can taste great tortillas stuffed with ham, truffle, cheese, and alioli. But the key to making the best one is using high-quality products, timing, heat, and technique.
Don't get me wrong… Iñigo and I love eating out at some of Spain's best restaurants. However, heading to street food markets and finding a spot to eat some delicious food is a fantastic experience.
---
📝Before you leave, here are our top recommendations:
12 Best Markets in Madrid to Explore Food & Crafts
Now it's time to go and explore what Spanish gastronomy has to offer! Please try one of these foods, and let me know in the comments which ones you love the most. We are so happy to read you!