Barcelona in Autumn: 10 Best Activities to "Fall" in Love!
February 27, 2023
Updated:

March 29, 2023
Published: February 27, 2023
Sleeping comfortably without the summer heat, strolling peacefully without sweating, and about to fade after 20 meters or being burned by the sun is a blessing! 🍂
And it gets better in Barcelona, the city that welcomes Autumn very peculiarly. Art, leisure, and cultural activities are at their peak for visitors to live and enjoy the Barcelona Lifestyle to the fullest.
There are endless activities you can do if you visit Barcelona in Autumn that very few people know about.
This post will tell you about the most fun and different activities to make your trip memorable and out of the ordinary!
The beautiful colors of gold and red in a thousand different shades create the perfect scenario for being outside and doing the following activities. It is an experience you have to live in first hand.
---
1. Grab a drink in the best bar in the world! (for real)🍸
Knowing that Barcelona has unique nightlife and a lively atmosphere for partying and having drinks, a fantastic plan for the night is to visit Paradiso bar! The BEST bar in the world according to the world's best bars in 2022! (Yes, above NYC and London) 
This is a must-go if you're visiting Barcelona and are looking for the perfect cozy activity since this speakeasy-style cocktail bar is very calm, comfortable, exclusive, and private experience. 
They offer drinks that are out of this world in every sense. You'll get the most premium quality, fun cocktails with a concept. 
Also, the entrance is very curious. This store's door is hidden behind a pastrami shop, so it's like a clandestine bar, creating hype around the place. 
 👉The prices are around €12-15 per drink.
Go early to avoid a long wait since this place gets crowded, and they don't take reservations. And, as for the dress Code, they don't have any, but I recommend smart casual. 
---
2. Pleasant Autumn weather to enjoy panoramic views outdoors
Want to see the sunset? This is your place. On the Eleven BCN terrace, you can enjoy an outdoor and indoor space that will become a beautiful memory of your visit to Barcelona. 
So, take notes! You can show off your date with the best city views, surrounded by a good atmosphere. 
Take advantage of the cool weather that characterizes Barcelona in Autumn to enjoy panoramic views outdoors. 
They also offer tasty snacks and a bar with great drinks and cocktails. I highly suggest you go through the following articles to get to know the best of Barcelona!
---
3. Discover Priorat: D.O. Wine in Barcelona 🍷
Late summer and Autumn is the grape harvest season, so if you like wine, do not miss it.
This is a must-visit in Catalonia because, in this place, you can breathe serenity and calmness, the landscapes are breathtaking, the food is also delicious, the people are very friendly, and the service is 10 out of 10!
Besides, this small region has two appellations of origin in its territory: D.O. Montsant and D.O. Priorat, and both produce excellent wines, especially reds. 
Knowing this, what better activity than wine tourism in Autumn? Discover other places in this article:
---
4. Visit the Mirador d'Horta Swing 🌇
The best way to experience this is just as the sun begins to set in the afternoon. At this moment, you can fully contemplate the clear and beautiful views over the city.
This place is located in the enclave of the Natural Park of Collserola, and you can find the iconic Mirador de Horta swing! (Also a very Instagram-able place). 
Daily, dozens of tourists and residents in the area visit and capture the moment on their social networks.
The most common way to get to the Barcelona swing is by car. Just google maps, and you're there. But here's what you must do if you're using public transport. 
🚍By bus: Buses V25 and 102 at the stop Tanatori de la Vall d'Hebron, at the traffic circle where the road from Horta to Cerdanyola starts. From here to the viewpoint, parking is about 15 minutes walk approximately.
Once in the parking, we go to the right, cross the road, and you will see a path that starts in the mountain marked with a sign that says "El forat del Vent," continue along this path for 5 mins approx, you reach a bifurcation and there you continue up taking the way to the left.
🚇By metro: take the green line and stop at Valldaura. From the station to the Horta viewpoint parking, the reference place is about a mile away, and then you must add 15 more minutes to get to the swing.
---
5. Experience Oktoberfest in Barcelona 🍻
I'm sure many of you know what Oktoberfest is. And if you don't, this famous festival born in Germany has had such an impact that it is celebrated in different parts of Europe and the world. 
Barcelona is no exception. Oktoberfest gets celebrated in a big way in this city, with live music with polka bands, DJs, and an incredible atmosphere that will surprise you.
They also offer extra services like large VIP areas with exclusive services! For more information, you should visit their webpage 👉 Oktoberfest Barcelona
Last year it took place at Plaça de Espanya!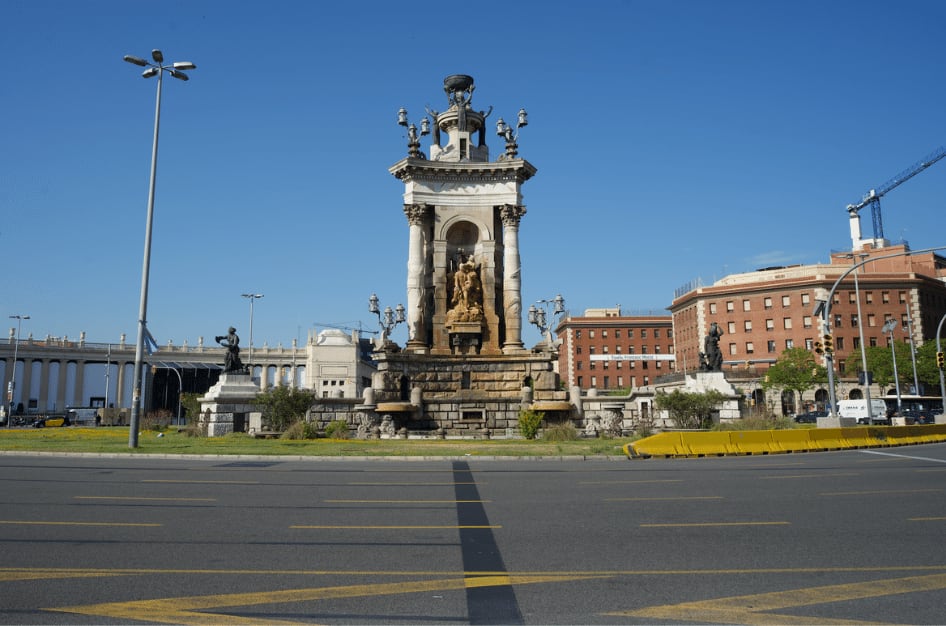 So now you know whether you like beer or want to enjoy a fun-festive event in Barcelona with friends or family, Oktoberfest will ensure you enjoy a good beer with good company. If you're a party animal, this article is for you!
---
6. Visit the Swab Barcelona Art fair 🎨
Autumn Barcelona fills with art by the hand of Swab. This contemporary art fair brings together local and foreign galleries to showcase the most outstanding developments in this field and give voice to new values.
And their next edition takes place in October 2023. Right in time for Autumn! The event is a meeting point for the cultural sector on a global scale as it brings together up to 80 galleries from the international scene. 
Curiously, this project was born as an experimental platform for emerging artistic proposals.
On the other hand, they have Swab Kids, which seeks to stimulate the creativity of the youngest art lovers and promotes meetings between parents and mothers of artists—ensuring space for both children and families within the fair!
---
7. Get to know the city's architectural legacy: 48H Open House Barcelona 🏛️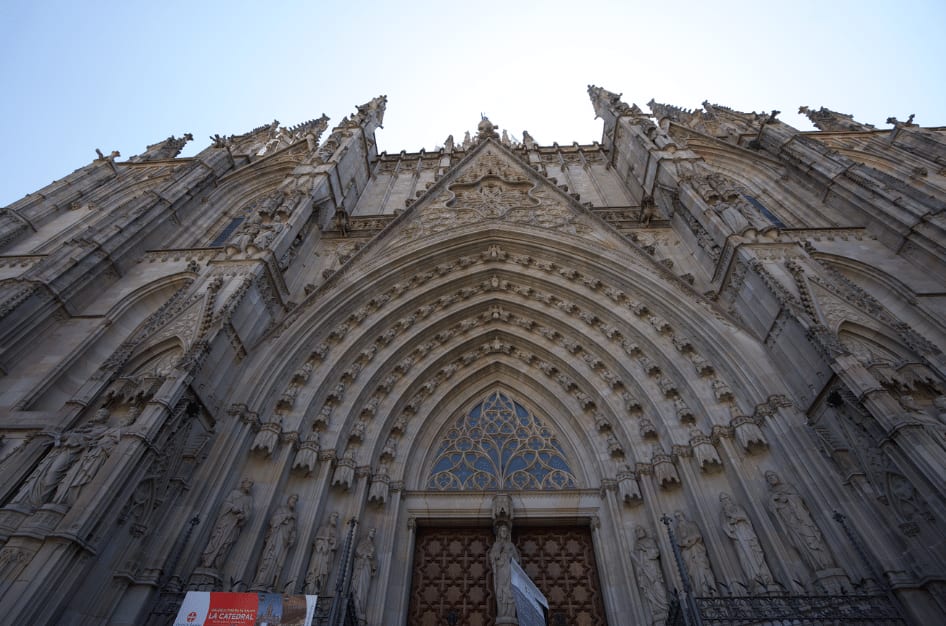 Barcelona is architecture. And this is manifested through the cultural activities that the city offers to its visitors to keep alive the artistic identity that characterizes it.
For this reason, 48H Open House Barcelona opens its doors as a non-profit cultural association that works to preserve the city's architectural heritage, offering products and services in this area.
This free festival in Autumn will be held every year in October. 🍁
So, this is yours if you want a cultural activity to enjoy in Autumn. Here you will soak up talent, history, and art and live a unique experience.
Moreover, this festival has accumulated 516,200 visits, 1,787 activities, and a collaboration of 9,850 volunteers and 224 volunteer architects, as well as the support of 80 entities and companies during the first ten editions from 2010 to 2019.
In addition, this festival offers educational activities where architects transmit their knowledge as Radio Media Architecture and others that serve as networking as Music x architecture and Hidden Spaces.
---
8. Discover Barcelona's best neighborhood with a lovely walk through Paseo El Borne 🚶‍♀️
The Paseo del Born, or Passeig del Born in Catalan, is a pleasant pedestrian promenade in Barcelona's Gothic quarter that is lively all day long in a historic neighborhood and one of the most tourists in Barcelona.
You can start walking from behind the Basílica Santa Maria del Mar and end at what used to be the Born market, which has now been converted into a cultural center and museum.
Its streets are an absolute labyrinth. It is a pleasure to get lost if you visit Barcelona, specifically in Autumn, because the colors, the magnificent weather, and the temperature make this walk delightful.
To see other neighborhoods in Barcelona, read the following article:
10 Best Neighborhoods in Barcelona: Students, Expats and Tourists
This place is the epicenter of leisure areas, restaurants, and bars that collect centuries of the city's history. It has become one of my favorite walks since it gathers people under its trees' shadows for coffee and drinks.
In addition, the neighborhood is very romantic, and you can stroll around with tranquility as it is distracted of stores and restaurants.
And when you finish your walk, you can visit this cute coffee spot in El Born, which goes next!
---
9. Enjoy a warm cup of coffee in Nomad Barcelona, one of the best specialty coffee shops in the city! ☕
Coffee seems to belong to Autumn. In this time, right before the cold winter, it never hurts to take something hot that can take away the feeling of cold, so with the arrival of the season, a cup of coffee is an excellent remedy to warm our hands and body.
And what better way to experience this than in Barcelona's best specialty coffee shops? This city is known for serving the best coffee ever in the coziest environment so that you can feel at home!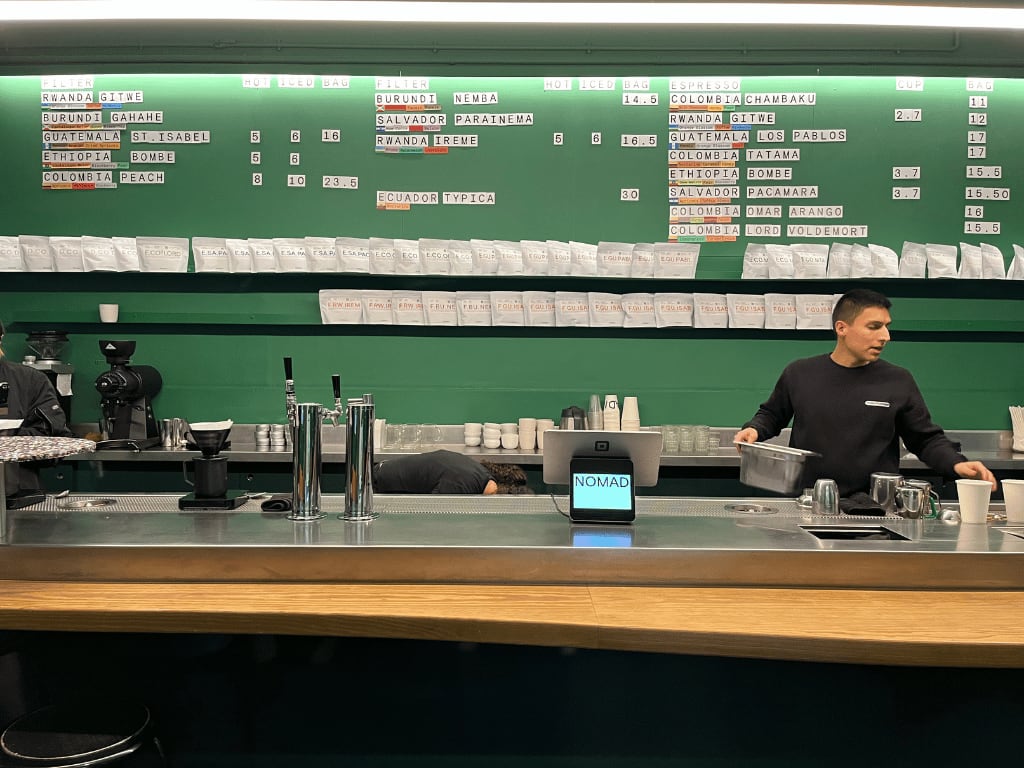 You can't miss Nomad Cafe if you're in Barcelona. It is a nice little roastery away from the crowds in the El Born neighborhood. I swear you will love it as much as I did!
If specialty coffee is your thing, we have a list dedicated to cafes serving specialty coffee: 
---
10. Witness the transition to Winter with beautiful Christmas lights🎄
Around the last week of November, you can find the first signs of the change of seasons and the arrival of Christmas.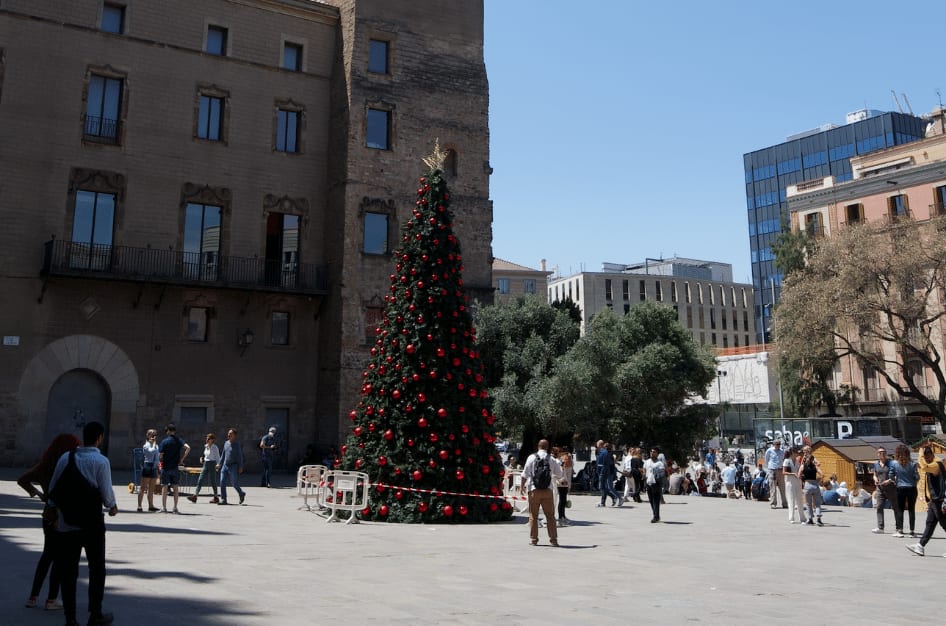 A moment when Barcelona is filled with light, and it is magnificent to appreciate the architecture from above. — Good time to enjoy the best views from terraces or rooftops. Here you can see more:
With beautiful old buildings, narrow streets, and numerous squares, Barcelona makes an excellent backdrop for Christmas lights.
Every year you can find Christmas lights in the following places: Plaça Catalunya, Gran Via, Carrer Aragó, Ronda Sant Pere, Via Laietana, Plaça Urquinaona, Balmes and Avinguda Paral·lel.
Specifically, you will find lights between Balmes street, Ronda de Sant Pere, Aragó street, and Gran Via.
In addition, there are lighting and a Christmas atmosphere in some streets of neighborhoods such as Trinitat Vella, Gràcia, Eixample, Nou Barris, Horta-Guinardó, Sant Andreu, and el Carmel.
---
Autumn is a fantastic season to visit Barcelona! The streets will feel full of energy. The city changes color, and the weather is definitely one of the biggest advantages. Restaurants offer a seasonal menu based on Autumn, and the city has endless activities for you to choose the one you like the most!
Let me know which activity you are planning to do this Fall!