The 9 Best Forests in Spain to Get Lost in The Wild
October 11, 2022
Updated:

January 23, 2023
Published: October 11, 2022
Do you want to disconnect from everything, turn off the autopilot in which we live daily, and enjoy breathtaking landscapes? If so, prepare your backpack and come to enjoy our wonderful Spanish forests!
Forests are many living beings' habitats and play critical ecological functions such as regulating the water balance and climate. Without forests, we would be lost, so we need to take care of them and conserve them as they retain the atmosphere and protect biodiversity. They are a crucial factor in slowing down climate change!
Spain has a large number of forests that you can enjoy all year round. But my favorite time to visit most of them is during the fall season, when the place is transformed into a fairy tale with its spectacular range of reds, oranges, and yellows. You will want to photograph every corner!
Whether you are a hiking lover or not, get ready to discover the nine most beautiful forests in Spain. Keep an eye on your next vacation and escape to one of them!
1. Irati Forest
Location: Navarre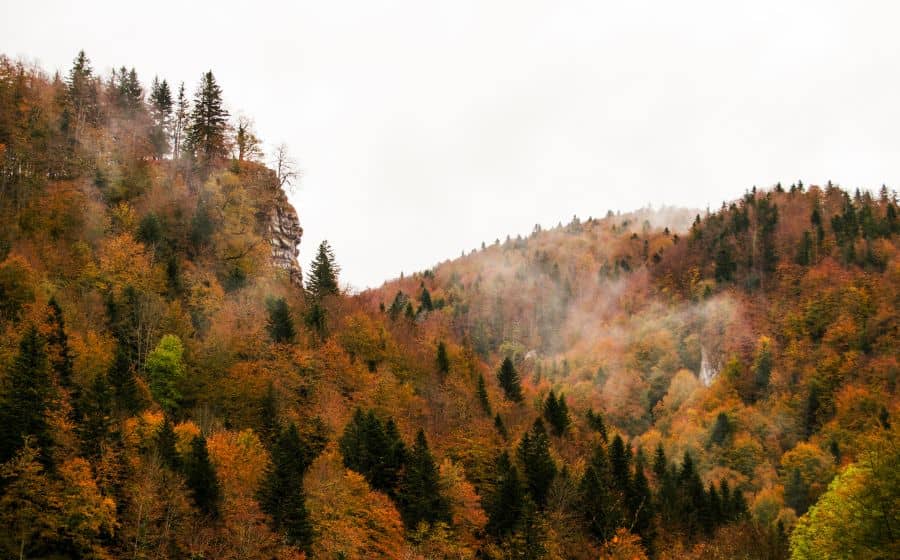 If I had to choose between Spain's forests, I would choose the Irati Forest as my first option. Also known as the Irati Jungle. It's one of Spain's most extensive beech-fir forests and the second largest in Europe. It's also one of the best-preserved forests. You'll see various trees, from beeches, oaks, firs, willows, ferns, and many others, and varied fauna, including deer, roe deer, and wild boar. This forest has great environmental richness.
In addition, Irati is a Special Protection Area for Birds. If you are a bird lover, you will go crazy with all the birds here! You can see from woodpeckers to incredible bird raptors, such as the golden eagle.
This magnificent conservation and biodiversity are due to the three protected areas of the Irati Forest: the natural reserves of Mendilatz and Tristuibartea and the integral reserve of Lizardoia.
This spectacular forest is preserved in great shape thanks to the citizens' respect over the years. The objective is to maintain one of the most unique corners of Spanish nature.
It's landscape will leave you in love at any time of the year, but without a doubt, the fall season is my favorite to visit it. It produces an explosion of colors that I have never seen anywhere else. Believe me, it's something you have to experience yourself.
The Irati forest offers many possibilities to spend a few days in contact with Spanish nature and enjoy all its corners practicing hiking, as well as trying the typical gastronomy of the Navarrese Pyrenees.
You can't miss it!
Mercedes, 58 yo from Madrid shares with us her experience: "My husband and I really wanted to visit the Irati Forest in autumn. We traveled around the third week of October and we found it breathtaking! The scenery is spectacular! It was so beautiful, the mix of colors and contrasts that we couldn't stop taking pictures! It looked like a fairy tale! It's a perfectly preserved and very well kept beech forest. Anyone can make countless excursions, as the trails are perfectly indicated. We will surely repeat with the rest of my family!"
2. Muniellos Forest
Location: Asturias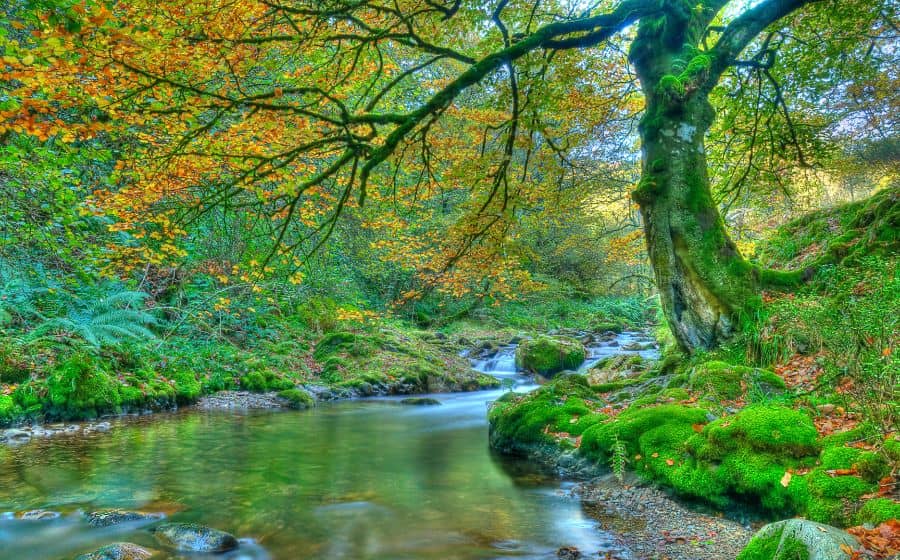 It's one of the most remarkable and beautiful forests in Spain. BUT pay attention because the visit to this forest isn't easy.
To see it, you need to have a special permit; in fact, only twenty people can visit it daily. So make your reservation in time to don't miss it out! If you get it, I can assure you it will be a privilege! In 2000 Muniellos was declared a Biosphere Reserve by UNESCO and is currently the most protected natural area in Asturias.
Besides being the symbol of the Muniellos region, it's the largest oak forest in Spain, with over 5000 hectares. It is the most enormous forest mass in Asturias and one of Europe's best-preserved Atlantic forests.
Muniellos is a natural reserve with the most incredible biological diversity of the Cantabrian mountain range. In addition to its stunning oaks, you can also see birch, ash, poplar, a thousand types of mushrooms, holly, and boxwood.
What caught my attention is that Muniellos is located on a Paleozoic base of about 500 million years old. The lagoons in this beautiful forest are 1400 meters above sea level. You'll just want to sit on the shore and enjoy a picnic while admiring the landscape full of mountains.
But be warned that if you come to visit in the winter season, the snow will be the main protagonist, along with the hundreds of animal species you can find. But it will be worth it because the landscape will be unique and special!
The time when you will find a large number of visitors is in the summer season. The forest becomes beautiful at this time, but it can also lose that special touch when there're many people. Maybe the best option is to visit it in the spring months, like April and May, or in autumn, like October and November.
I leave it up to you!
3. Faedo de Ciñera
Location: León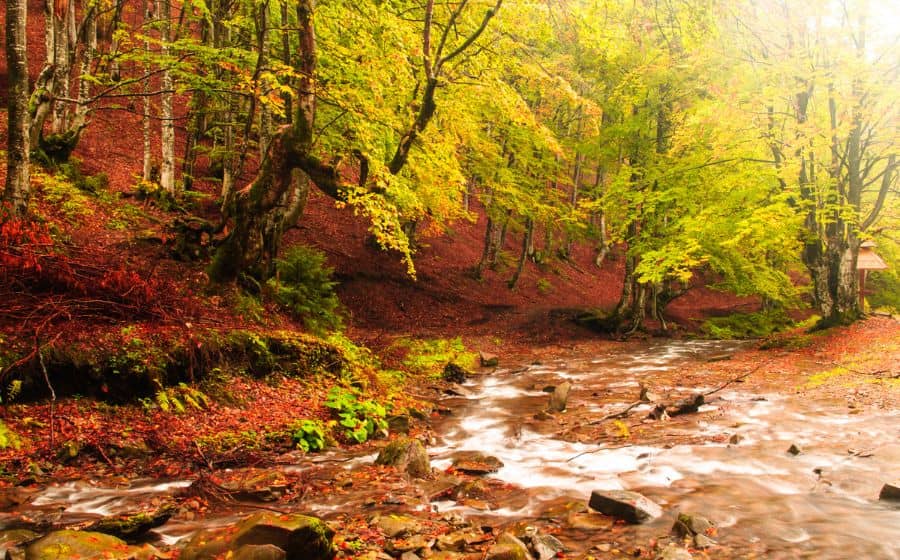 Like most of the forests, we will see, one of my favorite seasons to visit, if not my favorite, is during the fall season.
The explosion of reddish tones of the trees and the green tones of the moss between the stones make you not know where to look. It's located next to the gorge of the Hoces del Villar, and it's undoubtedly a real jewel of the Cantabrian Mountains. If you come to Leon, it's a must! In fact, it is a very popular and easy route that you can even do with children.
In 2007 Faedo de Ciñera was declared a Biosphere Reserve in addition to becoming the best-kept forest in Spain.
The good thing about this route is that you can choose if you want to do the whole way or just a part of it. So it really depends on the needs of each one. The route is also known as an enchanted forest because of the legends about witches and fairies.
I hope you like this forest as much as I do!!
4. Tilos Forest
Location: La Palma, Canary Islands
This beautiful and lush forest can be found on the super beautiful island known as La Palma, more specifically in the Natural Park of Las Nieves. The Tilos forest is a magical place declared a Biosphere Reserve in 2002, the first on this island. If you want to get lost in a humid subtropical forest, Tilos is your choice. This Spanish paradise can be accessed free of charge, but visitors are expected to respect and care for it.
Walking through the forest, you will feel like a humid jungle. The vegetation is very abundant, and you will be able to enjoy several waterfalls where you can go for a dip. The flora of this forest stands out for the laurel and linden trees, but you will also see strawberry trees, giant ferns, and many other species.
It's a perfect place to disconnect from everything and enjoy its hiking trails. There are two viewpoints from where you can admire this incredible landscape: the "Mirador del Espigón Atravesado" and the "Mirador de las Barandas."
Tilos forest is an explosion of biodiversity and greenery that will make you fall in love at first sight!
If you want to see Tilos forest specially and differently, I recommend you to go to "Roque de Los Muchachos," the highest point of the island of La Palma, with almost 2,500 meters of altitude. Would love to hear what you think!
5. Fragas do Eume
Location: A Coruña, Galicia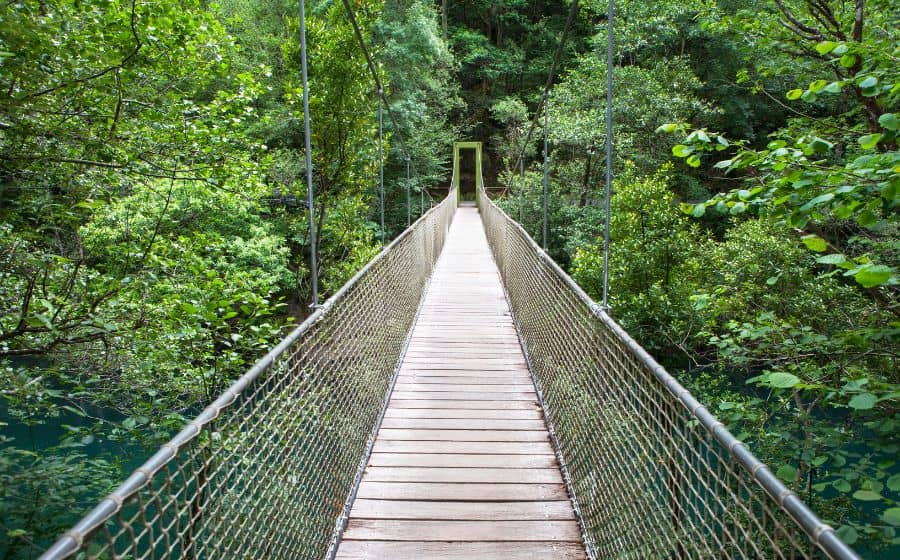 One of the best-preserved Atlantic forests in Europe and the Iberian Peninsula.
The great value of this park is that it has survived since the Neolithic. It extends through the areas of Cabañas, A Capela, Monfero, and Pontedeume. It's bounded by the basin of the river Eume. The best way to get to know it's by foot, so you will discover the goblins that apparently live there. A fact that I consider essential to know is that "Fraga" means forest with trees of different species. So be prepared to be surrounded by oaks, ashes, poplars, and more than 20 species of ferns. The vegetation is so dense that sometimes it gives the feeling that the sun is leaving because the light doesn't pass through the trees. You will feel that you are entering a secret forest, not only because it's somewhat shady but also because, along the way, you will find fountains, waterfalls, and different shades of green that make it even more special.
Not only does it stand out for its vegetation, but you can also enjoy the presence of 103 species of birds. There are also different mammals, such as the wild cat, and various types of fish, among which the salmon stands out.
In the heart of Fragas do Eume, you will find the monastery of Caaveiro, with more than 10 centuries of history and spectacular views!!
6. Fageda d'en Jordà
Location: Girona, Catalonia
It's one of the most unique places in the region of La Garrotxa, in the province of Girona. This forest's landscape is different from other Spanish forests as it is located on a terrain of cooled lava from the Croscat volcano.
La Fageda d'en Jordà is located on flat terrain at 550 meters, a low and rare altitude for beech forests in the Iberian Peninsula. And not only this, but it's also surrounded by 21 volcanoes, an authentic madness since we are talking about Spain!
La Fageda is a mystical place that has inspired many painters and poets to create art, leaving everyone who visits it amazed.
It doesn't matter what time of the year you visit it, but if you can choose, I advise you to go in the fall season. For me, it is the perfect time as the shades of the leaves of the trees turn reddish, yellow, orange, and brown. If you are a photo freak, I'm sure you won't be able to stop taking pictures!
In summer and spring, you won't be able to see such an attractive range of colors. Still, you can enjoy an incredible temperature to explore the forest.
When visiting this Natural Park, you have two options depending on your needs and preferences. One is by foot, and the other is in a horse-drawn carriage. Yes, as you can hear, a carriage!! It's an excellent idea for people with reduced mobility, children, or even if you are tired that day and don't feel like walking much. If you choose this option, the route will last an hour or so. But don't worry because you will be able to enjoy nature and take some photos of the incredible landscapes of this Spanish forest.
If you have the opportunity, visit the dairy farm of La Fageda, where you can learn how they make their famous yogurts through a guided tour. Now comes the best part: do you know why the yogurts made here are so good? The secret is that besides enjoying the nature of La Fageda, the cows also listen to classical music!! I didn't believe it at first when I heard it!
7. Natural Monument of the Sequoias of Monte Cabezón
Location: Cantabria
Redwoods are a common species on the US West Coast but don't worry, you don't need to travel there to see them. You can find them as big and beautiful in the north of Spain, specifically in Cantabria.
It's really curious and strange to find two and a half hectares of sequoias in the middle of Cantabria, as it isn't a typical tree you will find in the area. They are there because they were planted in 1940 for industrial needs during the Franco era. A total of 848 sequoias were planted due to the speed with which they grew. And thus, all the wood could be used.
However, once they grew, it seemed that they weren't interested anymore, which was very fortunate for us because today we can enjoy them!
In fact, the Redwoods of Monte Cabezón is a Protected Natural Area of Cantabria, declared a Natural Monument, and included in the Network of Protected Natural Areas of Cantabria.
You may end up with a sore neck as you will find sequoias up to 40 meters high, an absolute blast! In the autumn months, taking a walk here is lovely, and you can enjoy the mix of colors typical of this time of year. But in fact, any time of the year is good to visit, besides being a simple and accessible route for everyone. This forest has been very visited in recent years, but many people still do not know about it. So don't wait any longer and be the next one to visit it!
8. The Enchanted Forest
Location: Santa Cruz de Tenerife, Canary Islands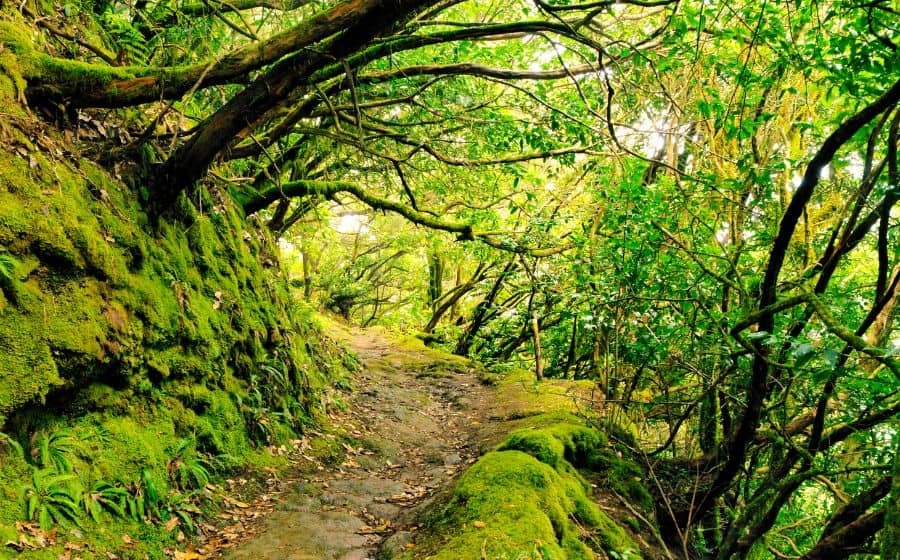 Tenerife is an island that will never cease to amaze you with its different landscapes. From its volcanic terrains in the Teide National Park to its green trails, you can find them in the Enchanted Forest.
The route through this forest will make you fall in love with this Canary Island. It's a spectacular trail located in the Natural Park of Anaga, where you can enjoy one of Spain's best-preserved laurel forest landscapes. What is especially striking is the size of the ferns typical of this area; believe me, you have never seen something like this!
Are you wondering why it's called Enchanted Forest? Well, mainly because of its magical aspect, colors, and paths full of trees that will make you feel part of a fairy tale or a movie.
To visit this natural place, you must request a permit; it seems silly, but it guarantees the protection of the area and helps not to lose its charm. There are no more places like this, and everyone is responsible for preserving them over time.
If you are a hiking lover, the Enchanted Forest is a must if you decide to visit Tenerife!
Make sure to get the permit at least one week before the route to avoid any inconvenience of availability.
9. Hayedo de Montejo
Location: Madrid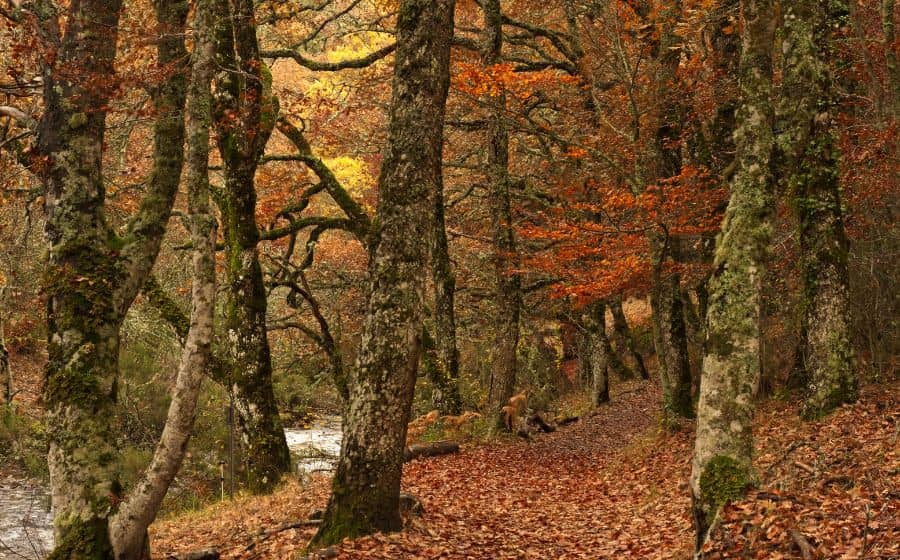 This forest stands out for its large number of beech trees and its surface of 250 hectares. You will find it in the Sierra de Ayllón, belonging to the municipality of Montejo de la Sierra. In addition to being part of the Biosphere Reserve of the Sierra del Rincón, it was also declared a World Heritage Site by UNESCO in 2017.
The beech forest has the remains of Central European deciduous vegetation in Spain. Hayedo de Montejo, is one of the most studied in the Iberian Peninsula. It's the only one you will find in the Community of Madrid and one of the southernmost in Europe, which is why it's super protected.
It's beauty is indisputable; as in most Spanish forests, autumn is its star season! We know why because of the palette of reddish and brownish tones that will make the forest look amazing!! You can enjoy 833 species of plants, among which the beech stands out, many of them over 200 years old, making this landscape authentic.
If you visit Madrid, like hiking, and want to make a different plan, an excursion to Hayedo de Montejo will delight you! Besides, it's only an hour and a half from the Spanish capital!
Thanks to its ecological value, the Montejo beech forest has been used to investigate the consequences of climate change on European forests.
Here's a map so you know where to find them!
I hope that with this list, you will have a clearer idea when visiting one of our forests. And if you can see more than one, even better! If you have already visited any of them, I would love to hear your opinion, and if you have been in any other that you have loved and is not on this list, please share it with us!