Spain in March: 8 Travel Tips, Activities & Weather
June 14, 2023
Updated:

June 19, 2023
Published: June 14, 2023
March is not precisely known for being in any traveler's fantasies. It's an awkward month at the beginning of the year and right before Spring break.
However, in Spain, this is the month when Spaniards reclaim their spirits, and the city's nights become alive again as the weather transitions from Winter to Spring. After a long but relatively cold Winter, the flowers anticipate the coming warmth, and we can catch their first glimpses.
This is why I want to guide you through the best activities to enjoy in Spain if you visit us in March. This way, you know what to expect in each city so you can plan your vacations according to the weather to match your travel experience.
Let's see Spain bloom as Spring is welcomed this month with many cheer, festivals, and special celebrations!
---
Travel tips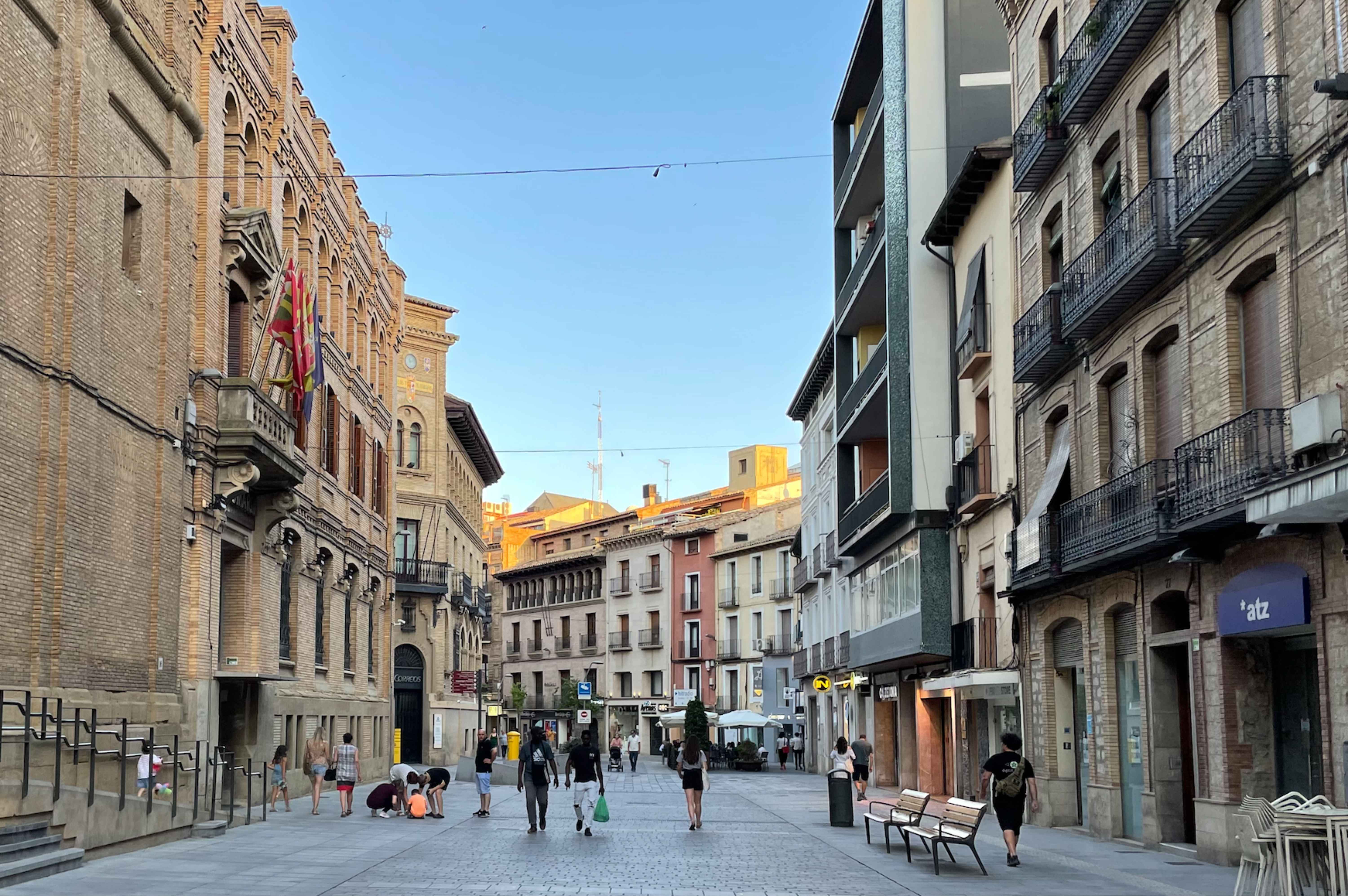 Seize the Affordable Off-Season: A Great Time to Visit Spain
The temperatures rise, the terraces fill up again, and you can feel the season change coming up!
Dawns much earlier, the nights are longer, and joy returns to the big cities, becoming an ideal destination. Traveling to Spain in March might be the best month to come here if you're looking for other than beaches.
It is "still winter" until mid-March, so crowds are not high, and flight prices and hotel rates are usually lower than in the April-May shoulder season.
You can save lots of money on flights, and hotels, and it's a great time to visit the big cities as the crowds for main attractions and landmarks are less packed than in Summer.
Embrace the Outdoors: Discover Breathtaking Hiking Trails
If you visit Spain during March, plan a getaway to the Sierra or the mountains on your trips; there are beautiful landscapes, where you'll likely see some colorful wildflowers or local wildlife. The weather can be pleasing but slightly cold, and the days are sunny, excellent for longer multi-day treks.
In general, Spring and fall are considered the best seasons for hiking in Spain. Spain boasts mountains, forests, arid interiors, and rugged coastlines. High mountains like the Sierra Nevada or the Pyrenees are ideal destinations.
You may want to head up on a hike to the top of Mount Tibidabo, which offers views of stunning Barcelona, or you may wish to visit the Teide National Park in Tenerife, Canary Islands. Whichever hike in Spain you choose, you can expect well-marked, relatively easy-to-follow routes.
Experience the Blooming Beauty of Valle del Jerte
This is a local's advice: March is the perfect month to visit Valle del Jerte. Please don't miss this opportunity to watch the most beautiful scenery of nature, flowers, and wildlife.
Spring is the time of the cherry blossom. Many activities are held around the cherry blossom festival: El Festival del Valle del Jerte, where visitors can enjoy routes through the cherry trees and cultural and gastronomic activities.
In addition, it is the perfect excuse to visit the countryside and the small towns surrounding the area to have a bigger and more complete picture of Spain. It's a 2 in 1!
There are many viewpoints where you can see the landscape of Extremadura, such as the Mirador del Puerto and the Mirador del Monte de La Cruz. Although Spring is the crowdest time of the year, it is worth visiting in March since crowds are not a problem for this attraction.
Unwind on the Mediterranean Coast Before the Heat Arrives!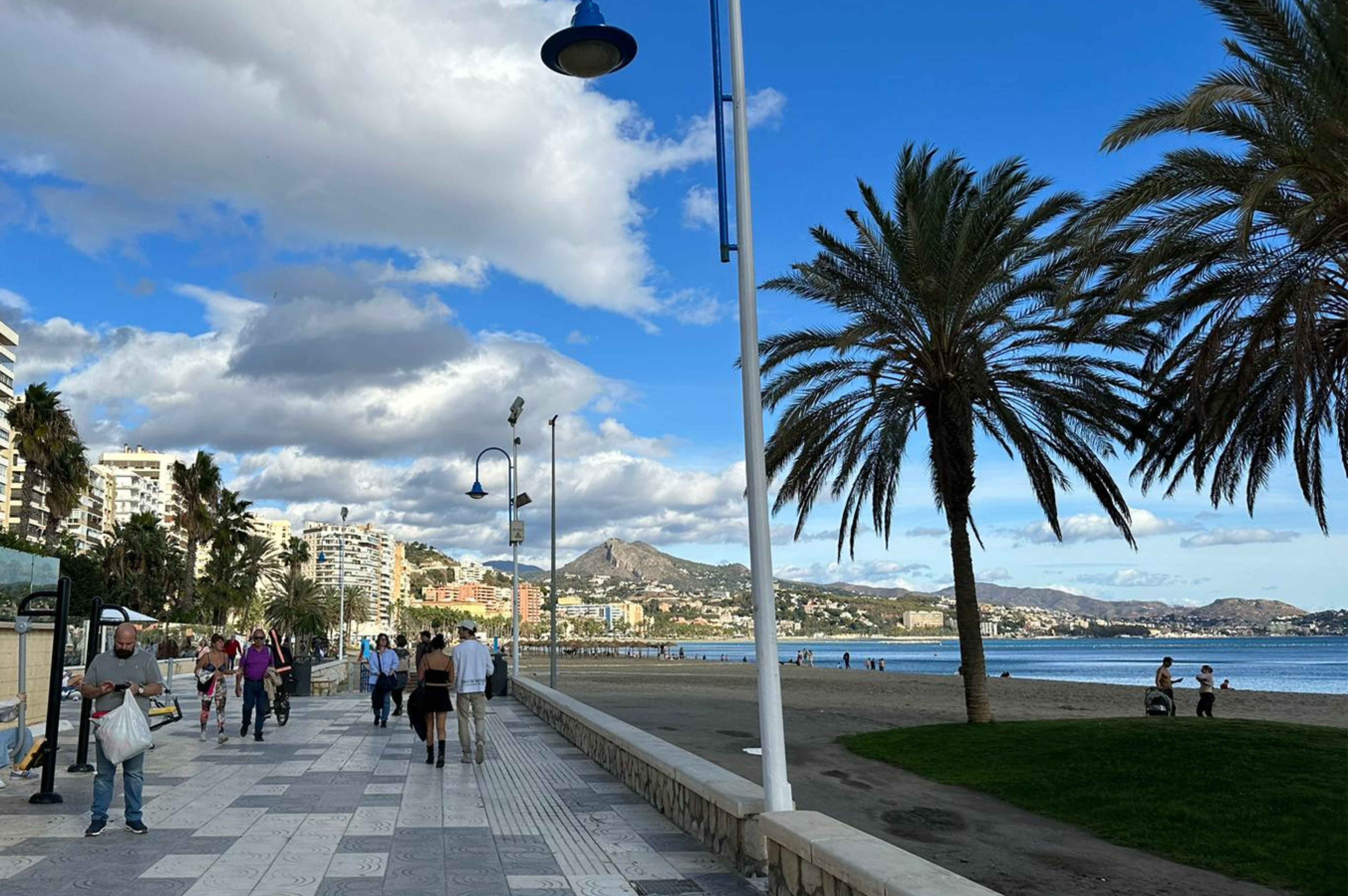 The Mediterranean coastal area in the south of the country has one of the best temperatures at this time, which makes it a desirable destination to visit since tourism can be enjoyable due to the pleasant temperatures.
If you have not seen it yet, this article talks about the best activities to do in March in Spain. I recommend Granada, Córdoba, and other beautiful cities worth visiting.
However, I would like to give you other lesser-known options for you to consider.
If you're in Andalucia, visit the medieval mountaintop town of Ronda, with its famous stone bridges. Really impressive!
On the other hand, there is Huesca in the Aragón area, a marvel since the greenery still preserves all its vivid color and the waterfalls and streams overflow with water. Places like Aínsa, Alquézar, and Riglos are lovely.
Pack Lighter Layers - But Don't Say Goodbye to Warm Outfits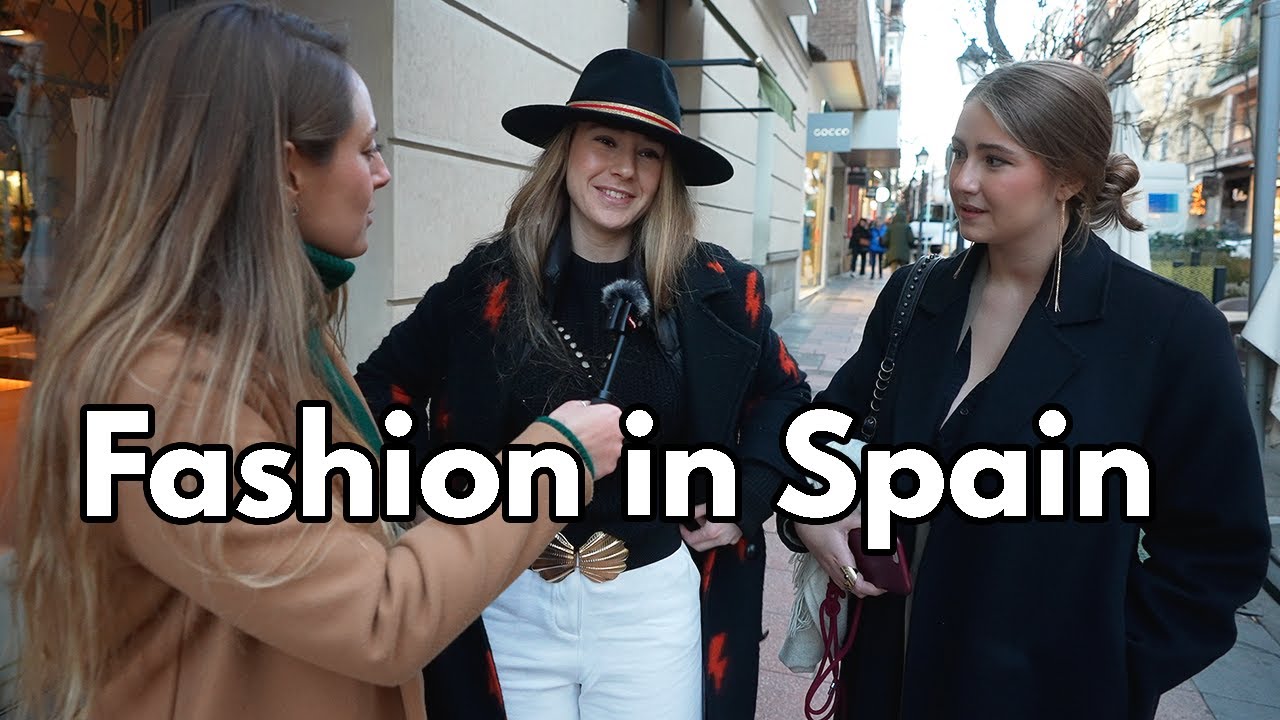 In this video you can see what are people wearing during early March in Spain.
Remember that it can still get a little cold, especially at night. Bring a warm piece of clothing that you can remove in case you are too hot, along with thin layers and a jacket.
A complimentary item could be packing some wet weather gear. Still, it is optional since it doesn't usually rain in Spain.
Or perhaps you would like to dress in two thin layers to cope with the temperatures but mentally prepare to be flexible with the weather, as it can be a little bipolar.
Keep an Eye on the Clock - Remember the Time Change!
In 2024, the time change will occur on Sunday, March 31. Every year we have to advance the clock one hour. The fundamental reason is to adopt the so-called "summertime." But, fun fact, it was also imposed to save energy during the first world war.
The time zones that govern time in the EU are:
GMT time zone: applied by countries such as the United Kingdom and Portugal.
Time zone +1 GMT: valid in countries such as Spain, Germany, France, or Italy.
Time zone +2 GMT: applied in Finland, Romania, or Greece.
This applied to your trip implies that, in March, you will notice that some establishments in the hospitality sector will be changing their opening and closing hours.
If your trusted cafeteria opened at 9:30 am and the next day it opens at 8:30 am, it may be due to the summertime change.
This might seem to have little influence and minor importance, but I'm telling you because it happened to me several times, and it can help! So keep that in mind.
Immerse Yourself in a Month of Festivities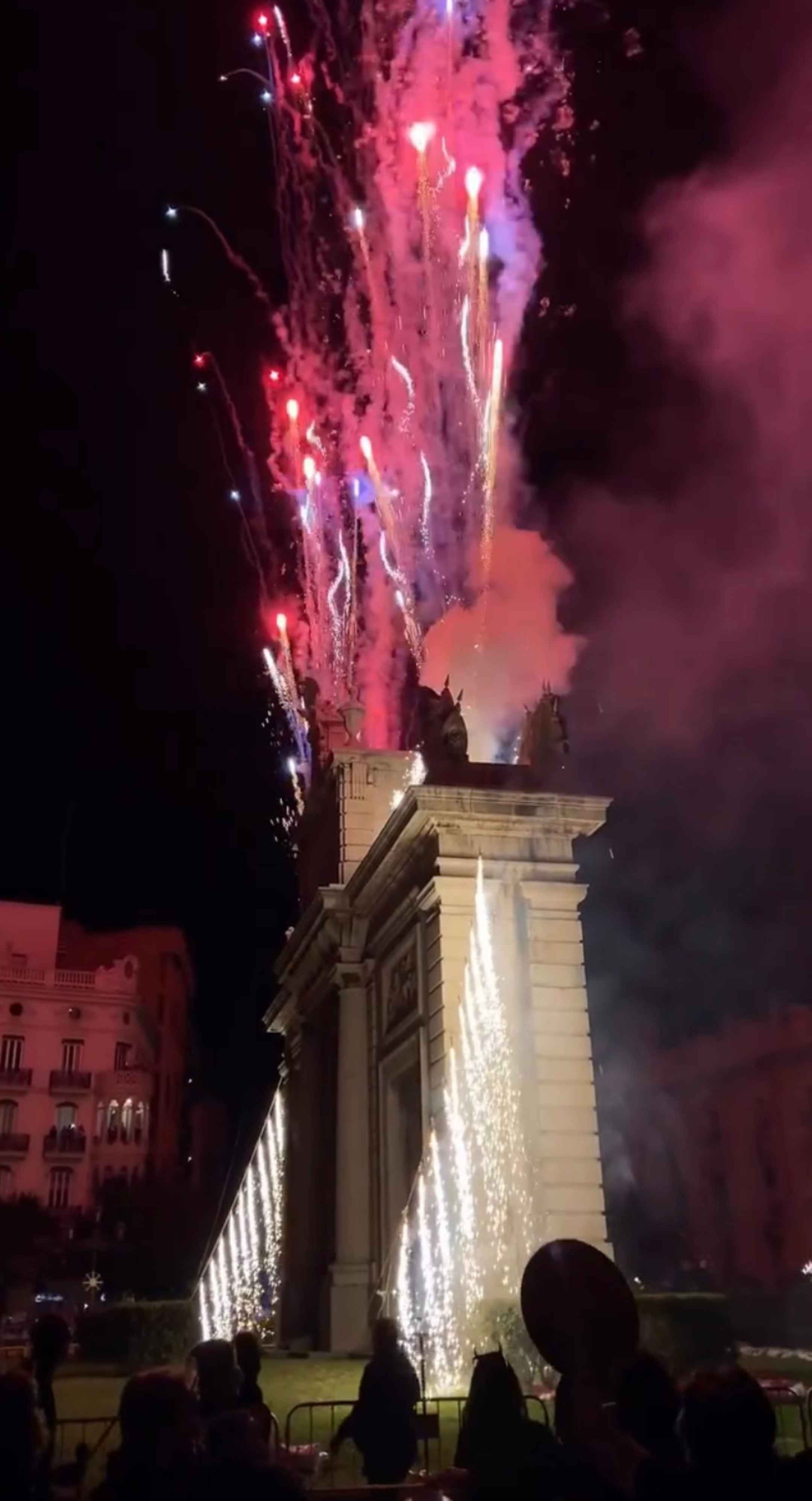 Get ready because this is a month of partying. If you come in March, you will be able to see the Spanish in their most joyful spirit, enthusiastic and enjoying life.
Las Fallas de Valencia takes place from March 15 to 19. It is the festivity par excellence of this community, also declared of International Tourist Interest.
When I tell you that no one sleeps during these dates, no one sleeps. Everyone is in the streets 24 hours a day, and music is playing everywhere; the streets are decorated with lights of all possible colors and shapes, even fire! The smell of gunpowder is in the air.
Oh, and not to mention that there is a stand selling churros, buñuelos, and bocadillos on almost every corner. Learn more about these dishes!
📌Read more: What to Eat in Spain: 31 Tasty & Traditional Dishes
The city is overrun by caricatures and satirical representations of politicians, celebrities, and iconic characters. It is a once-in-a-lifetime experience. 
But not only Las Fallas take place; other very popular festivities of this type are also celebrated, such as the Fallas de Alzira or the Fallas de Sagunto. 
Different cultural experiences occur, like the re-enactment of Columbus's Arrival in Pontevedra, the reconquest of Vigo, and many more!
Celebrate the Flamenco Festival in Jeréz de La Frontera, Cádiz
Before planning your trip to Spain, consider Cádiz as a destination if you are interested in Flamenco, its origin, and want to see authentic shows.
During this month, the Flamenco Heritage Festival of Cádiz takes place in different central locations such as the Gran Teatro Falla, Espacio de Cultura Contemporánea de Cádiz (ECCO), or the Casa de las Artes Auditorium become the main stage of Flamenco.
I highly recommend it for those who want an unforgettable trip, witness a unique experience, and see artists sharing their love for Flamenco and Spanish dance.
And not only are you going to learn, but you are going to feel part of this genuine moment. It is for everyone, for flamenco lovers inside and outside the city.
📌Read more: 10 Top Flamenco Shows to See in Spain. With Videos!
---
Activities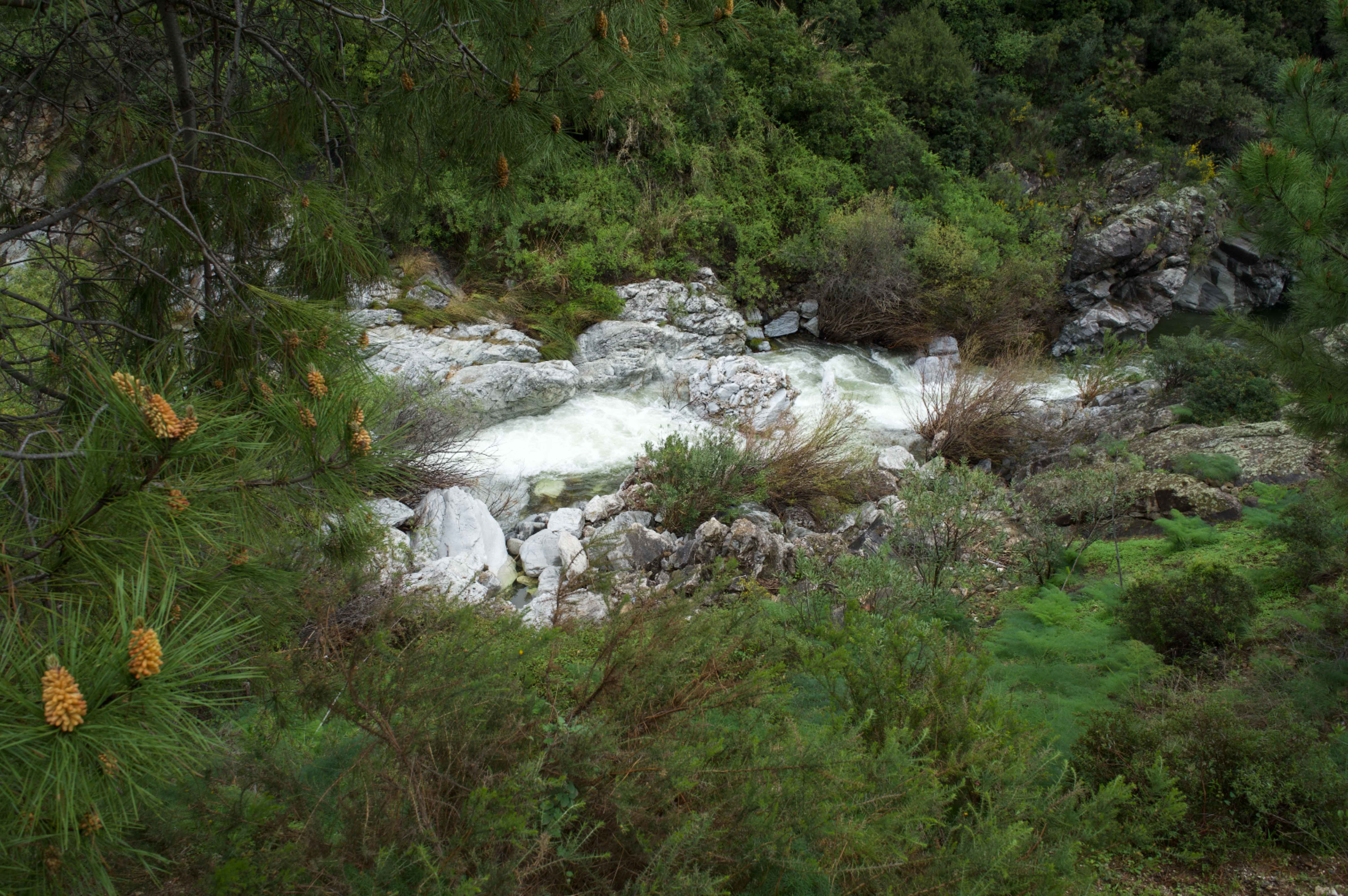 Well, I have already given you many ideas of things to include in your trip to Spain in March. Now I bring you the best activities you should do in the cities that can or cannot be missing from your list for these dates.
Madrid and Barcelona are essential, because being the two main cities they have a lot of tourist attractions, a lot to see, and offer many experiences.
Read more:
As it is off-season and the weather is pleasant, March, when Spring begins, provides the perfect setting for touristing without long lines and affordable prices.
And if you are wondering which is the warmest island in March, Gran Canaria and Lanzarote take the medal. Still, Gran Canaria has warmer sea temperatures than Lanzarote this month.
Now let's see what else this beautiful country offers us.
Madrid
Madrid, the capital of the city, is an excellent option anytime in the year. The culture, the activities, the excellent food, and the so-called terrace culture begin with the rise in temperature and the longer days.
Generally, the perfect time to visit Madrid weather-wise is during the Spring, from March to May. It offers exhibitions, premieres, family activities, dance and theater performances, food, concerts, and music experiences!
The daily maximum temperatures are around 17°C and rarely exceed 23°C. Whereas the daily minimum temperature is 5°C and rarely exceeds 9°C.
As for clothes, I recommend you show off with the outfits since the Spanish people dress to impress. Outfits speak for themselves, so it's time to take off your warm winter coats and show your layer game!
I recommend bringing a light coat, layers, stylish but comfy clothes, and comfortable closed shoes to walk and discover the city. For more info, visit the following article:
⛅Read more: Prepare for Madrid's Weather: Advice from a local + 4 Tips!
Barcelona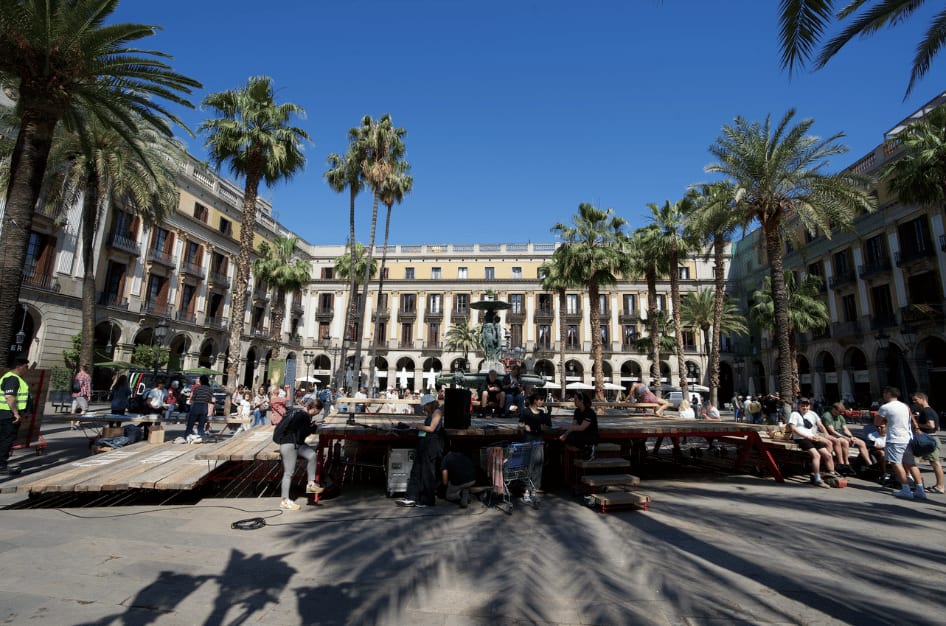 Barcelona is a city that offers everything for everyone 365 days a year. It always includes exciting activities you can do, like cultural festivals, food tours, art, and architecture. There is practically no room to get bored.
The water is still not hot enough to bathe in, but you can visit it to relax and rest. Although surfing, kayaking, and other water activities are practiced.
As for the weather, the daily high temperatures rise to 17°C and rarely drop below 11°C or exceed 20°C. While daily minimum temperatures rarely drop below 2 °C or exceed 12 °C.
⛅Read more: Prepare for Barcelona's Weather: Advice from a local + 7 Tips!
What does this mean? Ideal weather for sightseeing in the city, both in the outdoor attractions and museums, so the crowds are not overwhelming.
Valencia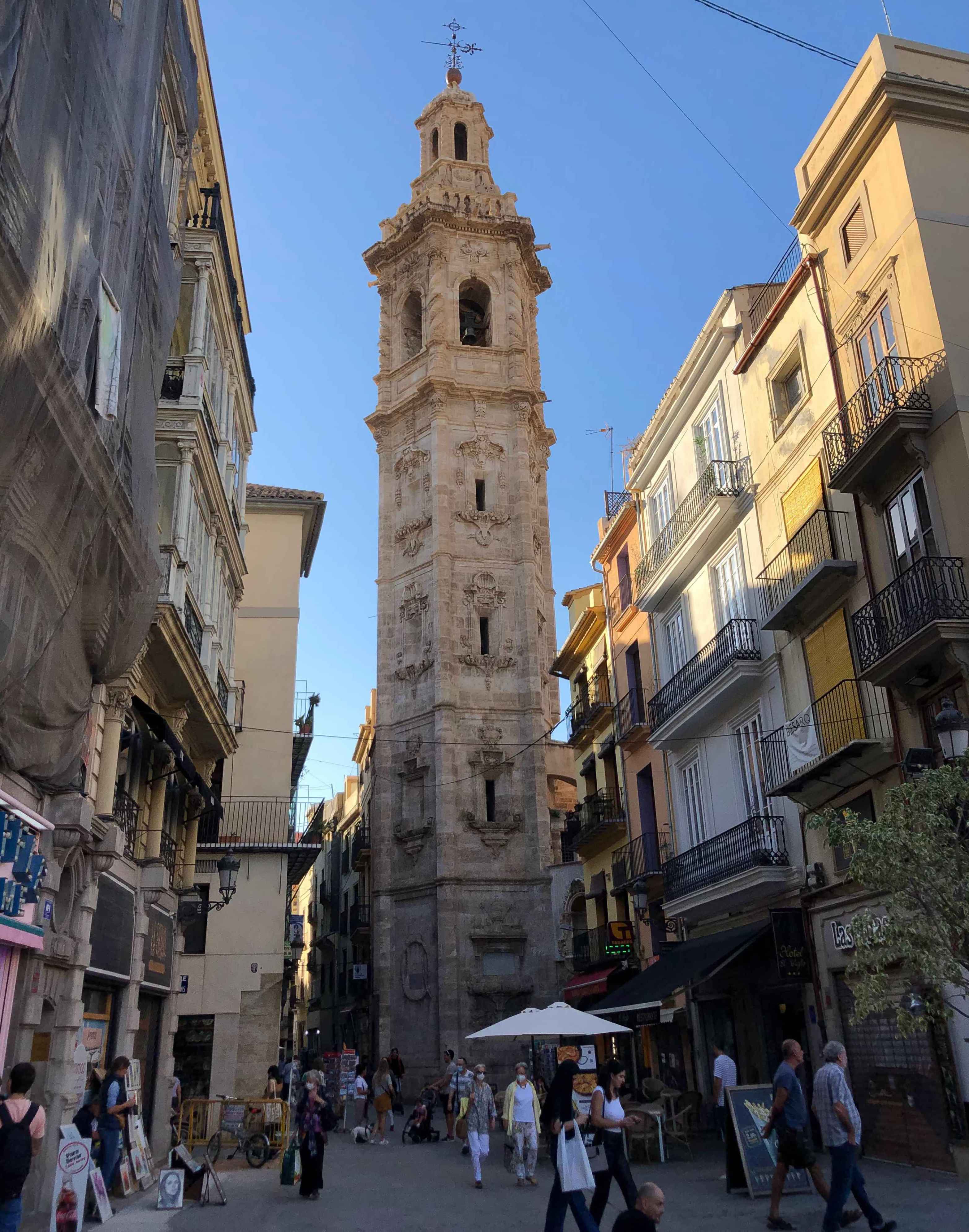 March calls for a visit to Valencia. Promise me that if you step foot into this country during that month, you will stop in Valencia before you leave.
This is the absolute best moment of the year to discover this beautiful city. Also one of the most important, biggest, and with more foreigners and tourists in Spain after the big 3, Madrid, Barcelona, and Seville.
During these dates, the city is filled with joy, and the atmosphere is so pleasant that you will be amazed by the city's beauty and vibes. Various events and activities occur, such as Las Fallas (Heritage of Humanity by UNESCO), exhibitions, concerts, etc.
Does it sound convincing enough? I'm already craving to go again!
Cádiz
Without a doubt, Cádiz has become one of the main tourist destinations in Spain, and every year more and more people decide to spend their holidays here.
La temporada alta es en Verano, pero forget about quiet walks along the beaches or having spontaneous drinks wherever you want since it gets crowded.
This is why I recommend March. Visiting Cádiz in the low season can make things much easier and cheaper. Adding the magnificent opportunity to enjoy the Flamenco Festival in Jerez de la Frontera!
The temperatures are ideal both day and night; it is almost always sunny. Even so, you can take the whole day on the street without getting burned by the sun or exhausting yourself from excessive heat.
Cáceres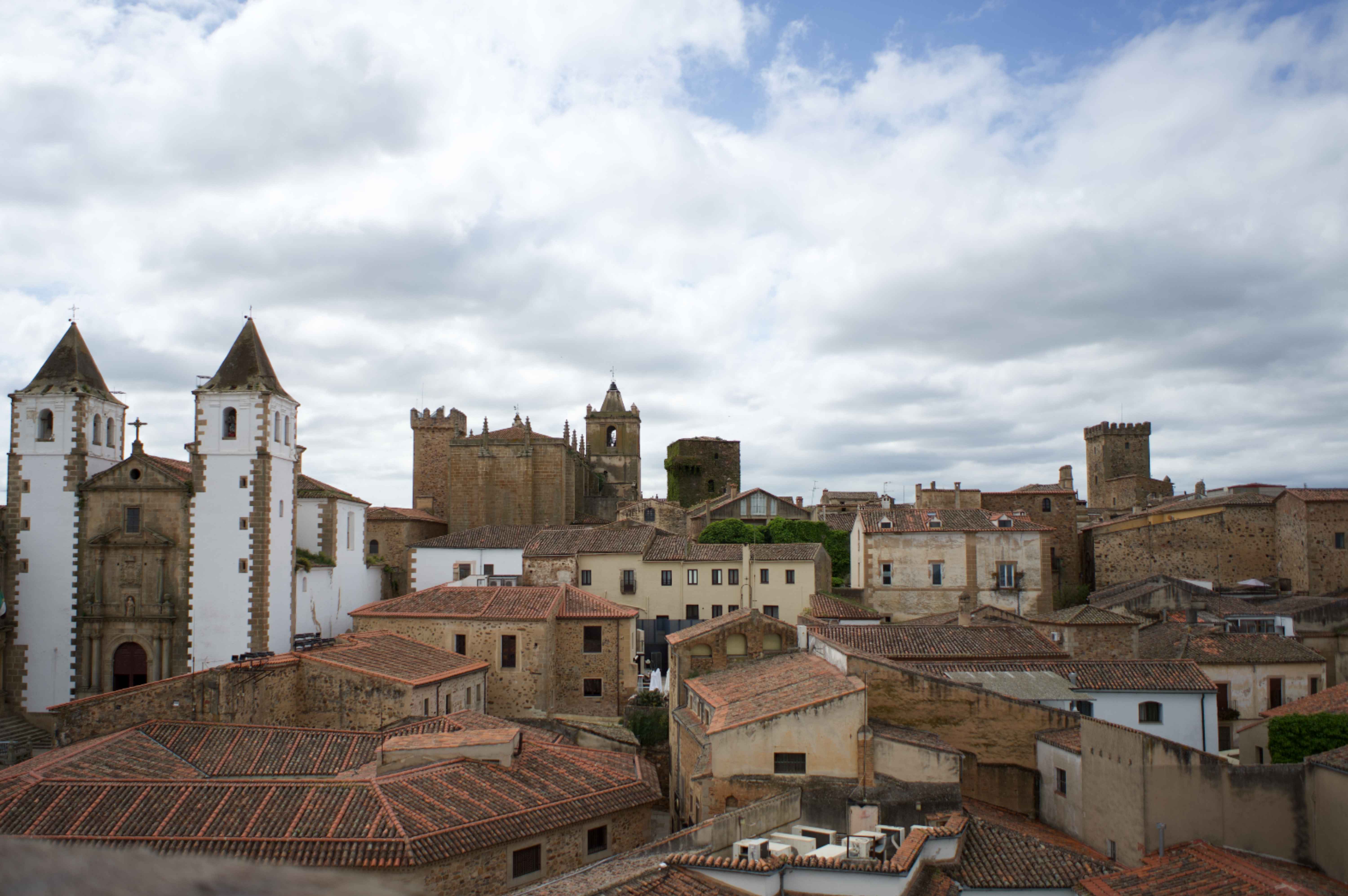 This is a very charming little town that you should give a chance to if you are looking to get to know the interior of Spain, go to a city where there are more locals, a lot of history, and immerse yourself in the customs of the country to get to know it in depth.
This is a city encircled by 12th-century Moorish walls, founded by the ancient Romans, and it retains widespread evidence of subsequent occupation by many different cultures.
The best thing is that in the old town, Ciudad Monumental, you can appreciate the combination of Gothic and Renaissance architecture, with cobbled medieval streets, fortified houses, and palaces.
It is a World Heritage City, and you will understand why after arriving. You will eat delicious food, and the city has an excellent tourism infrastructure.
As I mentioned before, Spring is the time for cherry blossoms and the festival of El Valle del Jerte. So don't miss this chance to experience routes through the cherry trees and cultural and gastronomic activities!
📌Read more: 10 Charming Towns in Spain for a Unique Day Visit
---
Weather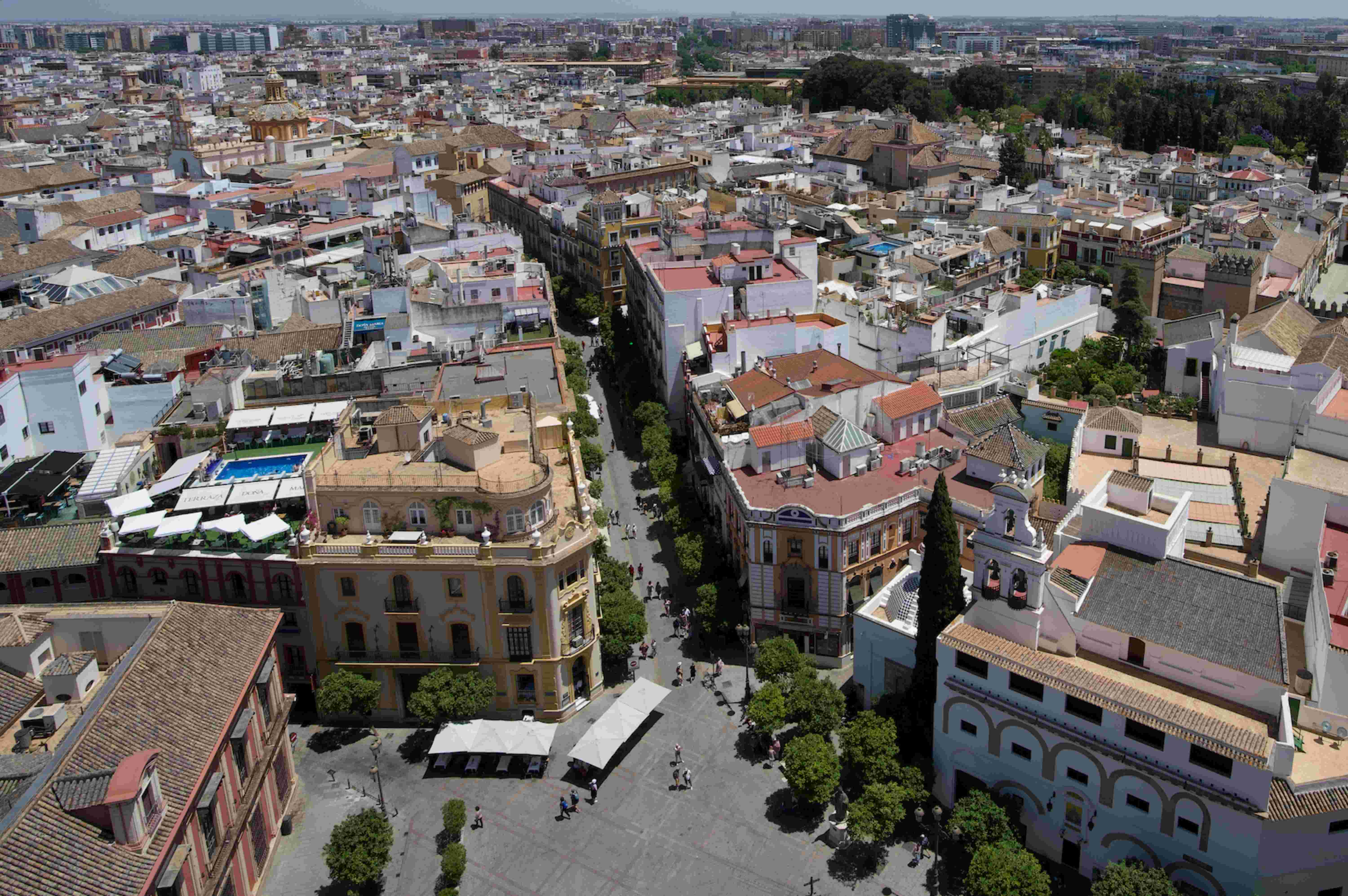 The temperature in Spain in March varies depending on where you are and the region. This is why I am leaving you a table with the average temperature in March for the different areas for more accuracy.
However, keep in mind that these temperatures can vary, so I recommend that you check the specific weather app for the city or town you visit on the days you visit to avoid surprises and plan according to the weather.
| Region | Minimum Temperature (°F) | Maximum Temperature (°F) | Minimum Temperature (°C) | Maximum Temperature (°C) |
| --- | --- | --- | --- | --- |
| Andalusia | 48°F | 66°F | 9°C | 19°C |
| Aragon | 32°F | 53°F | 0°C | 12°C |
| Asturias | 39°F | 52°F | 4°C | 11°C |
| Balearic Islands | 46°F | 63°F | 8°C | 17°C |
| Basque Country | 38°F | 52°F | 3°C | 11°C |
| Canary Islands | 61°F | 72°F | 16°C | 22°C |
| Cantabria | 39°F | 52°F | 4°C | 11°C |
| Castile and León | 32°F | 54°F | 0°C | 12°C |
| Castilla-La Mancha | 37°F | 58°F | 3°C | 14°C |
| Catalonia | 41°F | 59°F | 5°C | 15°C |
| Extremadura | 43°F | 64°F | 6°C | 18°C |
| Galicia | 41°F | 53°F | 5°C | 12°C |
| Madrid | 34°F | 57°F | 1°C | 14°C |
| Murcia | 47°F | 67°F | 8°C | 19°C |
| Navarre | 34°F | 52°F | 1°C | 11°C |
| La Rioja | 34°F | 54°F | 1°C | 12°C |
| Valencia | 48°F | 64°F | 9°C | 18°C |
---
I hope this guide was helpful so you can plan your trip according to the climate conditions, activities, and kind of trip you want to enjoy.
Remember, Spain has a place for everyone everywhere. This means there's always an excuse to return if you missed a city because of the weather; another one will always be waiting for you with its arms wide open!