Travel to Benalmádena: 10 Top Activities, Food & Attractions
October 10, 2023
Updated:

October 18, 2023
Published: October 10, 2023
Does La Costa del Sol sound familiar to you? This beautiful oasis by the Mediterranean waters is the perfect place for a vacation retreat.
Benalmádena is a fantastic place that has something to offer for everyone! Whether you're traveling with your friends, family, or loved ones, you're guaranteed to have a wonderful time here.
I'll guide you through this southern city that attracts so many tourists. It may be because of the fairy-tale castles, the chill vibes, the friendly people, or the breathtaking views. Still, there's something extraordinary about this place that drives people crazy.
So, come along with me on this journey, and let's explore all the fun and exciting things this city hides!
---
What is Benalmádena?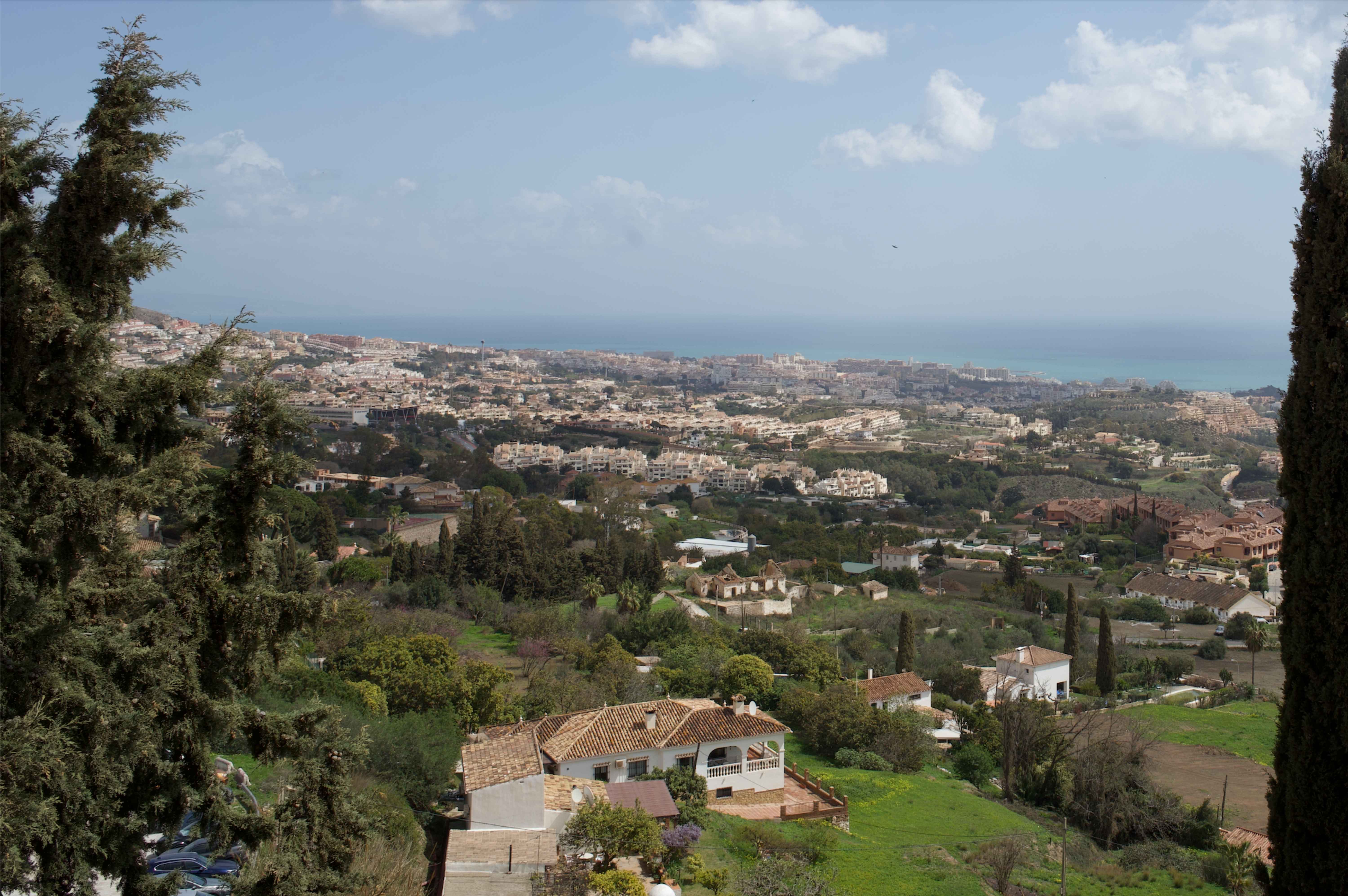 Benalmádena is a municipality in Málaga, located on the Costa del Sol between Torremolinos and Mijas.
This breathtaking vacation spot offers stunning weather and landscapes, making it an ideal destination throughout the year. It is definitely one of the most important tourist destinations in the province of Málaga.
This beautiful white town is worth visiting. It is home to one of the most important castles that tell the story of the conquest of America by Spain.
In addition, the entire city refers to the Islamic period of Andalusia, where you can see with your own eyes the mix of culture and legacy in both monuments and architecture. These were the ones who built a walled town and a fortress.
Best Things to Do in Benalmádena
1. Castillo Monumento de Colomares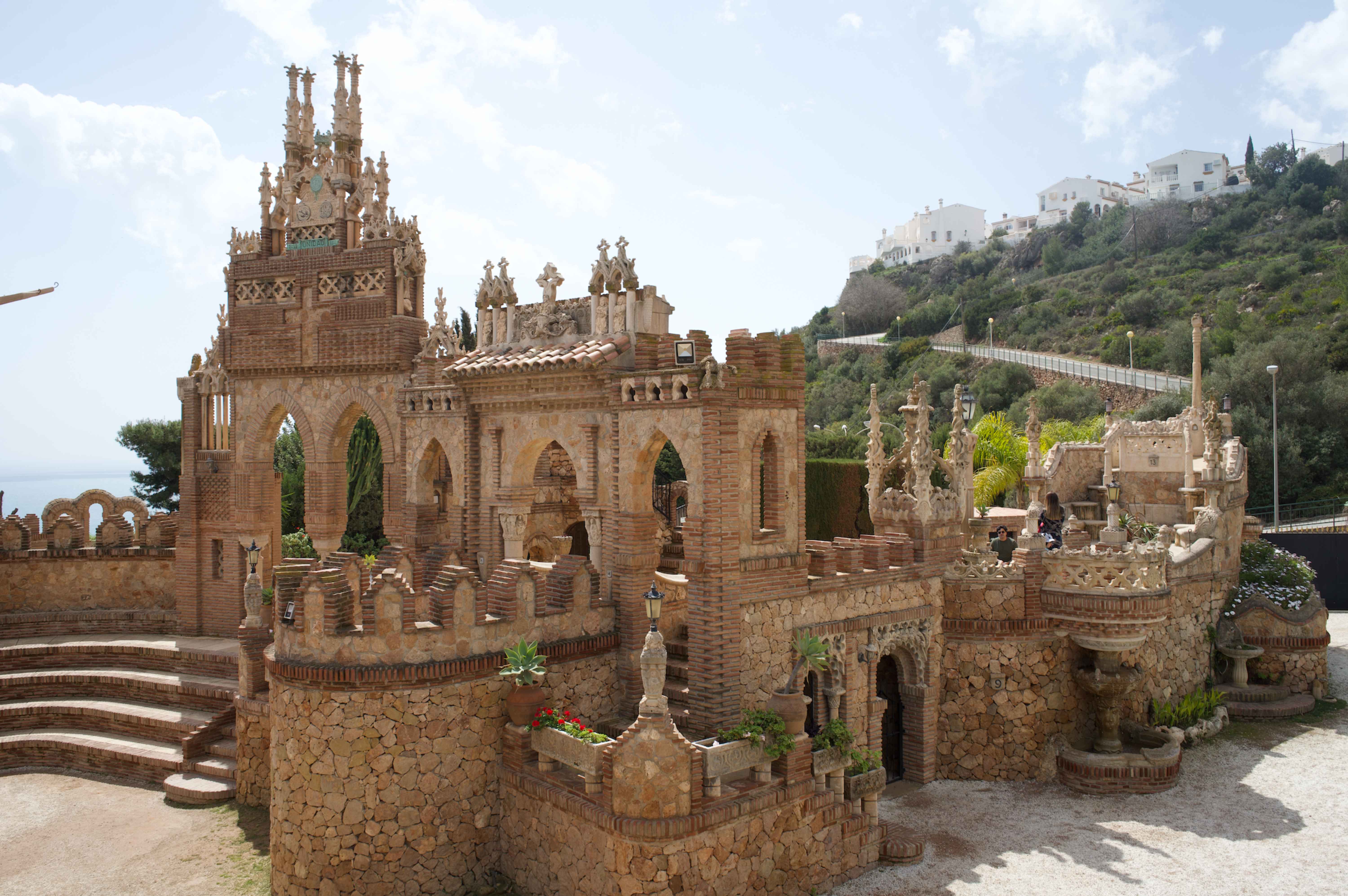 This monument is a tribute to Christopher Columbus and the discovery of America. 
The castle features inscriptions about the Catholic Monarchs, Hispanidad, and the ships Columbus used on his trip: the Niña, the Pinta, and the Santa María. All mixed with elements from Andalusia and Palos de la Frontera, where Columbus gathered his people to travel to America.
A visit to this place will leave you wanting to learn more about Spain, its history, past, and culture! Plus, it's a gorgeous location!
Dr. Esteban Martín created this masterpiece in 1987, which took him seven years to complete. The monument's architecture features a mix of different styles, such as neo-Romanesque, neo-Byzantine, neo-Gothic, and neo-Mudéjar. 
Fun fact: Colomares Castle is home to the smallest church in the world, which is dedicated to Saint Elizabeth of Hungary. You can find it in the Guinness Book of Records; this church measures only 1.96 square meters!
2. Plaza de España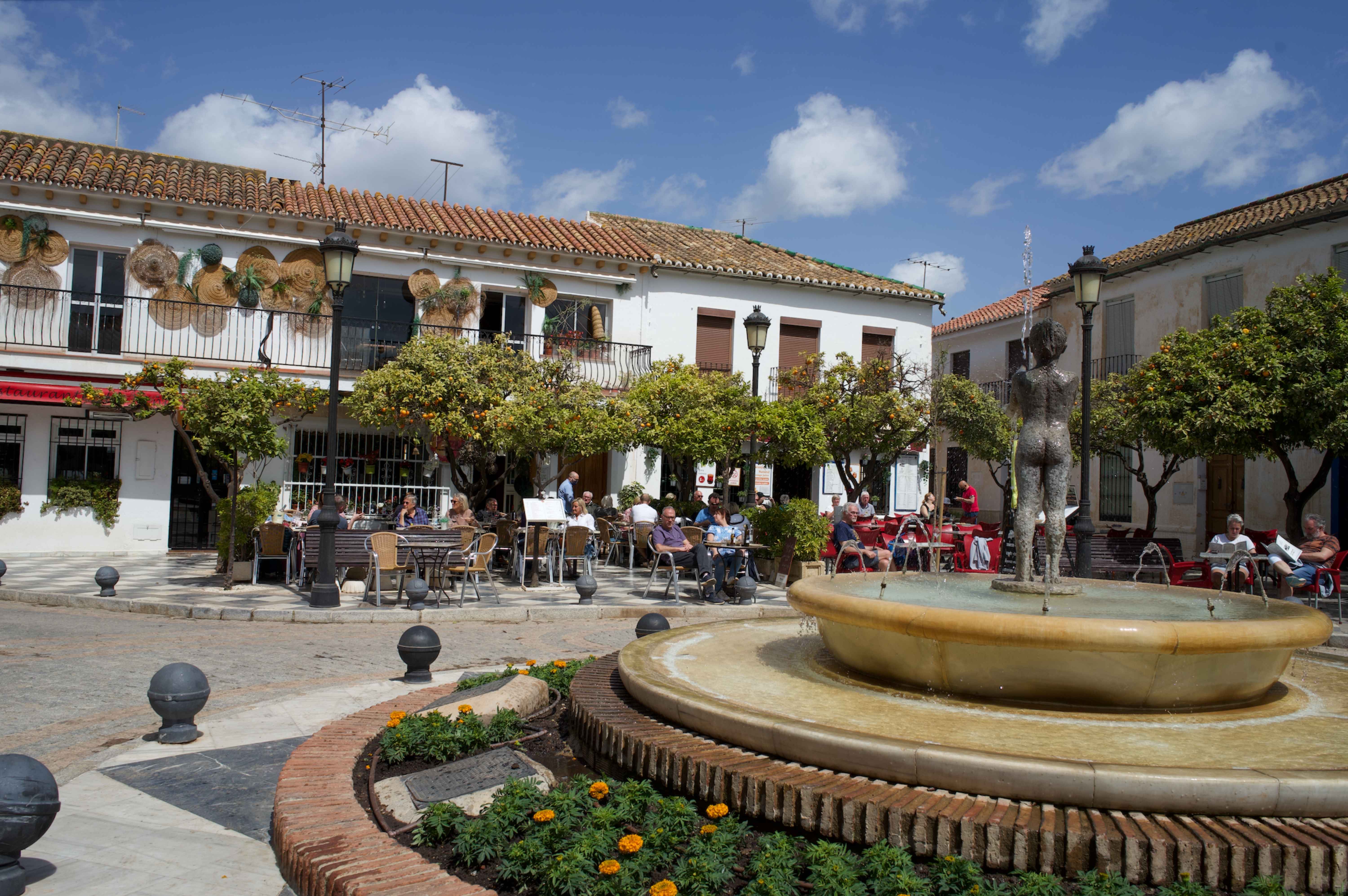 A must-see in the area! Plaza de España is the typical Andalusian white town, with beautiful panoramic sea views, chill vibes, and lovely ambiance.
This centric spot in the city is a favorite among locals and visitors! It's a great place to hang out with friends, grab a bite to eat, and maybe even take a selfie with the famous "niña de Benalmadena" statue.
This place is nice for a pit stop and having a few drinks.
3. Castillo de El-Bil-Bil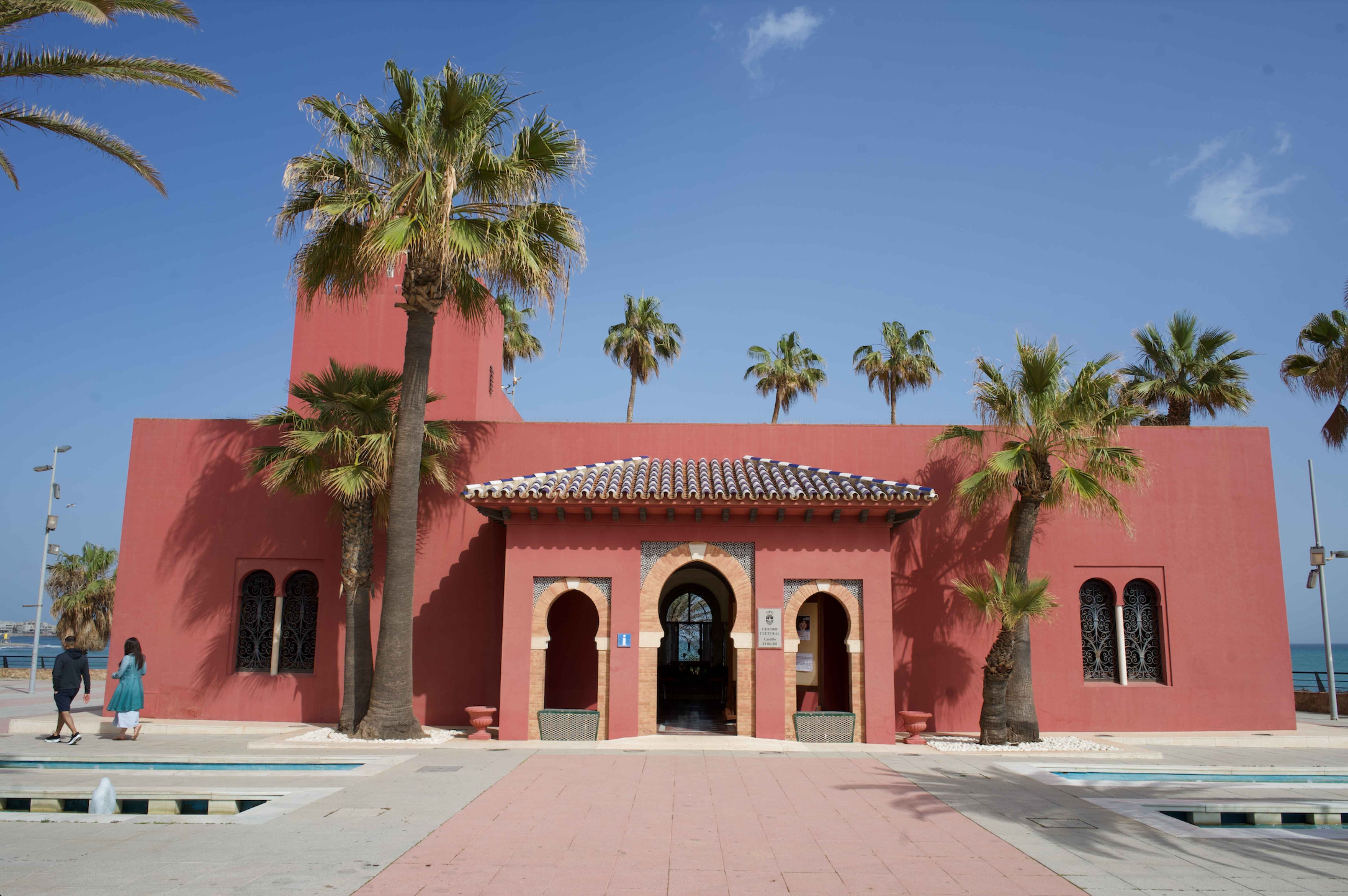 The Castillo de El-Bil-Bil is an iconic structure in the town, built in 1927. It is designed in an Arab style that resembles a defensive fortress and has a unique shape. The exterior is of intense reddish color, portraying the Mudéjar architecture.
What makes this building remarkable is its structural design around a central patio, which offers an extraordinary experience for visitors if you explore the inside.
Also, the building is adorned with tiles and bas-reliefs of the Nasrid tradition, adding a touch of cultural richness to this beautiful place. It is truly a unique cultural hub!
4. Parque de la Paloma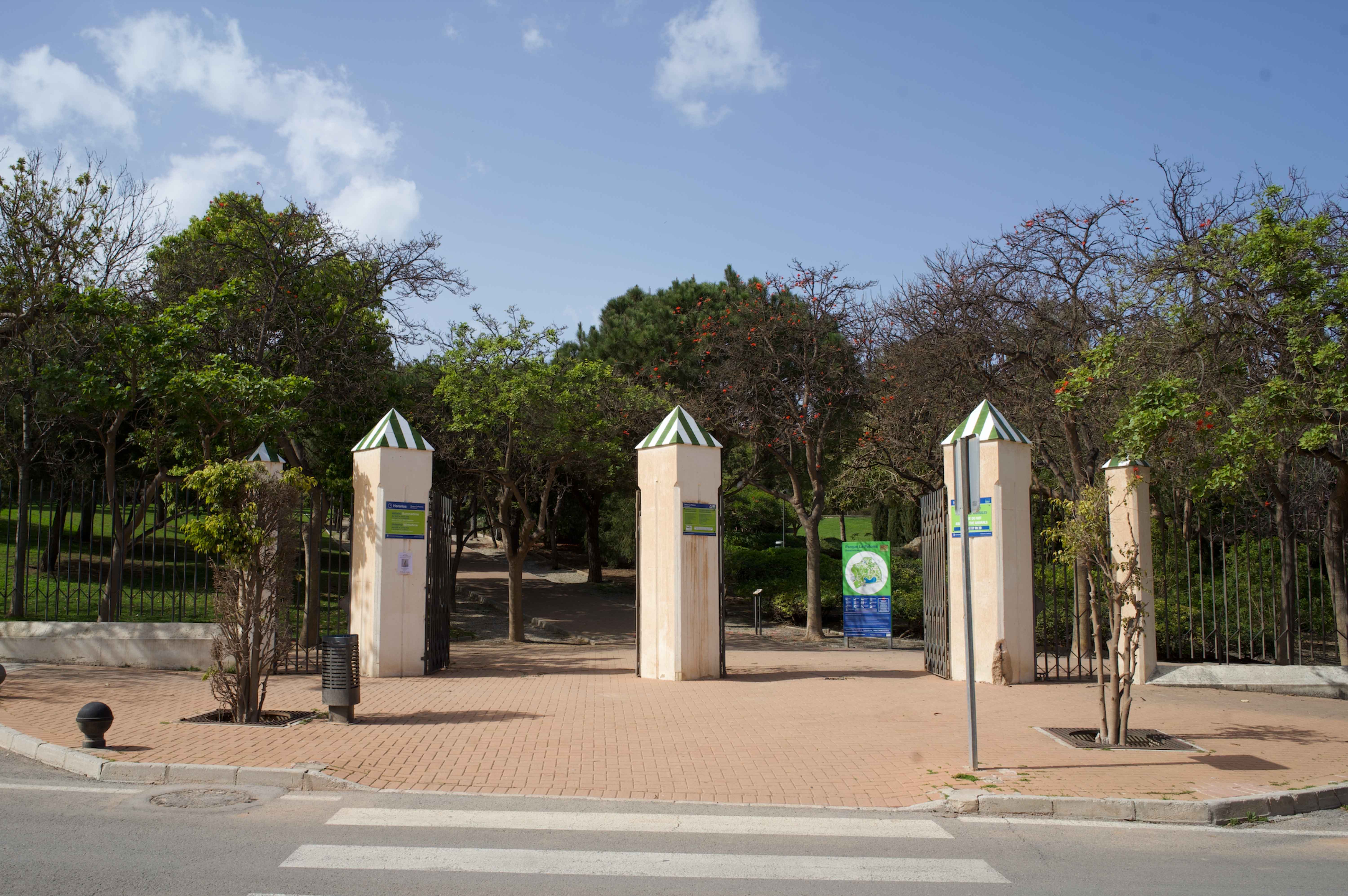 You're going to love this park! It's the largest green area you'll find in the urban region of the Costa del Sol.
It has 200,000 square meters of park, walkways, and recreational activities, including a cute artificial lake. So bring some bread to feed the animals! You'll find birds, parrots, ducks, and rabbits.
The park is dog-friendly, has a playground for children and picnic spots, and is perfect for a relaxed afternoon stroll.
The park is well-maintained, and there are plenty of areas to sit and enjoy the scenery. You can buy coffee, candies, and beverages at the park.
Oh, and there's an incredible garden full of cactuses. It's very impressive and offers an excellent spot for memorable pictures.
5. Playa Arroyo de la Miel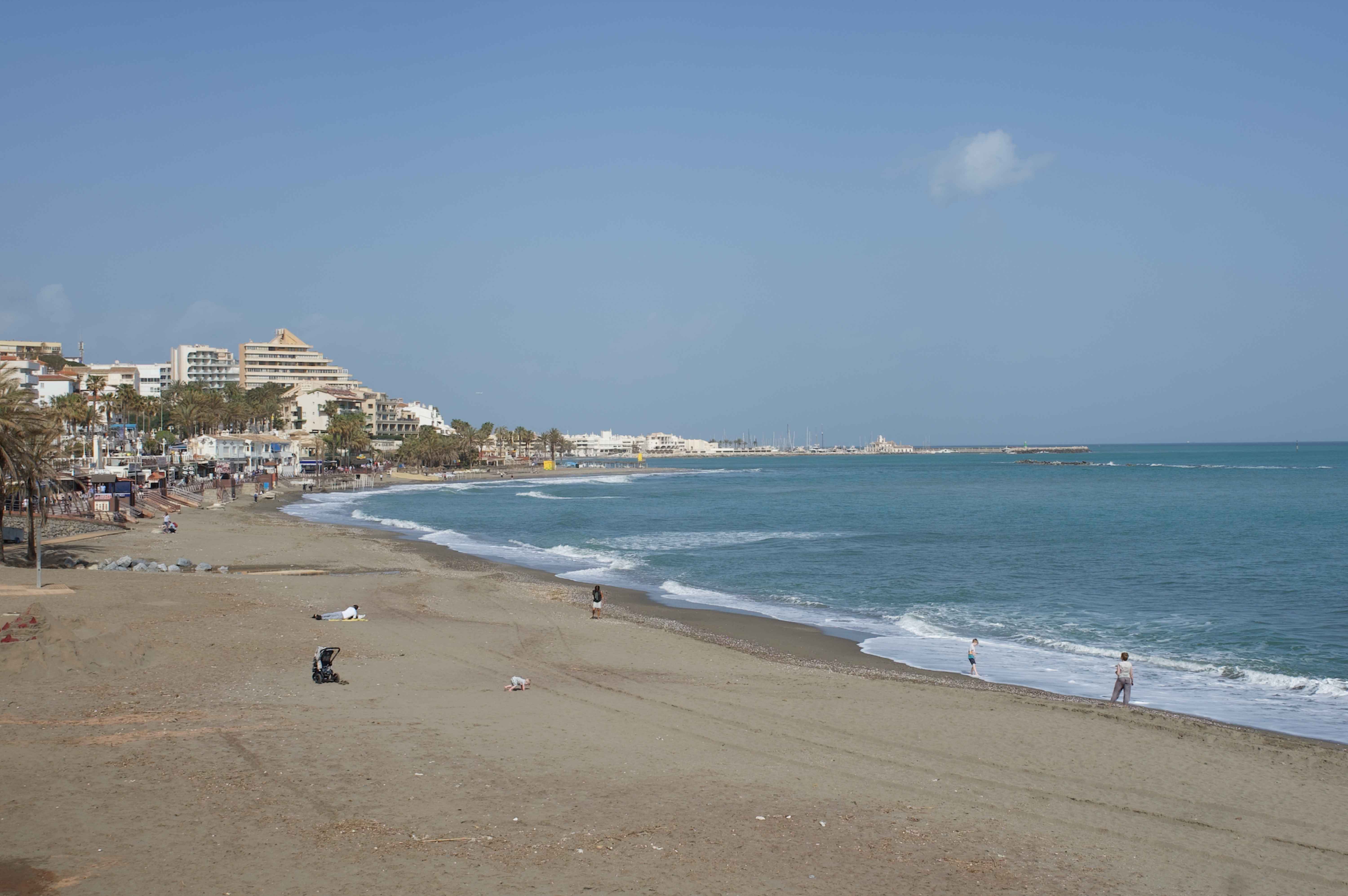 | 📍Location | Arroyo de la Miel, Benalmádena |
| --- | --- |
| 🚏Access | Good accessibility to the sandy beach. |
| 🏖️ Service | Access adapted for people with reduced mobility, promenade, toilets, showers, umbrella and hammock rental service, nautical equipment rental service, rescue equipment, surveillance equipment, Red Cross post, signage of danger, kiosks, trash cans or beach cleaning service. |
| 🚗 Parking | Free private parking |
| 🍹Food | Yes |
| 🤽🏻‍♀️Activities | Boat rides to see dolphins, water sports |
Arroyo de la Miel Beach is a city beach that is easily accessible at any time of the day. It is a popular destination for both locals and tourists, and its large sandy area provides ample a big space for relaxing while listening to the calming sound of the sea and feeling the cool breeze.
This place truly embodies the essence of this coastal town in Benalmadena. It is a must-visit for anyone in the area. I guarantee you will witness the most beautiful sunsets and moonrises, with the stunning Benalmádena Costa creating a picturesque background.
So, if you're looking for a romantic setting to impress your date, this beach will leave them speechless.
6. Teleférico Benalmádena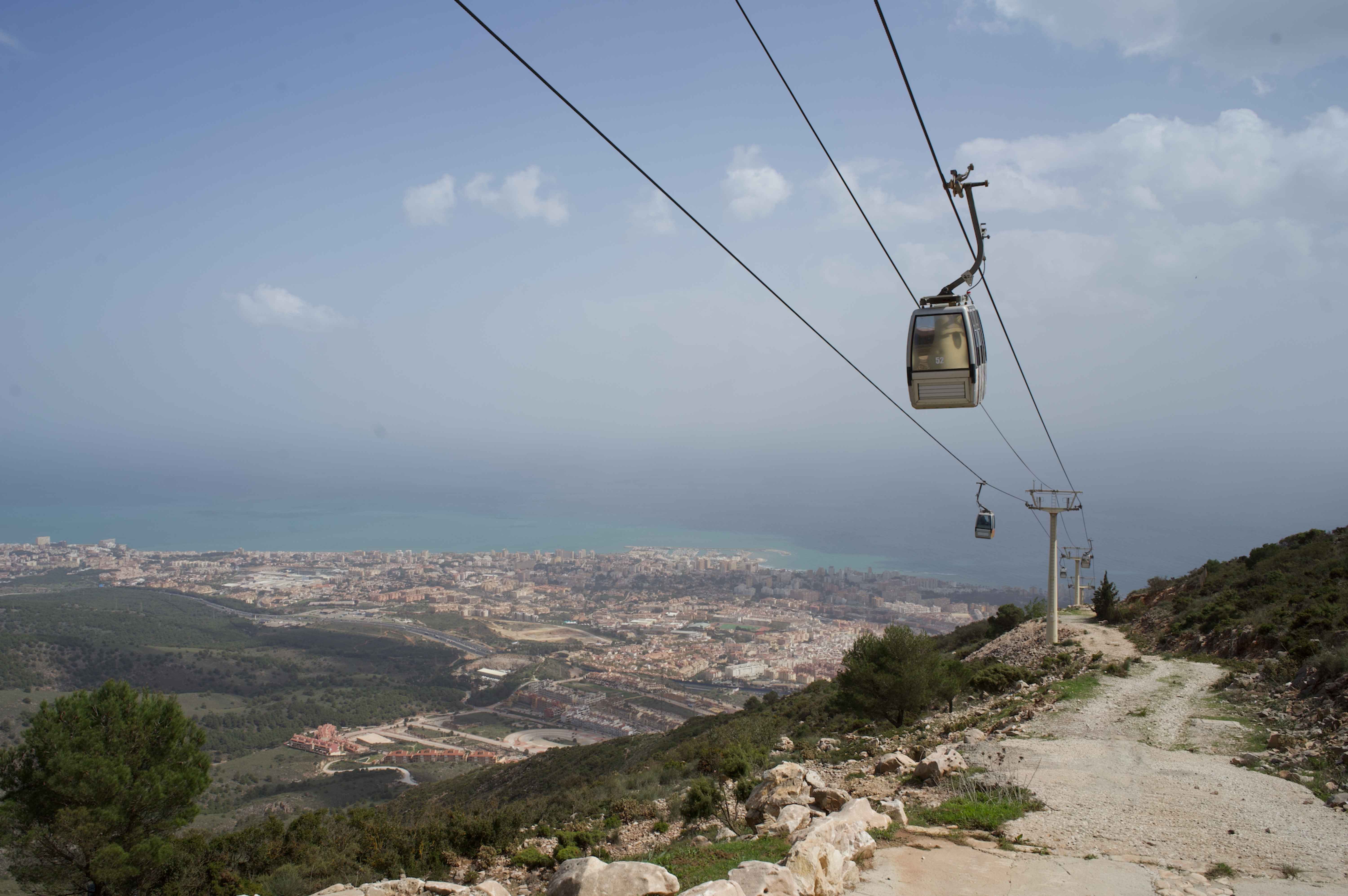 Do you want to contemplate the coast of África from the highest peak in Málaga?
The Benalmádena cable car offers the most beautiful views at the top of Mount Calamoro.
This place has become one of the main tourist attractions on the Costa del Sol and a must-see on your bucket list in Benalmadena.
Once at the top, you can go on hiking routes and take amazing photos of this supreme location.
There are also exhibitions with around 60 species of birds, and you'll breathe fresh air and enjoy some green views.
You access it through Arroyo de la Miel, then follow the main road until you reach Tívoli World, where you will see the main entrance. The roundtrip ticket costs €13.
7. Estupa de la Iluminación de Benalmádena
Who would've thought you'd find a Buddhist monument in this little town in Spain?
The Stupa is a Buddhist monument that symbolizes the journey to enlightenment, which serves as a spiritual beacon, reminding us to practice mindfulness and compassion.
The interior is adorned with stunning artwork that really inspires visitors to make a pit stop to meditate, reflect, and contemplate the quiet environment.
Walking clockwise the Stupa and making a wish is also a tradition you must do. Also, as the monument is on top of a hill, you can enjoy breathtaking views and take the memory home!
8. Selwo Marina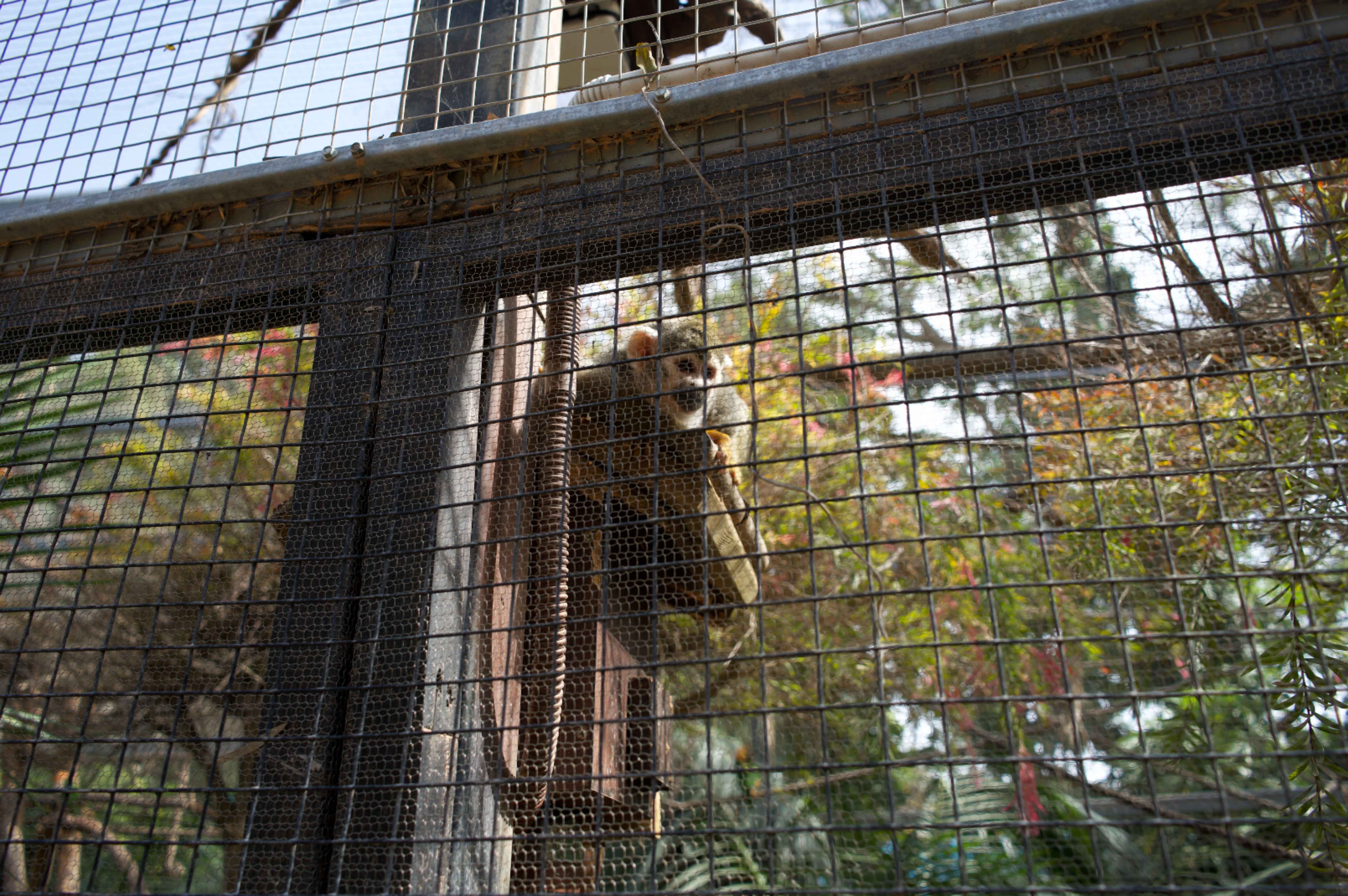 Selwo Marina is the perfect activity to enjoy with kids when traveling to Benalmádena.
It is a small marine park with a full-day schedule, so you can go through the ZOO with a guide, which is included in the ticket price.
You'll get to see a bunch of amazing marine creatures like penguins and dolphins, and they even have a super cool show that you won't want to miss. Plus, you can see macaws, iguanas, monkeys, birds, and snakes. There are activities for everyone!
Trust me, as someone who really cares about these creatures' lives, all animals look physically healthy. The staff is very knowledgeable, takes good care of them, and provides a secure environment.
9. Mariposario de Benalmádena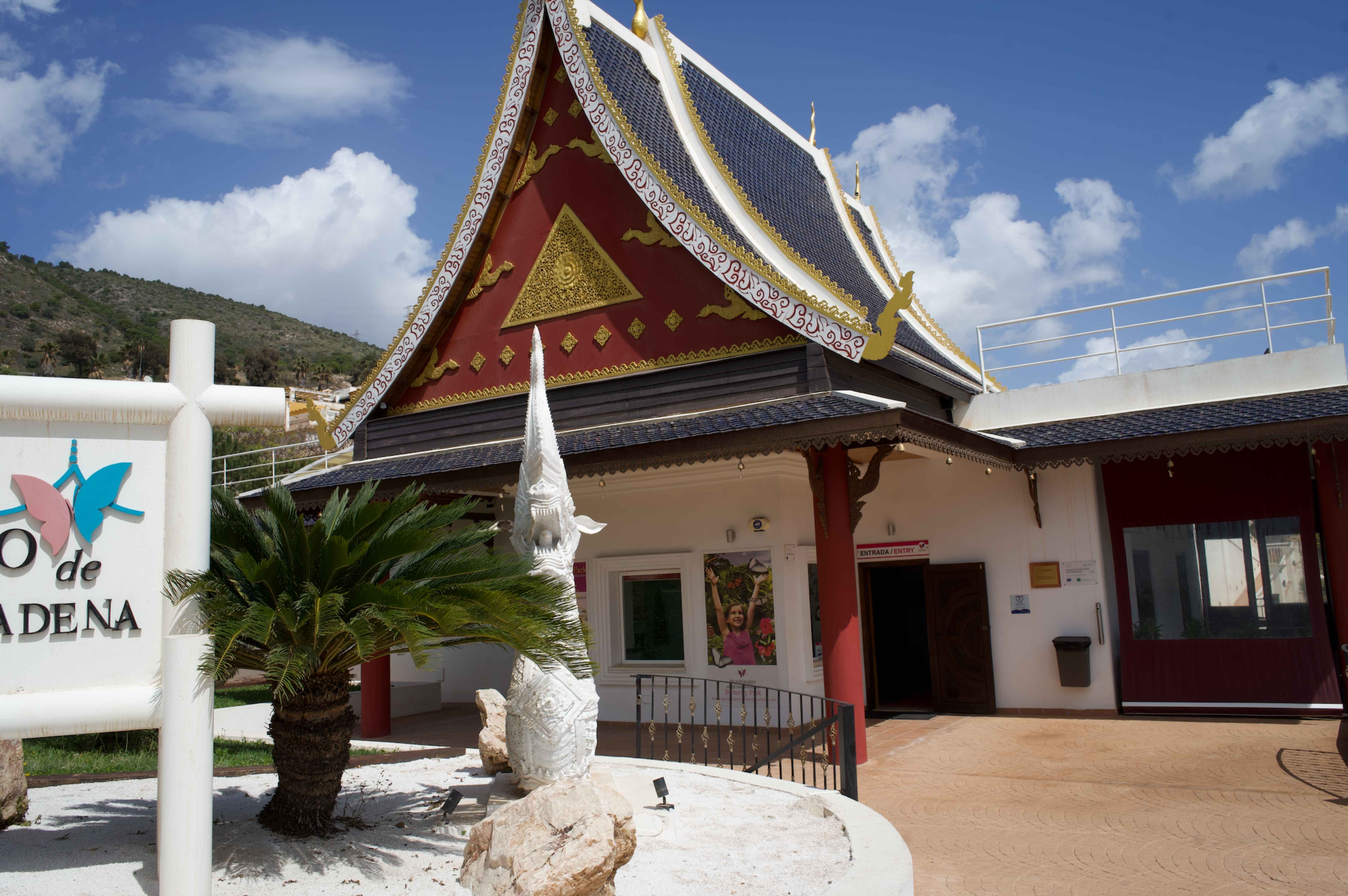 Have you ever visited a butterfly place before? Well, Iñigo and I recently saw this one, which was out of the ordinary!
This Thai temple was absolutely amazing. We got to walk among more than 1,500 exotic butterflies from all over the world.
The environment was so beautiful, and the butterflies were flying freely with all the necessary conditions. We even witnessed how a butterfly is born and saw some super different species.
The best part? The animals in the temple were all well cared for, and there were other types of animals too.
It was an absolute pleasure to explore a place as unique as this. It just took about an hour of my day, and I'm sure I will remember it for a long time.
10. Mirador de los Jardines del Muro
So far, I've shared with you some amazing spots to catch a breathtaking view of Benalmadena from above. But you know what? The panoramic view of the Costa del Sol is so captivating that one can't get enough of it.
There are so many other spots to explore that will leave you speechless!
Trust me, the Mirador de los Jardines del Muro's view is something you'd want to remember and cherish forever. And who knows, it might brighten up your dark winter days! So, take advantage of this opportunity to savor the calmness of this coastal town.
The gardens, designed by the famous Canarian artist César Manrique, are very lovely. So if you get the chance go visit them, you won't regret it!
Best Time to Visit Benalmádena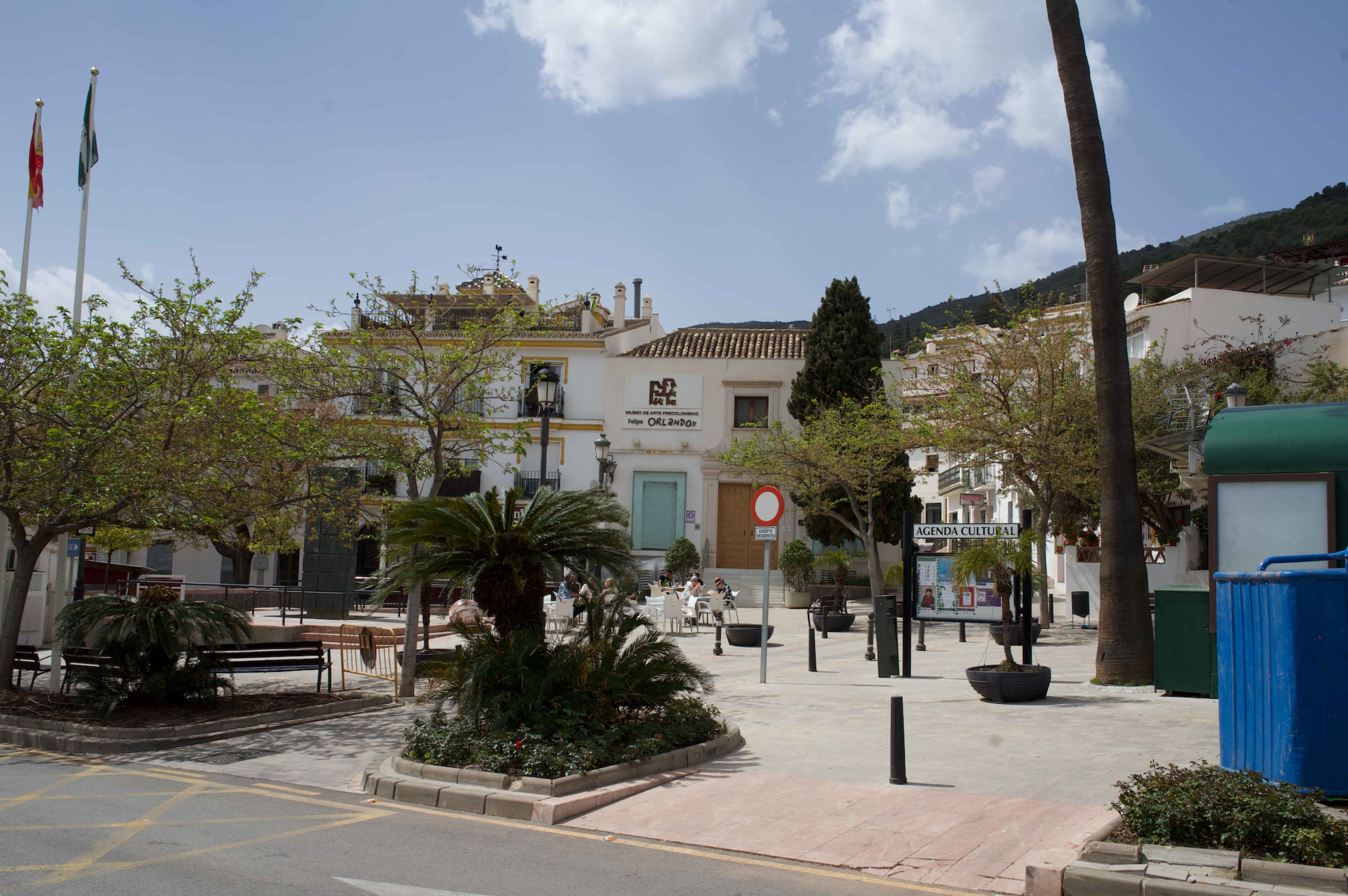 September is the best month to visit Benalmádena if you're looking for a quieter and more affordable time to visit while still enjoying the beach at its finest, good weather, fewer tourists than summer, and a fantastic atmosphere.
But don't worry, any time of the year is perfect to visit Benalmádena. The weather is mild throughout the year, and you won't even feel Winter!
If you're a sun and beach lover, Summer (June, July, and August) is the best season to visit. The temperatures are higher, and you can enjoy all the water activities you want. But be prepared for crowds and higher prices.
Spring is a lovely time to visit, too, which is from late March to mid-June. You'll enjoy a quieter, laid-back atmosphere, but some places may be closed as it is a small town, so check in advance.
Autumn is also an excellent time of year to visit. The temperatures are mild, and you'll have a lot of sunshine hours to enjoy.
This is controversial, but Winter is also a great idea, especially if you want to escape gray days and cold weather. You'll enjoy full sunshine, and the temperatures are even mild.
So, what are you waiting for?
How to get to Benalmádena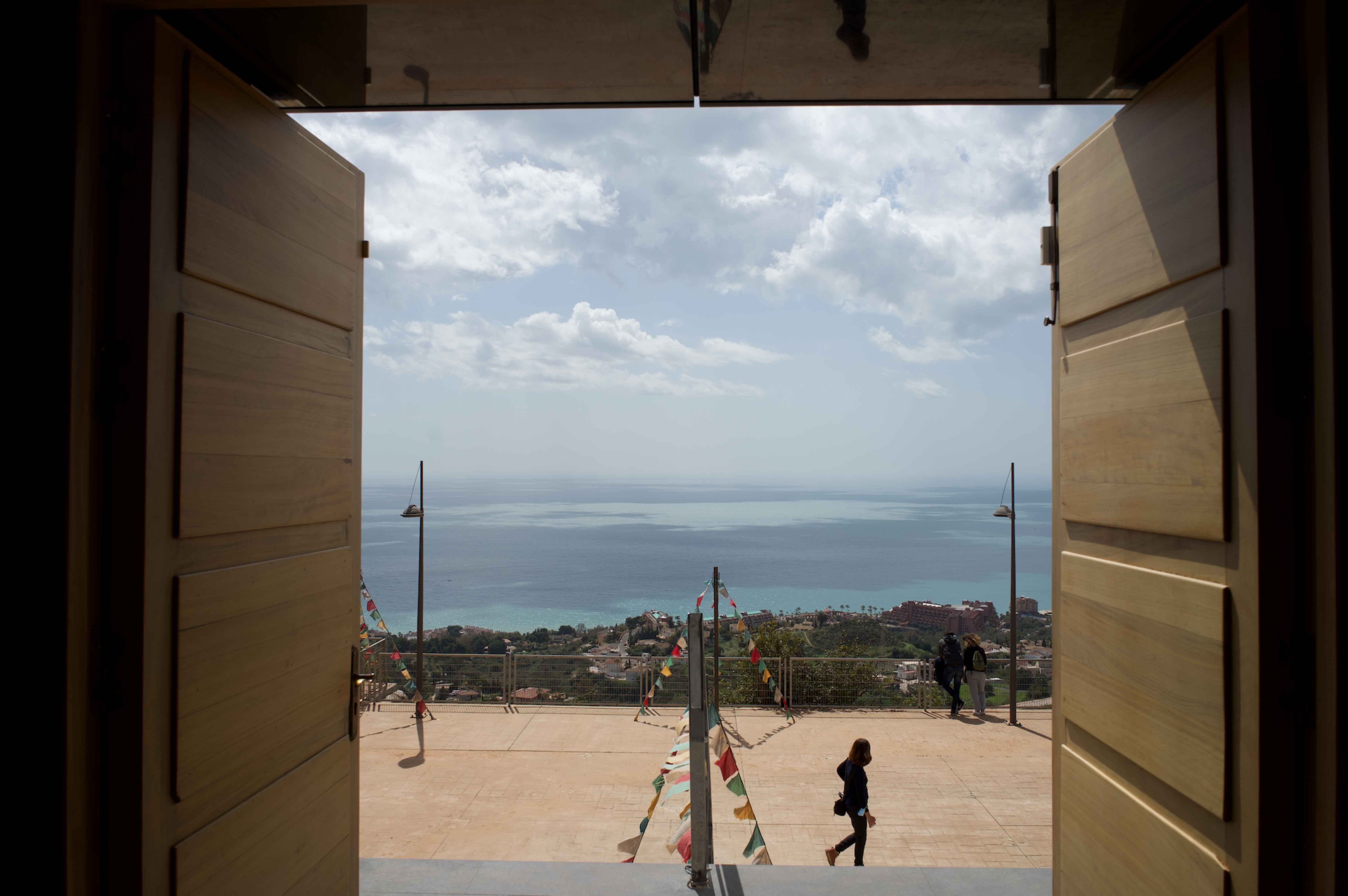 You can get to Benalmádena from Málaga city. It is only 19 km from the airport, taking the A-7 road, which will take about 20 minutes by car.
Having your own car is an excellent option since it allows you to visit other nearby towns, explore different viewpoints, and enjoy the coastal views at your own pace.
You could also take a train to Benalmádena, which is very simple and quick, takes approximately 15 minutes. You will arrive at "Arroyo de la Miel," the upper part of Benalmádena.
Or, there's a bus line to Benalmádena Costa at the Málaga airport, but it will leave you on the coast. Of course, there are also taxis, which are very convenient if you're in a group.
Read more: Travel to Málaga: 7 Best Attractions, Food & Activities
Where to Eat in Benalmádena
Perfect for dining with a view
Great for Spanish tapas and traditional homemade food
Enjoy tasty food at Trocadero Beach Club
Where to Stay in Benalmádena
Experience "la buena vida" at Vincci Aleysa Hotel
Stay at a Studio with Hotel Facilities
Have a nice stay at Hotel Puerto Marina
How much does it cost to visit Benalmádena?
Request information: hello@sensationalspain.com
How much money you need for your trip to Benalmádena depends on many things, such as how many people are traveling, the type of activities you want to do, accommodation, the duration of your stay, restaurants, and most importantly, the time of year.
To help you more accurately, please don't hesitate to reach out to us via email! Share the details of your desired trip to Spain, and we will provide you with a price estimate and offer local advice for all your travel needs. 
Choose your Spain Itinerary
1 Day in Spain? 10 Best Things to Do in 24 Hours!
2 Days in Spain: Trip Ideas & Itineraries to Enjoy Your 48h
3 Days in Spain: What's the Best Itinerary for Your Trip?
4 Days in Spain - Best Travel Itineraries for Short Trips
5 Days in Spain: Itineraries to See (almost) Everything!
6 Days in Spain: The 3 Best Itineraries for Your Trip!
7 Days in Spain: The 3 Best Itineraries for Your Trip!
---
What's holding you back? Trust me, you won't want to miss this destination.
If you need any more help in planning your trip to Spain, please don't hesitate to ask us.
We're always happy to help!