3 Days in Spain: What's the Best Itinerary for Your Trip?
July 25, 2023
Updated:

July 26, 2023
Published: July 25, 2023
Can I get a sense of the country in a three-day Spain itinerary? Short answer yes, long answer no.
Even though Spain is one of the World's top tourist destinations, planning your first trip is not easy or obvious, as you'll have to choose which cities suit you better. Barcelona and Madrid are the main ones, but Granada, Seville, Córdoba, Asturias, and many other regions await you to discover them!
Each has its own issues, and focusing on just one or the other would be a big mistake. This is why I have come up with the perfect 3-day itinerary for your stay in Spain.
However, with so many historical, cultural, and natural sights, the longer you can make your trip, the better. We suggest a Spanish vacation trip lasting ten days to two weeks to make the most of this destination and soak up the culture!
🛬 Read more: 9 Days in Spain: The 3 Best Itineraries for your trip
No matter what, I'll show you the best of Spain in 72 Hours so you can explore one of the most loved European countries by foreigners and make every moment count!
DAY 1 - EXPLORING BARCELONA'S GEMS
---
Welcome to Barcelona! Already feeling the excitement? Me too! The city awaits so many experiences and memories you'll love.
First, there are many options to reach your accommodation from the airport. You can take a taxi or a pre-arranged airport transfer service for a comfortable and fast journey.
Also, you can get on the Aerobus, a direct shuttle that connects the airport to the city center's big spots.
Otherwise, you can grab the metro, which works really well. Find out what's the best transportation method for you in this article:
📌 Read more: How to Get around Barcelona + 8 Tips I wish someone told me
Passeig de Gràcia
Our first day in Spain starts with a lovely walk on one of the most attractive promenades in Barcelona, Paseo de Gràcia, an avenue of great tourist attraction and architectural relevance.
It starts at Plaza Cataluña, Ronda de San Pedro, and ends at Jardines de Gracia, where it connects with Calle Mayor de Gràcia. This place will be our gateway to the activities we will carry out today.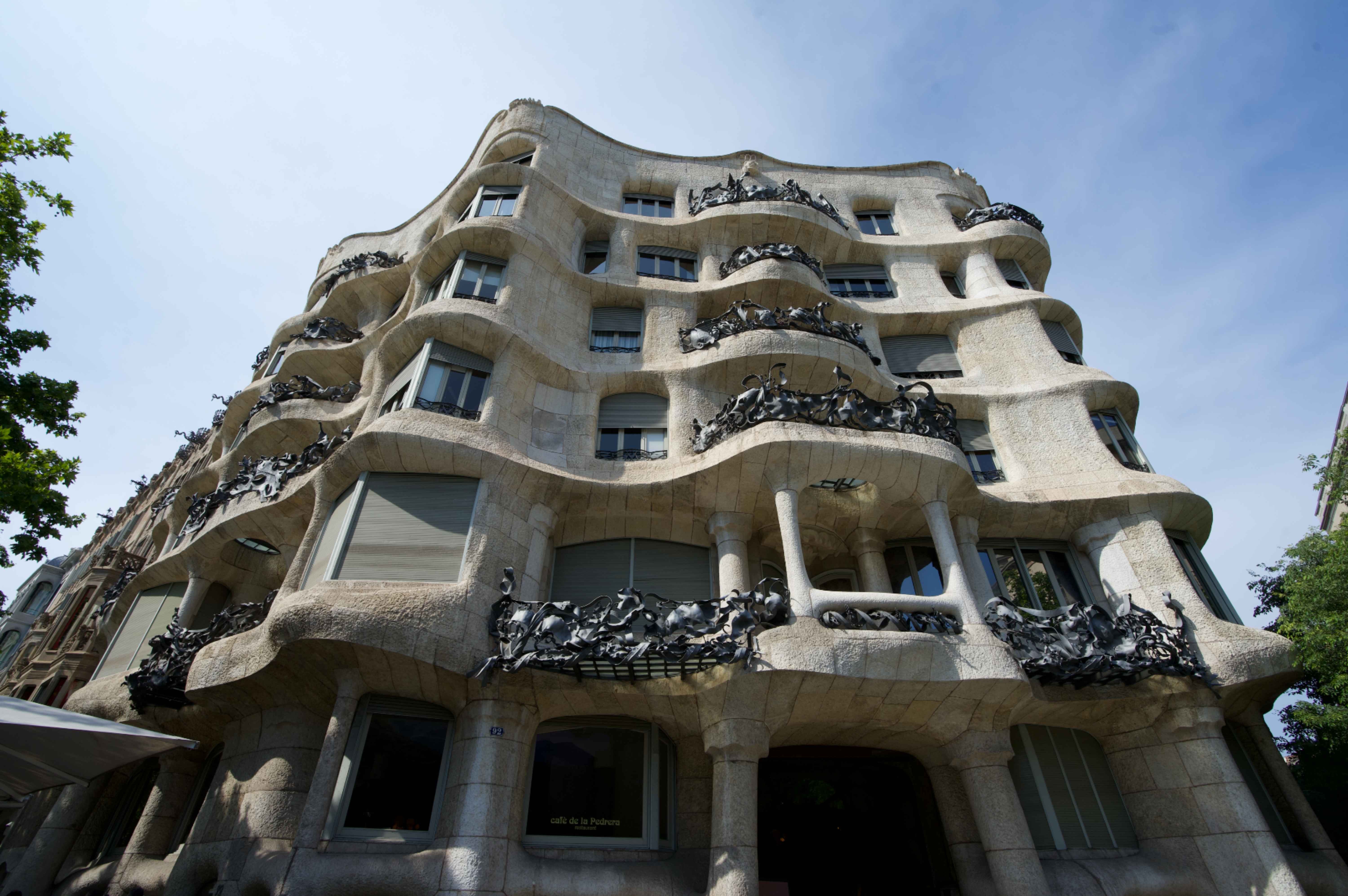 As you stroll around, familiarize yourself with the ambiance of Barcelona, soak up the atmosphere, and be ready to get captivated by this colorful city and its charming people.
Casa Batlló
Let's dive into our first visit of the day: Casa Batlló, one of Barcelona's most extraordinary architectural wonders!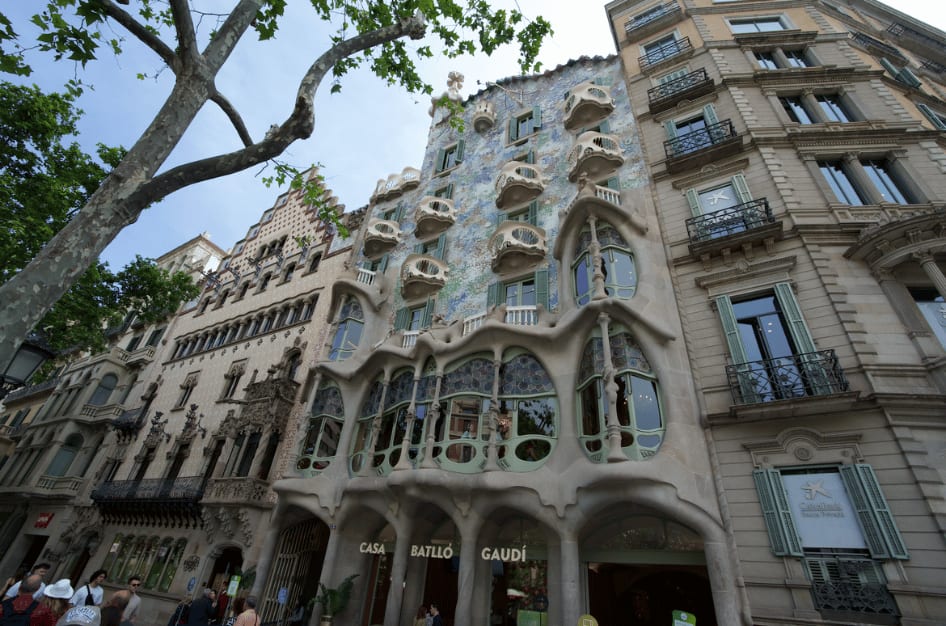 This iconic building was designed by the brilliant architect Gaudí. From the outside, take some time to look at the facade and its details. Once inside, you'll be transported to a world of fantasy and creativity. Every little corner of Casa Batlló seems like a work of art.
La Sagrada Familia
The time many of you have been waiting for has come! Head up to the breathtaking Sagrada Familia, Barcelona's most representative symbol.
The construction of this temple began in 1882 with a neo-Gothic style. They gave the project to Gaudí a year later, who completely rethought it.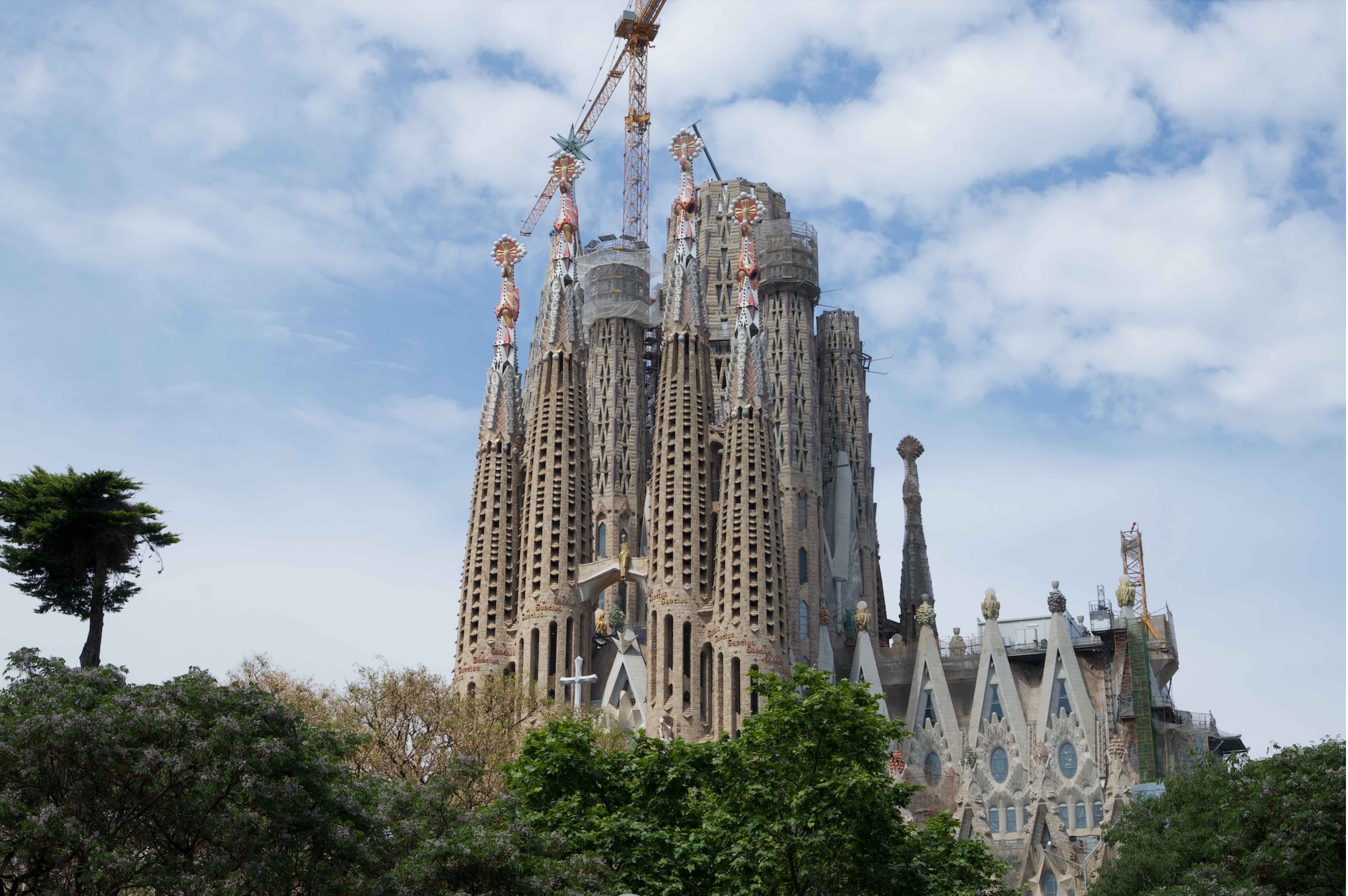 Sadly, Gaudí died in 1926 and left this masterpiece unfinished. Yet, thanks to the plans that remain, other artists and donors are continuing the project so it can be finished one day!
📌 Read more: 15 Best Tourist Landmarks in Barcelona Worth Your Visit
If I were you, I would go there early in the morning to avoid crowds. And get tickets in advance. As you can imagine, La Sagrada Familia is more than just a building; it's a testament to Gaudí's imagination and architectural prominence! You can't miss this activity.
Las Ramblas Street
After visiting the iconic Sagrada Familia, I bet you'll have stories to share for hours! So my top tip is that you head straight to Las Ramblas, the city's most famous street, and soak up the rich energy that fills the air.
You can do a lot of people-watching, walk at your own rhythm, and immerse yourself in the Spanish vibes.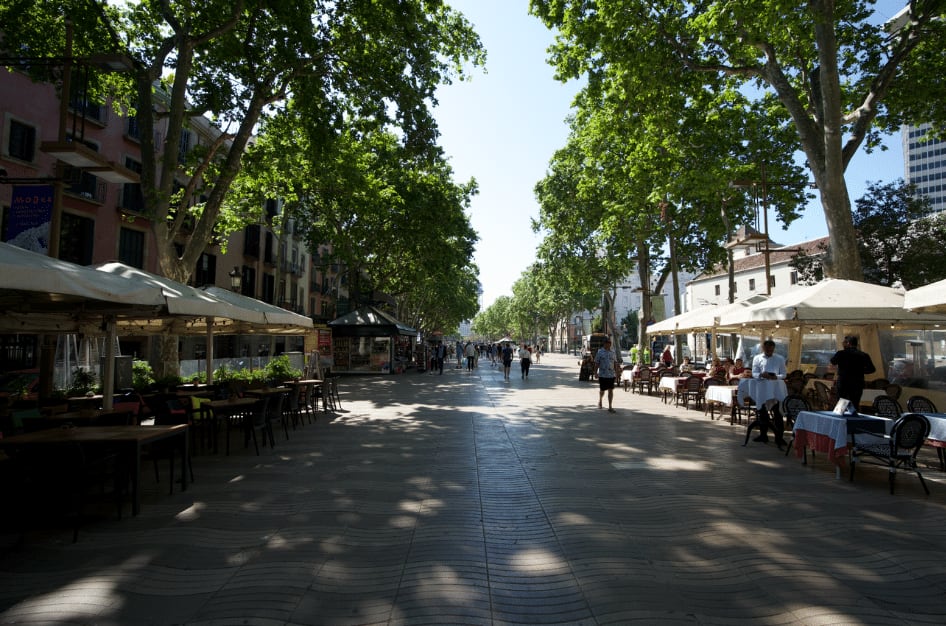 You'll be surrounded by street performers, shops, vibrant terraces, and cozy cafes. So, bring comfy shoes to walk past this beautiful street and landmark of Barcelona.
La Boquería
Hope you're hungry… Because we're entering a foodies paradise when it comes to La Boquería, Barcelona's most famous market
It has numerous stalls bursting with fruits, cheeses, veggies, meats, seafood, and everything you can imagine.
Admission is free, and even if you don't want to buy anything at the market, it is worth a visit to soak up the atmosphere and discover the local cuisine with the fresh products on the stalls.
📌 Read more: What to Eat in Spain: 31 Tasty & Traditional Dishes
And, of course, you can grab a quick bite if you feel like it. In that case, try the octopus marinated in herb oil and paprika from the Boqueria bar.
Gothic Quarter
The Gothic Quarter has a unique energy. It transports you to the city's early years, and each building has a distinctive architecture. I would say it's a must for understanding Barcelona's rich heritage and culture.
The most fun part is that the neighborhood is a vibrant hub of cultural and social life all year round. You'll find art centers such as Arts Santa Monica and Artevistas Gallery or the famous Gaudí Exhibition Center.
📌 Read more: 9 Best Neighborhoods in Barcelona: Students, Expats & Tourists
Some highlights are the Barcelona Cathedral, a stunning Gothic masterpiece, and Plaça Reial, a lively square. And, of course, the fantastic Picasso Museum!
Picasso Museum
The Picasso Museum offers a complete insight into the mind of this renowned artist. You can find works from his early years to his iconic masterpieces that changed the course of art history.
Whether you're an art enthusiast or simply curious about Picasso's legacy, the museum is worth it! (I would choose this one over the other MOCO Museum, for example)
Make sure to book tickets online to ensure your entrance.
The place is well maintained, with an extensive collection segmented by themes. You'll be immersed in a journey through the mind of one of the most influential artists ever!
Parc de la Ciutadella & Arc De Triomf
Local's and visitor's favorite spot to chill, relax, hang out, and get in touch with nature. (or is it the Barceloneta? Who knows…)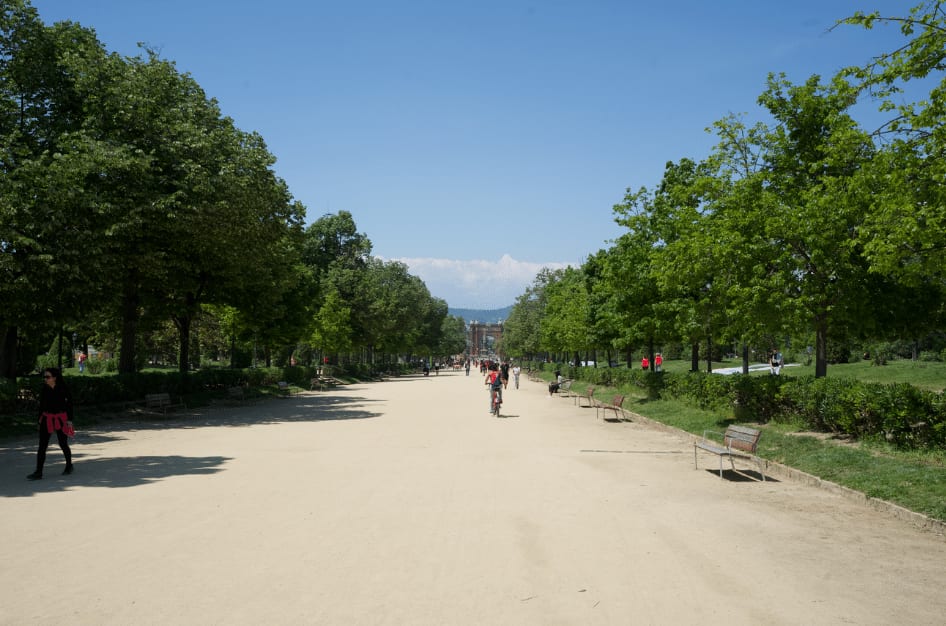 Parc de la Ciutadella is a lovely huge park with many green spaces, peaceful lakes, and charming paths perfect for a leisurely walk. Plus, right next to Parc de la Ciutadella is the majestic Arc de Triomf, an impressive gateway that welcomes everyone to the city!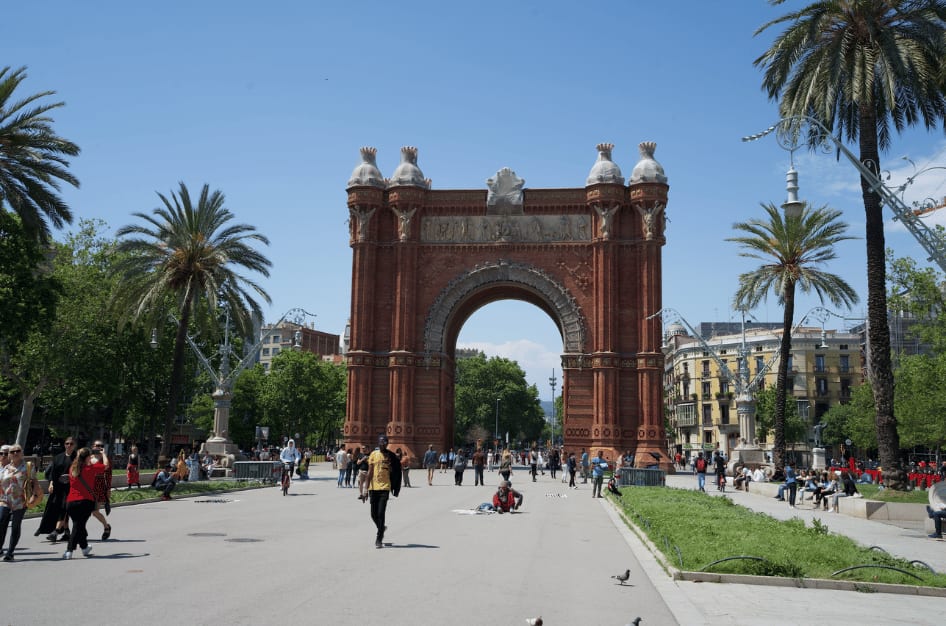 Also, the park is a perfect activity for families with kids since it is home to the Barcelona Zoo and the Museu de Zoologia, where you can get up close to different animal species.
La Barceloneta
Barcelona has something unique that sets it apart from European cities like Paris or London, which is its this beach.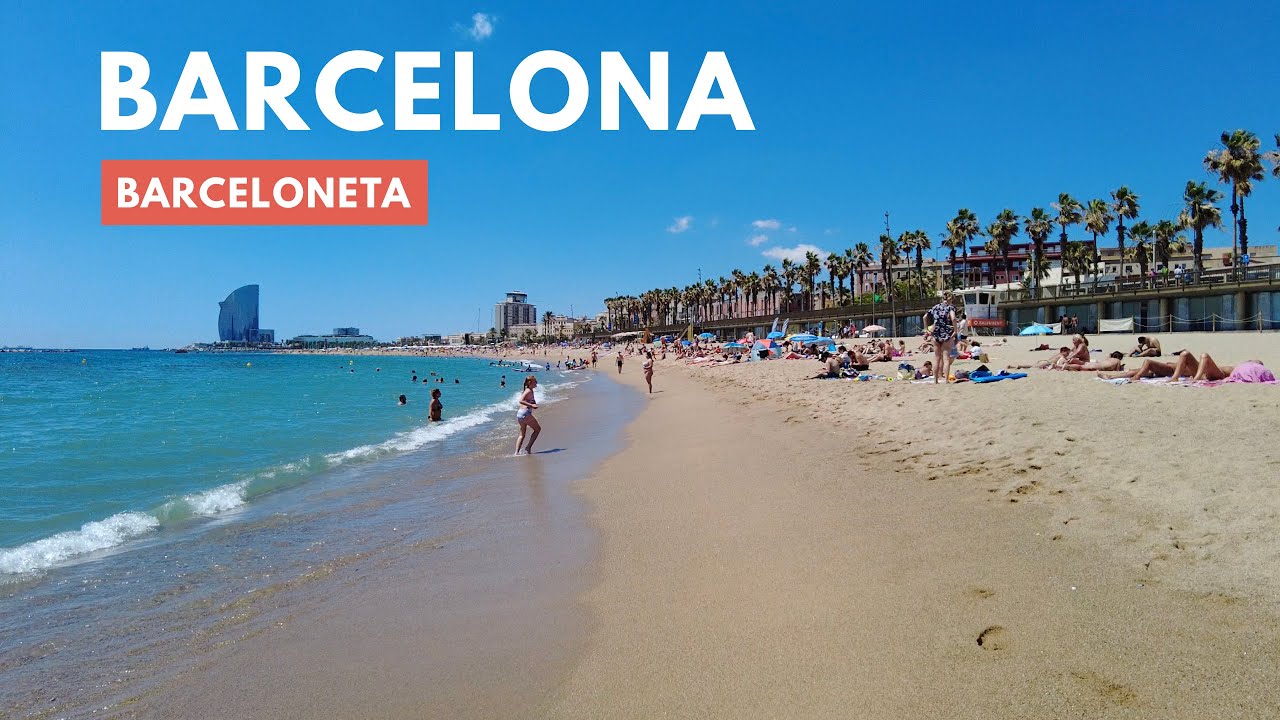 It really brings a refreshing sea breeze and laid-back vibes to the city, offering the perfect escape from the hustle and bustle of city life.
Whether you want to walk along the coast, enjoy some water sports, or tan at the beach, this is your place. Also, make sure you try seafood or paella by the beach. You will remember it forever!
🏖️ Read more: 15 Top Beaches in Barcelona & Costa Brava. With videos!
If you've ever wondered why so many foreigners choose Barcelona as their dream destination, your questions will be answered once you visit the gorgeous beach of La Barceloneta. This is a true Mediterranean oasis in the heart of the bustling city.
Experience the Spanish Nightlife
On your first day in Spain, you really thought you were going to bed at 11 pm? You are wrong. Don't be lazy, it's just three days! How can you expect to know the city if you don't party like a local? Let's see if you can catch up with us and read my top recommendations to make your nights unique.
Our adventure continues to Paradiso Bar, a must in Barcelona. This cool and trendy spot was awarded Best Bar in the World in 2022! Impressive, isn't it?
So, you can start your night delighting yourself with some exquisite cocktails, or you can go home and sleep, your pick!
Anyways, moving on with the things you should actually do on this trip is the Opium Club Barcelona, a very fun place to enjoy the most fantastic night out in Spain.
I really suggest you go out at least for one drink. I mean, they don't call us party animals for nothing. Don't miss out on this experience! After this, you'll have enough time (maybe) to relax and unwind at your accommodation since the next day is also very promising!
🕺🏽Read more: Spain Nightlife Guide: 9 Best Places to Party in 2023
Day 2 - IMMERSE IN BARCELONA'S CULTURE
---
I hope you're all in for today because we will explore some of the coolest spots before you leave Barcelona for your next destination. On this day, we'll visit places we couldn't squeeze in yesterday because they were a bit far from the city center and we want to save time!
Still, these are musts for any traveler wanting to see the best of Barcelona, so make sure you get up early, and let's start the day with a delicious breakfast! I'll show you some fantastic spots to find delicious eats.
Have a Spanish Breakfast
Coffee, anyone? I don't know about you, but we Spanish people can't leave our houses without having (at least) a cup of coffee first thing in the morning.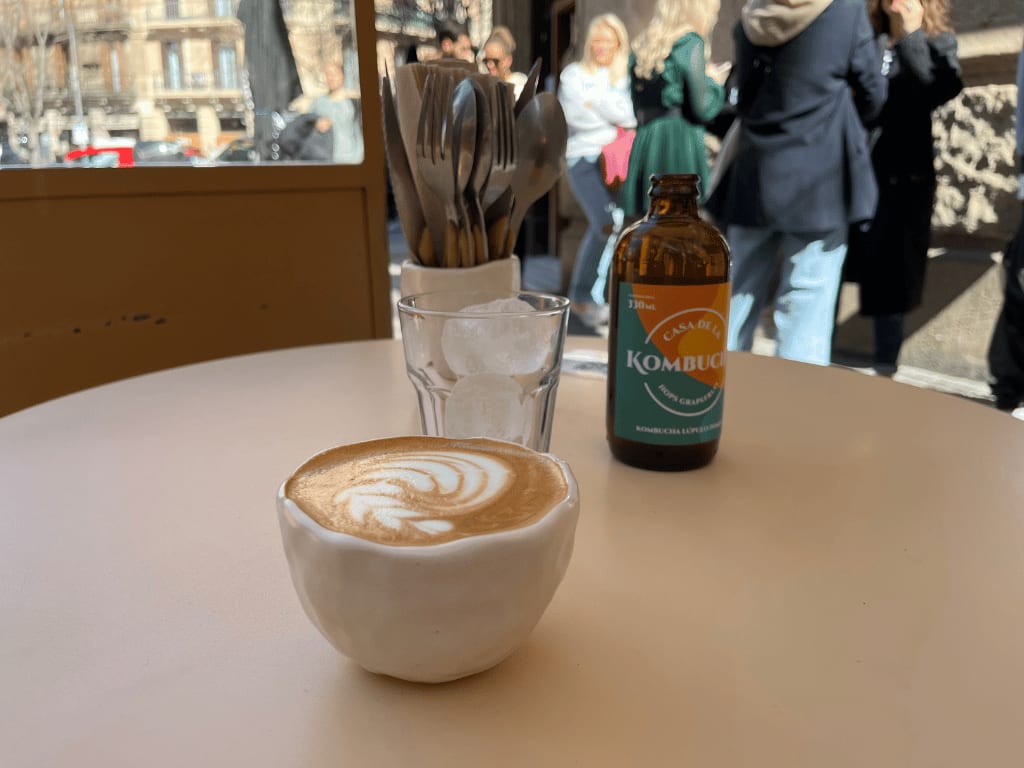 These are the best places to have an excellent breakfast or brunch in Barcelona:
🫖Read more: 8 Best Cafes in Barcelona for a Unique Coffee Experience
And, if you need some ideas on what to order to look like an local, then this is for you:
🍳Read more: 7 Best Typical Spanish Breakfasts You Must Try!
After fueling our tanks, it's time to head down the streets and hit the road to discover what's left of Barcelona!
Park Güell
Thank God you have 2 days in Barcelona because Park Güell is one of the activities that would hurt to get out of the itinerary.
Designed by the iconic architect Gaudí, Park Güell is like a fairytale in real life, with its colorful mosaics, curvy structures, and stunning city views!
I promise it feels like you've entered a magical dream. Just make sure to arrive early or book tickets online to reserve your spot, as this popular attraction can get busy.
Also, relax! It's a park. Feel free to bring snacks and enjoy a picnic. A visit usually takes up to 3 hours approximately.
The Magic Fountain of Montjuïc
This fountain is in Montjuïc, a hilltop area with fantastic free views of Barcelona (like Montmartre in Paris).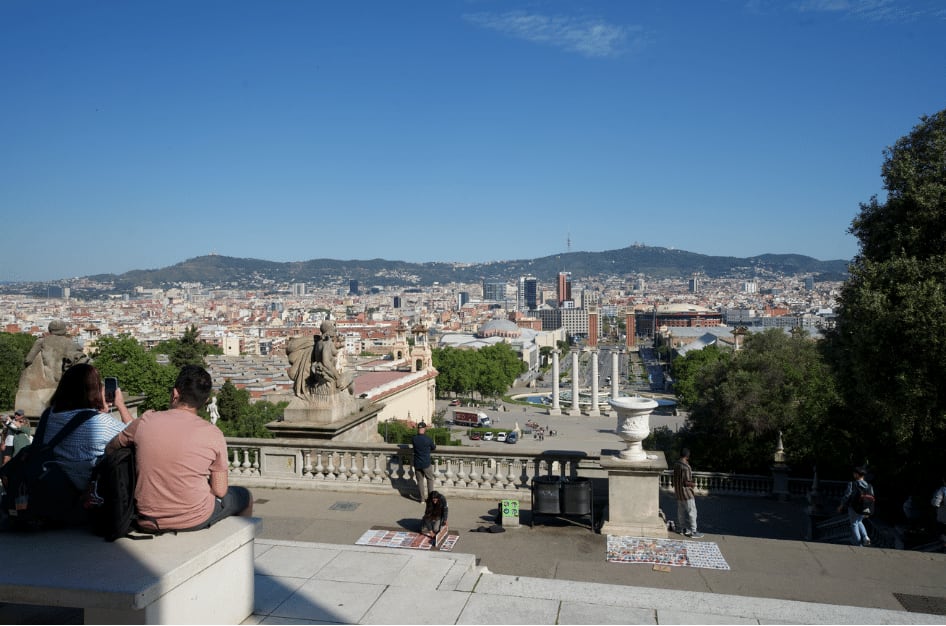 The area around the fountain is great for a relaxed walk, and you can absorb the city's vibe.
Also, the Palau Nacional, also known as the National Museum of Catalan Art, makes a beautiful setting for Montjuic, as it is the museum with the most extensive collection of Catalan art in the world.
Museu Nacional d'Art de Catalunya
The National Museum of Art of Catalunya has a bit of everything. From Romanesque to Modern Art, this museum in Barcelona offers an extensive exhibition of over 260,000 pieces, including paintings, sculptures, and decorative art.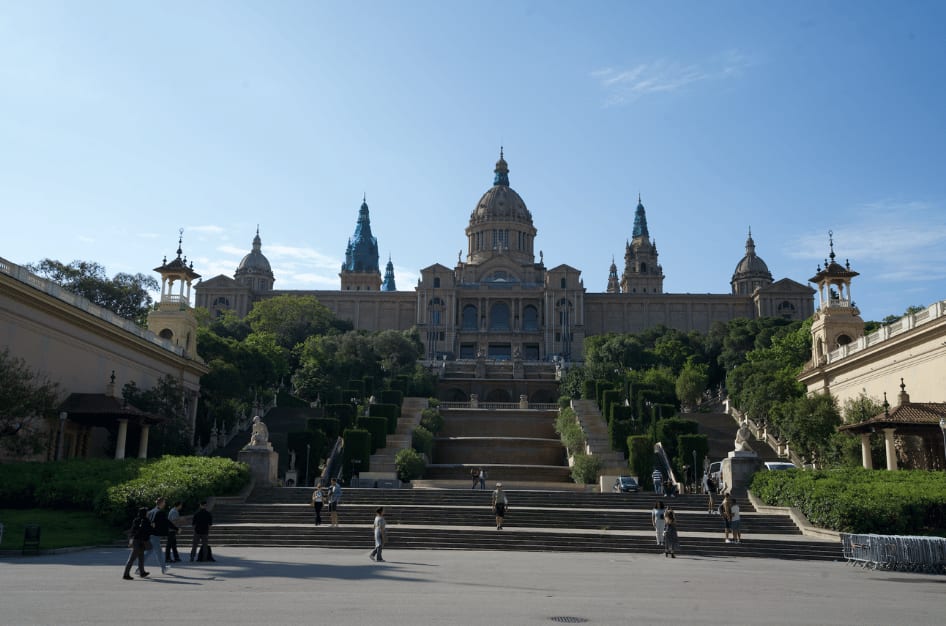 One unique piece in the museum is the 12th-century Apse of Sant Climent de Taüll, which shows one of Spain's most remarkable examples of Romanesque art.
If you only go for the basic admission, you experience a panoramic view of the city from the terrace. It's totally worth it!
Try Tasty Dishes in El Nacional
Now hear me out. El Nacional is the place you're looking for to eat in Barcelona. It offers a bit of everything under the same roof; it's a food lover's paradise!
It's like stepping into a superb food hall with a stylish atmosphere. The space divides into four different areas: La Llotja (best seafood dishes), La Taperia (tasty tapas and rice dishes), La Braseria (great charcoal grill), and La Parada (quick bite to eat)
📌 Read more: What to Eat in Spain: 31 Tasty & Traditional Dishes
Plus, the ambiance is very nice and photogenic. It is an open space with a good interior, very clean and busy. You can find different restaurants inside the complex offering up anything you could want.
Travel to Madrid
We should move to our next destination: Madrid, Spain's capital and biggest city!
I'd suggest taking a high-speed train from Barcelona, departing from Barcelona Sants station, and arriving at Madrid's Puerta de Atocha station. The journey usually takes around 2 and a half hours. Plus, traveling to the train stations is more budget-friendly than going to the airport.
Yes, there are other options like buses (which take about 7 and a half hours) or planes (which can be three times more expensive). Still, the train is undoubtedly the most convenient choice regarding time and money.
So, hop on that train because Madrid awaits you with open arms and lots of exciting things to do! I will show you how to make the most of this city and leave you some helpful resources:
📌 Read more: How to Get Around Madrid + 8 Tips I Wish Someone Told Me
DAY 3 - DISCOVER MADRID'S TREASURES
---
Your day begins in the gorgeous, elegant, and lordly Madrid, Spain's Capital. This cosmopolitan city welcomes millions of visitors each year, and our adventure begins with a tour of the renowned Royal Palace of Madrid, also called the Palacio de Oriente. 
Royal Palace of Madrid
It is the largest palace in Western Europe and one of the largest in the world! Today, it is used exclusively for receptions, ceremonies, and official acts, since the kings of Spain reside in the Palacio de la Zarzuela.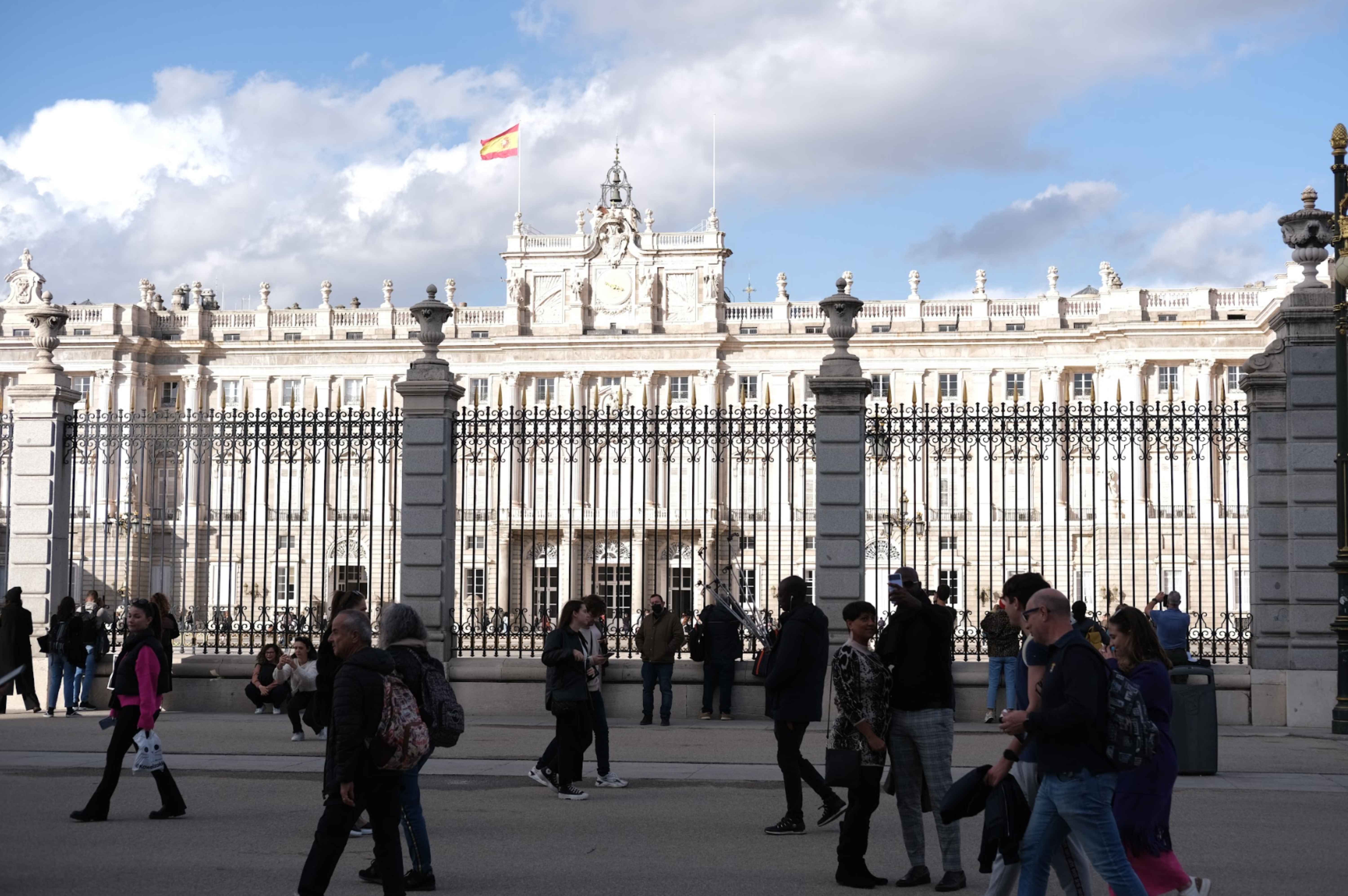 The visit includes entrance to the official halls, the Royal Armory (to see armor, shields, and weapons of all kinds, constituting one of the most important collections in the world), and the Royal Pharmacy.
It is free from Monday to Thursday, from 5 to 7 pm (from 4 to 6 in winter) if you are a citizen of the European Union, resident, or holder of a work permit.
If you have a moment, you can stop in front of La Catedral de la Almudena, a lovely cathedral with unique architecture. 
Chocolatería San Ginés
Alright, let's dive into Madrid's local flavors and try the tastiest churros in the whole country at Chocolatería San Ginés!
This place is right in the heart of the city's historical center, and trust me, it's gonna win you over and make you remember this taste forever. Churros dipped in chocolate is a tradition we cherish and love.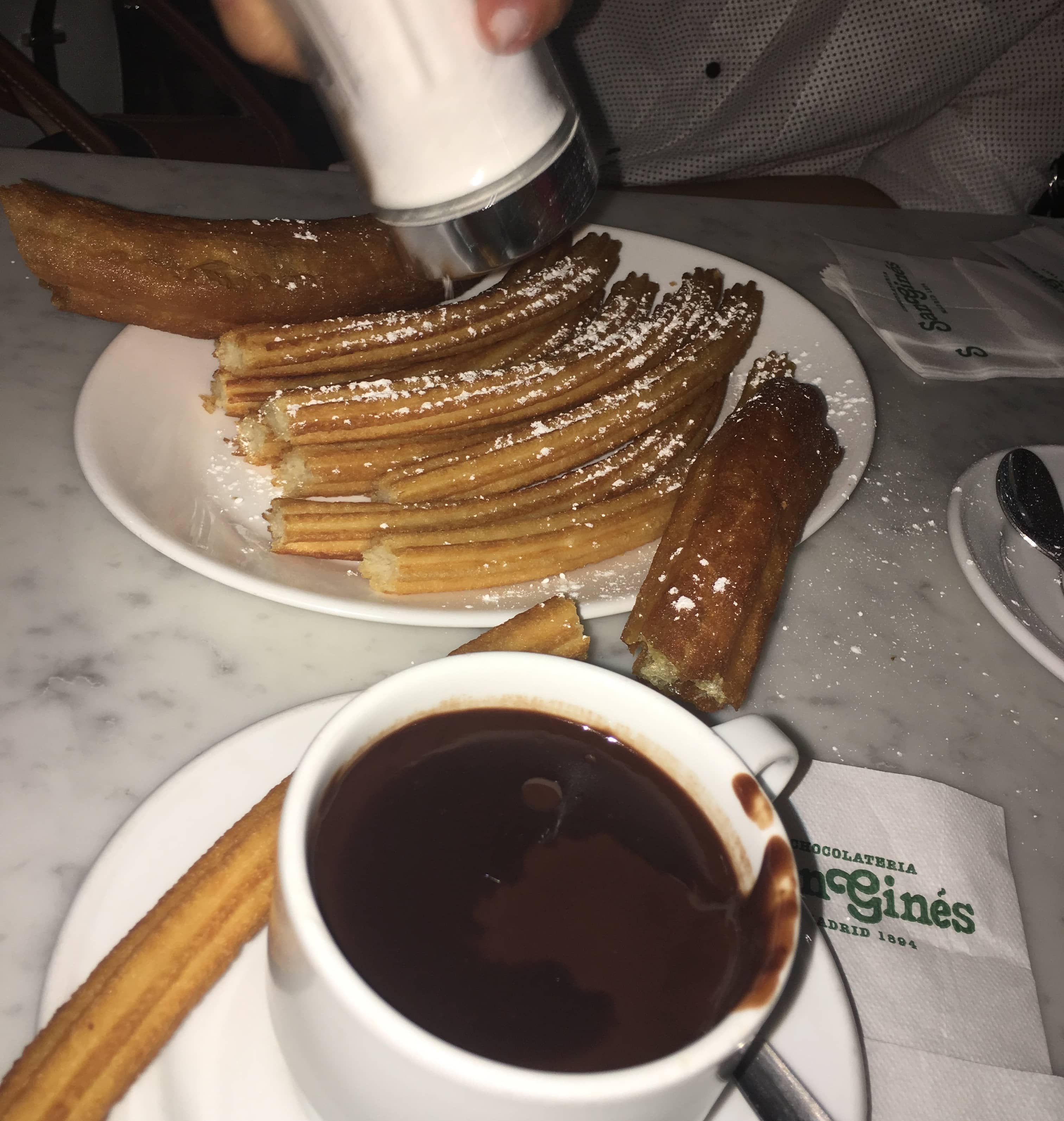 Now get ready to explore some of Madrid's most incredible spots on a walk through the historic city center. This way, you can really understand the local vibes and atmosphere. 
La Plaza Mayor
After the churros, walk to La Plaza Mayor, the most important square that is very lively and has a buzzing atmosphere. 
This is a very iconic place if you're visiting Madrid for the first time. You can see the Statue of Felipe III, Casa de la Panadería, Arco de Cuchilleros, and many other essential details! You can get a guided tour if you want an in-depth explanation. 
Ask us if you need any help planning your trip. We'll be happy to help you!
Mercado de San Miguel
Our next stop is the iconic Mercado de San Miguel, a place to taste authentic local dishes. 
It has 33 stalls, and its top-selling offers in this market are cheese, ham, wine, and oysters. But my favorite is the mushroom and ham croquetas from Arzabál Croqueteria cart, the oysters from Daniel Sorlut, and the baos from Boale.
I know you must be dying to try the tortilla de patata. Still, save that for another time since the Mercado does not have the best tortilla in Madrid.
Puerta del Sol
Then head to Puerta del Sol, the heart of the city. It's a huge square with plenty of spots to grab a bite and places to go.
Last but not least, we'll venture into the hip district of Las Letras, where creativity and culture blend seamlessly. You'll find cool street art, cozy cafes, and hidden gems waiting to be discovered.
📌 Read more: 30 Best Things to do in Madrid: Fun Activities & Food!
The Prado Museum
A visit to Madrid is only complete once you visit the Prado Museum. (Probably) the most important museum in Spain that houses the most extensive collection of Spanish paintings (7,600 paintings and around 1,000 sculptures), making it an art lover's dream. 
About 1,000 of the artwork exhibited in its rooms belonged to the Royal Collections of the Spanish dynasties. Also, it holds well-known paintings by Velázquez (Las Meninas), El Greco, Goya (Third of May 1808), Titian, Rubens, and Bosch.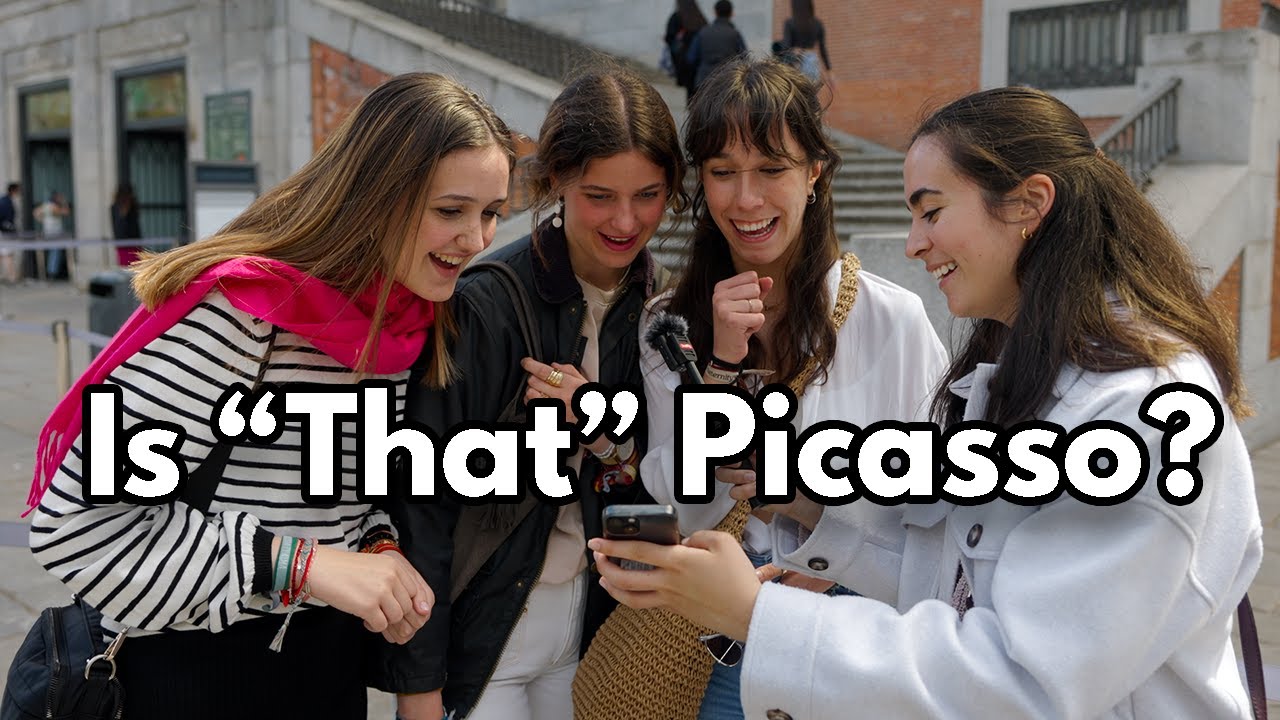 With more than 3 million annual visitors, it is a must-see in the city. It is the most famous museum in the capital and the country and a worldwide reference.
Retiro Park
Nearby is the beautiful Retiro Park, the oasis in the middle of Madrid. After a long day of savoring, tasting, and knowing Madrid, it is only fair to delight yourself with a beautiful walk in the most beloved park for all Madrilenians.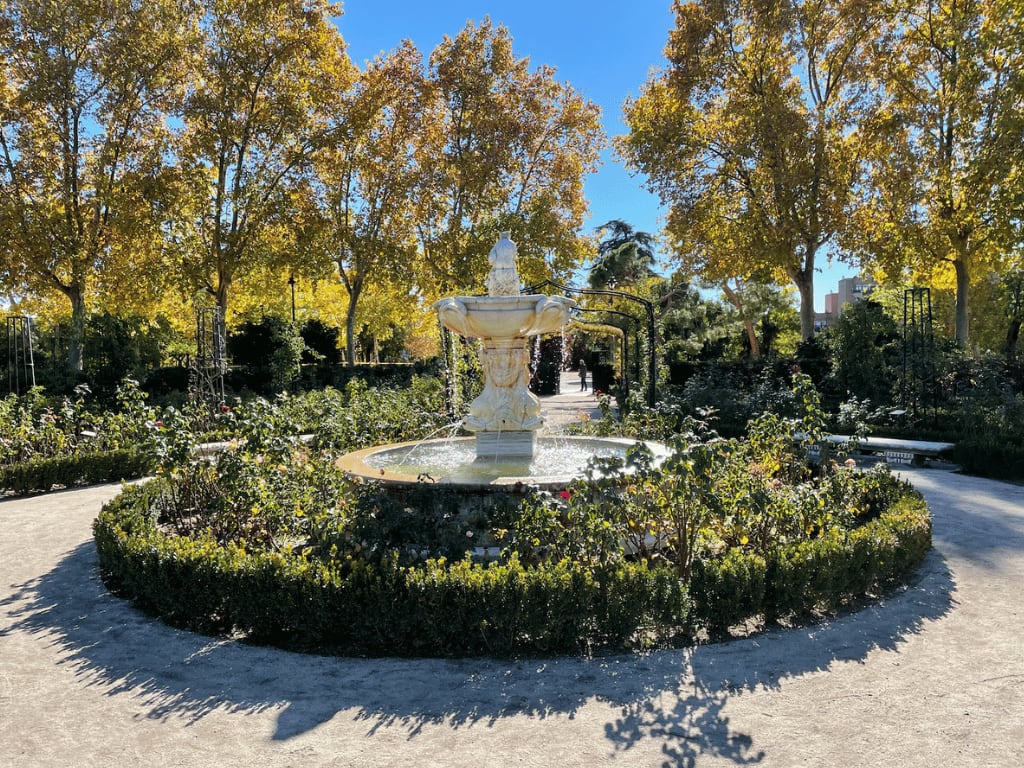 The famous Retiro Park is the largest and greenest park in central Madrid. It serves as a bit of escape from the bustling streets for all kinds of leisure activities, recreation, reading, painting, meditating, running, exercising, yoga, going on a picnic, enjoying works of art, taking photos of nature, playing chess, sitting down on a terrace, partying, you name it!
Puerta de Alcalá
Head outside and admire the imposing Puerta de Alcalá, one of Madrid's most iconic symbols. This massive entrance, inaugurated in 1778, is next to the Parque del Retiro. It connects streets as prominent as Alcalá, Alfonso XII, and Serrano with lovely streets to walk, stroll around, or spend an afternoon in its fabulous terraces.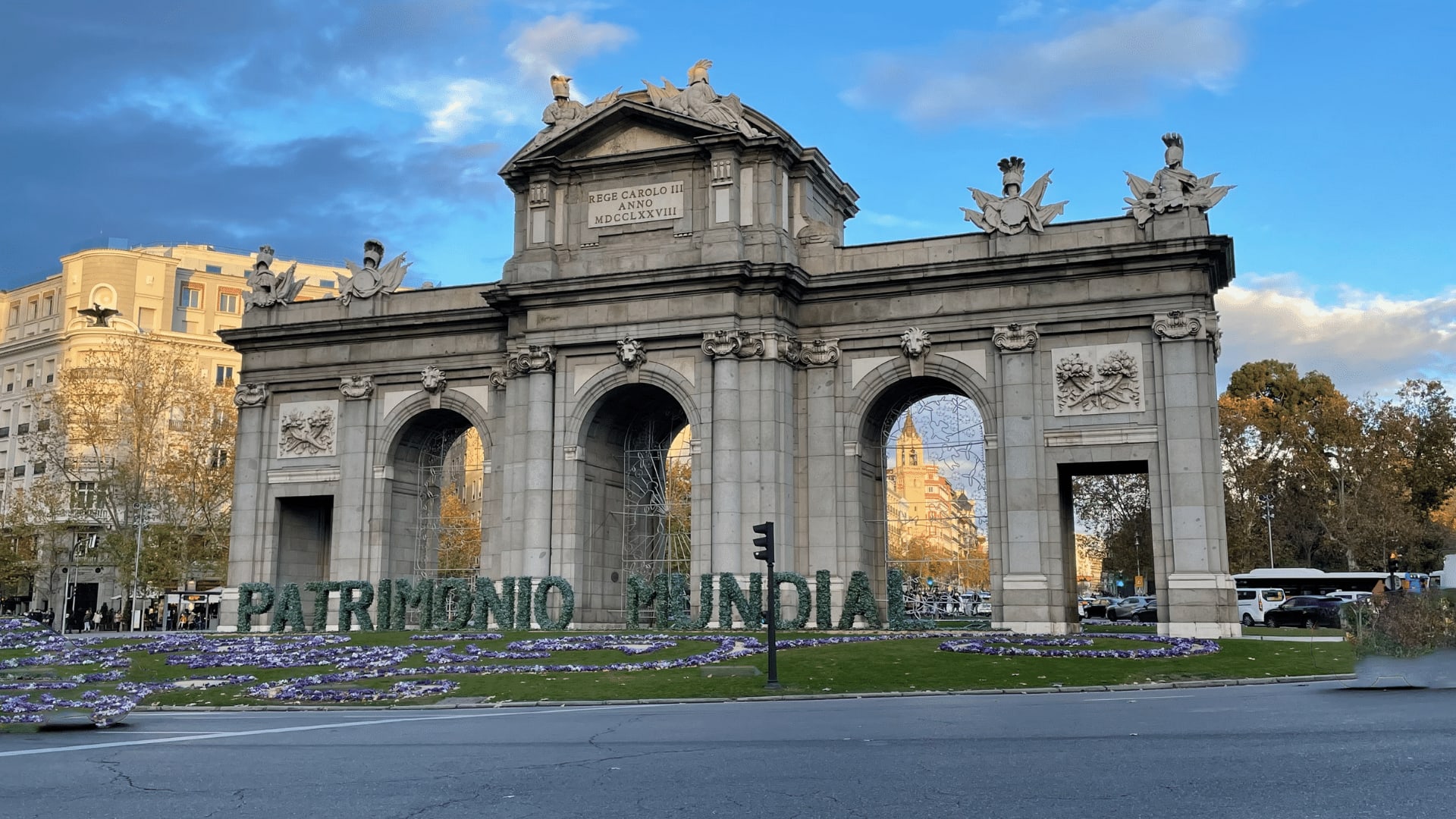 If you're in Summer and are in for a sweet, refreshing treat, try the Maison Glacee ice cream by heading out of the park on Alcalá Street.
Cibeles Fountain
Go down the entire Alcalá Street, and you will see the post office building, the new Madrid town hall in front of the fascinating Cibeles fountain, where madrileños celebrate Real Madrid's football victories.
You'll also spot the impressive Bank of Spain building as you continue along the street. Soon, you'll find yourself on "La Gran Vía," a bustling and significant street in Madrid.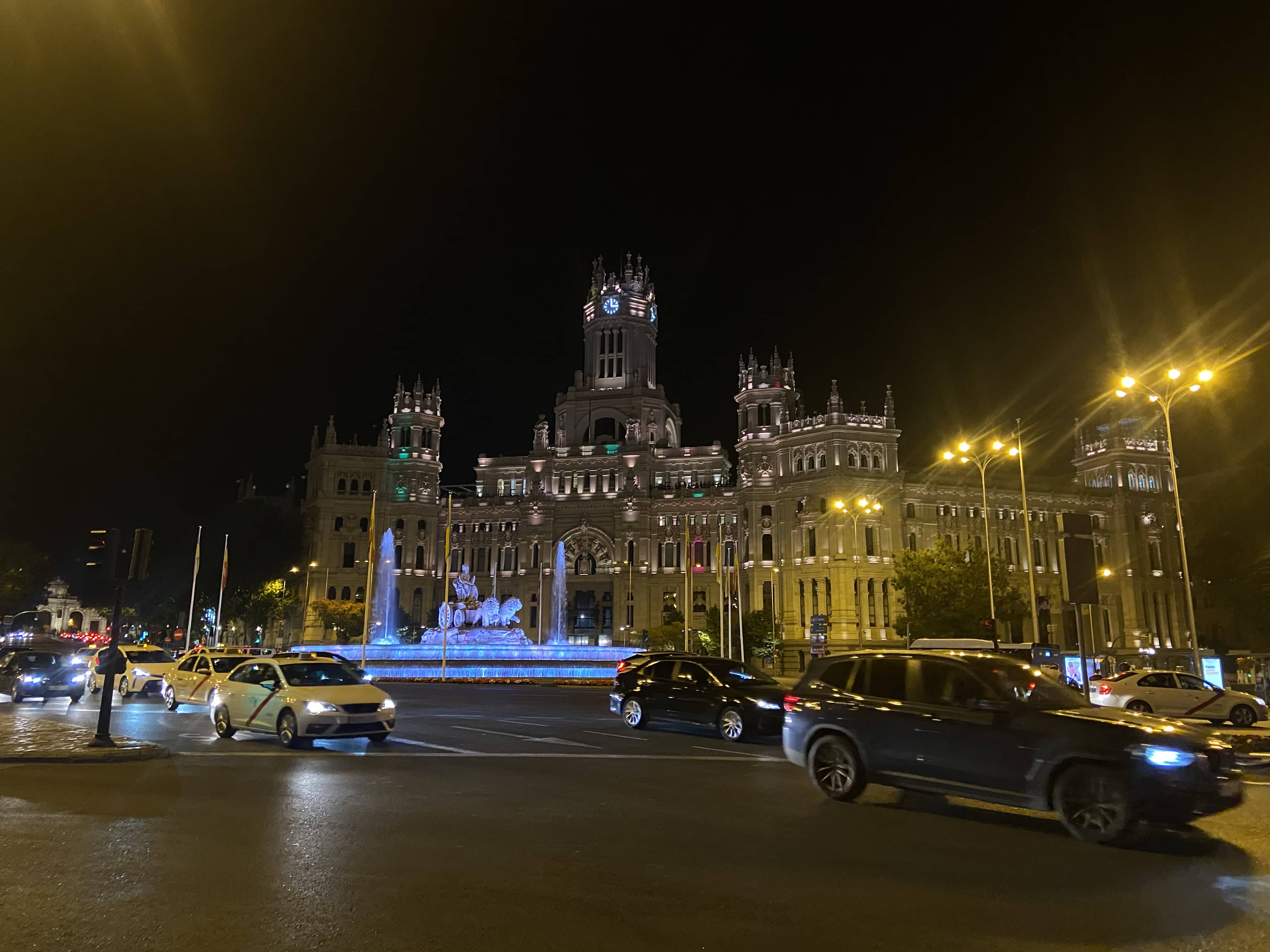 At the beginning of Gran Vía, don't miss the chance to enjoy breathtaking skyline views from impressive rooftops, like those at Circulo de Bellas Artes or the RIU Hotel (that one being in front of Plaza España).
Gran Via and Callao
The Gran Vía in Madrid is one of the city's most important streets. It has monumental architecture, a great shopping area, and a lively tourist center.
Along the way, you'll encounter famous buildings like Metropolis, Sweepes, and Telefónica, as well as the Grassy Building with its iconic Rolex advertisement. 
This street is bursting with life and various activities, including theaters, cinemas, entertainment venues, nightclubs, bars, and many dining options.
Before you reach Plaza de España, you'll find the bustling Callao Square, where important streets converge. From there, you're just a few minutes away from Puerta del Sol, completing your Madrid adventure. Enjoy every moment of it!
Plaza de España
Finally, Plaza de España is one of the most beautiful squares to sit down before hitting the streets of Madrid, as it has a privileged location next to Gran Via and other main roads. So it's a fantastic starting point to finish your day strong before leaving Spain.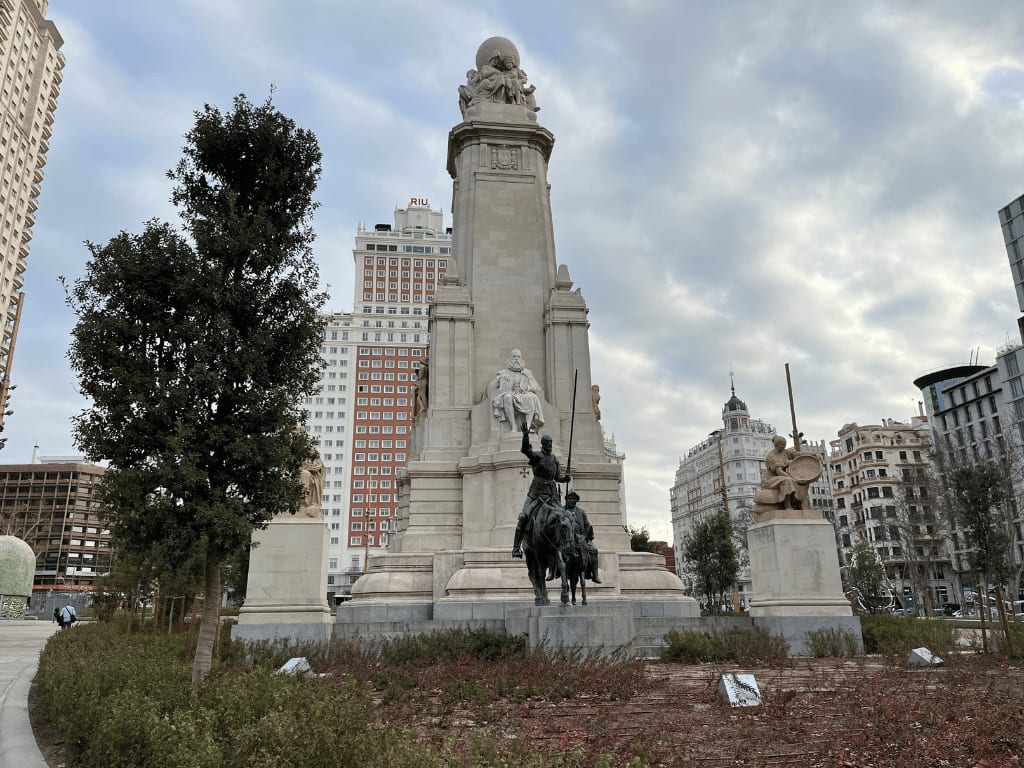 Bonus: If you find yourself in the afternoon with some time to spare, watch the sunset at Templo de Debod, right next to Plaza de España. It offers a beautiful, picturesque landscape to relax and say goodbye to this adventure.
---
I wish you had another day in Spain. This way we could spice up the itinerary a litlle bit and maybe include another small town… For example, Toledo City!
But that will be for another round. I hope you liked this itinerary, and if you have any other question feel free to ask. Happy travels!