Travel to Cádiz: 7 Best Activities, Food & Attractions
October 9, 2023
Updated:

October 12, 2023
Published: October 9, 2023
When people mention Spain's top hidden destinations, they are undoubtedly talking about Cádiz and its charming neighboring towns like Vejer de la Frontera, Chiclana, Jerez, and numerous other picturesque places that define the South's charm.
In this article, I'll be your local guide and give you the best insights to consider when planning your trip to Cádiz. You'll get an overview of this place, its must-visit attractions, the best ways to reach it, and even some yummy dining spots!
If you're unsure whether to visit Cádiz in your Spanish adventure, don't hesitate. This coastal gem is unique for its virgin beaches, and its reputation as Europe's best destination for activities like windsurfing is no joke.
Leaving the natural wonders aside, Cádiz has a rich history, the warm hospitality of its people, and breathtaking views of África from the Strait of Gibraltar, so it is the perfect place to spend your next vacation.
I'm here to help you turn that dream into a reality!
---
What is Cádiz?
Cádiz is the oldest province in the Western world. It is both a city and the capital of its province, which belongs to the autonomous community of Andalusia. 
It is over 3,000 years old and has always been located in a very important strategic point because it allows marine trade.
It has a modest size, and Cádiz enjoys a lovely climate that invites visitors to explore its charming streets. It ranks among the sunniest cities in Spain, if not the top spot. Surrounded by the sea, Cádiz has breathtaking beaches, some of which remain unspoiled and clean.
In addition, Cádiz is home to other small municipalities (which you can quickly discover on a 30-minute road trip). Among the best-known are Tarifa, Algeciras, Zahara de los Atunes, Jerez de la Frontera, El Puerto de Santa María, and many others.
Best Things to Do in Cádiz
1. Paseo Marítimo de Cádiz
El Paseo Marítimo de Cádiz is one of the most important activities to do when you visit the city, specifically at sunset, where you can appreciate the colors and calm of the town leading into the sea.
This walk goes from Cortadura to La Playa de Santa María del Mar. If you want to continue the route, you can walk from Playa de Santa María del Mar through the Campo Sur surrounding Cádiz, passing through La Caleta until you reach Punta de San Felipe.
You will find a lot of beach bars, places to have a few drinks, walking dogs, people doing sports, and a little bit of everything.
2. Barrio del Pópulo
The Barrio del Pópulo is the soul of the city. Many say that it is the oldest neighborhood in all of Europe since Cádiz is the oldest city in the Western World.
Its limitation is marked by the perimeter of walls in which historic Cádiz was enclosed until, practically, the 18th and 19th centuries.
You can't miss the Roman theater and the Bishop's house. You can also find an important Phoenician and Roman archaeological site below the Bishop's seat.
Above all, the most notable building in the Pópulo neighborhood is the Admiral's House, which presides over the secluded San Martín square. It is very notable since its baroque architecture stands out compared to the rest.
Tip: Stop by Contraseña restaurant. They have the best Torrijas!
3. Plaza del Ayuntamiento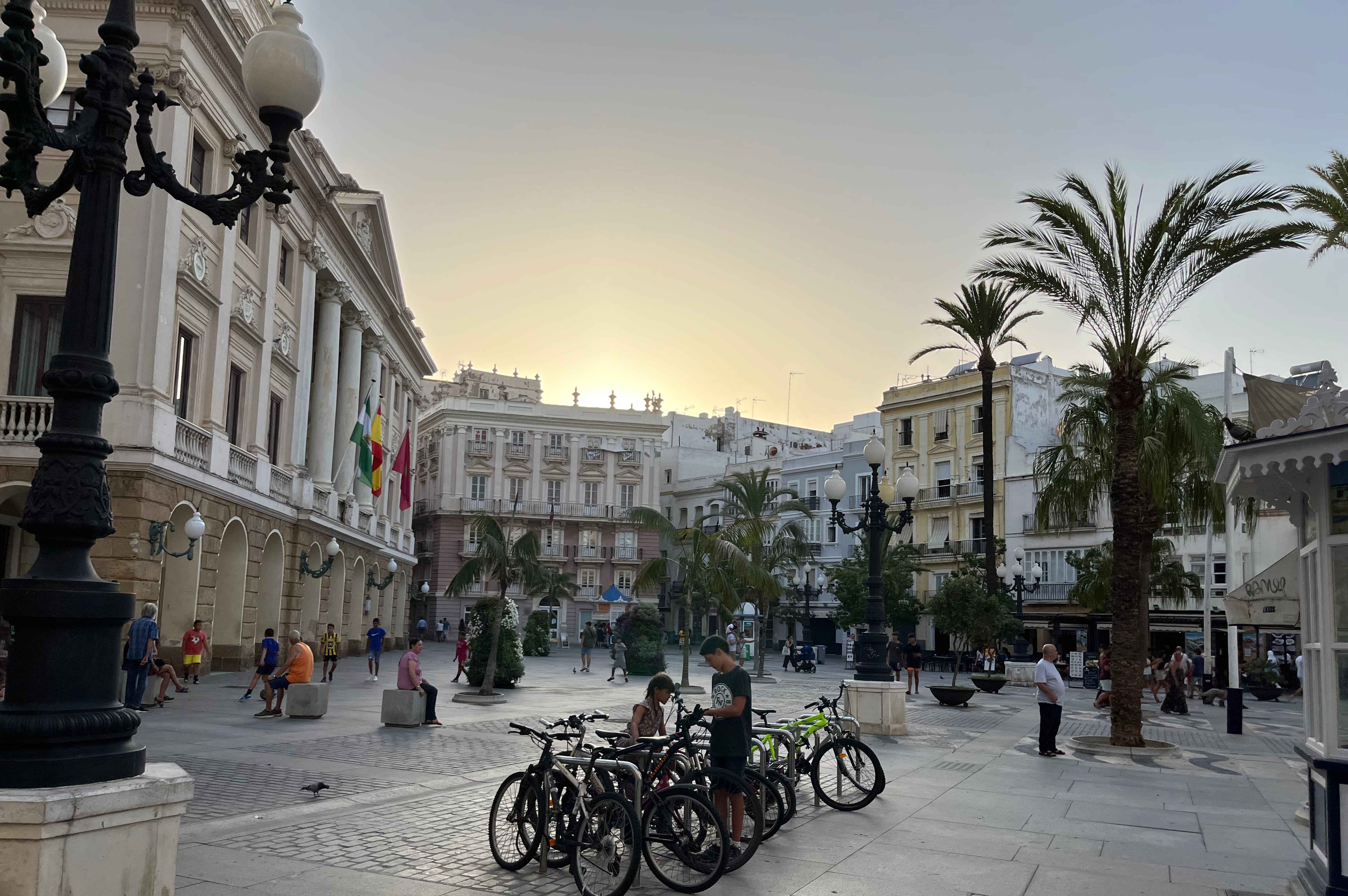 This is the main square of Cádiz, where the Town Hall is located. Here, you will find the Church of the Hospital of San Juan de Dios. It is super close to the port and the Cathedral.
This is a good meeting point to have as a reference throughout your stay. There are many options for bars, restaurants, and places to sit after a long day walking.
It is considered the Plaza Mayor of Cádiz and is located on the outskirts and right next to the access gates to the city, as was usually done in medieval cities.
In addition, it is an essential place for its fountains and historical buildings that are a true gem!
4. Catedral de Cádiz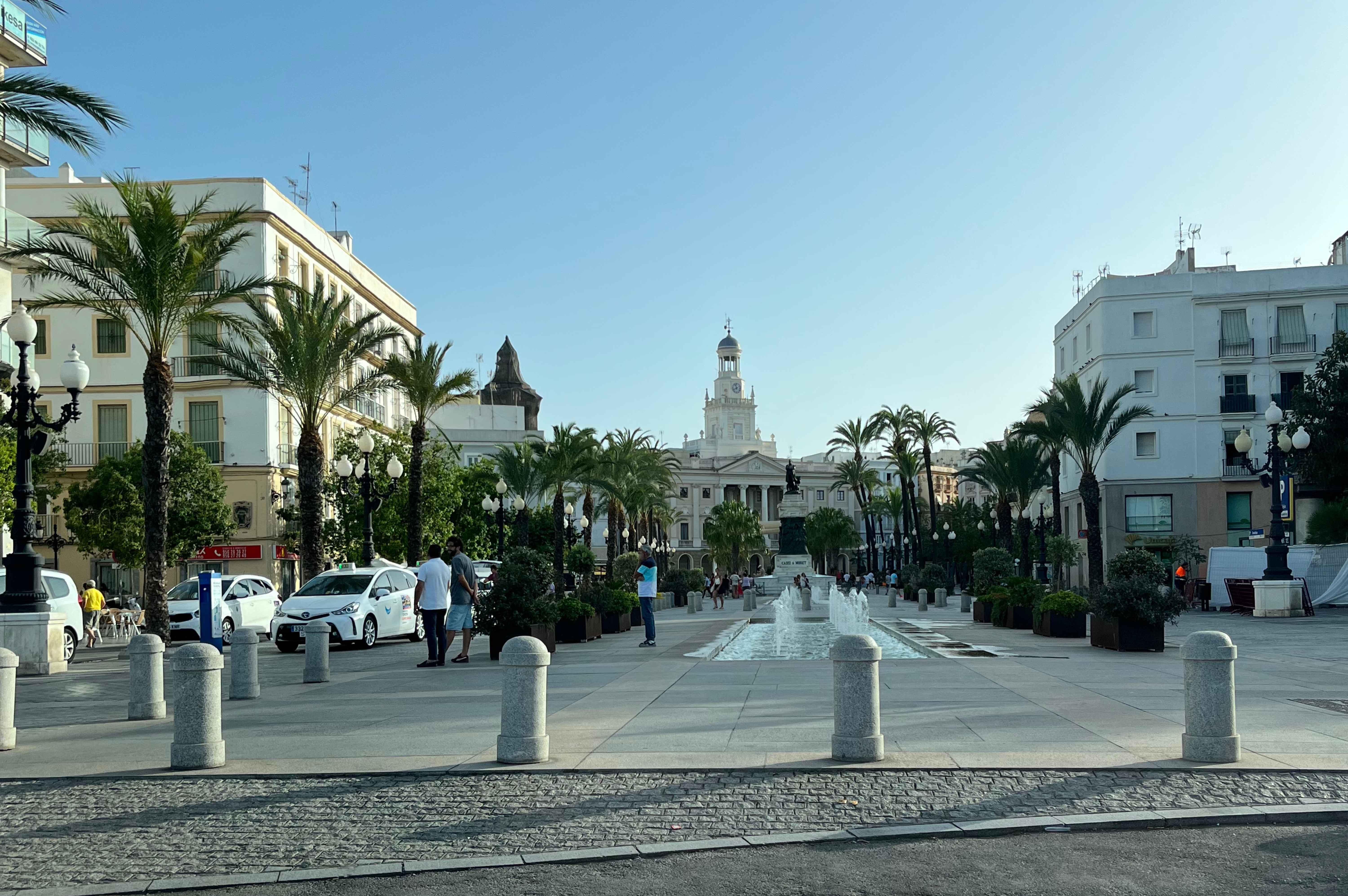 The old city of Cadiz, founded by the Phoenicians, has, as happens in so many other Spanish cities, two cathedrals that are separated by many centuries, although they are united in space: two temples that cover a long period in which the most of the Spanish cathedrals. From the 13th century to the 19th century
The temple that we see today seems to have been a parish church rather than a cathedral, given its proportions: a modest temple with three naves and a great Renaissance style façade.
Also, its apse faces the sea and has one of the bell towers that flank the façade of the new Cathedral. It has 150 fluted columns in beautiful Corinthian style.
5. Watch an Authentic Tablao Flamenco Show
Cádiz is an essential epicenter of Flamenco that attracts travelers from all over the world. One of the best-known Tablaos is in La Cava, an old theater from the 12th century.
There are more than 150 original photographs of the most outstanding figures in the history of Flamenco in the last 50 years.
And the performance is outstanding. These are very talented artists who live and breathe Flamenco. I'm sure you'll set your big high after visiting La Cava. 
Tip: Arrive at least 30 minutes earlier if you are getting Dinner to enjoy the gastronomic experience in a relaxed atmosphere.
Read more: 10 Top Flamenco Shows to See in Spain. With Videos!
6. Castillo de Santa Catalina y San Sebastián
While the Castle of Santa Catalina is open to the public, the Castle of San Sebastián has been closed for several years, in total abandonment. The one in Santa Catalina hosts concerts and exhibitions and is usually the setting for cultural meetings and various galas throughout the year.
Either way, both are iconic places you should visit if you're in Cádiz. They are located on the famous beach of La Caleta and formed part of the city's defensive complex.
The beautiful and exciting thing about them is their structure and shape seem "to come out of the sea."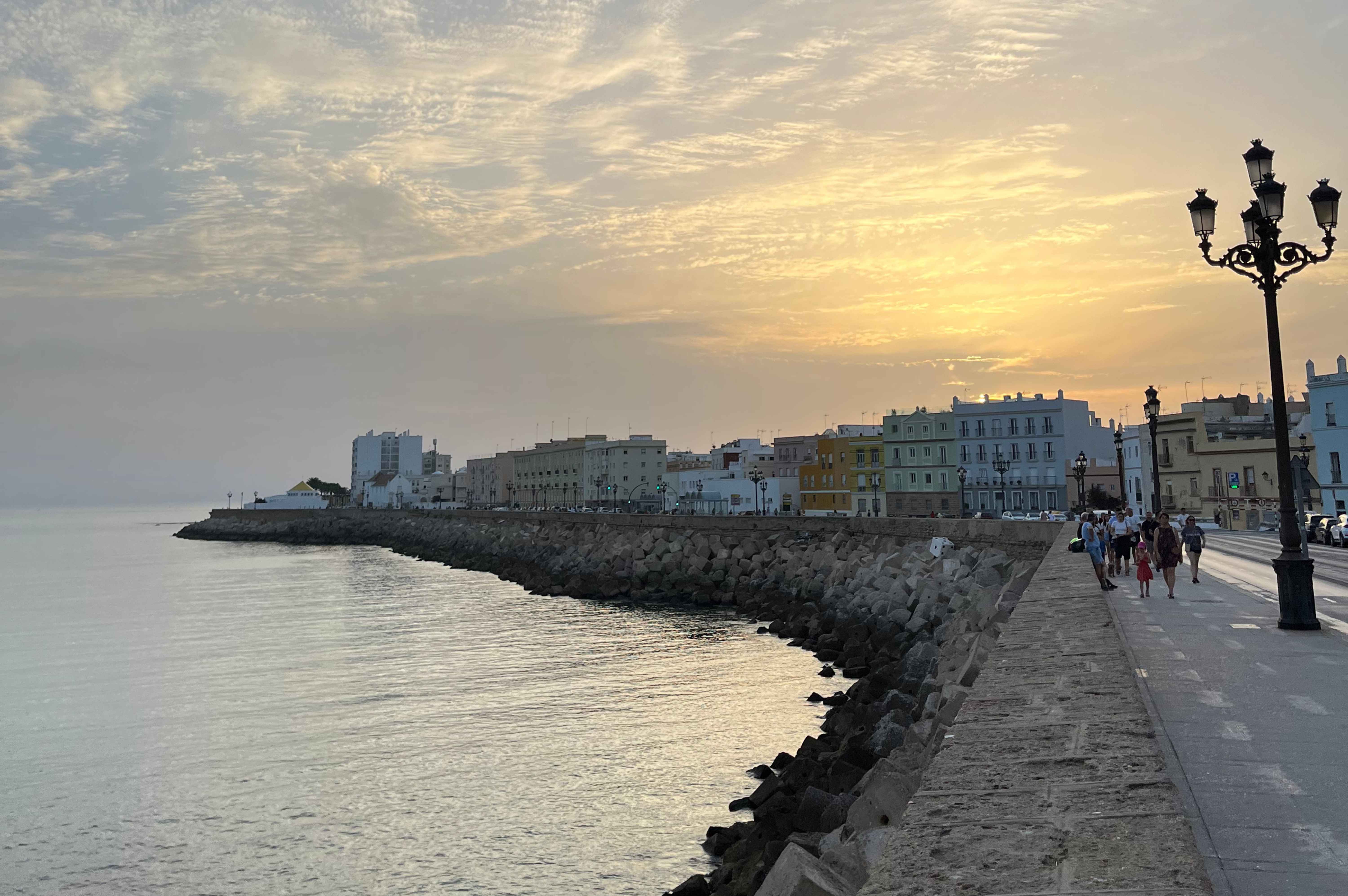 7. Beach day in Playa La Caleta
Playa La Caleta is the most important beach in Cádiz, where you can chill for a few hours in the day. It is very extensive and is surrounded by the castles of Santa Catalina and San Sebastián, which only adds to its charm.
It's as close as it can get to the city center, very clean, and the water is always crystal clear. Plus, there are incomparable sunsets as it goes down over the Atlantic Ocean.
You can actually take a dip at this beach from April to October. And this beach is perfect for tanning, swimming, or relaxation.
The best time to visit Cádiz
I have to start by saying that Cádiz is located in a privileged place. It has an incredible climate, which makes it an impressive destination at any time of the year.
Now, visiting it in its high season or shoulder season will really make a difference.
The high season in Cádiz begins in July and ends on the last day of August, (Summer). This means that prices for accommodation and crowds are higher, but also the weather is at its hottest. You will only find sunny and (very) warm days.
Also, many locals from other regions come to Cádiz or nearby towns like El Puerto de Santa María to spend the Summer, so everything will feel more packed than in other seasons. 
You will mostly have to reserve places to eat and activities in advance, and the "Levante Wind" can be a pain in the head sometimes, do not underestimate it.
Still, if beaches are your top priority, Summer will be the best option for you. 
🏖️Read Full Article: Summer in Spain: 10 Best Places To Visit & Weather Info
Now, Spring (April, May, June), on the other hand, is when the whole South is at its full splendor. It has the best climate in Spain, and the traditional festivities and celebrations take place, like the so-called "April Fairs," Holy Week, and the Carnival in Cádiz, which is the most important one after the Rio de Janeiro one in Brazil. 
Out of these months, April will be the most expensive one. So, any other Spring month is okay if you want to avoid crowds and high prices while enjoying the best climate and overall atmosphere. 
However, this is the best month to visit the South in my opinion. So bare with the heat and crowds and immerse in the culture!
🌸Read Full Article: 10 Best Spring Destinations in Spain: Weather & Fun Activities
Winter, on the other hand, might seem a bit dull since it's off-season, the climate is a bit cooler, and the beaches are not at their peak yet. Also, avoid early Winter as it can rain occasionally. 
Still, we highly suggest considering this place for late March since you can take advantage of the best prices, see the city cheering up, and discover the city with pleasant climate conditions. (read more)
❄️Read Full Article: Spain in Winter: Weather, Destinations, Tips & more
Besides Spring, Autumn is also a great time to visit Cádiz. Both shoulder seasons are great since they offer the best of both worlds regarding climate, crowds, and prices.
More specifically, you could easily go to the beach in early October and still have a nice time.
Also, you can eat, move around, and do whatever you want without having to reserve everything in advance.
🍂Read Full Article: 5 Best Autumn Destinations in Spain: Weather & Fun Activities
How to get to Cádiz?
There are many ways to get to Cádiz. Here are the easiest ones:
By Flight
If you want to take a flight, the Jerez Airport is the closest to the city, about 45 minutes away. You can easily find national and international flights there. 
By Train
Another option is taking a Renfe (high-speed train) from nearby towns like San Fernando, El Puerto de Santa María, Puerto Real, and Jerez de la Frontera. But I'm sure you'll visit Cádiz from a bigger city if this is your first time. 
From Madrid to Cádiz is about 4 hours and 30 minutes by train
From Seville to Cádiz is about 1 hour and 45 minutes by train
By Car
Renting a car is an excellent option to move around since you can travel the rest of Andalusia, and it allows you to wander at your own pace. 
However, you don't necessarily need a car to explore the city since everything is within walking distance. If you come from another town, taking the A-4 highway is the best option:
Jerez de la Frontera is 35 min away
Seville is 1 hour 20 minutes away
Málaga is 2 h 40 min away
Madrid is 6 h 20 min away
By Bus
Also, daily buses come from Madrid, Barcelona, Zaragoza, Seville, Córdoba, and Jaén. From the companies COMES Los Amarillos and Sercobus. Plus, they are the cheapest option!
Best Places to Eat in Cádiz
Try Traditional Andalusian Cuisine at Casa Manteca
Have a nice lunch at Arsenio Manila
Enjoy a High-end experience at Código de Barra
How much does it cost to visit Cádiz?
Request information: hello@sensationalspain.com
How much money you need for your trip to Cádiz depends on many things, such as how many people are traveling, the type of activities you want to do, accommodation, the duration of your stay, restaurants, and most importantly, the time of year.
To help you more accurately, please don't hesitate to reach out to us via email! Share the details of your desired trip to Spain, and we will provide you with a price estimate and offer local advice for all your travel needs. 
Where to stay in Cádiz
There are many places where you can spend your vacation in Cádiz. It has Airbnb, Booking, and Hotel options to stay. You could rent a house if you're traveling with a big group, so you can enjoy at your own pace, do activities together, and share expenses.
Regarding the zones, the Old Town is great if you're a first-time traveler since you're closer to everything. Also, the Vineyard Neighborhood has excellent nightlife, which is great if you're into that. The Santa María area is the cheapest, and Victory Beach is also a great option if you want to chill and have fun in the sun near the beaches.
Here are a few options:
Casa Cánovas Boutique Hotel for a luxury experience
Great Hotel Option for a nice stay
Family-friendly apartment in the City Center
Choose your Spain Itinerary
1 Day in Spain? 10 Best Things to Do in 24 Hours!
2 Days in Spain: Trip Ideas & Itineraries to Enjoy Your 48h
3 Days in Spain: What's the Best Itinerary for Your Trip?
4 Days in Spain - Best Travel Itineraries for Short Trips
5 Days in Spain: Itineraries to See (almost) Everything!
6 Days in Spain: The 3 Best Itineraries for Your Trip!
7 Days in Spain: The 3 Best Itineraries for Your Trip!
---
I encourage you to come to Cádiz on your next trip to Spain! I know it is not one of the big cities, but it has completely stolen the heart of everyone who has visited the South.
If you have any questions regarding your trip to Spain. Please ask away in the comments, and I'll give you my best local advice.
Happy travels!