9 Natural Wonders in Spain Worthy of Your Bucket List!
June 12, 2023
Updated:

June 19, 2023
Published: June 12, 2023
Reconnecting with nature is pure enjoyment and actual therapy. Very much needed after months of hustling and bustling in the city.
This is why I've come up with 9 Natural wonders in Spain that are ideal destinations if you wish to experience a break that absorbs you in nature.
With thousands of protected green areas, UNESCO heritage sites, and rich flora and fauna, the Spanish landscapes offer the most memorable trips for outdoor adventures, relaxing at the beach or hiking the highest mountains.
Plus, traveling to a destination with plenty of natural wonders can offer a wealth of mental and physical benefits, adding to the privilege of waking up surrounded by beautiful scenery.
I hope you can live out your wildest adventure dreams in one of these idyllic places in Spain, so let's go!
---
1. PICOS DE EUROPA NATIONAL PARK
The León province and Cantabria, Asturias, and Leon regions share the Picos de Europa National Park, a beautiful territory. Also the third most visited National Park in Spain, will you miss it?
Picos de Europa is distributed among 11 villages and is Spain's only inhabited Natural Park.
It is one of my favorite landscapes, where you can hike among peaks (there are more than 30 self-guided routes), lakes, and rivers, eat rich gastronomy, visit charming villages, and plan panoramic routes by car.
Its diversity of terrains and biodiversity includes numerous species of flora and fauna. There are more than 1750 species, with threatened species at the regional and European levels.
There are multiple leisure options aimed at nature lovers, thanks to the Fuente Dé cable car. You can also sleep at 1.800 meters above sea level, which is a memorable experience, surrounded by mountains, meadows, and a unique landscape, from which you can make spectacular daily excursions.
📌Read more: The 16 Spanish National Parks and Their Breathtaking Views
2. CÍES ISLANDS
You will think you are in the Caribbean, but you are in the Cíes islands, in the north of Spain.
The Cíes Islands, in addition to being a National Park opened since 1980, is a beautiful spot where the best nature in Spain hides. There is a particular protection area for birds and conservation. In recent years, Cies islands have become one of Galicia's most visited tourist destinations!
I have been here several times and I can assure you will have an excellent excursion in a highly protected natural space where you will enjoy nature to the maximum level.
A main highlight worth mentioning is the Rodas Beach in this virgin paradise, which you can't miss as it was awarded "The Best Beach in the World" by the famous British newspaper "The Guardian."
It is worth it to come and get to know the island, visit the beaches and enjoy nature in one of the few Virgin Paradises left on Earth.
📌Read more: The 15 Magical Islands in Spain to Visit Once in a Lifetime
3. CABÁRCENO NATURAL PARK
Suppose you would like to live an experience in the African jungle. In that case, just travel thousands of kilometers and head to northern Spain! Just 17 kilometers from Santander, in Cabárceno, we find the stunning Cabárceno Nature Park.
You will have the opportunity to spend an incredible day with your family or your kids, surrounded by more than 120 species of animals from all over the world that move freely in this natural environment. The park offers a surprising world of animals in a place of great beauty.
Cabárceno has been awarded several times with the prize for the best zoological park in Spain. They are animals that are semi-freedom. But the park is not only a space for the exhibition of animals; it is also dedicated to research, the conservation and recovery of species, and environmental education.
"I went to Cabarceno a few years ago; it was a great experience. I had a lot of fun and enjoyed seeing all the animals. One of the things I liked the most in the park was the Rubí viewpoint, from where you can enjoy a panoramic view of the city of Santander and the arc of the bay."

- Blanca, 20 years from Madrid.
Visitors can tour the different areas by car or bus, with parking points along the route so you can get off and walk around to see the animals!
📌Read more: Exploring the Spanish Wildlife and Its 11 Emblematic Animals
4. ARAN VALLEY
The Aran Valley is a Spanish region in the province of Lérida; it serves as a border with France and Aragon. As the last Catalan territory, this was a strategic place erected during the Civil War.
The north of the Pyrenees stands out for its stunning scenery and tradition as a tourist destination for ski lovers.
The municipality of Vielha is one of the most beautiful villages in the region. In winter, the Aran Valley is one of the most visited places, not only for its many activities and services but also for its beautiful snowy villages and delicious local dishes such as the Aranese pot, cheeses, and stews. You should try them in the valley!
I love this valley so much because the Aran Valley is a unique place of a particular beauty; it is a special place for locals and tourists. This makes thousands of tourists from all over the world visit the area.
The Aran Valley is popularly known due to the ski resort of Baqueira Beret. It has an extension of more than 167 skiable kilometers with slopes for all ages and levels, which makes it an alternative for everyone.
📌Read more: 9 Mountains Ranges in Spain for a Scenic Adventure
5. TEIDE NATIONAL PARK
The Teide National Park is one of the world's great wonders, and yes, it is in Spain, on the canary island of Tenerife.
It is not a simple volcano, it has the highest peak in Spain, at 3.718 meters, and it is also the most visited national park in Spain and Europe, receiving more than 3 million tourists per year, as it is very easily accessible. Moreover, it is the largest and oldest of all the national parks in the Canary Islands.
Riding the cable car is one of the most exciting experiences in the Teide National Park. Once you finish your journey in the cable car, you find a path to ascend to the crater on foot. It takes about 40 minutes, and the difficulty is high, but you will feel very proud once you reach the top.
To live this experience visitors need a special permit. It is easy to get it and can be done through the website. This is a once-in-a-lifetime experience, and if I were you, I wouldn't miss it.
If you are lucky and have a sunny day once you've reached the top, you can enjoy an incredible view of the 4 islands; Gran Canaria, La Palma, El Hierro, La Gomera, and Tenerife. And, if you already have these places in mind, we can help you decide which Island is for you with this video-guide: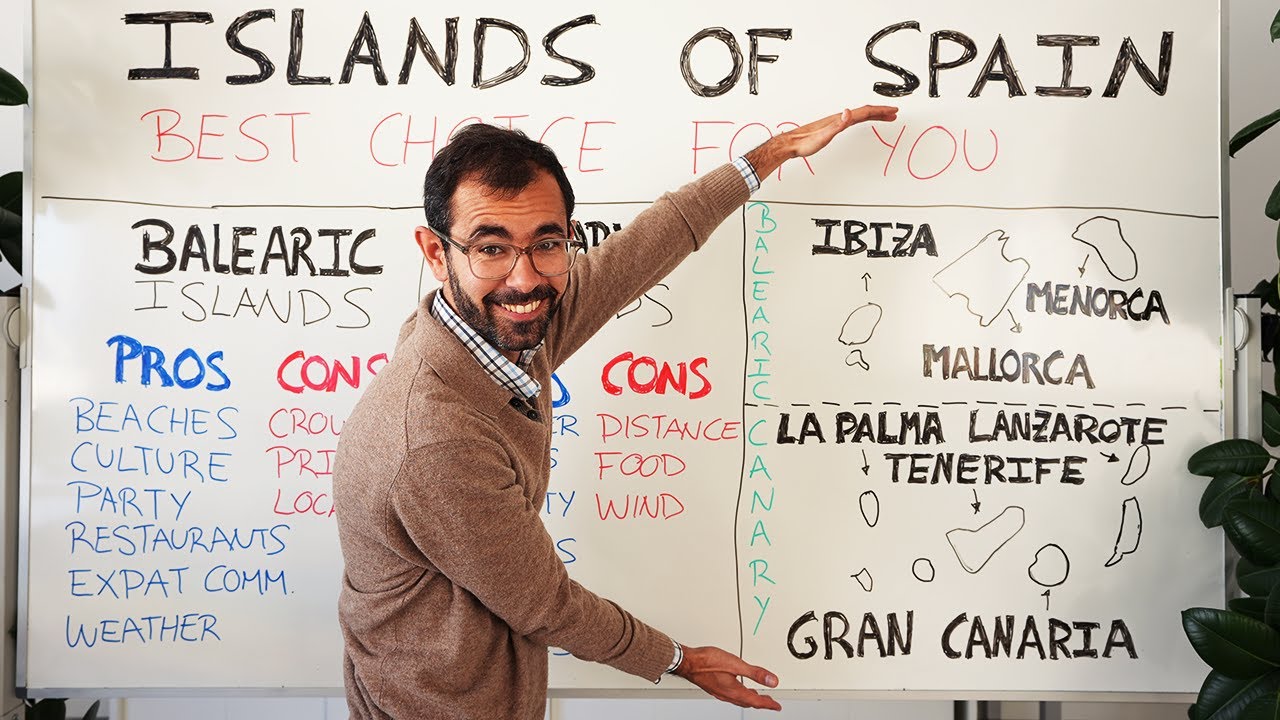 6. CALA DEL PORTIXOL, ALICANTE
The famous Portitxol Cove is located between Cape Prim and Cape Negre on the coast of Javea. It is one of the most popular coves in Spain and has become one of the stars of Instagram. Every year, especially during summer, it attracts thousands of travelers to post their posts and stories on Instagram.
Tourists and locals love this cove because of its natural aspect and bay shape, making it very attractive. It is also guarded by cliffs and a Mediterranean forest that reaches down to the sand. On the other hand, its crystal-clear waters and its white houses remind me of Ibiza.
One of the things I love the most is snorkeling and diving in this water. They are a small paradise of transparent and shallow waters where it is easy to see the marine ecosystem.
"If I were you and you wanted to go for a swim, I recommend you wear crab shoes to step on the stones so you can enter the water comfortably. I didn't know it when I first went, and I hurt my feet a lot, so don't do like me and wear crab shoes! Worth the experience, beautiful scenery."

- Almudena, 44 years old from León.
7. SIERRA NEVADA NATIONAL PARK
Do you know where the most southern ski resort in Europe is? In the Sierra Nevada, it is home to the highest peaks of the Iberian Peninsula, Veleta (3,394m) and Mulhacén (3,478m), all just 100 km from the Mediterranean Sea and the Tropical Coast, isn't that kind of crazy to think?
In winter, this is one of the most popular ski resorts, together with the Aran Valley. It has more than 115 skiable kilometers and 120 slopes. This place is so popular among ski lovers due to the quality of its snow, the fact that you have many kilometers to ski, and the complementary offer of leisure activities. All this makes the Sierra Nevada an international reference and an unavoidable appointment for skiers and tourists.
In summer, this national park was not going to be less. The best way to discover everything the nature of this natural park has to offer you is by walking, as they have numerous trails and paths. Officially there are 25 marked hiking trails of varying difficulty and length. In addition, bicycle lovers can also do one of its 13 routes enabled for them.
No matter the time of the year, Sierra Nevada National Park is always an excellent option when visiting Spain. It was also declared a Biosphere Reserve by UNESCO in 1986 and became a National Park in 1989.
8. LAS CATEDRALES BEACH
Las Catedrales Beach is located on the north coast of Spain, in the province of Lugo, in Galicia. It is one of the most popular tourist destinations in the region due to its stunning natural beauty and unique rock formations.
It is one of my favorite places, but not only for me; tourists and locals think the same. This beach is known for its impressive cliffs, arches, and caves resembling Gothic cathedrals. You can enjoy the scenery and explore the caves and arches.
This beach is so famous that people post their photographs on Instagram.
It is important to take into consideration the tide table of the beach since you will only take advantage of your visit to Playa De Las Catedrales if you do it coinciding with the time when the sea level drops, which will allow us to walk through the narrow corridors between the cliffs, crevices, caves and pass under its vast arches.
You can practice many activities; one of the most popular is hiking the cliffs route, which offers breathtaking views of the coast and the area's cliffs. You can also take boat trips to observe the coast from the sea.
9. TABERNAS DESERT
On your visit to Spain, you must go to the Tabernas desert, you will be impressed as it is one of the great scenic surprises of a visit to Almeria. Almeria is also one of Europe's wealthiest provinces from an agricultural point of view.
Such an arid area exists at this latitude because it is surrounded by three mountain ranges: the Filabres, the Alhamilla, and the Alpujarra of Almeria. The aridity of the Tabernas desert has determined the existence of numerous species endemic to the area.
In Tabernas, you will find Oasys, a MiniHollywood; many movies were filmed here during the 20th century. I'm sure you know movies such as Cleopatra (1963), 'And Indiana Jones and the Last Crusade' (1989), among many others. In addition, there is a water park and a small zoo with more than 800 animals of 200 different species.
"Tabernas is a very authentic place. One of the things I liked a lot on my visit was the cancan show; it was done in the style of the American West during the 19th century. But what I enjoyed even more, was another show that emulates the aggressive atmosphere of that era, which takes place in the town square and stars specialists. Trust me, you should not miss any of this show,"

- Javier, 53, from Madrid.
---
And the list could go on, so make sure you read our related articles. They might help you choose your next destination:
Nature in Spain: 21 Spectacular Wonders + Its Native Fauna & Flora