Travel to Palencia: 5 Attractions, Food, and Activities!
October 26, 2023
Updated:

October 30, 2023
Published: October 26, 2023
If you want to discover a charming side of Spain that's not packed with tourists, Palencia is definitely worth a visit! Trust me, it won't disappoint and might leave you wanting to explore even more of our beautiful country.
The city is an absolute treasure trove of history and culture, and it's just waiting for you to come and discover its hidden wonders. I've been to Palencia several times with Iñigo, and it's such a wonderful place for a quiet visit, especially if you're religious. It has many unique spots, such as Cristo de Otero, (the tallest Jesus figure in Spain), where you can really take your time to recharge, meditate, and embrace the surroundings. 
From gorgeous architecture to delicious local cuisine, this city has a tiny bit of everything. In this article, I'll introduce you to the town, where every street has a story waiting to be uncovered.
Come with me, and let me show you the best things you can do in this unique destination!
---
What is Palencia?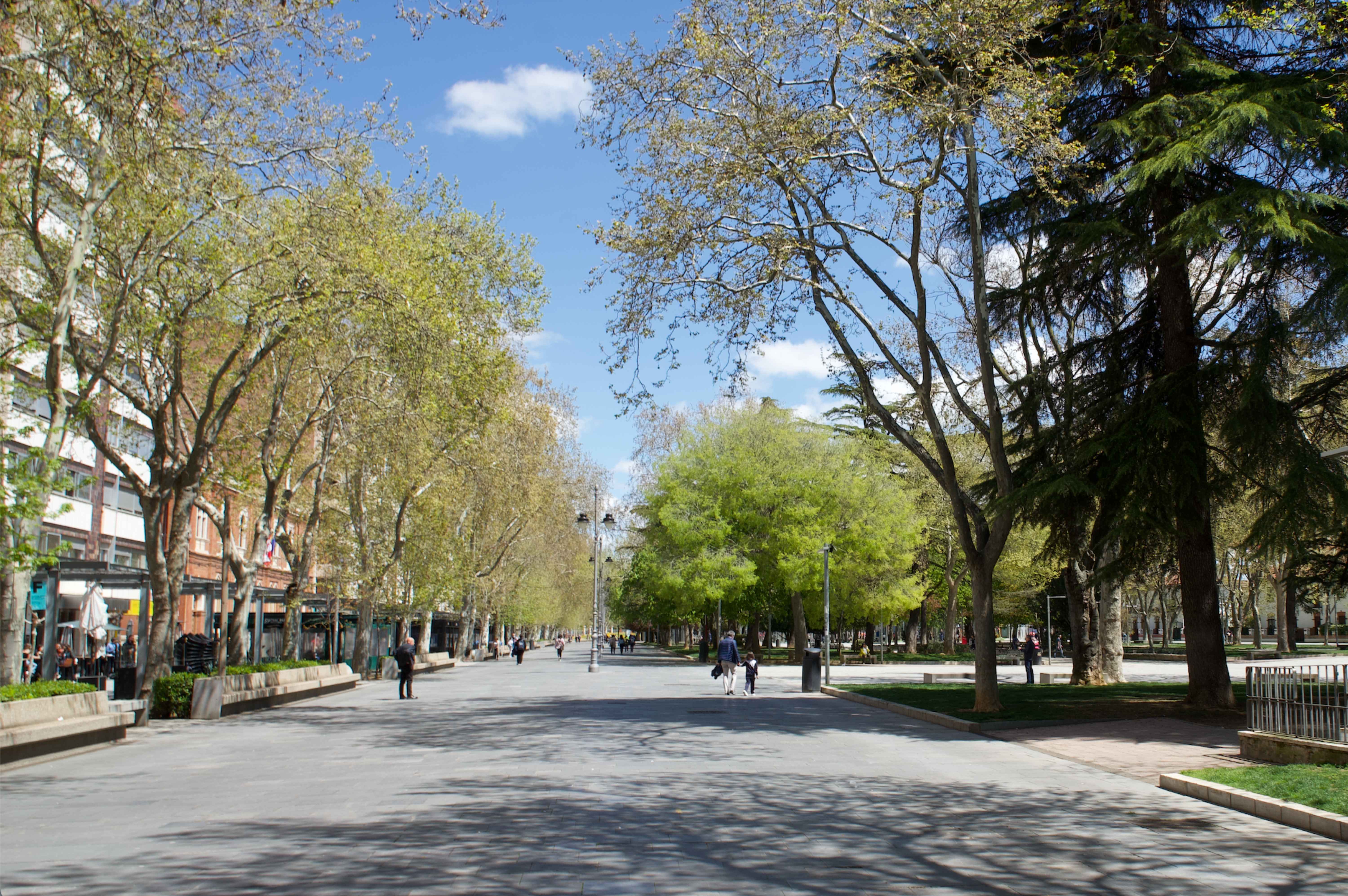 Palencia is a charming historic city in northern Spain's beautiful Castile and León region. 
This city is known for its peaceful and relaxed atmosphere, making it a perfect destination for anyone looking to take a break from the hustle and bustle of daily life. 
It has lots of charming plazas, parks, and riverside walks. You're sure to have a wonderful time exploring this lovely city.
It is also famous for its rich cultural heritage, well-preserved historical architecture, and chill ambiance that attracts visitors worldwide. 
1. Explore Plaza Mayor and the Ayuntamiento Building
If you ever find yourself in Palencia, you absolutely must check out the Plaza Mayor. It's a hub of activity and a favorite spot for the locals to hang out.
The surrounding buildings are gorgeous and have an architecture that tells the city's story. The rectangular square has many historical buildings, cute spots, restaurants, and a charming fountain. 
There's always something going on at the Plaza Mayor, whether it's cultural events, concerts, markets, or local celebrations, especially during festivals and special days. 
It's a great place to stroll, relax with a coffee on one of the many terraces, or immerse in the lively atmosphere.
You can find the impressive Palencia City Hall building in the Plaza Mayor. It has an elegant and unique facade with many architectural details, representing the city's civil architecture.
Although people usually don't enter the building, the beauty of its facade and its central location in the heart of the city make it a must-see when visiting the Plaza Mayor.
2. Visit the Palencia Cathedral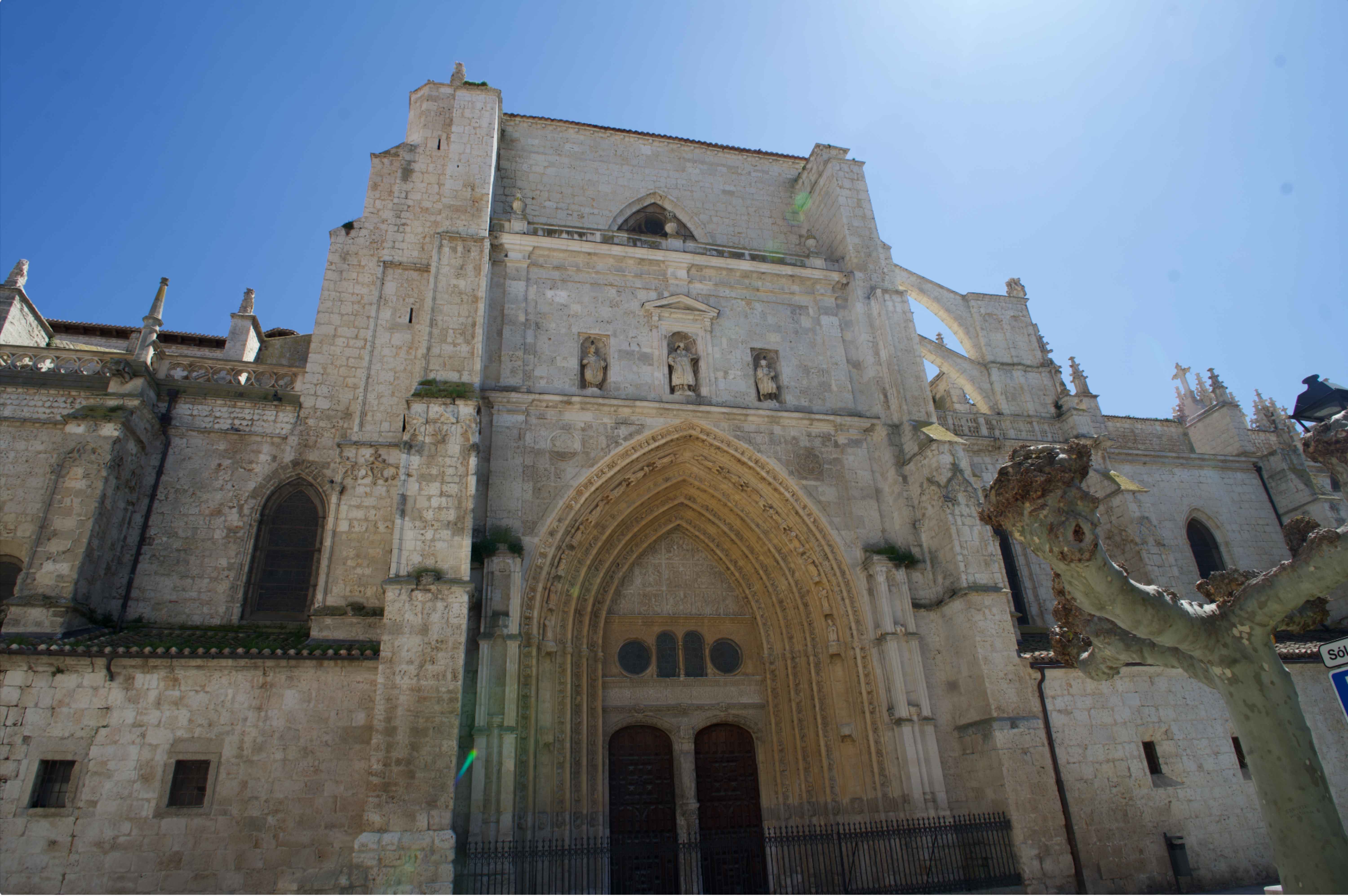 Have you heard of the Palencia Cathedral? It's a breathtaking example of Gothic architecture dedicated to San Antolín (Saint Antolin). 
You'll be amazed by the stone carvings and sculptures on the cathedral's exterior, which show religious scenes and figures. 
And did you know that the construction of this majestic structure began in the 14th century and continued over several centuries? As a result, you'll see a combination of architectural styles, with Gothic and Renaissance elements.
When you enter the cathedral, you'll see beautiful stained glass windows, chapels, a lovely choir, and an impressive altar. 
And to learn more about the cathedral's history and architectural significance, why not take a guided tour? You'll get to hear from local guides who can provide valuable insights. 
Read more: 17 Most Famous Churches in Spain: Best Iconic Sites!
3. Walk through Puente de Hierro
Puente de Hierro is a historic iron bridge that goes through the Carrión River in Palencia and is one of the city's most distinctive features. The bridge was built in the late 19th century and is a testament to that era's engineering and architectural styles.
What's cool about the bridge is that it offers breathtaking views of the Carrión River and the surrounding area. You can stroll across the bridge, soak in the river's chill waters, and take great memories home with your camera. 
If you're looking for more to do, several attractions are nearby, including the famous Basilica of San Juan. This religious site has Gothic architecture and intricate interior details worth visiting. 
For a relaxing break, head to the Parque Isla Dos Aguas, located along the river and close to the bridge. It's a lovely spot to stroll, relax, and enjoy the natural surroundings. 
And here's the best part: the Puente de Hierro is the gateway to Historic Palencia! You can easily explore the city's historic streets, squares, and buildings, all within walking distance from the bridge. 
4. Discover the Old City Center and the Mayor Street
If you're ever in Palencia's historic center, you must attend the famous Calle Mayor, one of the main streets.
You'll love the narrow streets and well-preserved architecture that make it a perfect spot for a chill walk. 
While there, you can explore the little streets and squares, look at the markets, interact with locals, and enjoy the local cuisine, giving you an authentic Spanish experience you'll never forget. 
Be sure to check out the Church of San Miguel, too! It's a remarkable landmark and an excellent example of Romanesque architecture. 
You can also visit the elegant palace called Palacio Episcopal, another architectural gem in the Old Town that you wouldn't want to miss. 
And if you're feeling hungry, there are plenty of shops, boutiques, and cafes where you can grab a coffee or a meal while taking in the city's ambiance. I'll tell you some of my best recommendations in a minute!
5. Enjoy Breathtaking Views at Cristo de Otero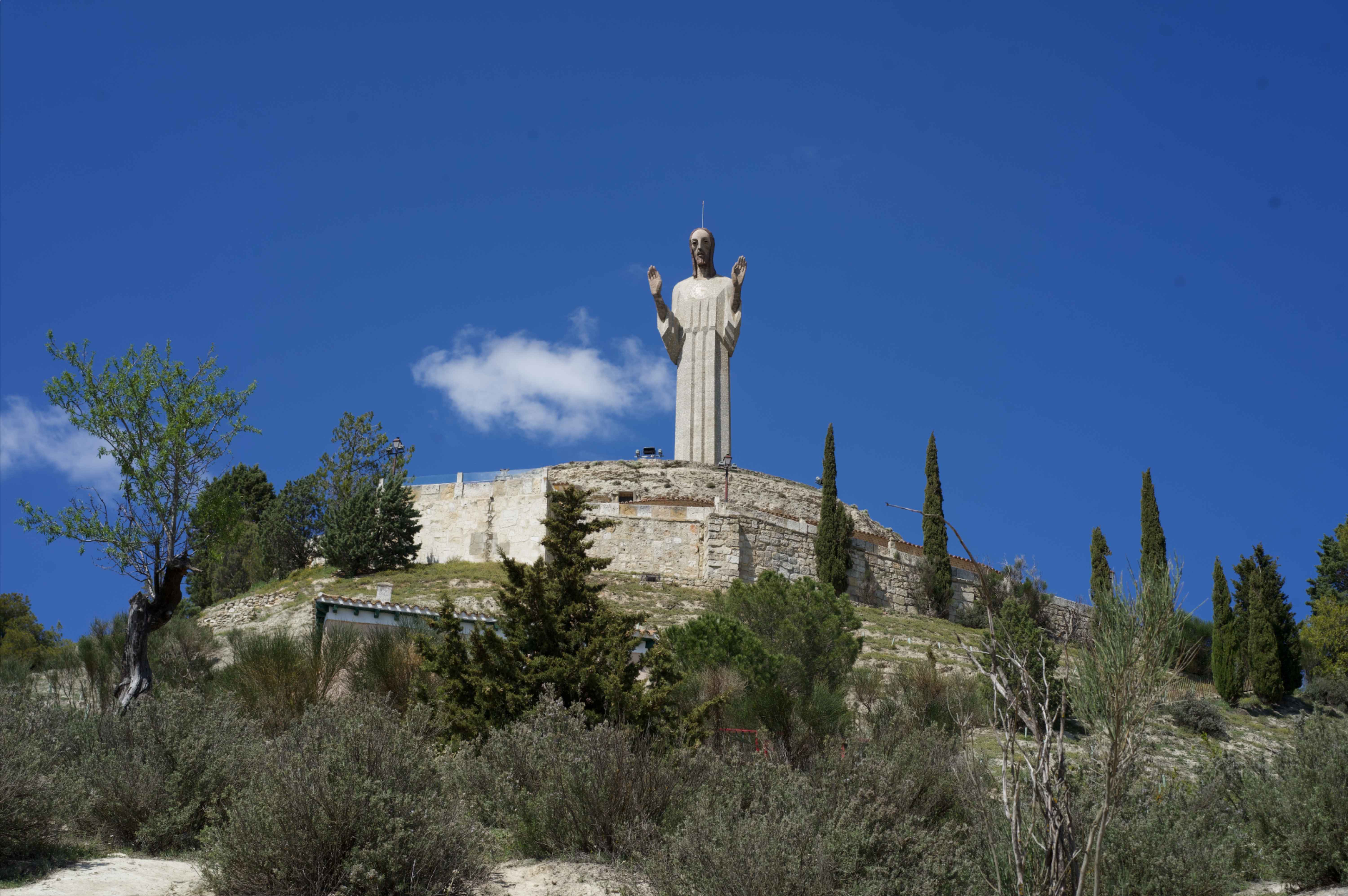 If you want to enjoy some of the most incredible views of Palencia, visit El Cristo de Oro. It's a religious statue located in the beautiful city of Palencia.
The figure is known for its cultural and religious significance and for being the most giant Jesus figure in the country! It's a must-visit if you're in the area.
Many people (like us) have come to the statue to express our religious devotion and faith. People offer prayers, light candles, and attend religious services to show their reverence and worship.
Some people even pilgrimage or religious journey to visit the Cristo de Oro and travel from other locations to see the statue. It is also visited on special occasions like Easter. 
But, even if you're not religious, the Cristo de Oro is worth visiting due to its cultural and historical significance. You'll find it at the Basilica of San Juan, a remarkable historical and architectural site. So, you'll love it even if you're just interested in history and culture!
Best Time to Visit Palencia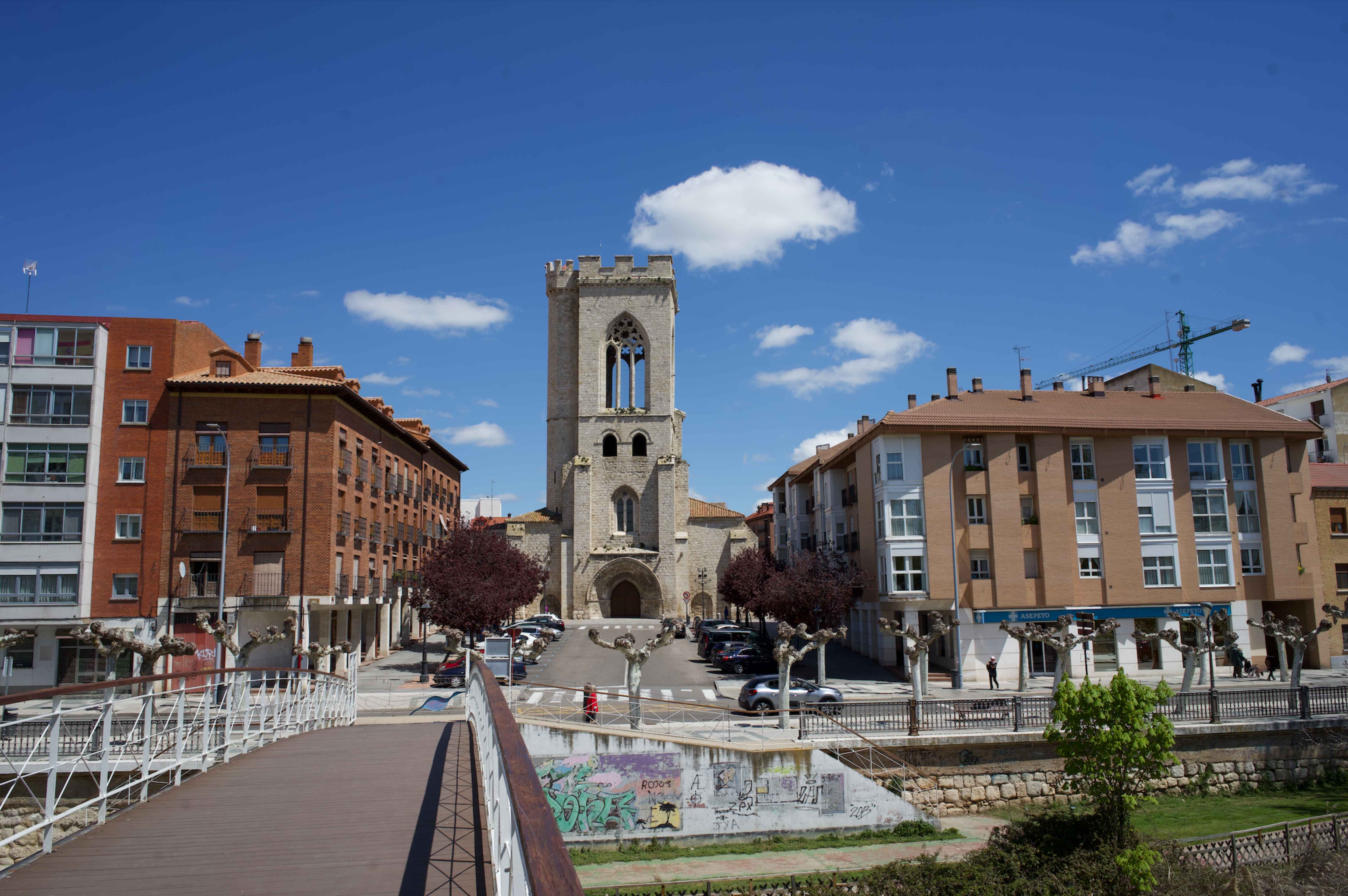 The best time to visit Palencia is late Spring, Summer, and early Autumn. During these months, you'll see the city at its liveliest, the temperature at its best, and it will not rain as much compared to other months. 
If there's one season I would avoid, it's Winter and late Autumn. This season spans from October to February, and the weather can be harsh. The temperature usually doesn't exceed 10°C and tends to rain frequently.
But don't worry, things start to look up in March and April, although it's still not the best. 
Early October is another great option, with an average morning temperature of 10°C but a bit rainy.
So, if you plan to visit during May or June, you're in for a treat! Mornings are lovely, with an average temperature of 13°C and low rainfall. 
And if you're coming later in the summer, from July to September, the weather is perfect, with an average temperature of 24°C during midday. So, get ready for a wonderful time.
How to get to Palencia?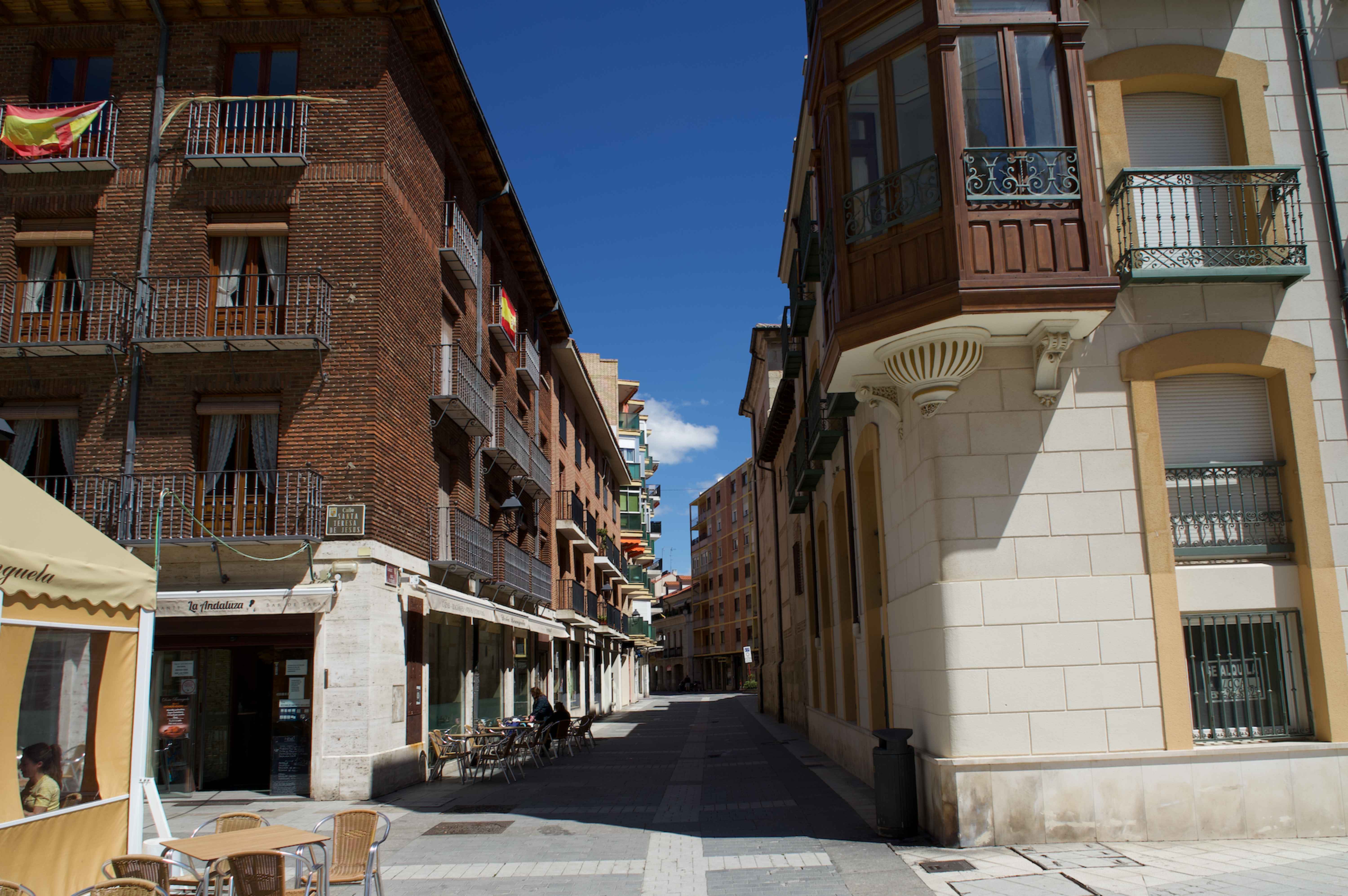 By Train
There's a direct train service available that operates every day and runs every 4 hours. 
You'll cover a distance of around 234 km, and the journey usually takes about 2 hours and 48 minutes. 
Plus, you'll be traveling with Metro de Madrid, Renfe Viajeros, and Renfe AVE, so you're in good hands since they are the most reliable transport companies in Spain. 
By Car
However, the quickest way to get from Madrid to Palencia is to drive, which costs €40 - €65 and takes 2h 33m.
By Bus
Moreover, ALSA offers bus services from the convenient Moncloa station. The travel time is around 3 hours, and the ticket price usually falls between €30 and €50. 
Where to Eat in Palencia
Enjoy a delicious meal at Ajo de Sopas
Try local cuisine at Meson del Cerrato
La Traserilla, perfect for a casual lunch
Where to Stay in Palencia
Stay comfy at Hotel Castilla La Vieja
Relax at Hotel Quinta San Francisco
How much does it cost to visit Palencia?
Request information: hello@sensationalspain.com
How much money you need for your trip to Palencia depends on many things, such as how many people are traveling, the type of activities you want to do, accommodation, the duration of your stay, restaurants, and most importantly, the time of year.
To help you more accurately, please don't hesitate to reach out to us via email! Share the details of your desired trip to Spain, and we will provide you with a price estimate and offer local advice for all your travel needs. 
Choose your Spain Itinerary
1 Day in Spain? 10 Best Things to Do in 24 Hours!
2 Days in Spain: Trip Ideas & Itineraries to Enjoy Your 48h
3 Days in Spain: What's the Best Itinerary for Your Trip?
4 Days in Spain - Best Travel Itineraries for Short Trips
5 Days in Spain: Itineraries to See (almost) Everything!
6 Days in Spain: The 3 Best Itineraries for Your Trip!
7 Days in Spain: The 3 Best Itineraries for Your Trip!
---
Keep reading our blog to discover other hidden cities in Spain to include in your bucket list.
Don't hesitate to ask us any questions, and we would love to help you plan our trip.