Rising next to the sea? Fall in love with Spanish Beach Towns
October 11, 2022
Updated:

October 10, 2023
Published: October 11, 2022
You have one second to answer.
What type of person are you, a big city or a small town? GO!
Either way, you'll get a bit of both in this article. The essence will be the same: waking up next to the sound of the ocean and seagulls and going to sleep after experiencing a stunning sunset on the beach.
After reading this article, you'll have all the information you need to decide your next destination. The only thing you have to do is follow your heart.
So! Check your bank account, open Google maps, open Google flights and get ready to book your next summer!
Before diving into the 15 paradise sites, we should make a noteworthy difference. I will list big beach towns, more like coastal cities, and small beach towns. The first ones are those privileged modern cities located next to the ocean. They have everything you might need, from malls to 24h pharmacies, international people, and, of course, plenty of beaches you can choose from. The latter are charming towns, kinda like the one in Gilmore Girls - Stars Hollow- where everyone knows each other. The environment there is more peaceful and local.
Big Beach Towns
Palma de Mallorca
2 million.
Almost 2 million people visit Palma de Mallorca every year. This means more people are coming in and out of the island than the ones living in the country of Andorra!
Palma de Mallorca is one of the most beautiful islands in the Balearic archipelago, located in the western Mediterranean Sea. It is a beach town founded by the Romans in 123 BC, with much life in its Old Town and history in its walls. A beautiful landmark on this island is their Seu Cathedral - yes, they speak Catalan- built over two centuries (13th - 15th CE), which gave it three artistic styles: Renaissance, Baroque and Neo-Gothic.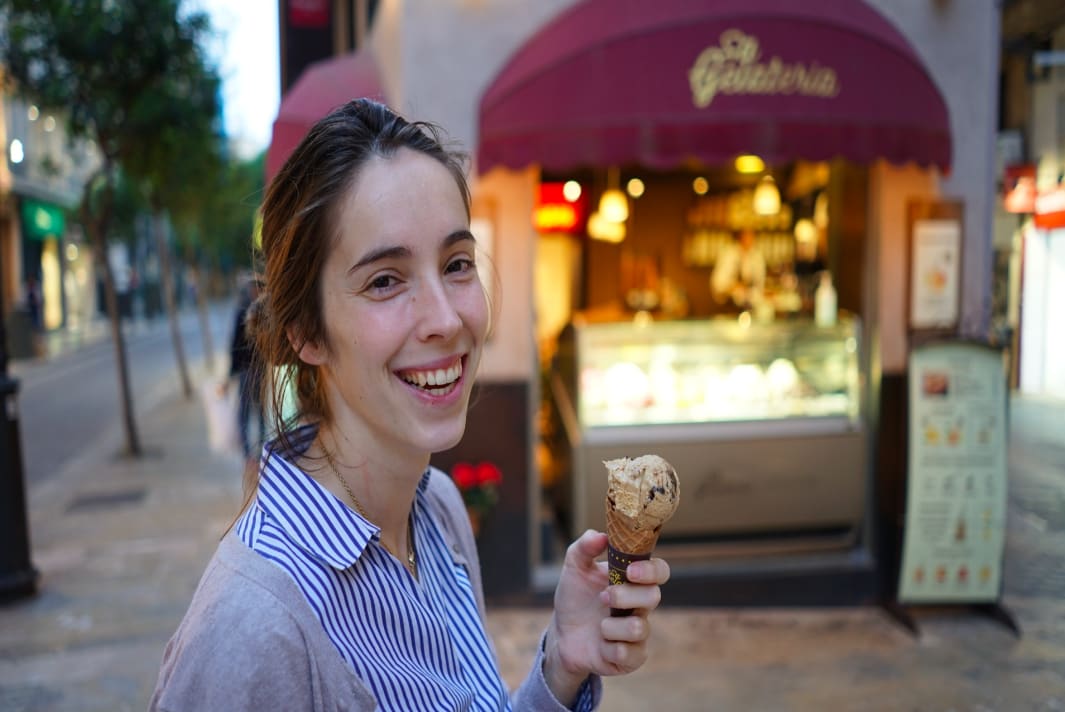 This Spanish coastal city is special thanks to its warm weather (usually 17.9 degrees or 63.4 Fahrenheit yearly). Palma de Mallorca is a big beach town because its multiple pieces of paradise spread throughout the territory. Just imagine waking up to the sound of the ocean, going for a walk in the sunny old town finally heading to the peaceful "Cala" (small bay) for an entire day at the beach. The dream. I know! 
Three of the most beautiful beaches are "Torrent de Barens", "Cala S' Amarador", and "Cala Santanyí". The latter is a paradise of golden sand and turquoise waters! So, this one is for you if you don't like to share beaches. This one is in a small town only 50 minutes away from Palma.
Any beach town near Mallorca will be the best choice for your life!
Málaga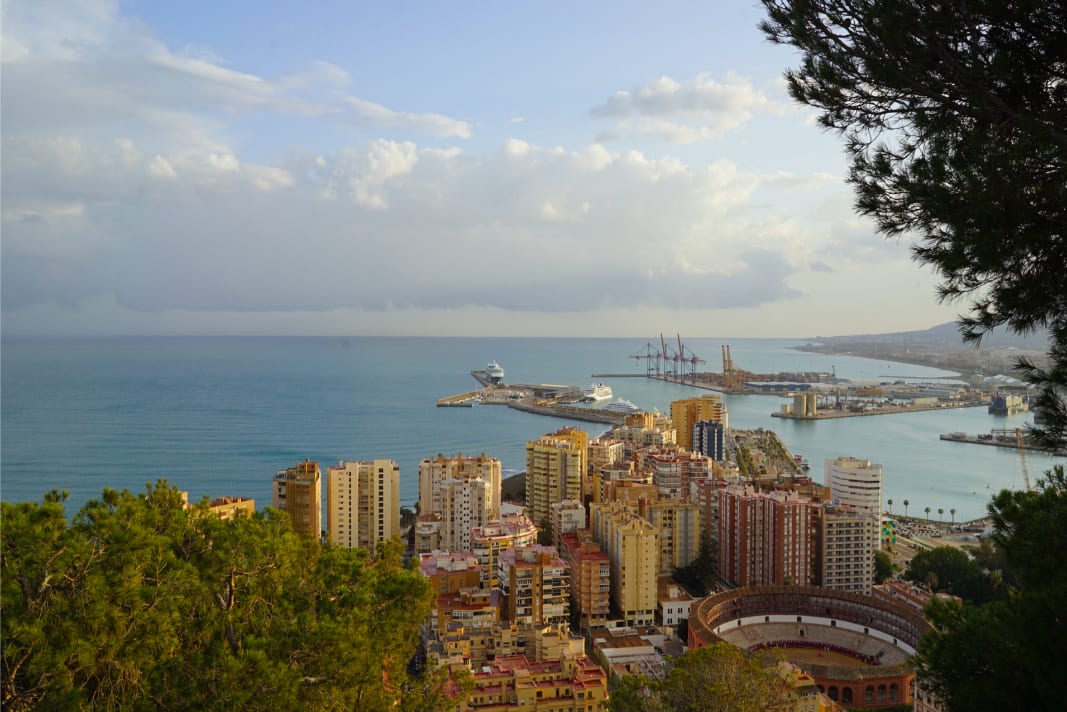 "Everything you can imagine is real."
Do you know who said that? The same man who revolutionized art was responsible for the "Guernica." Do you know who I am talking about? 
Yes! Pablo Picasso is responsible for that phrase, but we are not talking about him today. Today we talk about his birthplace, Málaga. It is not a town, but it's a beautiful coastal city. You have everything in one place: history, museums, great food, fantastic weather, and thousands of small beaches to enjoy for days. This city is located in the province of Málaga in Andalusia; it's the capital of the "Costa del Sol." in 2020, it was named the European Capital of Smart Tourism. 
So! Besides walking next to an impressive Moorish fortress or having 18 museums to visit. Malaga has plenty of salty paradises you can see. Three of the most beautiful ones are Marbella, Estepona, and Nerja, which I will discuss in a second!
Still, what better plan than renting a small coastal house in Málaga and driving away to hidden beach towns?
Marbella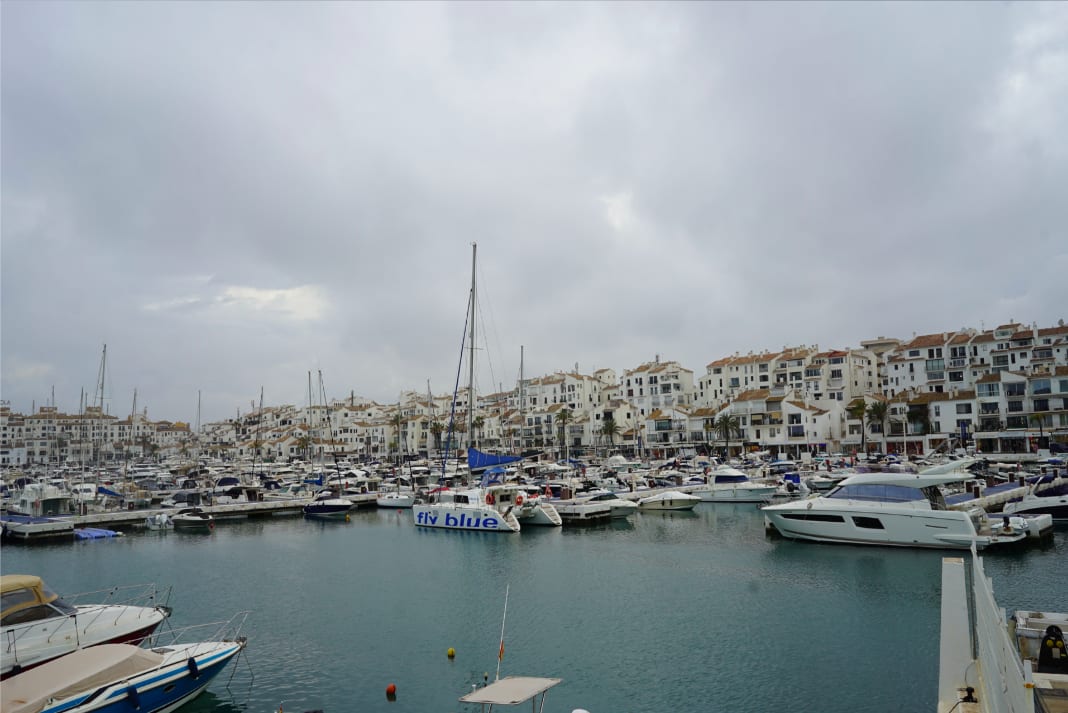 Just an hour from Malaga city, you will find the beautiful beach town of Marbella. This beach town is known for its cosmopolitan, luxurious style and nightlife. But don't worry, there is something for everyone!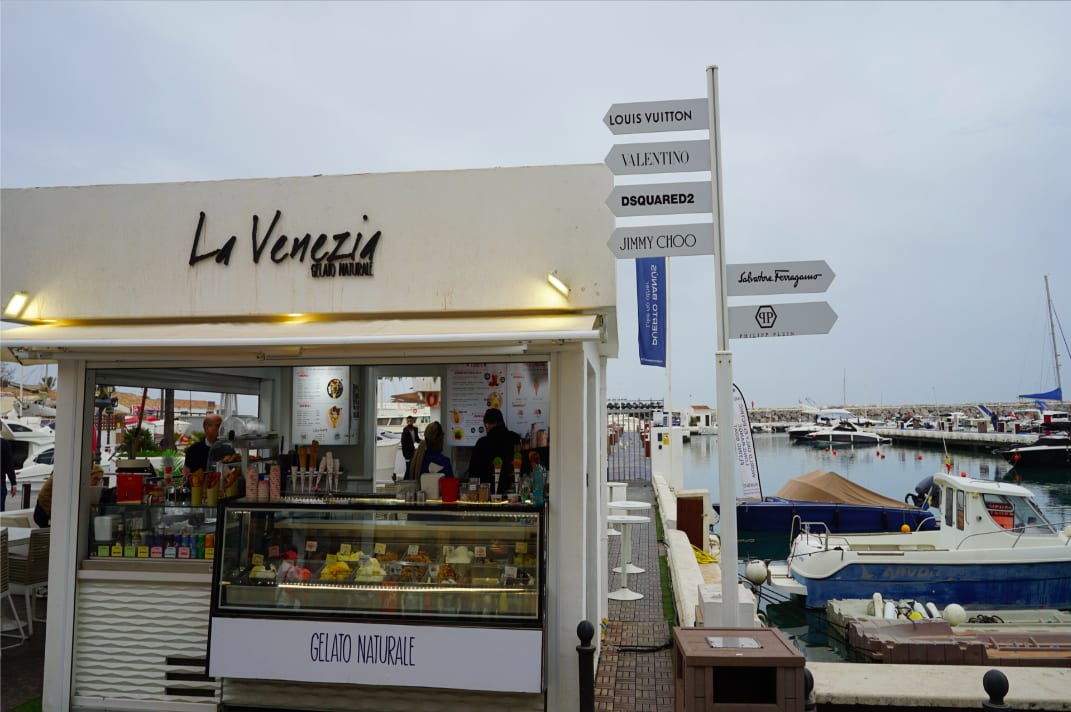 Like Málaga, Marbella has a delightful and colorful Old Town that can entertain your afternoons. It is famous for its active nightlife, not unlike Ibiza, but you can still get a good party. And, of course, the beach clubs and "chiringuitos" will provide great music and food during the day.
For those unfamiliar with the word, "chiringuito" is a food or drink hut next to the beach. Before sitting in any "chiringuito," check the prices. Some of them charge double the price for the view. It's worth walking a little to find one that will please your belly and protect your wallet!
Marbella is smaller than Málaga, but you can choose from plenty of beaches! My three favorites are Cabopino beach, which has everything you might want from space to drinks and food; the "Puerto Banús" Beach is right next to the "Puerto Deportivo" (sport port), where you'll experience calm waters; and the Nagüeles beach, where you might see a celebrity!
Cádiz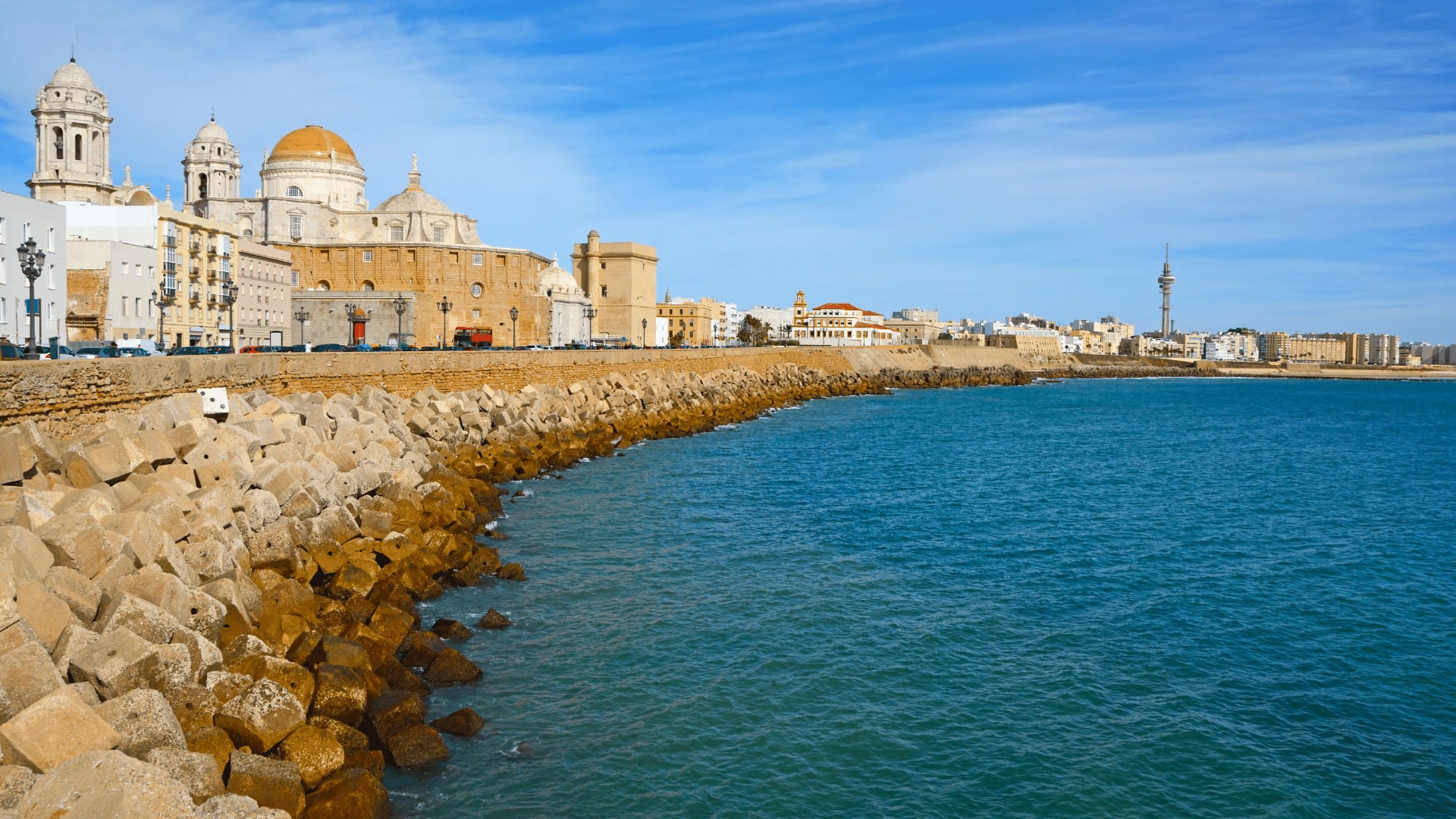 If I had to choose a word to describe Cádiz, I would say authentic. I don't know if you will find this word very original, but it is what that city feels like to me. It's the perfect place big-beach town because it has everything you need under the warm sun and next to the sea. 
The city of Cádiz is located in the province under the same name in the autonomous region of Andalusia. In the southwestern side of Spain, on the Mediterranean Sea. This is one of the oldest cities in Spain. Almost every civilization put a foot on Cádiz, the Phoenicians, the Carthaginians, the Romans, and the Moorish. You breath history and diversity. 
This coastal city charms people with the joy of its citizens, colorful architecture, and active leisure life during the night. Two unmissable activities in Cádiz are visiting the Castle San Sebastian and the city's Cathedral. Besides that, you will never get enough good beaches. The most famous beach is "Playa de la Caleta," and its charming beach towns are Tarifa and Caños de Meca. 
San Sebastián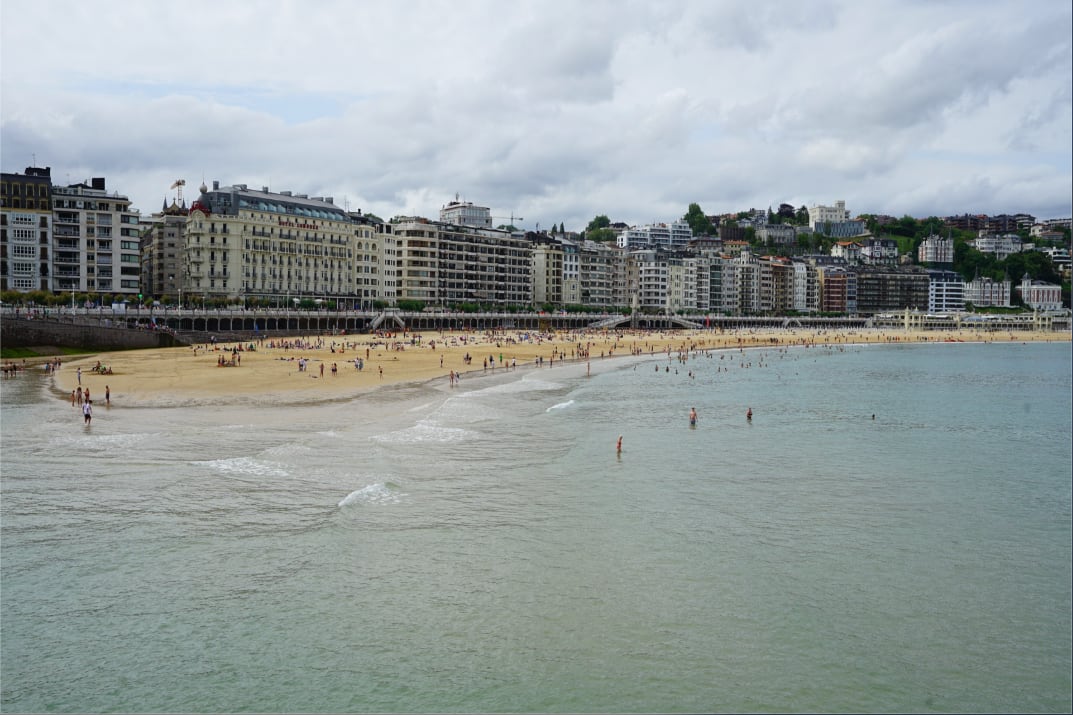 San Sebastián, or Donosti as they call it in Euskera (Basque), is located in northern Spain, in the autonomous region of the Basque Country. This big beach town will leave you breathless. The baroque-style architecture will make you think you are in France while keeping an original essence.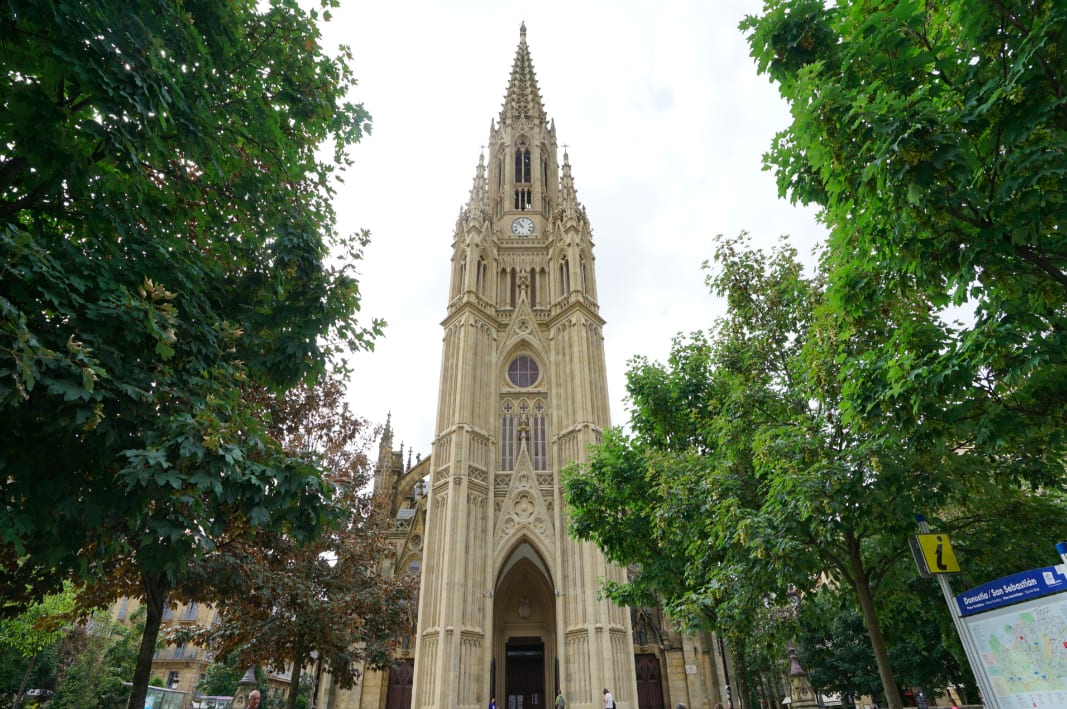 People worldwide love San Sebastian for its charm, high-end food, and beautiful Monte Igueldo. You can actually walk the main part of the city in a day. I once woke up to a cloudy morning next to the sea that made me want to take some café. I went for a walk from one corner of the coast to the other, to end up in the old town for some delicious pintxos (appetizers). One of the calmest and most peaceful experiences of my life. 
The main beach of this city is "La Concha." I recommend getting there early on summer days because it gets super full. 
Ibiza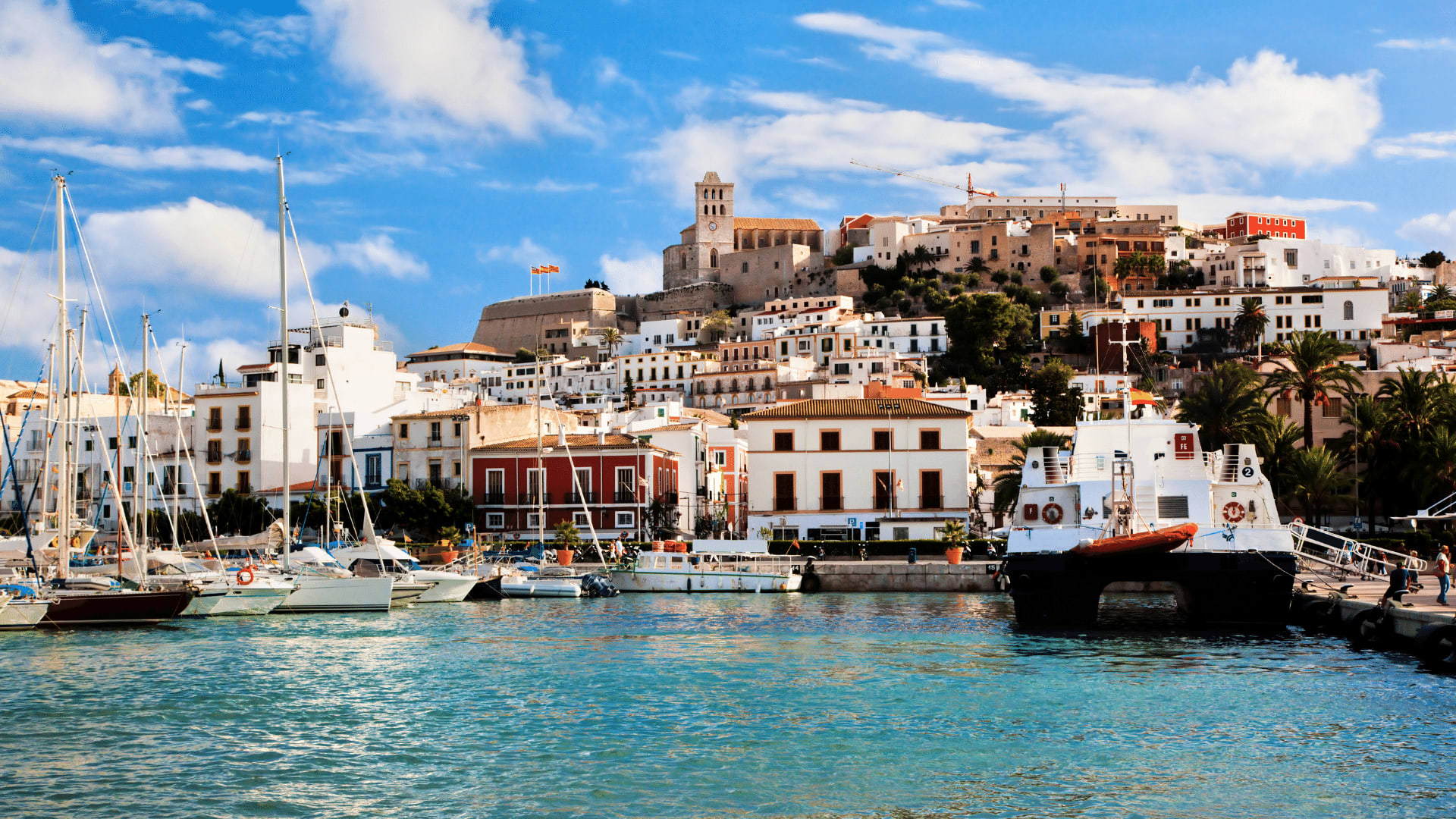 Ibizais the famous sister of Palma de Mallorca, another island from the Balearic archipelago on the Mediterranean sea. This Spanish beach town is well known for its nightlife and crazy parties in the 1970s. Even Freddie Mercury celebrated his 41 birthday party on the island.
But besides partying, Ibiza has a charming old town to visit during the day. To complement a day of activities, people might go to the Cala Tarida or its hidden caves of Can Marça. Other activities include kayaking around the island or visiting the hippy markets for original pieces. 
Sensational tip: Even though Ibiza is an island, it doesn't mean it is warm during the 12 months of the year. In the winter it can be really cold and rainy. 
Tenerife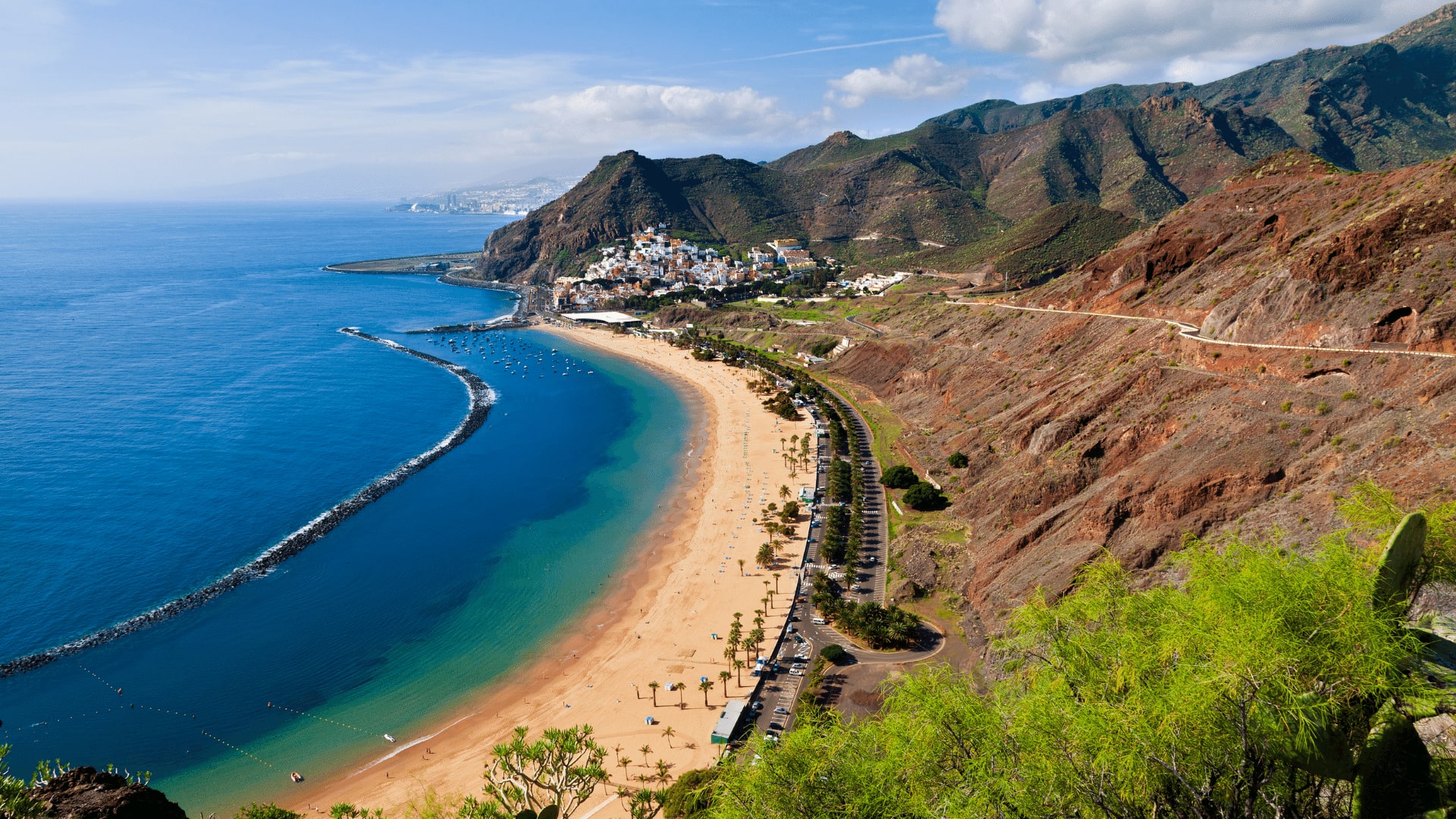 Please tell me you know what you are reading when you are reading this:
"The way it brings out the blue in your eyes. Is the Tenerife sea".
Does it ring a bell? Is an extract from the song "Tenerife Sea" by Ed Sheeran. If you didn't recognize it, it's fine!
Tenerife is part of the Canary Islands archipelago located on African sea territory. It is the largest island of the archipelago and has a bit of everything to enjoy. 
Tenerife is well known for the Santa Cruz Carnival, which is held every February for two weeks. This carnival is the second most famous one after Rio de Janeiro. Besides that, Tenerife is another beach town that offers everything you might want. You can experience authentic beach town life from wildlife to beaches right there!
Sensational tip: I recommend visiting the island in May, June, and September. Try to avoid the months of July and August because they are the hottest and busiest summer. If you want to go off-season, don't forget to check the weather!
Small Beach Towns
Estepona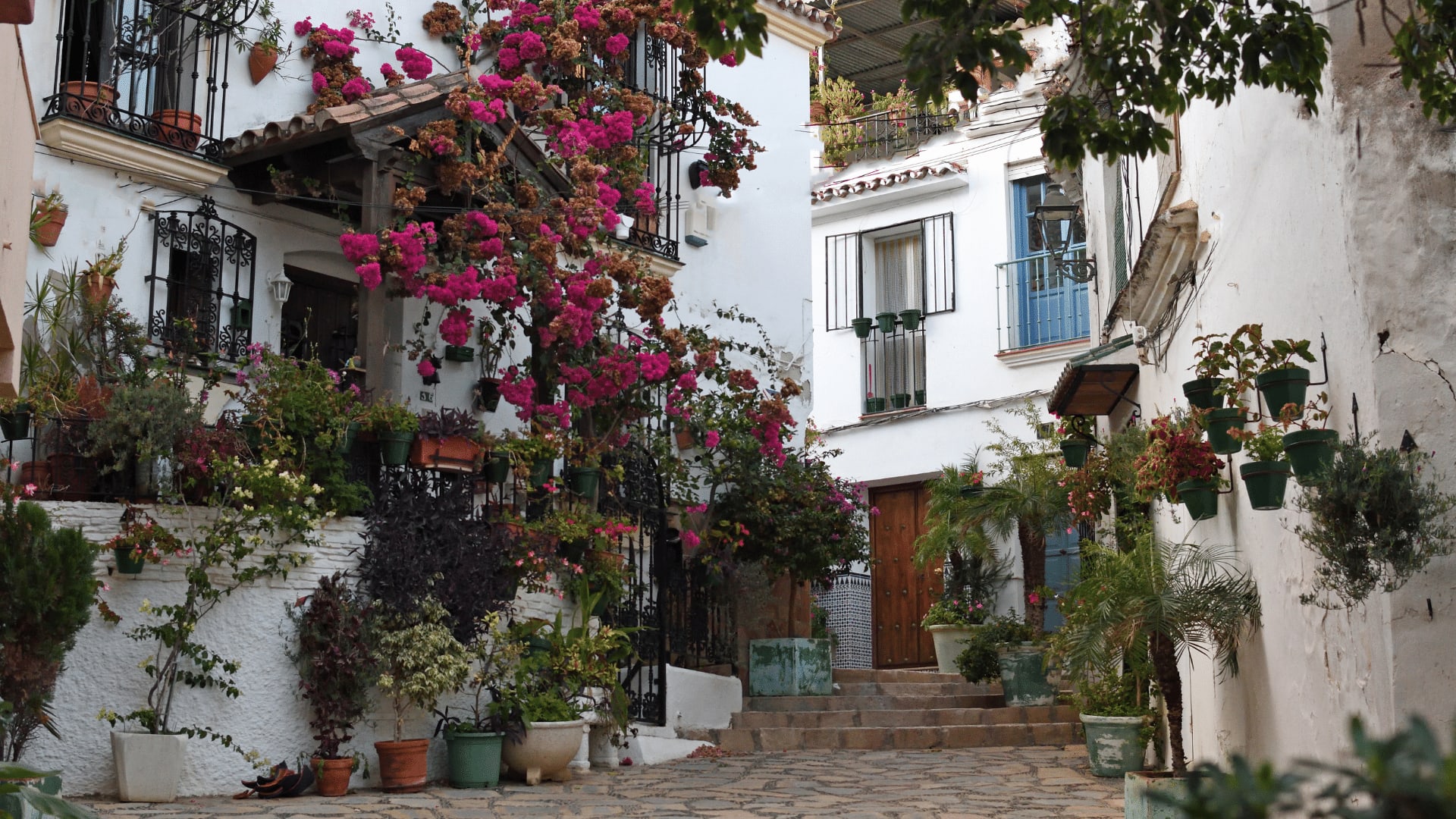 The Estepona is your place if you are not into big beach cities or cosmopolitan environments. This small Spanish beach town is located in the province of Málaga, an hour away from Málaga city and right next to Marbella. It's in Estepona that you will live a more local-like experience. The small town has a charming center where you can try its delicious food and lifestyle.
When visiting, you should keep the beaches in mind: "Playa de Cristo" (Christ's Beach), with pool-like waters that can be perfect for families with small children. Then, there is the "Playa la Rada," the largest and close to the old town. This can come in handy if you want a more laid-back beach experience. And the third place would be the "Playa del Padrón," with enough space for "chiringuitos" and big groups of people. 
Mahón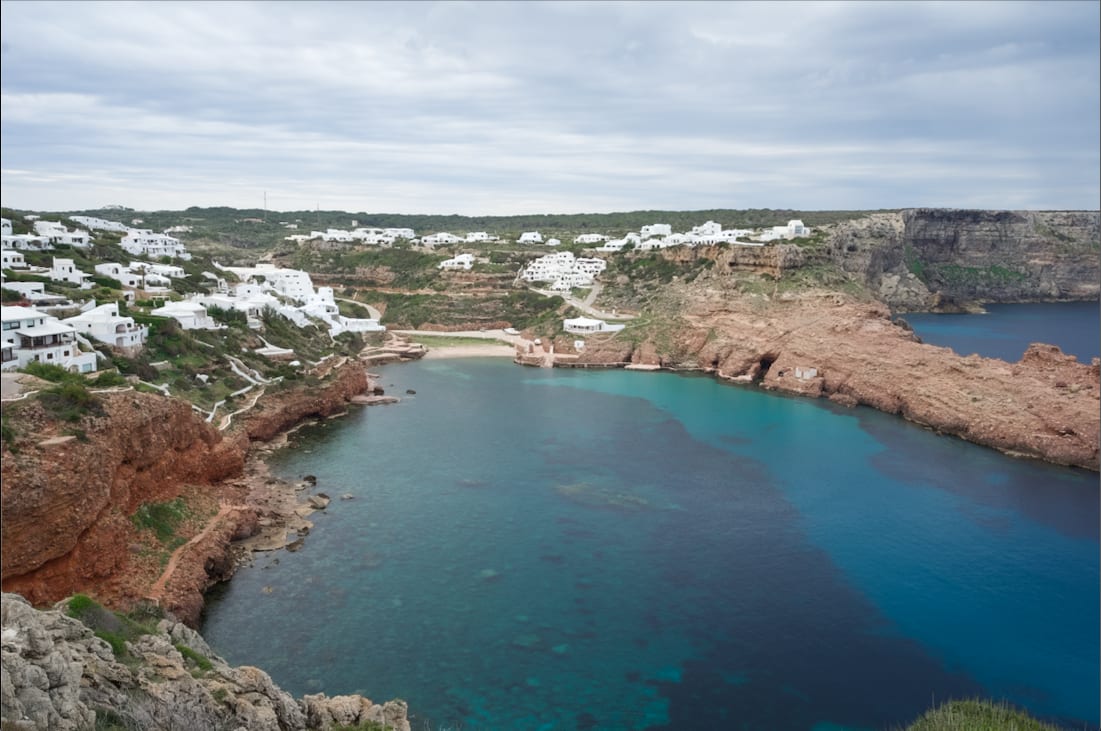 Heading back to the Mediterranean Sea on the Balearic Islands, we can find the island of Minorca (Menorca). This is the second biggest island after Mallorca and before Ibiza. 
Mahón is also the capital of Menorca, this is a small beach town, but you should keep it on your list! If you are looking for a calm place to stay, Menorca is the calmest island compared to Palma de Mallorca and especially Ibiza.
You can go around the harbors for activities here, maybe by ship. Talk for a walk in the old town and eat tapas in the fish market. There is nothing better than fresh fish! Three beaches to visit here are. "Ses Olles" is a beach with crystal clear waters, but there is no sand. Remember that most calas are pretty rocky. Then, you can visit the "Playa de Binibèquer," which is more spacious, has normal sand, and is excellent for aquatic sports. The third beach on the list would be "Cala Tortuga". This one does have sand and is bigger than "Ses Olles". And if you are up for a trip, in opposite side of the island (only 50 minutes away from Mahon) you will find "Cala Morell", a blue-water paradise worth the trip (picture above).
Arrecife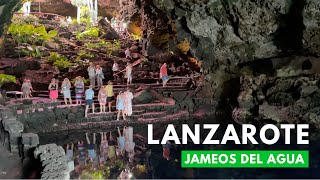 Arrecife is a tropical beach town in the city of Lanzarote on the island of La Palma from the Canary Islands archipelago. A bit of a riddle, but if you learn it and visit, it will be worth it. 
Arrecife has a simple, laid-back vibe that some people will find very comfortable and homey. In this coastal city, you can enjoy historical landmarks such as the "Puente de las Bolas" and the San Gabriel Castle, both from the 15th century. Besides that, Arrecife is famous for its "San Ginés Charco" (the pond of San Ginés), where you can meet with the city's fishermen in action. There is also the "Playa del Reducto," a calm beach to enjoy a quiet day at the beach. And, 30 minutes away by car you'll find the "Jameos de Agua" beach, the video above will show you how this beach towns look like!
Nerja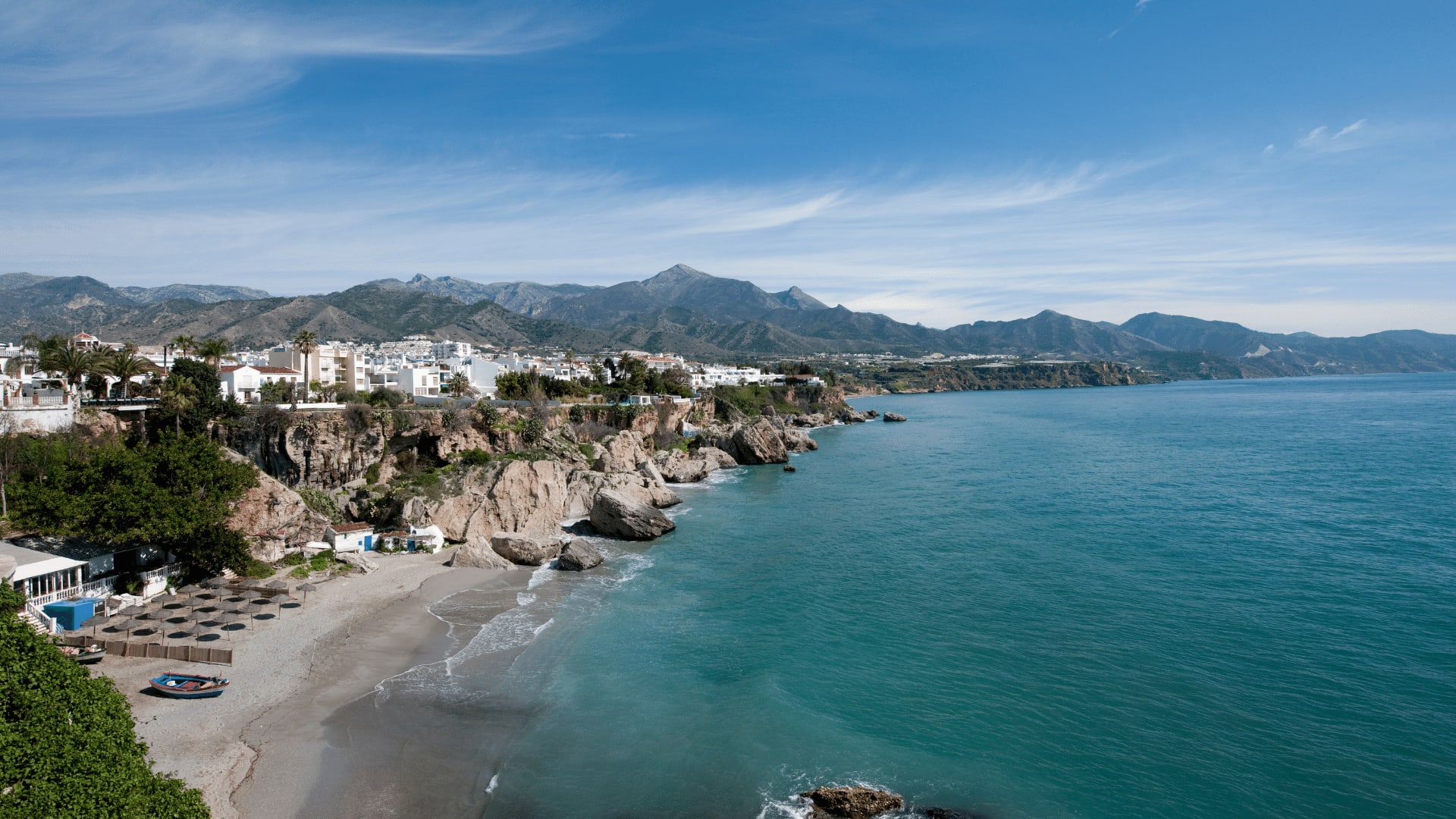 This summer, I visited the southern city of Almeria for a week, and people kept telling me to go to Nerja. Sadly it was an hour away by car and wasn't well connected by public transport. But after hearing what everyone said about it is a must on my list of beach towns the next tie I travel to Málaga.
So, Nerja is a small coastal town in the province of Málaga, an hour away from the city. But do not be fooled by this small town. It hides a precious gem!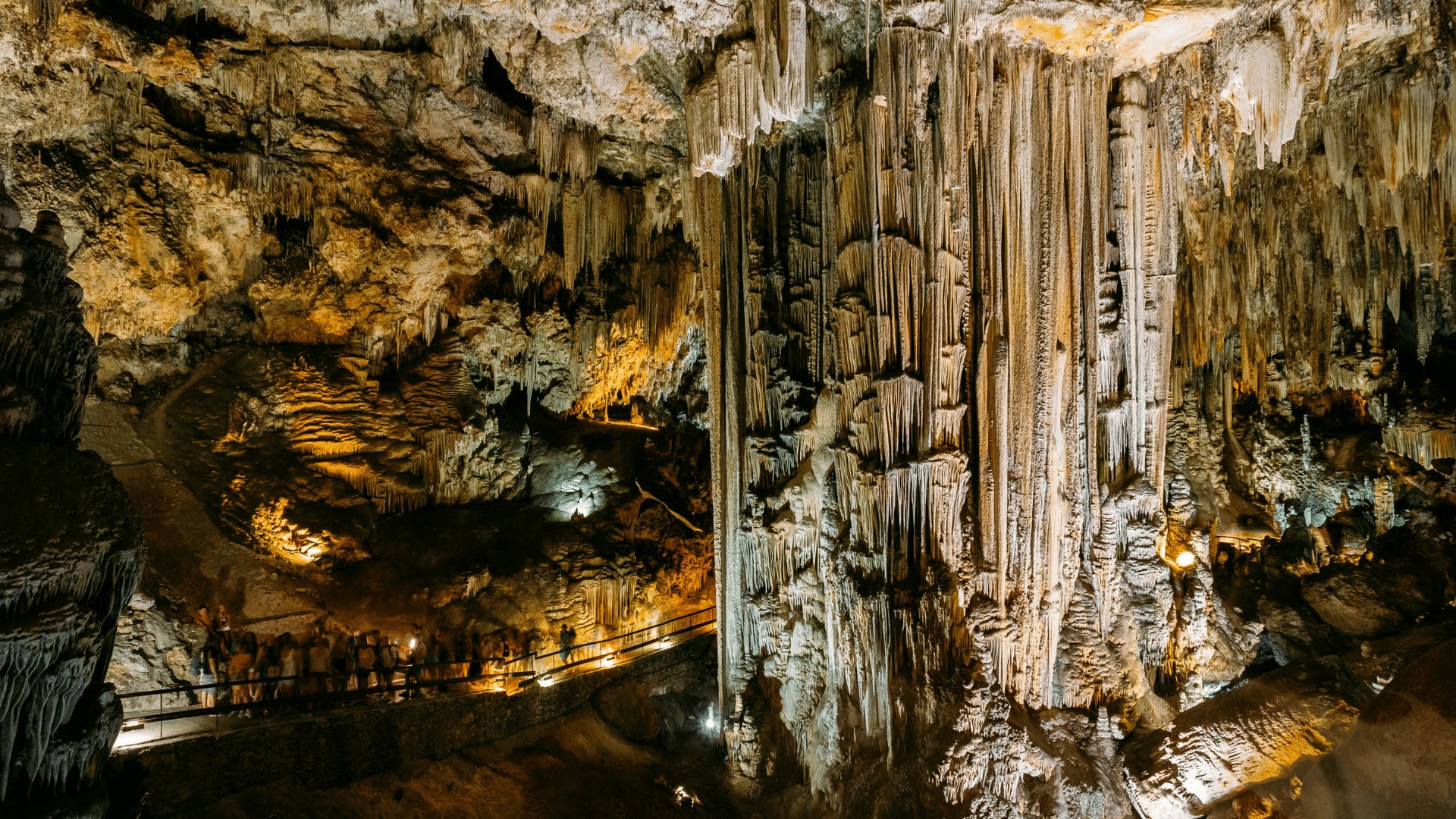 The caves of Nerja, also known as the "Prehistoric Cathedral," are a historical-artistic site where people can be awed by the geological formations sculpted by the slow passing of the centuries. Besides visiting the caves for a day's adventure, you can have a walk through the old town and get to know the lifestyle of its people. Close by, you'll encounter the "Balcón de Europa" (Europe's balcony), which will show you an overview of the Mediterranean sea. La Caleta de Maro, Alberquillas, and Molino de Papel are three stunning beaches far from Nerja's center.
Tarifa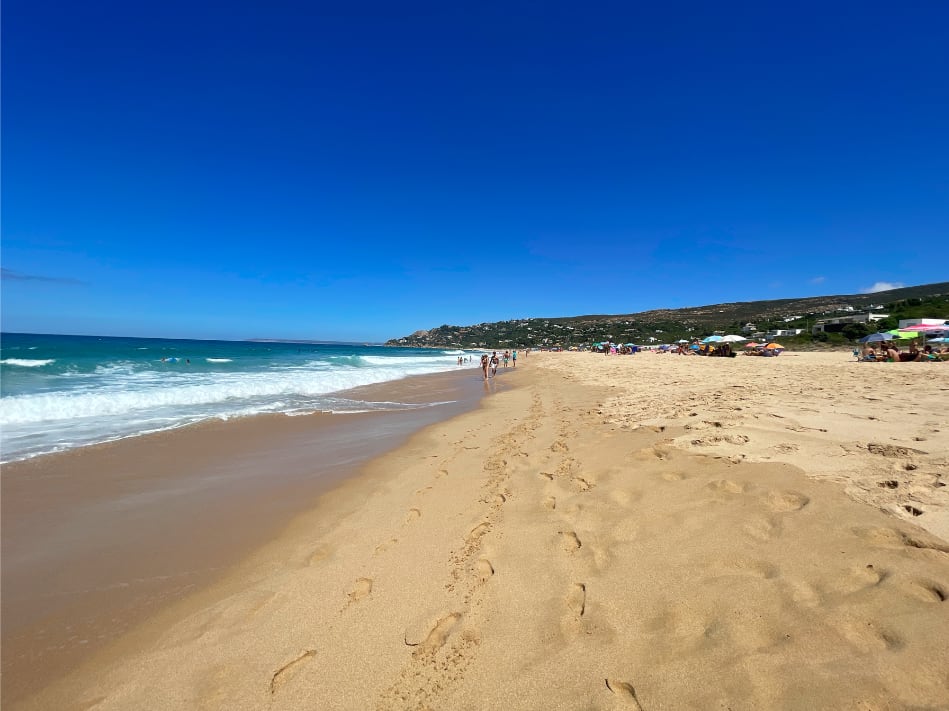 If any kite-surf fan is reading this, then you know Tarifa! If you are a geography geek and you know what is the Southernmost point of continental Europe. You know Tarifa! For those who aren't geography lovers or water sports enthusiasts, don't worry; here, you'll get all the information you need to know about this unique beach town.
You can lose yourself walking through the city's center and feel history speaking to you through the wall. As it is the closest part to Morocco, it was also one of the first territories to be take by the Ummayad Caliphate. But even before that, the Romans dominated the place, and a few miles from that coastal city, you can travel back in time to Baelo Claudia. A Roman town that used to be an important commercial route between the Iberian peninsula and Africa. 
If you decide to spend your summer in Tarifa, you must feel the golden sand of "Los Lances Beach." If you want to get closer to the Baelo Claudia, spend the day at Bolonia's beach. And, if you are a sports enthusiast, go to Valdevaqueros beach to witness some cool Kitesurf and Windsurf. 
Read more: Travel to Tarifa: 5 Best Activities, Food & Attractions
Altea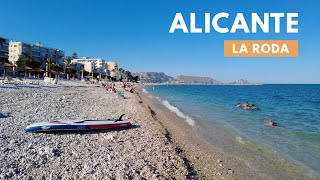 If you want to spend your summer in the autonomous region of Valencia, Altea should be your beach town of choice. This beautiful white town is close to Alicante and offers a quiet but happy beach lifestyle. 
Have you seen Mamma Mia? Do you remember the scenes when they walk through the village? That is precisely how you'll look and feel in Altea. Besides its charming streets, people are awed at the "Iglesia de Nuestra Señora del Consuelo," known as the dome of the Mediterranean. 
As for beaches, you swim in the blue waters of the "Playa de la Olla," "Playa  Cap Negret," and "Playa de La Roda", the video above is a walk through this stunning beach in July.
Ribadesella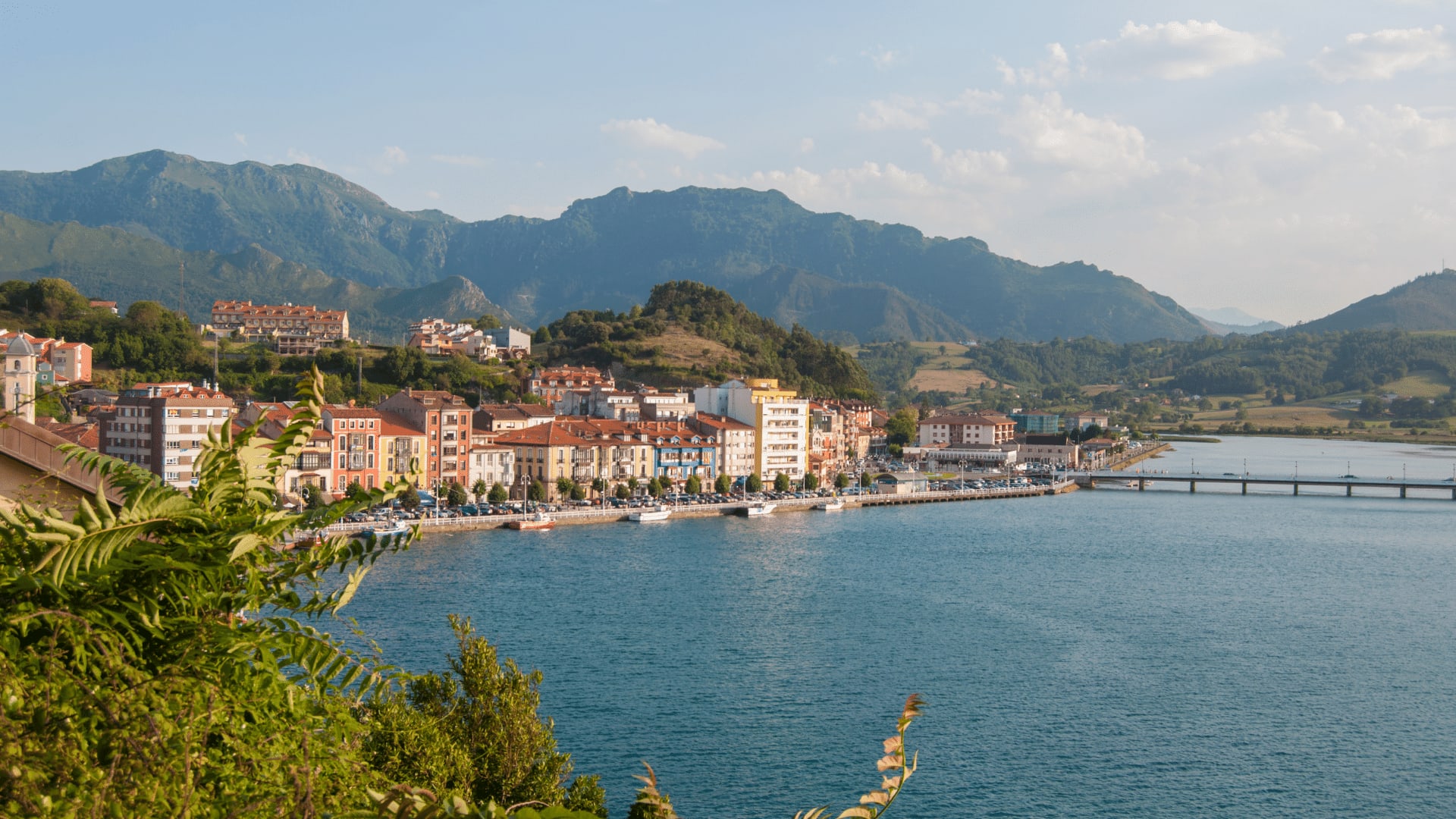 This is a beautiful coastal town in northern Spain. You will find this city in the autonomous region of Asturias, only an hour away from Oviedo (Asturia's capital). Okay! First of all, food! The gastronomy here is as amazing as the one you'll find in San Sebastian. You can spend your summer days trying delicious seafood like their famous "chipirones" (European squid).
In Ribadesella is the small things that charm you, the smell of the Cantabric ocean, the colorful Portiellu neighborhood, the old town. This charming fishing town main beach is the "Playa de Santa Marina", next to it you will se the Ribadesella beach. Take a walk through the pier and to visit both of them. 
Mundaka 
Okay and our last coastal city is Mundaka. Legend has it that in the 10th century a princess from Scotland arrived to the town and described it as a place of "munda acqua" which means clean water in Latin. Historians haven't been able to proof this but the story has played an important role in the town's mythology.  This beach town is a fishing port and surfing scene, it has had one of the longest waves in the world!!! Mundaka is the perfect place for a peaceful coastal experience in Spain. 
If you can't choose one. Choose all of them, some are pretty close to one another. For example, if you go to Málaga for a week or two, you can take some days in Nerja, Estepona and Marbella. Just imagine a summer in the stunning southern Spain coast.
I hope you enjoy this article was helpful. Don't forget to comment if you visit any of this beaches, and if you have let us know! We'll love to read you!