"Pueblos Blancos": The 13 Most Fascinating White Cities in Spain
October 13, 2022
Updated:

February 6, 2023
Published: October 13, 2022
Have you ever fallen in love with a place? Well, Salvador Dalí has.
You'll be surprised to discover the breathtaking paradise we have in Spain, which has nothing to envy from any white cities in other countries.
Just for understanding, a White City (Pueblo Blanco" in Spanish) is a set of towns that seem to climb between the mountains like clusters of white houses, offering us an original and picturesque vision of the area.
And in this post, I'll show you the ones you can't miss (map included!) if you ever plan to get lost while walking through the mesmerizing streets of some Pueblos Blancos.
Let's begin our road trip, try to keep up!
---
1. Cadaqués - Cataluña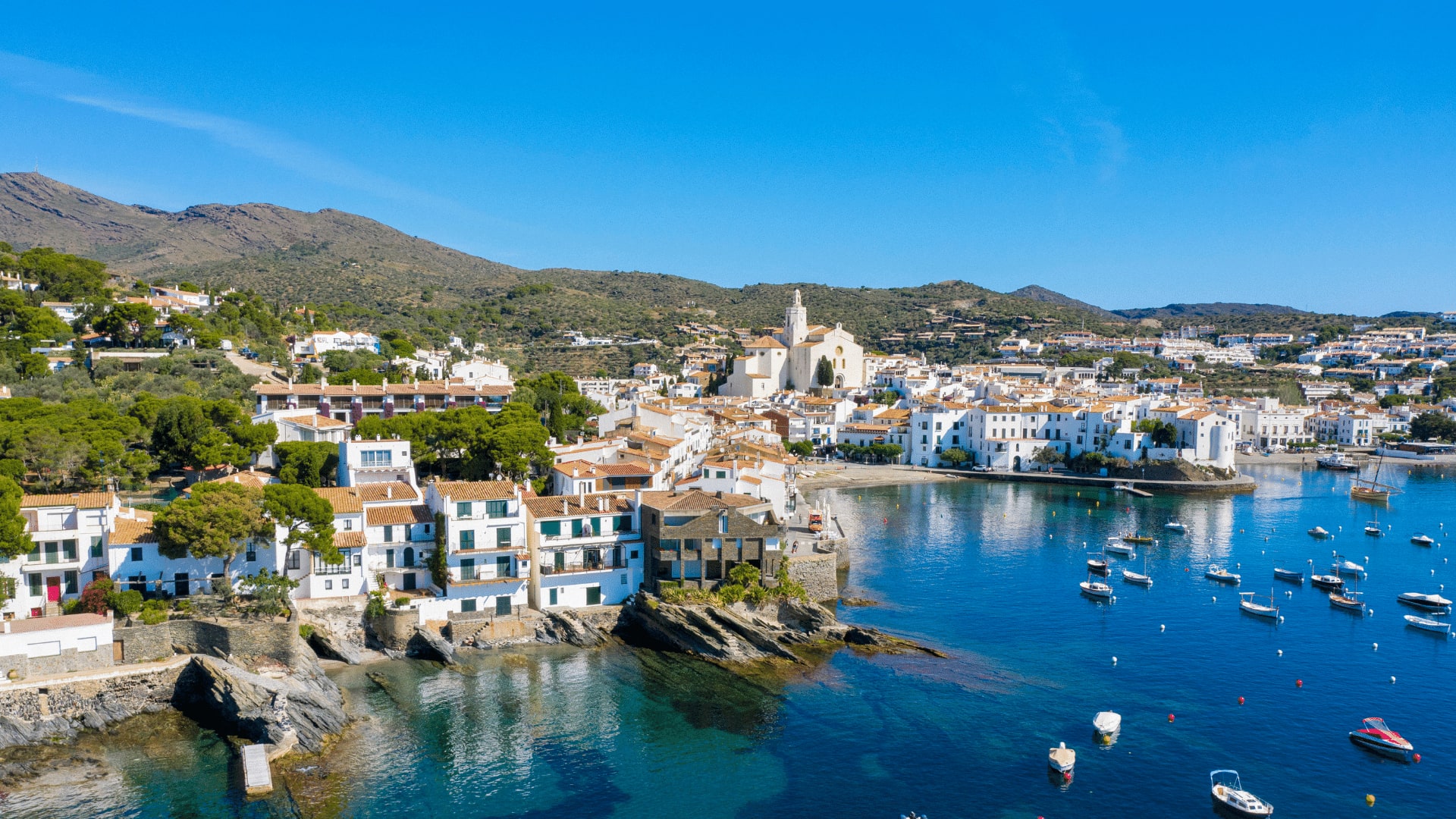 "The most beautiful town in the world" - Salvador Dalí.
He said it all. Located in the heart of the province of Catalunya, in the Cap de Creus peninsula, Cadaqués is one of the most emblematic towns in Costa Brava, Girona. There is a lot to see in Cadaqués, but I must say that this town preserves all its white houses and narrow cobbled streets full of colorful plants and flowers, which is a blessing for getting lost in a lovely afternoon among art galleries and charming shops.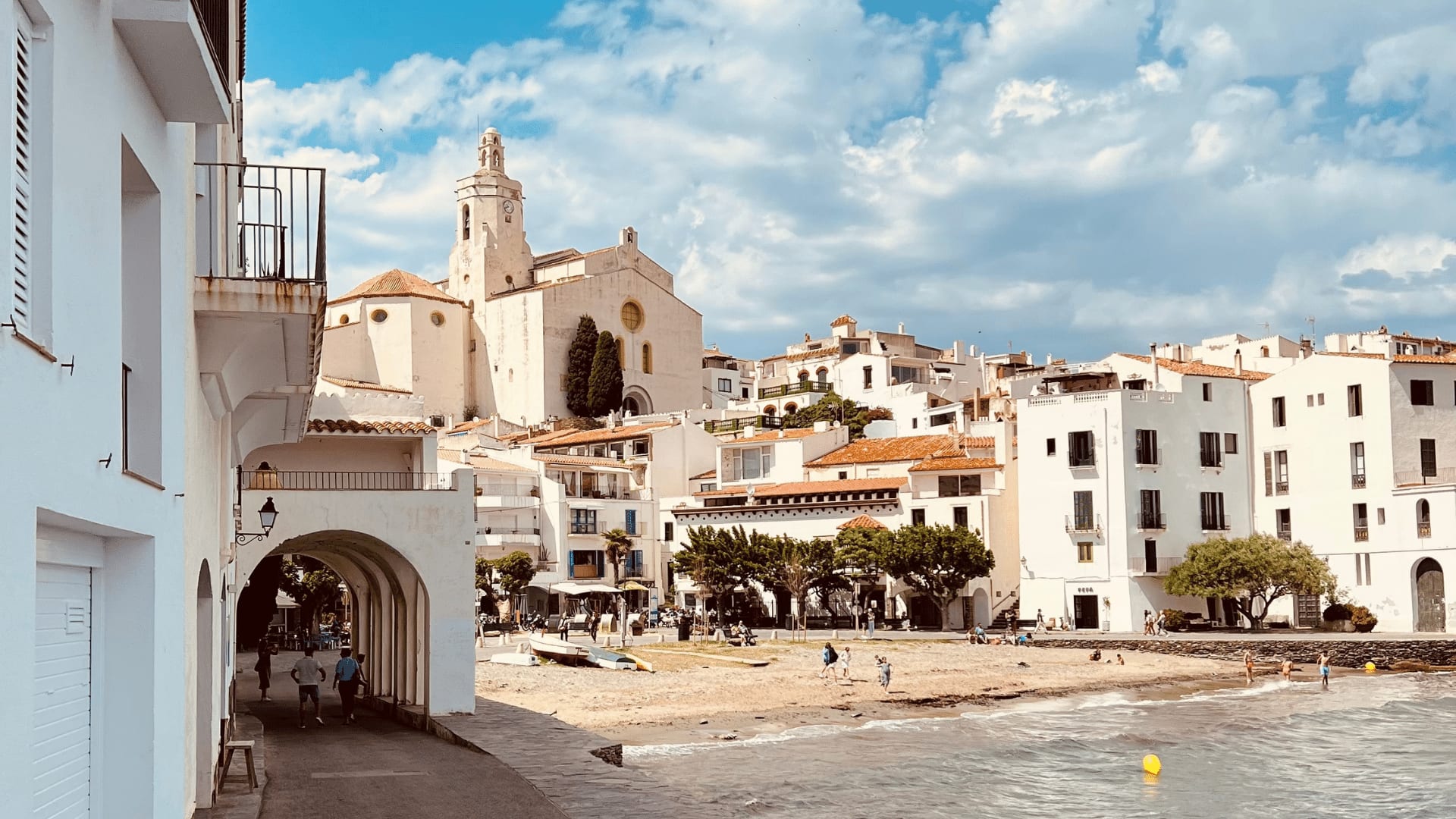 Also, Cadaqués is the perfect place for art lovers since many distinguished artists have visited the town. But Salvador Dalí was the one who made it famous since he lived in Port Lligat for a long time with his wife.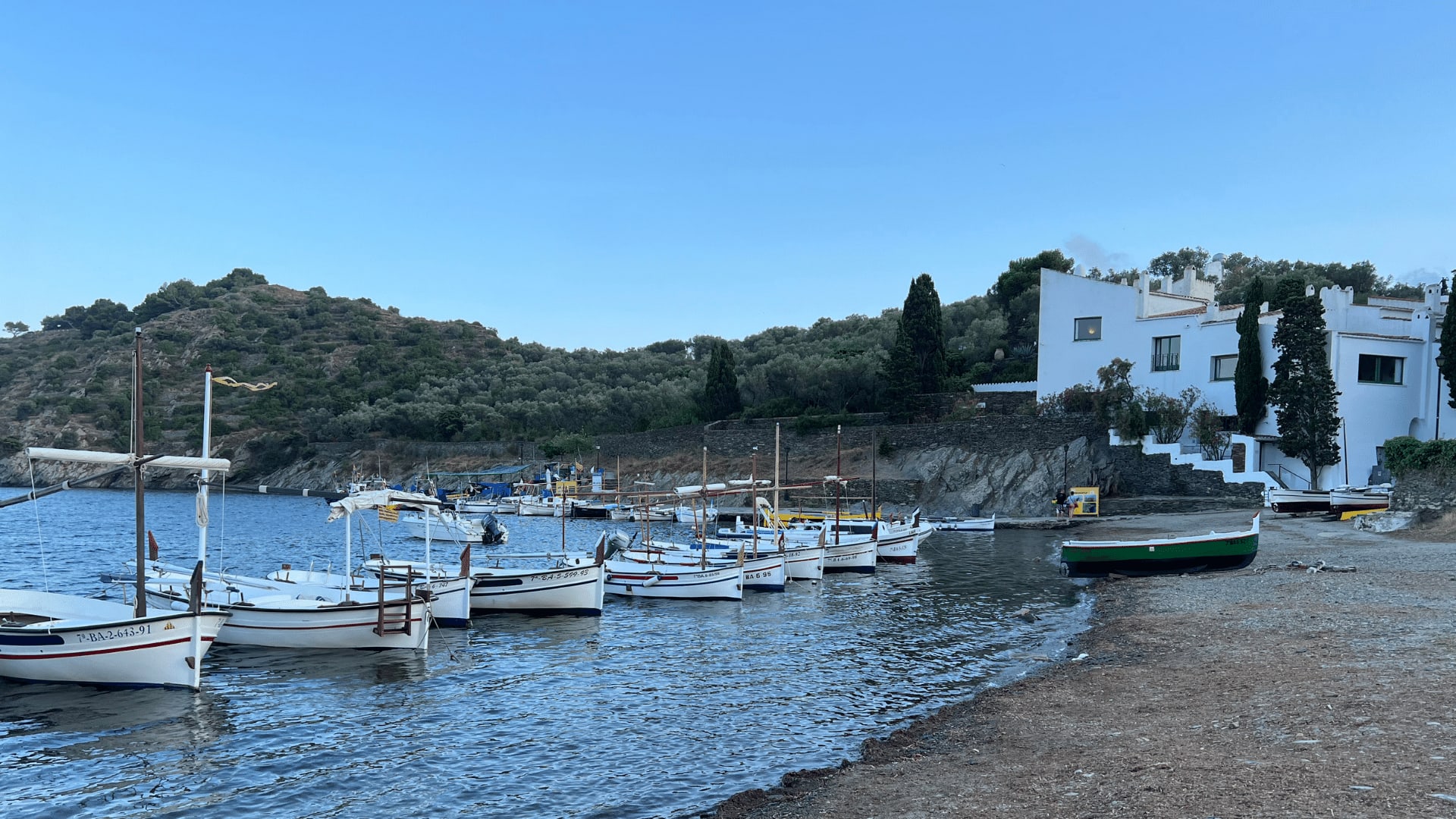 Visitors can also enjoy a hiking route through the fantastic Cap de Creu Natural Park or along the coastal paths of the emblematic Costa Brava, Cala Nans, with rewarding views!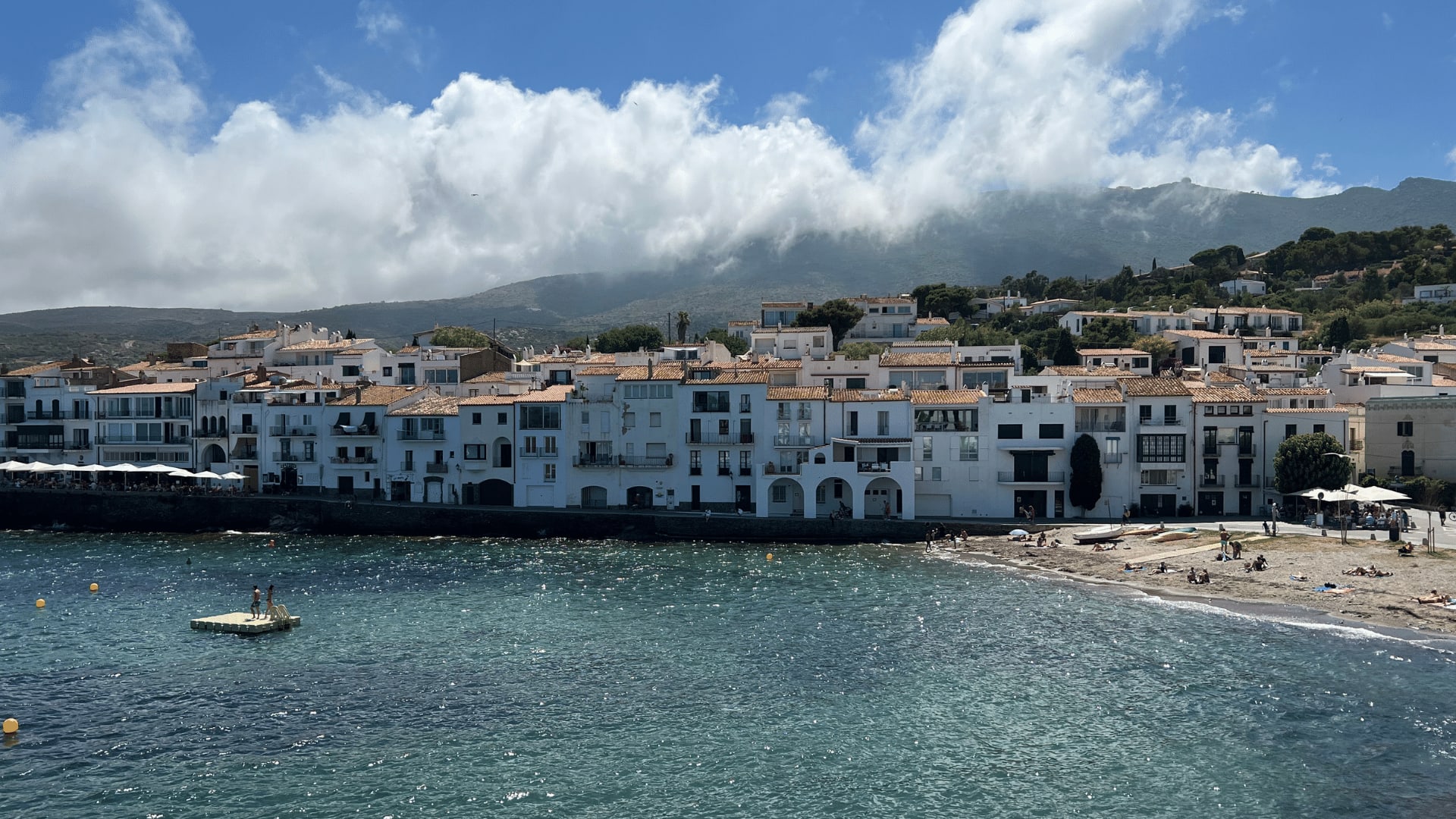 Must-go Places in Cadaqués:
Iglesia de Santa María
Carrer des Call Street
Doctor Callís Street
Casa Museo Dali
Plaza des Portitxó: Modern Houses
Paseo Marítimo de la Riba des Poa
Platja Gran
Riba Pitxot
Pujada des Pianc
---
2. Ronda - Málaga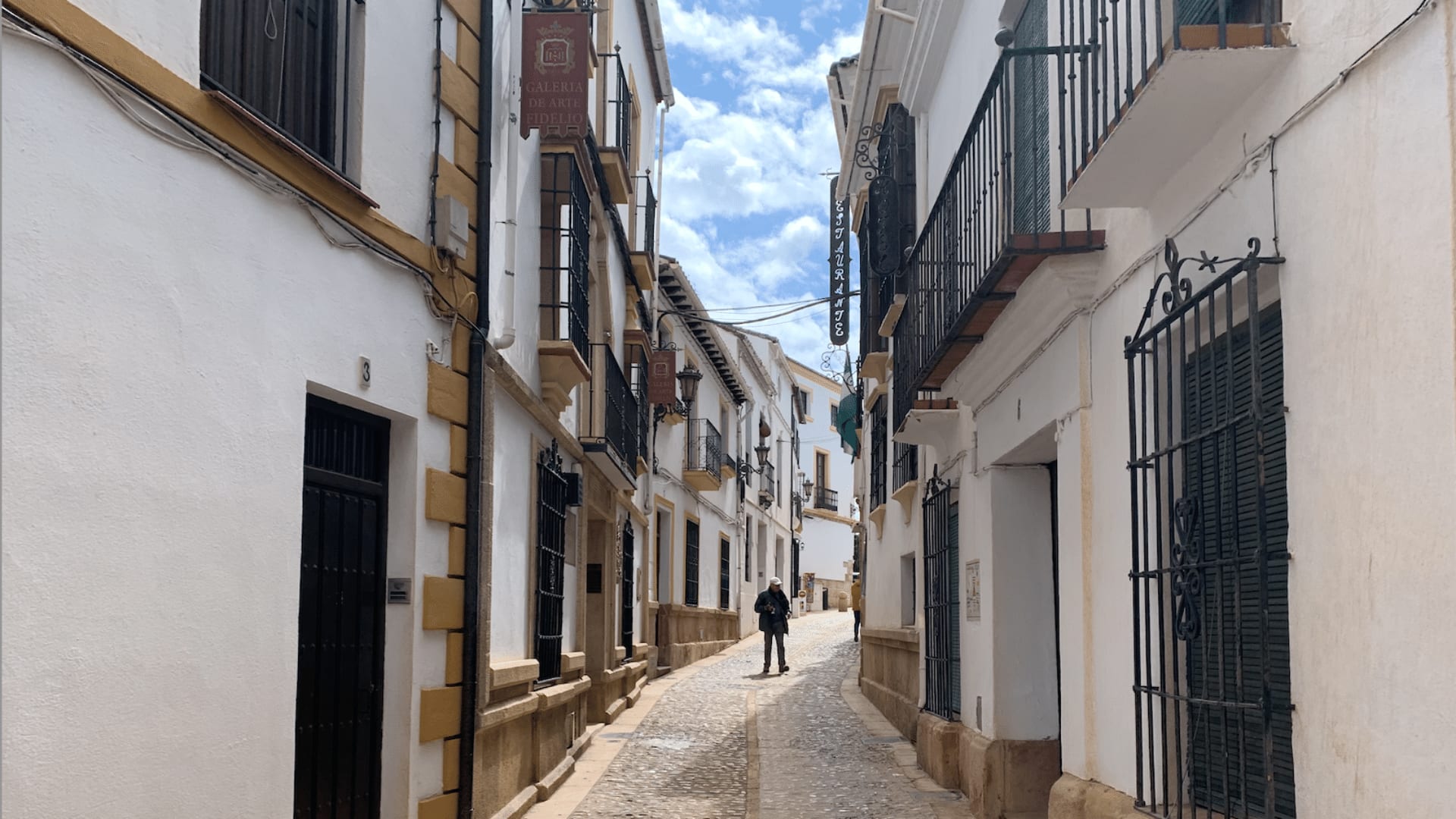 Ronda is known for being the cradle of bullfighting. This Spanish municipality and city belong to Andalucia, located in the northwest (about 100 kilometers away) from the city of Malaga.
This town is divided in two by the Guadalevín river, and it is famous for the Puente Nuevo, the bridge that joins the two sides of the Tajo canyon, 100 meters deep. The city was built in 1785 by the same architect who built the New Bridge, which can hold 5,000 spectators.
Ronda is a touristy place, with a high concentration of tourists per square meter, especially on weekends! Everything is easy to access, and you can visit almost everything on foot while enjoying the main tourist attractions throughout the day. All viewpoints are unique and make Ronda a primary place to stay in Andalucia.
Landmarks and important places to visit:
Plaza de toros de Ronda
Plaza de la Duquesa de Parcent
Ruinas de Acinipo
Iglesia Mayor de Santa María
Plaza del Socorro
Mirador de Ronda
Plaza España
Puerta de los Molinos
Puerta del Viento
Puente Nuevo
El valle del Tajo
Río Guadalevín
Plaza de María Auxiliadora
Palacio Mondragón de Ronda
Museo Municipal de Ronda
Los Jardines del Palacio
Interesting fact: You can't forget to visit the Arab Baths of Ronda, located in the neighborhood of San Miguel. They are the most preserved in Spain!
---
3. Vejer de la Frontera - Cádiz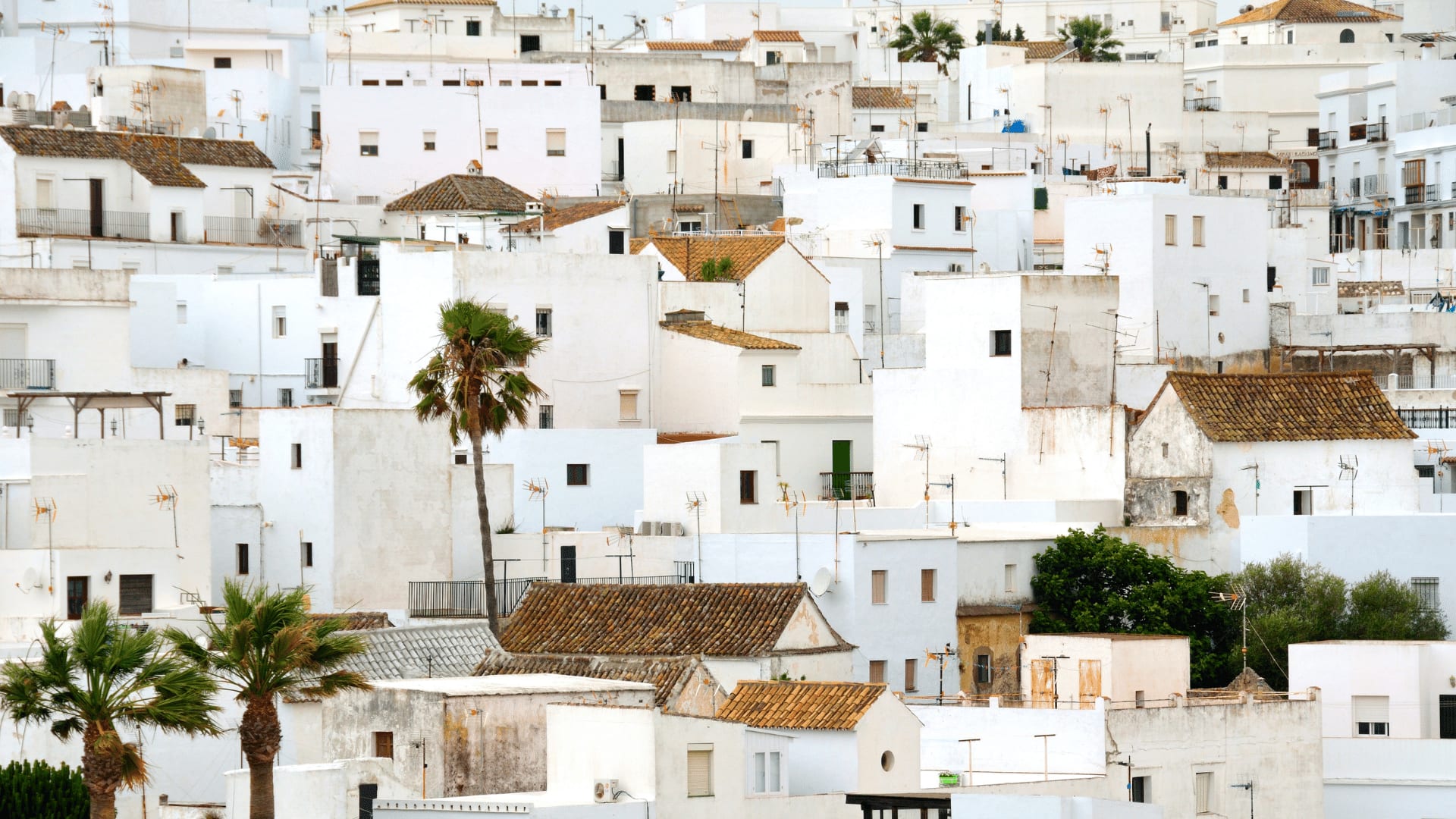 Vejer de la Frontera is a Spanish hilltop village and city in the province of Cádiz, Andalusia, on the right bank of the river Barbate. The town of Vejer de la Frontera occupies a low hill overlooking the Straits of Gibraltar, most specifically in the Sierra de Grazalema Natural Park, which is beautifully surrounded by gorgeous orchards and orange groves.

It's a historic walled center, which still preserves the Castle and several significant churches, and was declared a historic-artistic complex in 1976. And the rural nucleus of Santa Lucía is a natural monument with a Roman aqueduct.
Now let's talk about the beaches! Vejer de la Frontera has many natural heritages, like El Palmar de Vejer beach, Mangueta beach (also declared a protected area of ​​territorial interest), and the Natural Park of La Breña and Marismas del Barbate.
Places to visit
Playa del Palmar
Plaza de España
Arco de las Monjas
Santuario de Nuestra Señora de la Oliva
Mercado de San Francisco
Castillo de Vejer
Casa del Mayorazgo
Molinos de viento de la barriada de San Miguel
Barriada de Santa Lucía
---
4. Mojácar - Almería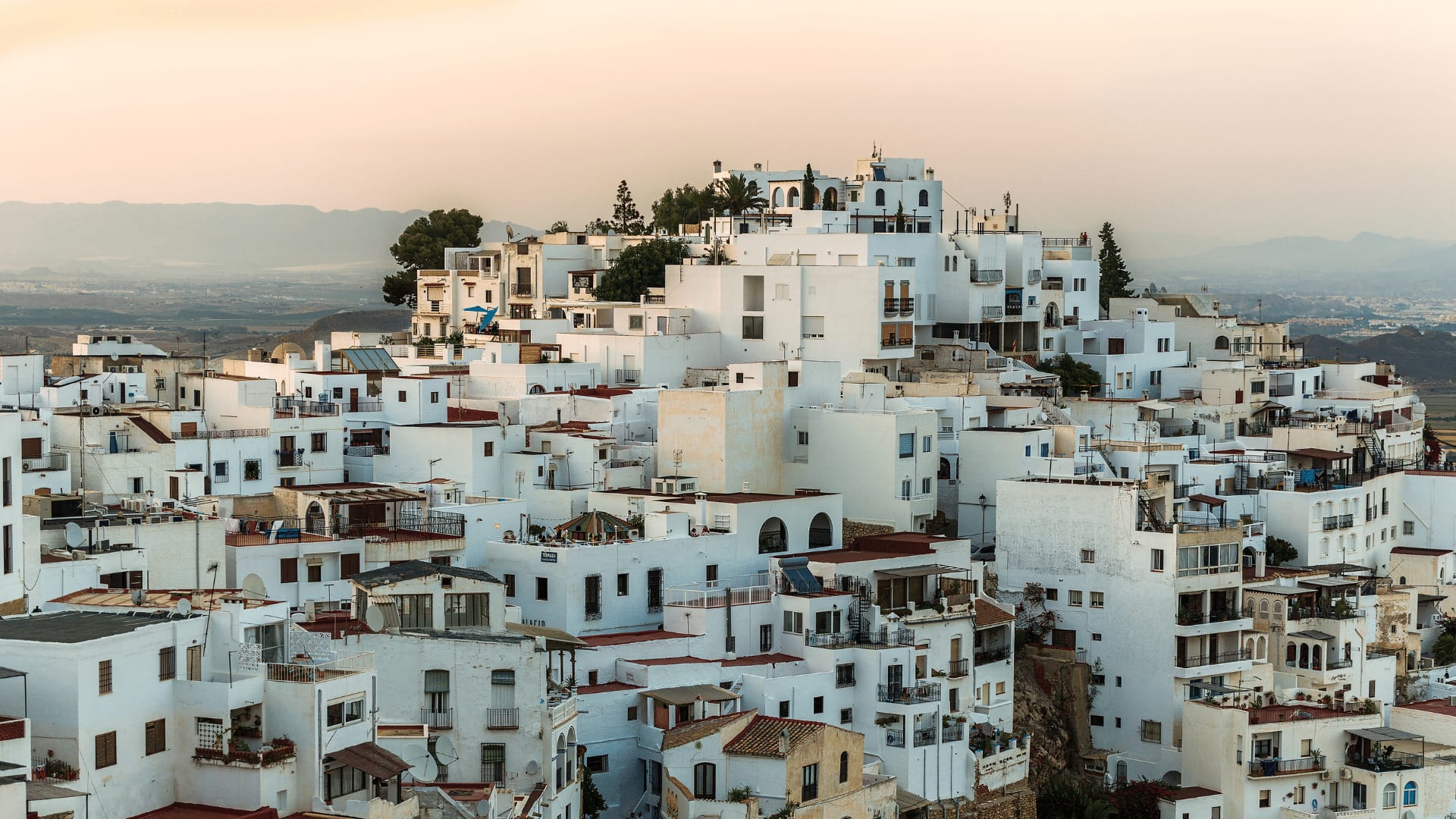 Mojácar is a city and beautiful white municipality in the province of Almería, in the autonomous community of Andalucia.

It has six beaches with a blue flag: 
El Cantal
El Descargardor
Lance Nuevo
Marina de la Torre
Piedra Villazar
Venta del Bancal-Ventanitas
Roquetas de Mar

Mojácar is also very rich and diverse in nature! Levante Almeriense Seabeds is a protected area of ​​​​importance for the Mediterranean and consists of an extensive 50 km long coastline off the coast from Mojácar to Pulpí. Also, the city has a Zone of Special Conservation called Sierra de Cabrera.
Places to visit:
El Playazo - The best beach out of all
Plaza del Parterre
Paseo marítimo de Mojácar -3k coastline
Barrio del Arrabal
The Old Town 
Playa de Los Muertos
Bedar - a pretty town nearby 
---
5. Nijar - Almería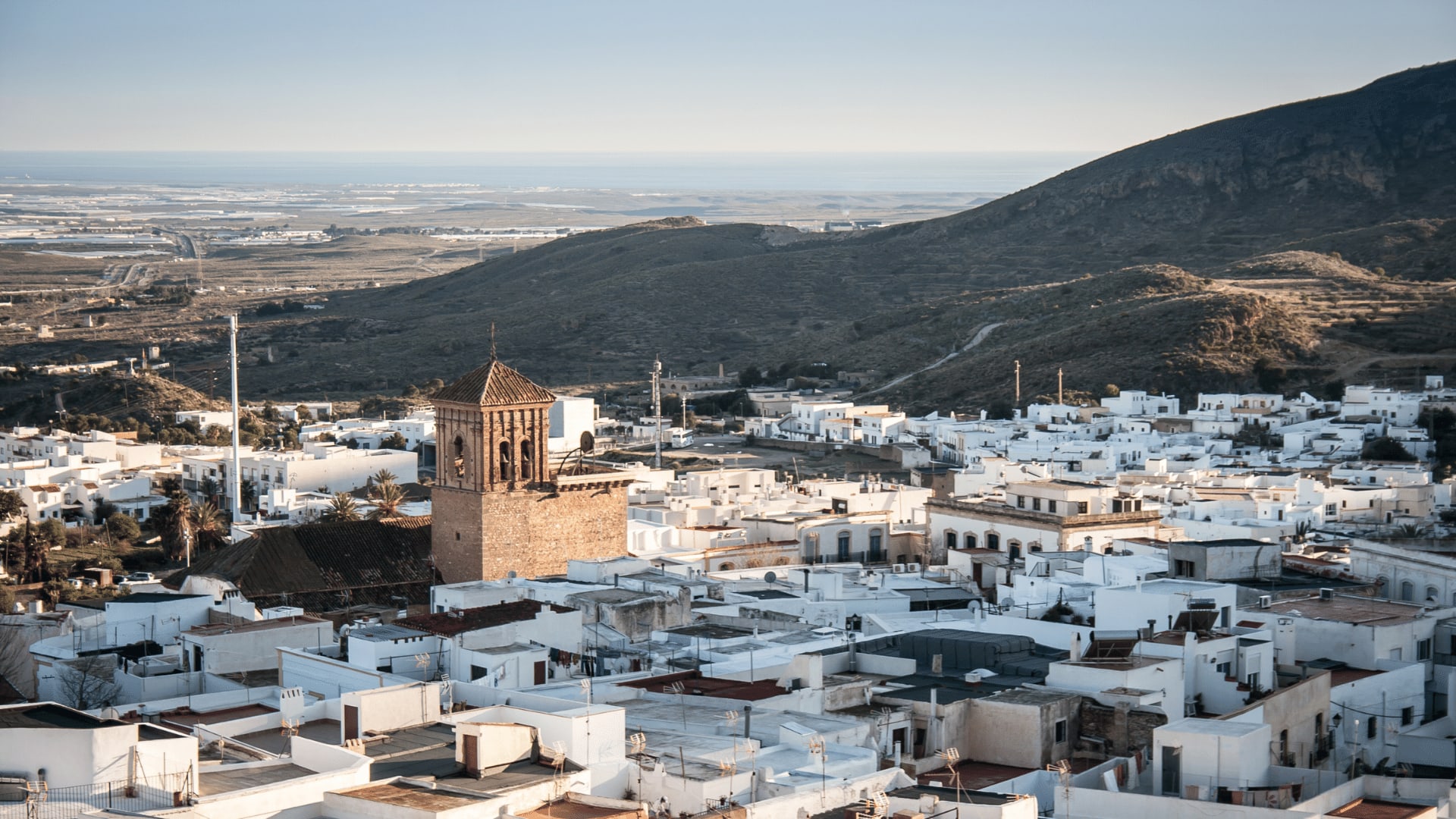 The municipality of Níjar is the largest in Almería and the 38th in Spain. The area is wealthy in Arab toponyms and is located 35 kilometers from the principal capital. In the region of Níjar is the natural park of Cabo de Gata-Níjar, recognized as a Geopark by UNESCO in 1999. It also has the most significant number of beaches in the province of Almeria and coves along its 63 kilometers of coastline. 
The best-known and most visited beaches are:
San José
El Playazo de Rodalquilar
Los Genoveses Beach
Las Negras Beach
Cala de San Pedro
Mónsul Cove
Landmarks to visit:
Church of Santa María de la Anunciación
Rodalquilar
Cortijo del Fraile
La Atalaya
El Portillo Neighbourhood
The Memory of Water Museum
Butterfly House
---
6. Arcos de la Frontera - Cádiz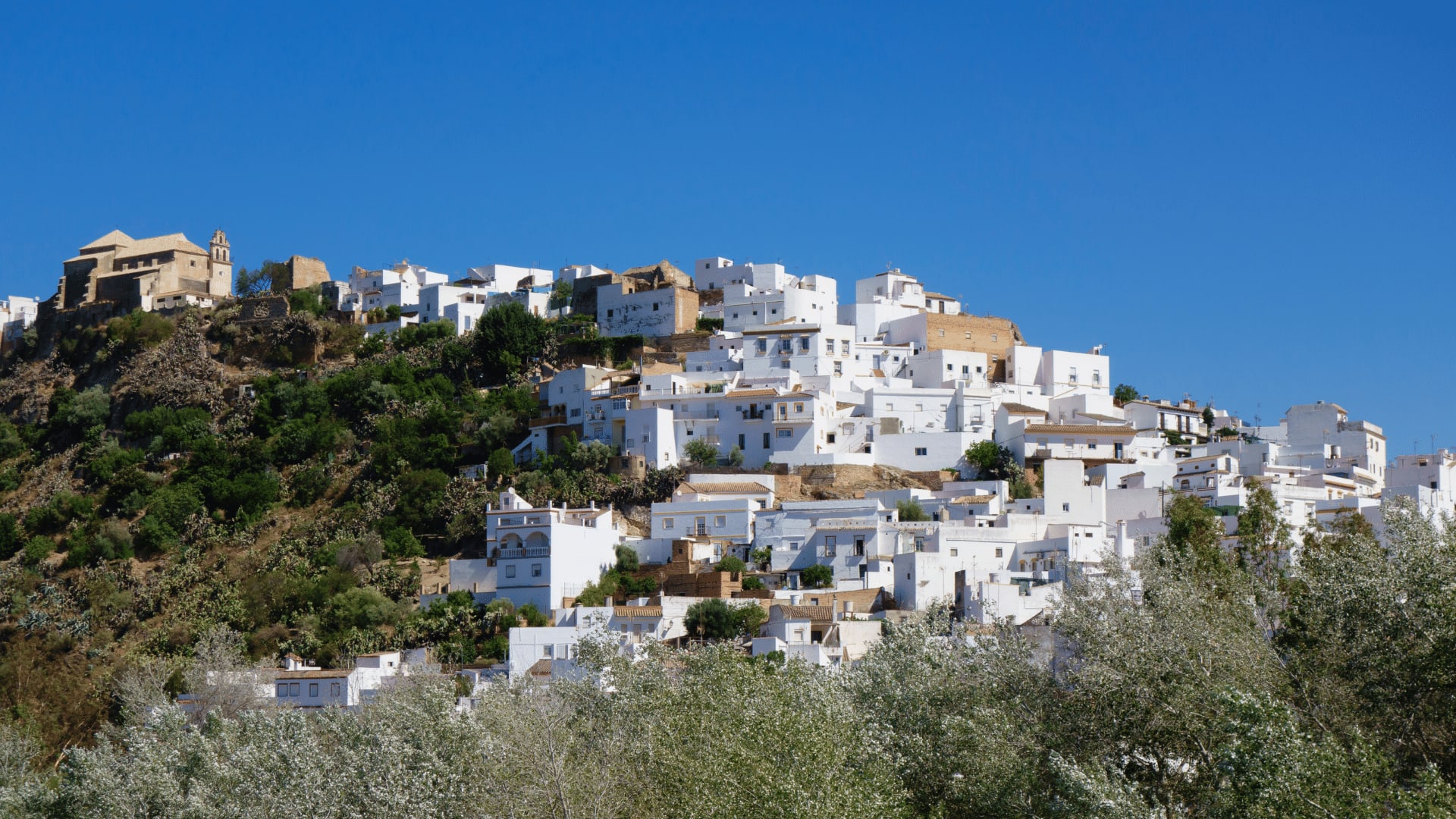 Arcos de la Frontera is the gateway to the "Ruta de Los Pueblos Blancos" (White cities route). It's considered one of the most beautiful towns in Spain. 
This place is recognized for its "Semana Santa," or holy week, which has been declared of National Tourist Interest due to its traditions and the urban and monumental environment, making it unique and special. 
There are traces of its first prehistoric and Roman settlers in the Sierra de Aznar site, but they owe most of their architecture to the Muslim culture.
Places to visit:
Castillo de los Duques de Arcos
Basílica de Santa María de la Asunción
Bornos Reservoir
Playa de Arcos
Arcos Reservoir
Río Majaceite
---
7. Grazalema - Cádiz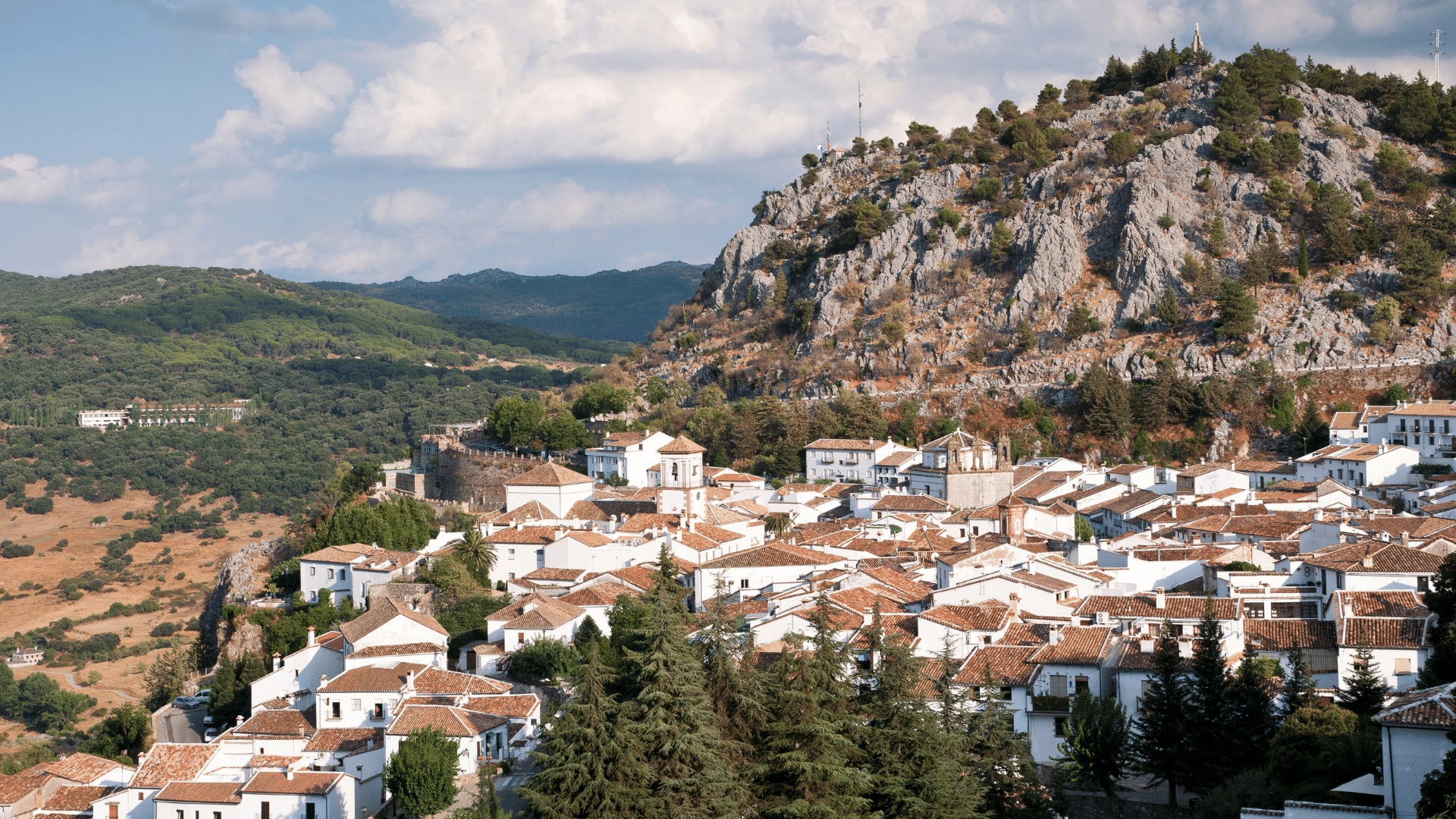 Grazalema is a Spanish municipality in the province of Cádiz, in Andalucia. It's located in the Northeast of the region. Besides the numerous white villages, Grazalema is a karstic region known for its caves, which are home to countless bats. Even its valleys and mountains, where vultures and other birds locate. 
Places to see:
Sierra de Grazalema natural park
Llanos del Endrinal
Puerto del Boyar
Calzada Medieval
Ermita del Calvario
Camino de los Charcones - Senderism route
Plaza de España
Fun fact: Sierra de Grazalema Natural Park has the highest rainfall rate in all of Spain!!!
---
8. Olvera - Cádiz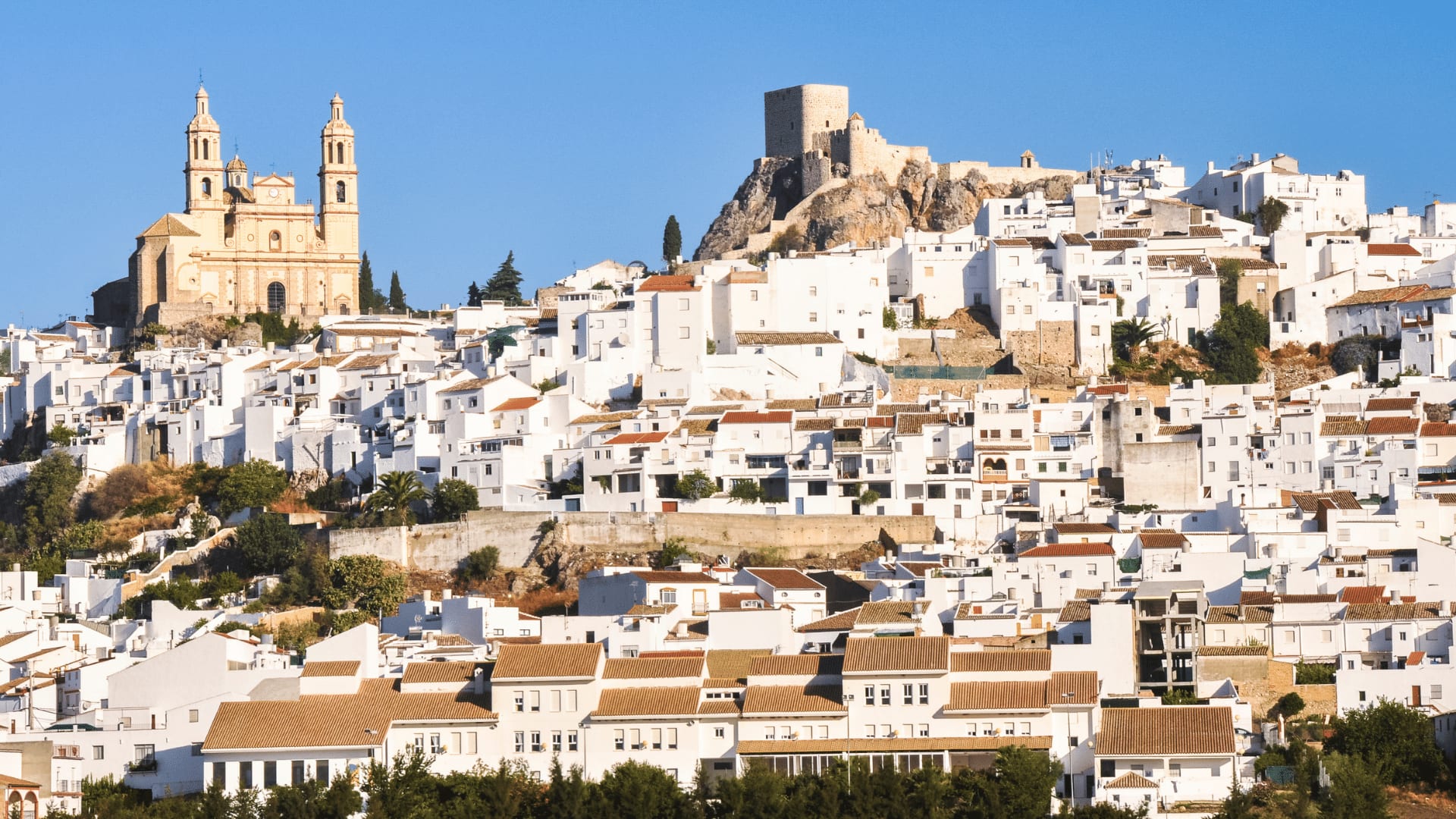 Olvera is a Spanish municipality and town in the province of Cádiz, in the autonomous community of Andalusia. It is included in the region of the Sierra de Cádiz and within the legal district of Arcos de la Frontera.
In this stunning white town, we find The Peñón de Zaframagón nature reserve, cataloged as a Special Protection Area for Birds since 2002, and the most extensive nesting of griffon vultures in Andalusia and one of the most important in Europe!
Places you can't miss:
Castillo de Olvera
Parroquia Nuestra Señora de la Encarnación
Sanctuary of Nuestra Señora de los Remedios
Peñón de Zaframagón
*Olvera is a small white town that will captivate you from the first moment you arrive. I highly recommend it for a rural getaway. Among its most important buildings, we highlight the Castle (*Extremely well-preserved btw) whose entrance costs 2 euros but is worth it due to its impressive views. Also noteworthy is the Sanctuary of Nuestra Señora de Los Remedios, a Catholic temple located two kilometers from the municipality, and the Convent of Caños Santos, which has a good location and beautiful views. It also has a well-cared infrastructure oriented to tourism (water sources, picnic areas, and shaded areas). I would definitely go back!
---
9. Zahara de la Sierra - Cádiz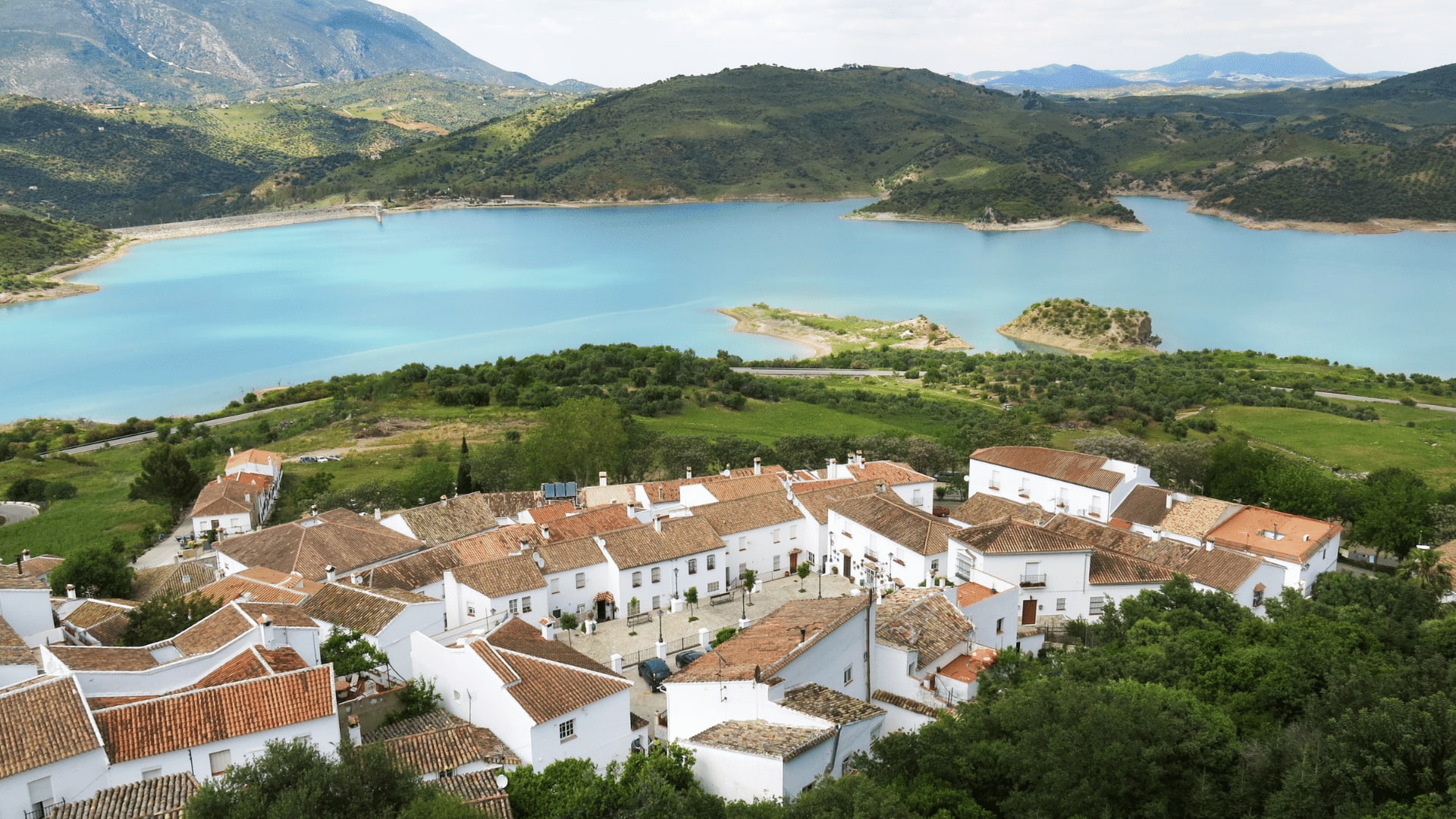 Zahara de la Sierra is a Spanish municipality in the province of Cádiz in Andalucia, in the extreme northeast of the region.
It has an impressive reservoir and a trail that lead to the Garganta Verde, a beautiful artificial beach with a breathtaking 40-meter-high canyon. Soo… Zahara de la Sierra is an ideal destination for those who love hiking, climbing, caving, kayaking, or cycling.
A castle from the Nasrid period can be visited and has a car park, toilets, and a castle route with impressive views. The Castle is in perfect condition, and admission costs €3.50. The Santa Maria de la Mesa church is in front of the town hall, and the square is highly recommended. In general, the town holds impressive views from any viewpoint.
Places to visit:
Zahara de la Sierra Viewpoint
Iglesia de Santa María la Mesa
Plaza Lepanto
Capilla de San Juan de Letrán
Calle Ronda
Plaza del Rey
Torre del Reloj
---
10. Zuheros - Córdoba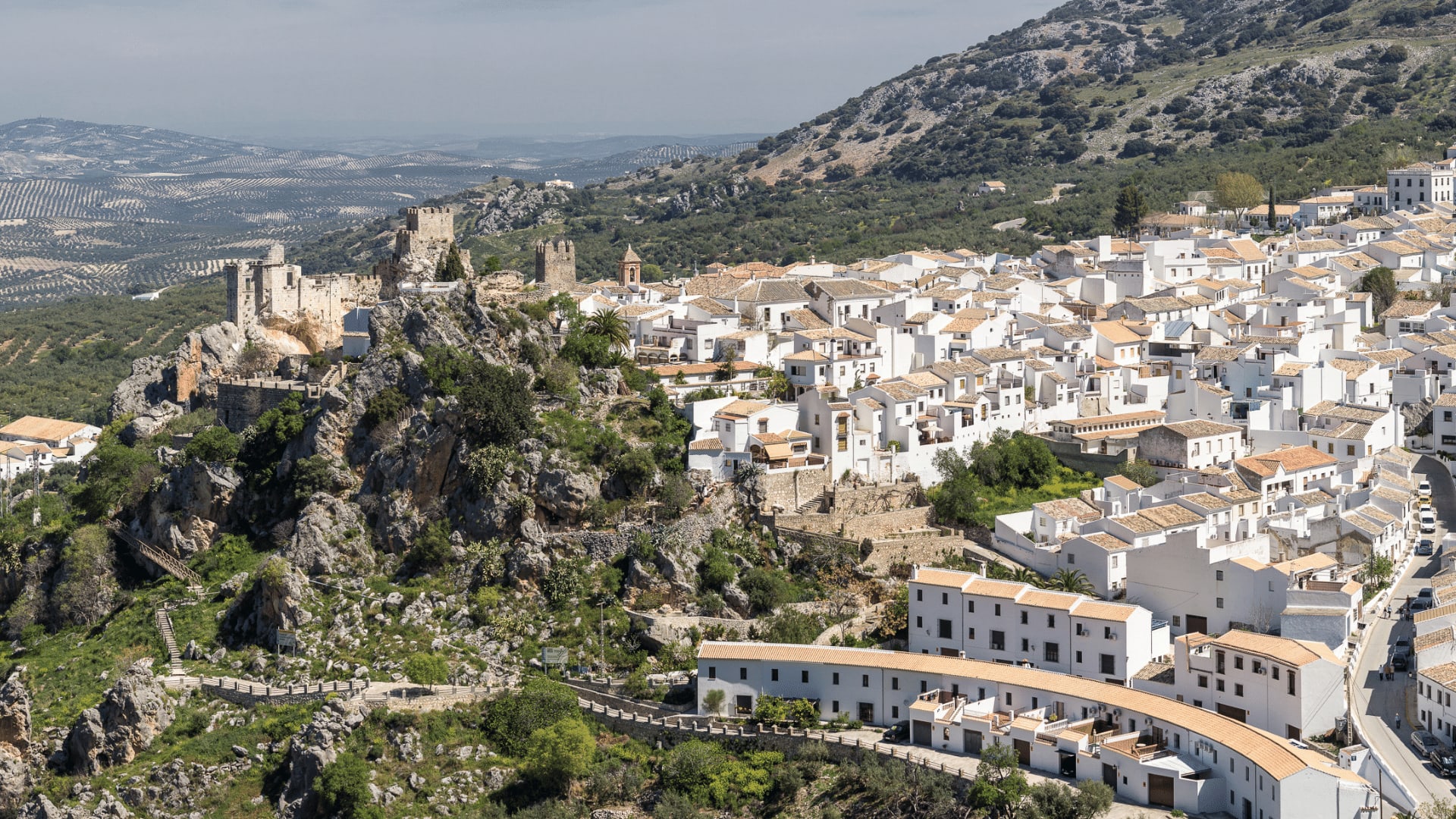 Zuheros is a small town located southeast of the province of Córdoba. The landscapes and surroundings of this beautiful city, in the middle of the mountains, are an ideal setting to enjoy nature, walking the paths of the Bailón River or through the Subbética Greenway.
What to see:
Cueva de los Murciélagos
Castillo-Palacio de Zuheros
Nuestra Señora de los Remedios Church
Río Bailón
Iberfauna - a zoo park
Archeological museum
Museum of Francisco Poyato
Zuheros is one of the most beautiful towns in Spain I've ever visited. It is full of white houses and olive trees. If you go to this beautiful town, you cannot miss a visit to its Castle, of Arab origin, which is located on a rocky peak with cliffs with spectacular views. Also, there is a magnificent view over the whole village from the entrance, and some museums.
---
11. Capileira - Granada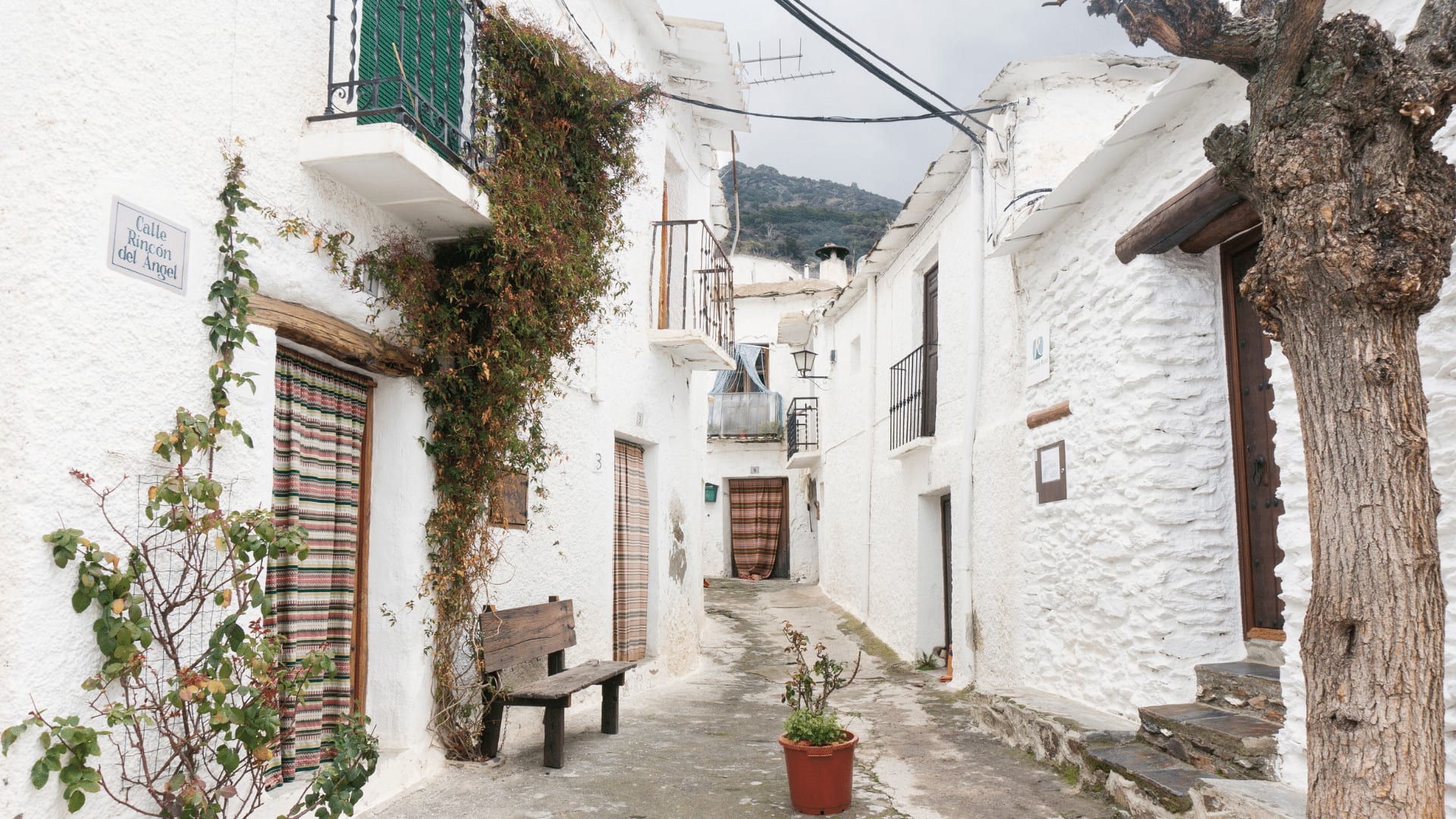 This town is located in the upper part of the Poqueira Valley, on the southern slope of the Sierra Nevada. During the last decades, tourism has begun to stand out in the local economy. Capileira has a privileged location, much of its area belongs to the Sierra Nevada National Park, which has the highest heights in the Iberian Peninsula!
What to see:
Mirador de Capileira / Mirador del Perchel
Mirador de Sierra Nevada / Eras de Aldeire
Puente Abuchite
Casa-Museo Pedro Antonio de Alarcón
Iglesia de la Virgen de la Cabeza 
Routes in Capileira:
Ruta Monte de Pampaneira Route (2.17 miles)
Capileira – Bubión Route (4.34 miles)
Capileira – La Cebadilla Route (4.97 miles)
Sulayr Route (Extreme difficulty: 186.41 miles divided into 19 trams)
Barranco de la Poqueira Route: (1.86 miles)
Capileira is the second-highest town in Andalucia. I would say it is the perfect town for routes both on foot and by bike (since it is full of trails with different intensities) and many bars, so I highly recommend you to chill, enjoy and disconnect*!*
---
12. Cazorla - Jaén
A very underrated white town in Andalucia! It holds many natural wonders. If you are making a tour of Jaén through the Sierra de Cazorla or find yourself on your way to Granada from the east of Spain, Cazorla is a mandatory stop. If you are not in a hurry, you can spend the night and do some of the many routes that leave from Cazorla.
What to see:
Castillo de Yedra
Parque Natural de la Sierra de Cazorla
Bóveda del Río Cerezuelo
Ruinas de la Iglesia de Santa María
Castillo de La Iruela
Cascada de La Malena
Peña de los Halcones
Sensational fact: It is believed that the painting of the Christ of Consuelo was found floating around the Church in Cazorla perfectly intact after a massive flood, which is considered miraculous.
This town has many charms. I loved that I could enjoy natural spaces for hiking or cycling. Like the rest of the white cities, Cazorla has a castle called Castillo de Yedra. I suggest you immerse in the gastronomy and customs of this beautiful town because it will surprise you.
---
13. Frigiliana - Málaga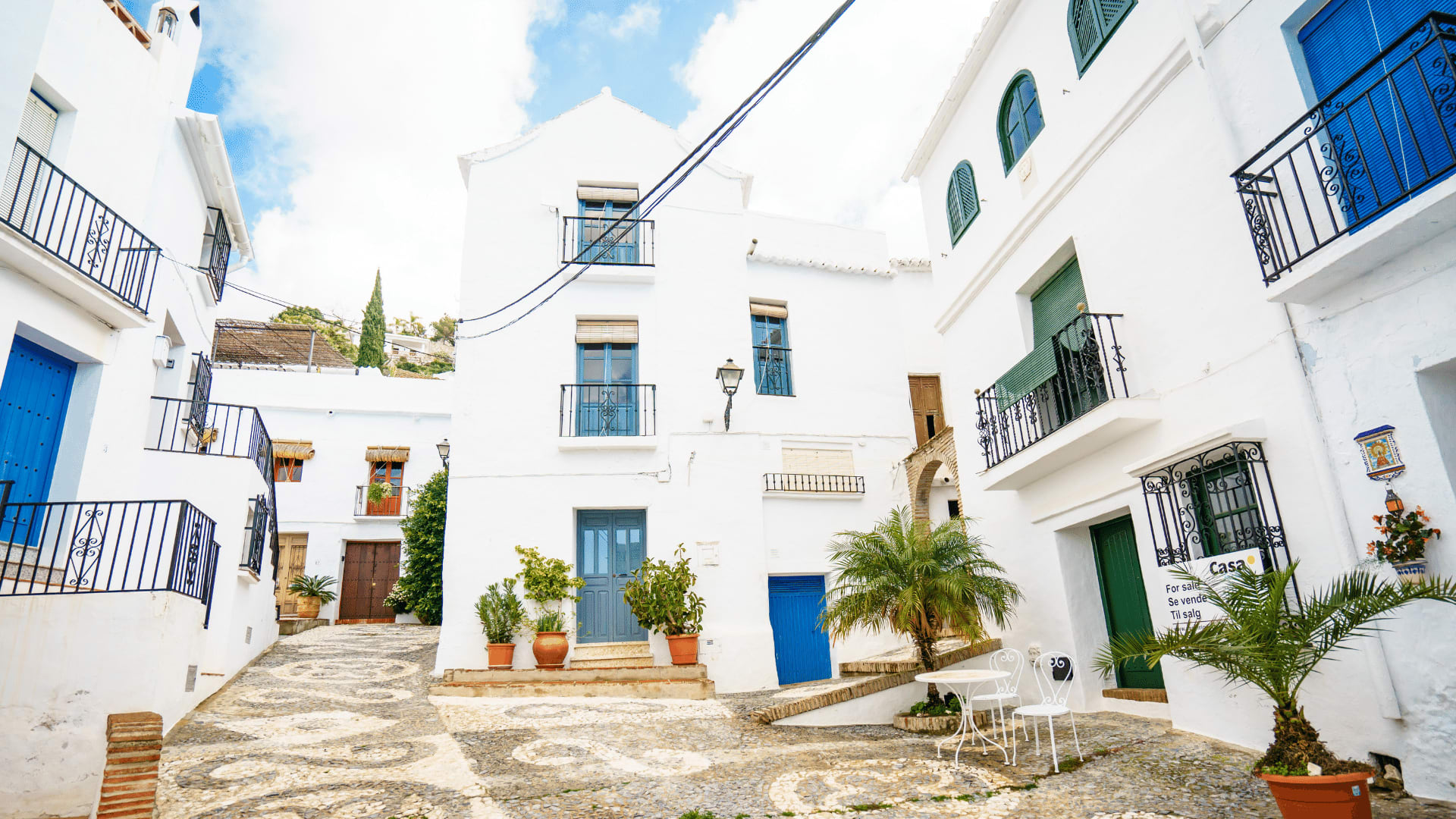 Frigiliana is a municipality of the province of Málaga. Its Old Town, of Moorish-Mudéjar origin, is one of the best preserved in the whole area. The town comprises big squares communicated by different streets and houses, meaning there are no "streets" or a predetermined urban side.
Activities to do in Frigiliana:
Rio Chillar
Archeological Museum
Playa el Salon
Iglesia San Antonio de Padua
Plaza de las tres culturas
Palacio de los Condes
Miradores de Frigiliana
Jardín Botánico de Santa Fiora
I recommend this to anyone. But I don't know if I would choose it over other towns in Málaga. (this is why you need to go on a road trip) Frigiliana is a town in Malaga that is worth getting lost in due to its streets decorated with flower pots and painted white. It has a building that stands out from the rest, which in ancient times was the palace of the lords of Frigiliana but is currently a cane honey factory. The only disadvantage is that you can only see it from the outside. But overall, the town is pretty, and I had a great experience. Now I want to travel and discover other Spanish White Towns!
I hope you enjoyed our road trip around the Spanish White Towns as much as I did! Here is a map so you can get a picture of their location.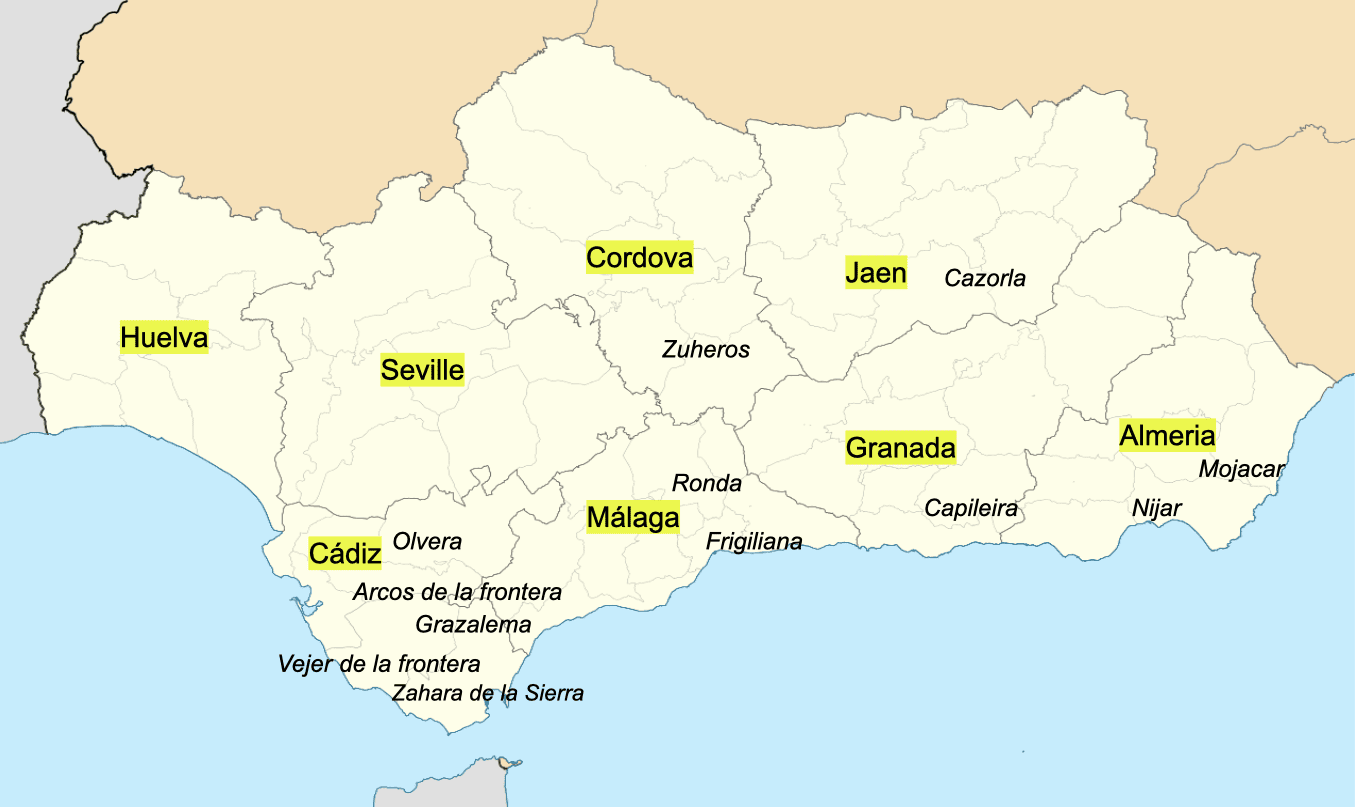 Most of them are in Southern Spain, but I can assure you that doesn't mean there aren't many other privileged destinations with breathtaking views and landscapes in Northern Spain! See it by yourself!
---