Spain in May: 7 Travel Tips, Activities & Weather
July 10, 2023
Updated:

July 11, 2023
Published: July 10, 2023
I want you to picture yourself wandering through charming cobblestone streets, embarking on scenic hikes, or strolling through the bustling streets of Barcelona. All of this is better in May when the weather takes a turn for the best!
In this article, I will guide you through the must-visit places, reveal the top activities to immerse yourself in, and provide insights into the weather that will help you plan your perfect itinerary.
With its diverse regions, Spain offers an incredible range of activities to suit every interest. As you read this post, visualize yourself immersing in captivating experiences and envision your next travel adventure. Who knows, it might just become a reality!
So, pack your bags, embrace the spirit of adventure, and get ready to fall in love with Spain as we journey through this country in May.
---
TRAVEL TIPS
1. Experience City Sightseeing at Its Finest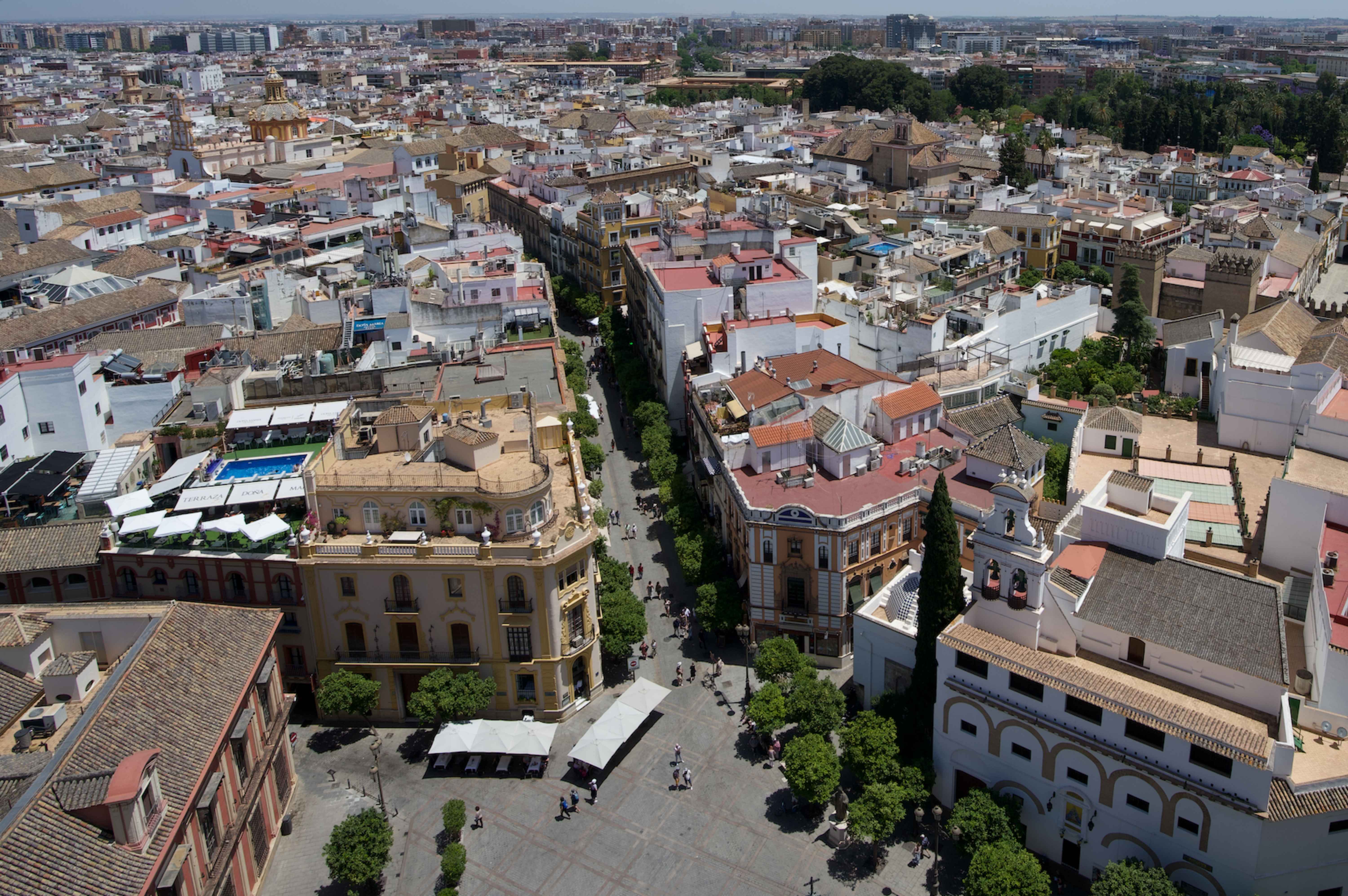 May is the last month to take advantage of lower flight tickets before the Summer prices arrive, so take it!
You will definitely feel the big cities filling in, but nothing compared to the months of Summer, where they get super touristy, and the heat is tough to beat.
May is still a great time to discover the main landmarks, attractions, and museums, enjoy the outdoors, spend the afternoons at terraces, wander in the parks, and scratch those places off your bucket list since the pleasant weather calls for it.
For example, in big cities, exchange students take advantage of their last days before the semester ends, and everyone is looking out for Summer, so they escape to terraces after their workday, making the cities look very dynamic. 
Weekend getaways to nearby towns are also perfect for these dates, as most of the country experiences delightful weather during this month, with some exceptions in the North.
2. Embrace the ideal weather: Enjoy the Perfect Climate in May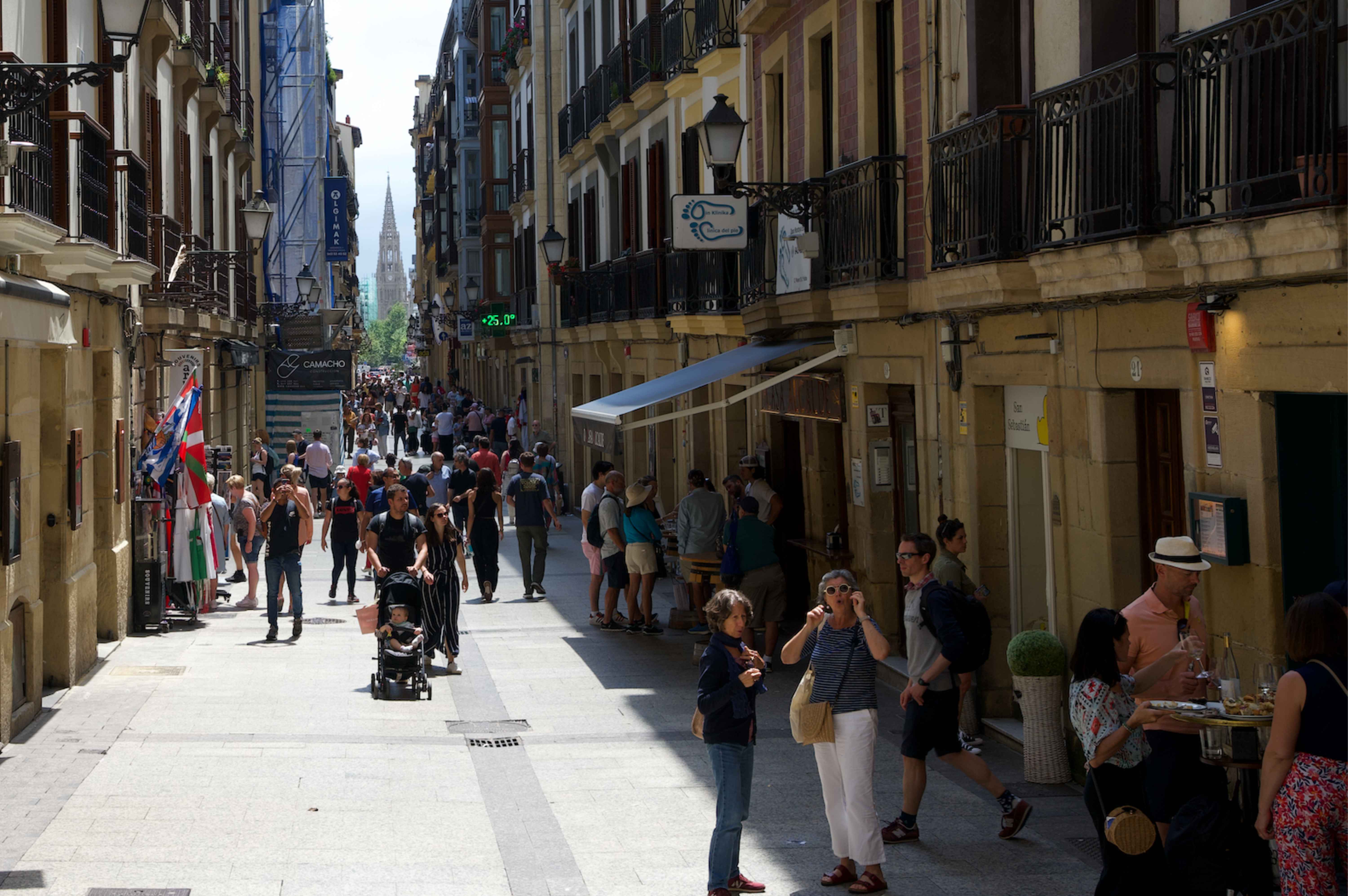 Weather-wise, May is a perfect month to visit Spain. Short answer, go for it! The weather becomes warmer and more satisfying across the country.
However, weather conditions can vary from region to region. But in general, temperatures range from around 57°F (14°C) in the mornings and evenings to 77°F (25°C) during the daytime.
The good news is the Mediterranean Sea is also starting to warm up, suitable for swimming! Especially in the coastal areas, temperatures reach the mid-70s to low 80s Fahrenheit (mid-20s to high 20s Celsius). But I'll tell you my opinion on this later.
Inland areas, including Madrid and Castilla-La Mancha, tend to have slightly higher temperatures than coastal regions. Temperatures during the day can range from the mid-60s to mid-70s Fahrenheit, while nighttime temperatures are cooler, dropping to the mid-40s to low 50s Fahrenheit.
In Northern regions like Asturias, Basque Country, Cantabria, and Galicia, temperatures range from the mid-50s to mid-60s Fahrenheit (around 12 to 18 degrees Celsius), perfect conditions for outdoor activities.
On the other hand, places like the famous Pyrenees or Sierra Nevare much cooler, so you should pack warm clothing as temperatures in these regions can still drop to near-freezing levels during the night.
It can rain occasionally, but the climate is mostly dry. But a general rule of thumb is that northern regions receive more rainfall than southern and eastern regions.
3. Beach Delights in May: Is the Beach Worth it?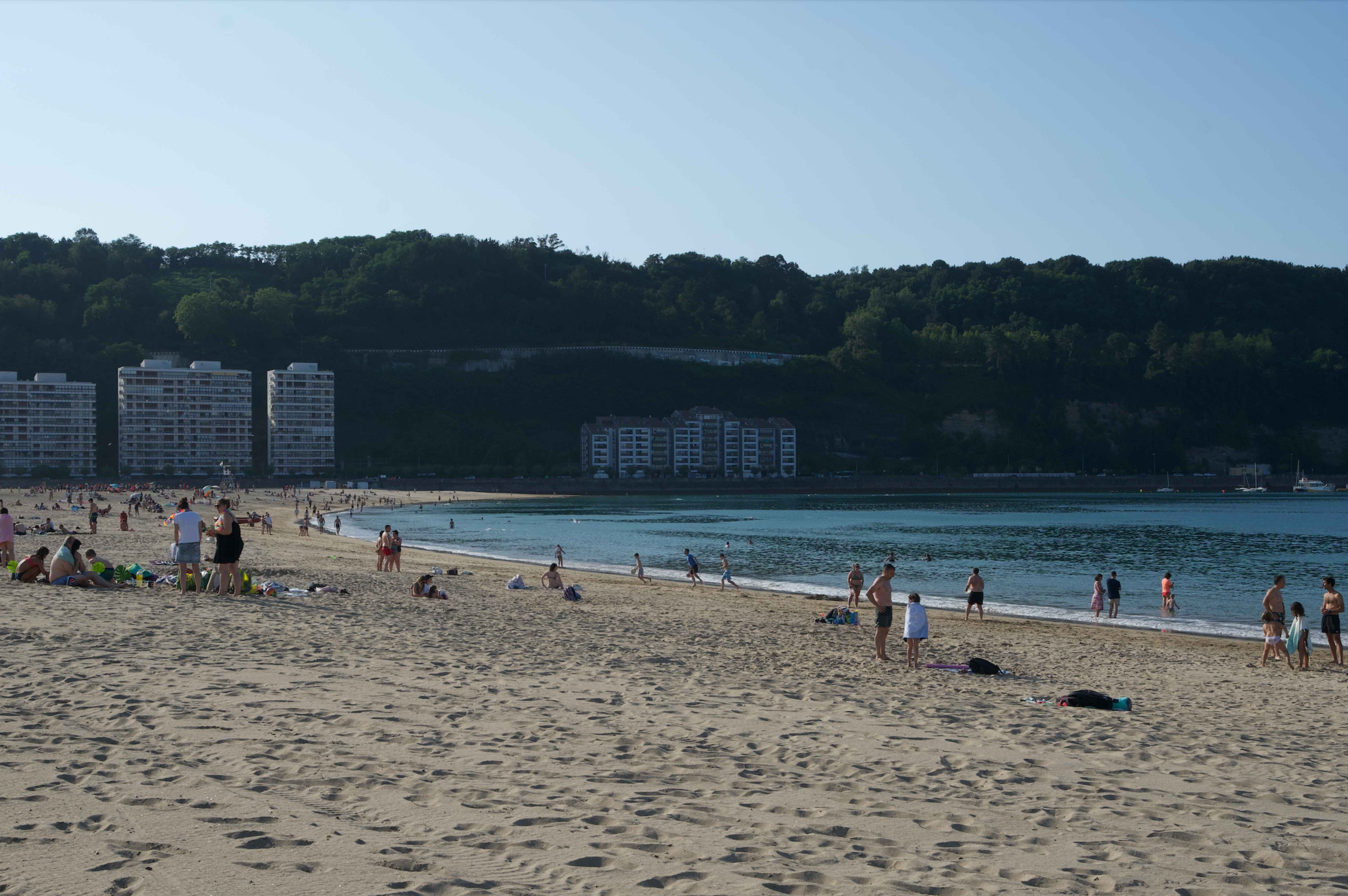 Longer days, great weather, and better prices than in Summer… The high season has yet to arrive, so if you want to plan a beach getaway, you better do it now or in June to avoid the crowds.
📌 Read more: Spain in June: 6 Travel Tips, Activities & Weather
If you're looking for a beach destination, then Ibiza or Menorca are great options. Still, there are many ideal places in Spain to go to the beach in May, like Ronda in Málaga, Fuengirola, or Marbella in Costa del Sol. 
For quieter beach landscapes, I recommend Northern Spain, especially Galicia and San Sebastián in the Basque Country. But remember that these are not optimal for swimming, as the water temperature is still cold and the days are breezy. Still, these are beautiful scenarios to witness in May.
You can perfectly go to the beach, swim, and enjoy water activities in May in Southern Spain. Still, I suggest you save your days at the beach for June or July when the water temperature is hotter and the Summer vibes are full on. It also gets crowder as the following season comes in. 
Either way, nobody can say no to a beach day. These are just the pros and cons of visiting them in May. Evaluate them, and it's up to you.
4. Immerse yourself in the vibrant "Festa dos Maios" in Pontevedra
Every year, the "Festa dos Maios" celebration occurs on May 1 in Marín, Poio, Pontevedra, and Vilaboa municipalities. 
You might think: Oh, here we go again. Another Spanish celebration. Why are these people celebrating all the time?
Well, this special and unique tradition arises to commemorate the arrival of Spring and highlight the joy of the growth and flowering of vegetation, creating true works of art with flowers, fruits, herbs, eggs, etc.
Since 1970, the Plaza de la Ferrería de Pontevedra has hosted a contest to choose the best "maios," figures made with branches and flowers. And a child will sing a song while a group follows the rhyme. 
People celebrate with music, flower decorations, food, and a cheerful environment all over the city. 
5. Experience the Pilgrimage of El Rocío: A Million Catholics Visit this Place Annually!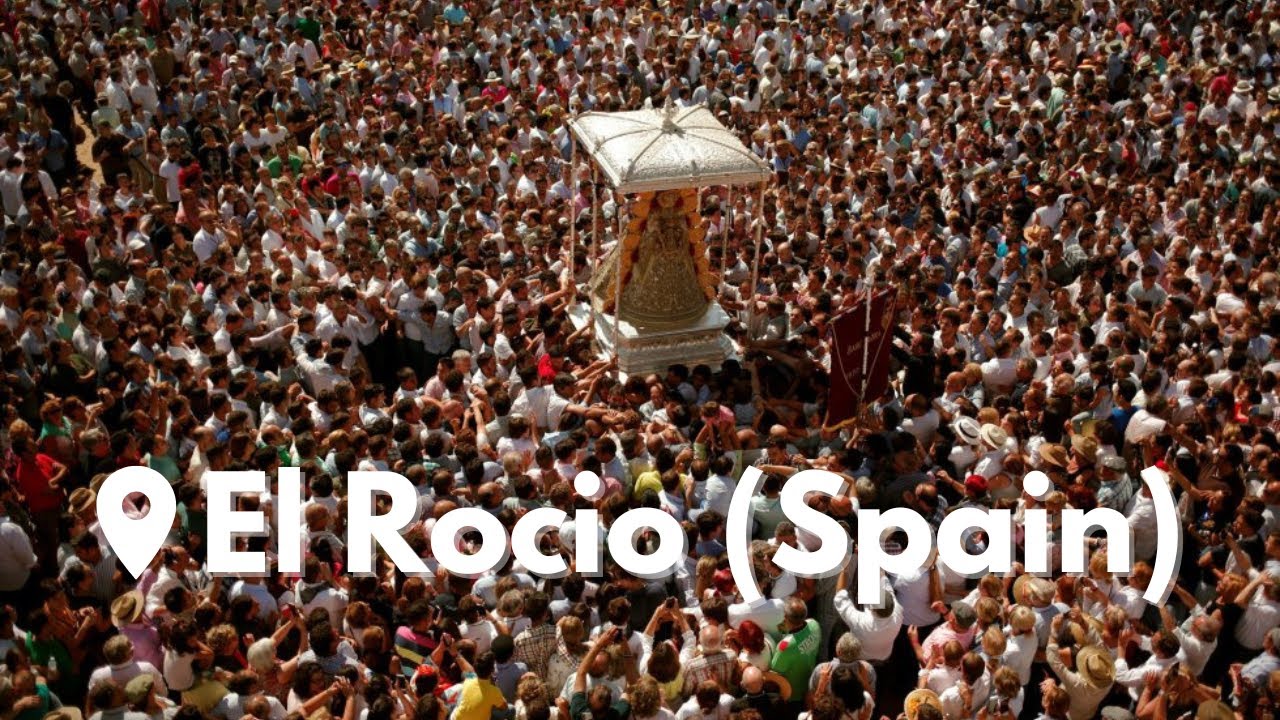 1 Million Catholic Visit This Holy Place Every Year. Yes, you read that right!
The Rocío Pilgrimage coincides with the first Monday of Pentecost in May. During these dates, people celebrate the supposed discovery of an image of the Virgin Mary in the trunk of a tree.
It consists of a tumultuous procession from dawn from Sunday to Monday. Followed by masses and parties in which the different brotherhoods from different places in Andalusia and the rest of Spain participate.
📌 Read more: The Ancient Spanish Lost City: Is the Missing Atlantic in Andalucia?
And not only this, the closest surroundings of the village of El Rocío are in one of the most impressive protected natural areas in Europe, the Doñana National Park! Where the missing Atlantis is said to be.
This vast park can only be visited with prior authorization, but there's a special permit to pass only the days before and after the pilgrimage celebration.
6. Dive into the lively Feria de Córdoba
If at first glance it seems there is not much to see or do in a celebration like this, it is because you have never been to an Andalusian fiesta.
During May, Códoba celebrates its fair in El Arenal, a large venue on the banks of the Guadalquivir where there is enough space to put up more than a hundred decorated booths, colored lanterns, see horsemen, couples strolling in carriages, women in flamenco costumes, men with traditional hats, and a large caliphate-style doorway filled with light bulbs.
Contrary to the Seville Fair, where most of the Booths are private to families, the booths at the Cordoba Fair are open to the public, so access is free for everyone.
And what else can I tell you? Party, joy, the city at its best. What better time to plan a getaway to Cordoba on your trip to Spain if you visit us in May?
Not to mention that it is the perfect excuse to enjoy the typical dishes in the beach bars. You should try the rebujito (a mix of wine, soda, and mint), the traditional drink, fried anchovies, salmorejo, or rabo de toro. They are delicious!
ACTIVITIES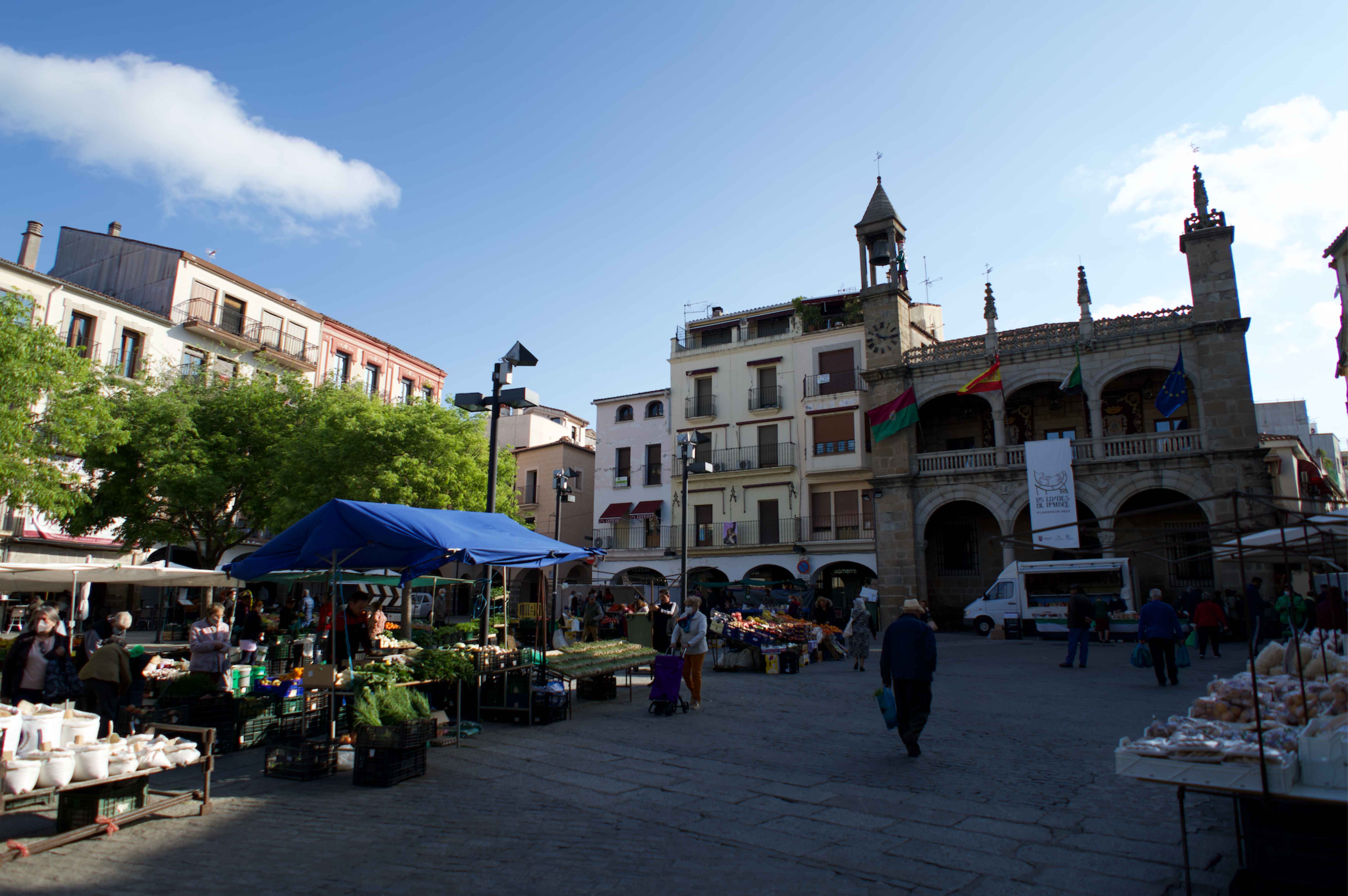 I already told you some of the main highlights in Córdoba, El Rocío, and Pontevedra. These are the cities and activities you should visit in this particular month!
Madrid and Barcelona are essential, as they are the two main cities they have a lot of tourist attractions, a lot to see, and offer many experiences 365 days a year. 
Also, Spring offers the perfect setting for traveling and touring thanks to pleasant weather, fewer crowds, and an excellent climate overall. 
Read more:
Madrid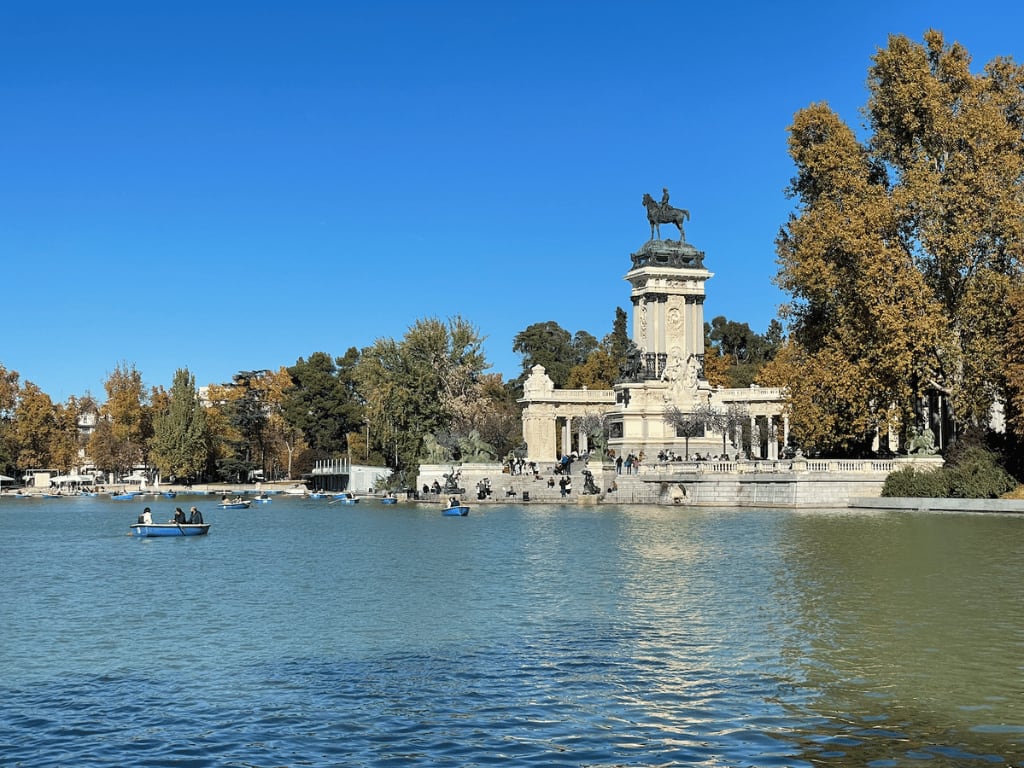 The welcome of the heat and the sun in May coincides with many outdoor activities and popular celebrations in the streets, such as the famous San Isidro Fair, where there are daily festivities in honor of the city's patron saint. There are activities for the whole family and a long list of free concerts!
There are activities for the whole family and a long list of free concerts!
Here editorial booths are installed along the Retiro Park in Madrid so you can find your favorite books and writers. Also, it is a perfect excuse to walk through the famous El Retiro park and its surroundings, which are full of people and have great vibes in May.
On the other hand, we will have the "Musical Walks of the Botanical Garden," where the Royal Botanical Garden will open its doors during spring and summer nights to offer classical music in this natural environment so unique to Madrid.
And finally, we have the "International Film Festival of the Area of Culture, Tourism, and Sports." For cinema lovers, going to Cineteca and Documenta Madrid are places to share culture and enjoy the beauty of cinema.
Barcelona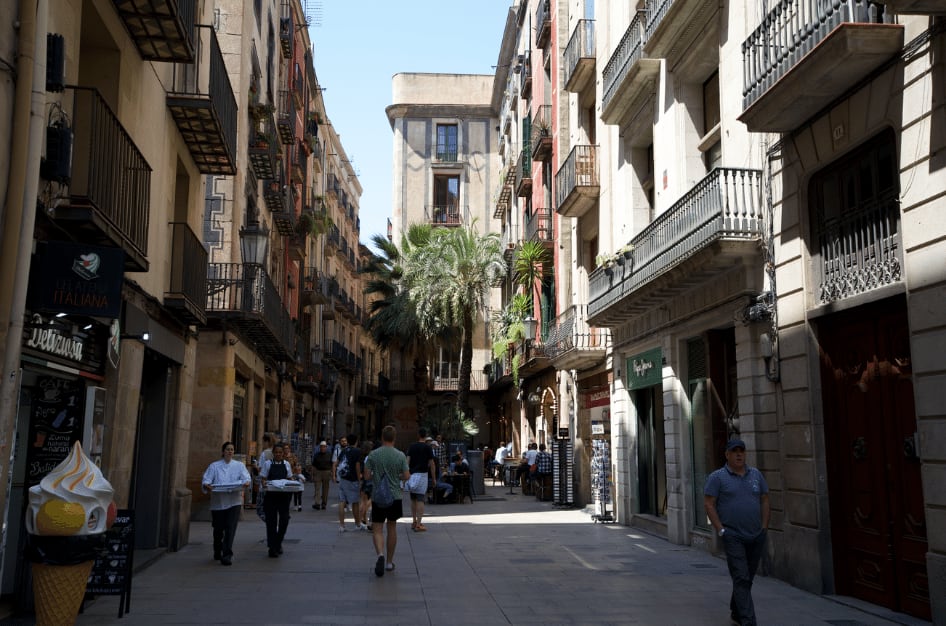 May is one of the best months to visit Barcelona because Spring is already at its peak, and people are looking forward to summer.
The city is lively and happy, and people ask for activities; among them is La Fira Modernista, where cultural, gastronomic, and leisure activities are for foreigners, locals, adults, and children.
On the other hand, there is the "Nit dels Museu" (Night of the Museums), in which Museums open their doors to the public along with various dynamics.
In addition, for lovers of music, theater, and dance shows, there is the "Terrats en Cultura" festival. And an entertaining plan is the famous Candlelight Events, a unique musical experience that goes to many cities worldwide. It's truly worth it.
Now allow me to introduce you to three hidden gem cities in Spain that are often overlooked but absolutely worth exploring. These lesser-known destinations offer a more low-key and authentic experience, making them ideal for your May travel adventures!
Zaragoza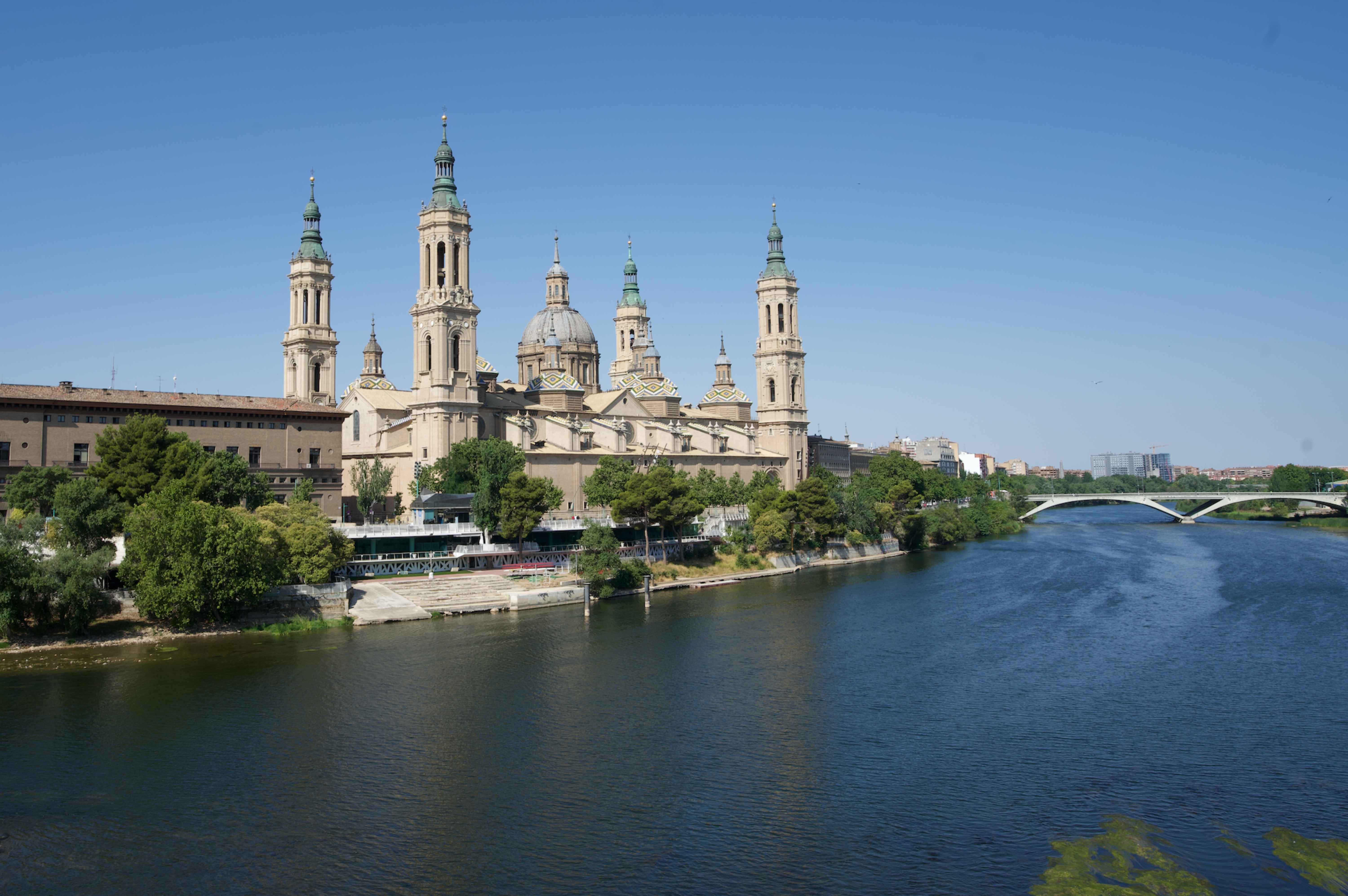 Now allow me to introduce you to three hidden gem cities in Spain that are often overlooked but absolutely worth exploring. These lesser-known destinations offer a more low-key and authentic experience, making them ideal for your May travel adventures!
Zaragoza is Spain's fifth most crowded city and one of the most visited! This modern and welcoming city has many famous landmarks, tourist attractions, and essential cathedrals. 
It also has a lot of Natural Beauty, its location is very privileged, and since it has the Ebro River, the city holds a wide variety of natural spaces to enjoy nature and relax on your visit to our city.
May is one of the best months to go hiking in the spectacular Aragonese Pyrenees.
You will never get bored with important monuments of different styles, museums, incredible food, theaters, and cozy Terrazas and taverns. 
Salamanca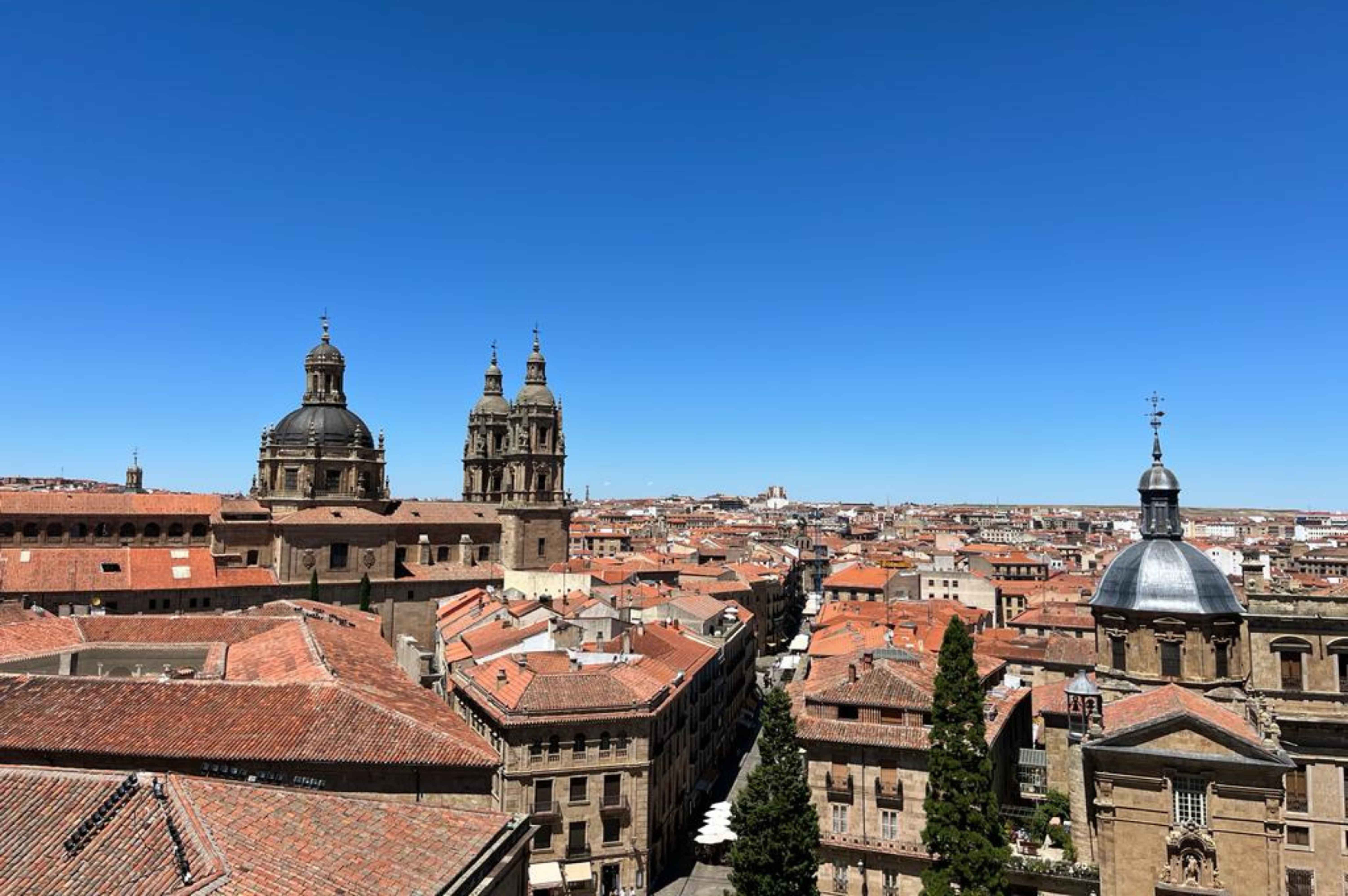 One of the prettiest Plaza Mayor in Spain is in Salamanca. 
The main square has a vibrant atmosphere and is packed with the place most university students choose to have fun and socialize.
You can't miss the Cathedral either (there are two, one old and one new). While the first mixes late Gothic, Renaissance, and Baroque styles, the second is Romanesque and Gothic. Perfect for architecture enthusiasts. 
Also, it is a very accessible destination, as trains from Madrid take between 1 hour and 40 minutes and 3 hours (depending on the train). Segovia is 1 hour and 15 minutes away, and Ávila is somewhat the same. Plus, the train station is about a 20-minute walk from the old town of Salamanca.
Burgos
Burgos is one of the most enchanting towns in Spain, with great gastronomy, heritage, and nature. It is located in the northern Castilla y León region. It is perfect for visiting in May since the temperature is so pleasant to wander around the streets that it will evoke memories of princesses, fairies, and knights, as it has numerous important castles worthy of exploration, around hundreds throughout the territory. 
Burgos's province can boast many unique elements like the Burgos Cathedral, the Miraflores Charterhouse, the Monastero de las Huelgas, the Sierra de Atapuerca Sites, or the Camino de Santiago! 
In addition, the food is fantastic, and the star dish is the suckling lamb, roasted in a wood-fired oven. But many other traditional Castilian dishes can be found in the Plaza Mayor and surrounding streets. You will find many bars and taverns where you can taste infinite tapas
📌 Read more: What to Eat in Spain: 31 Tasty & Traditional Dishes
WEATHER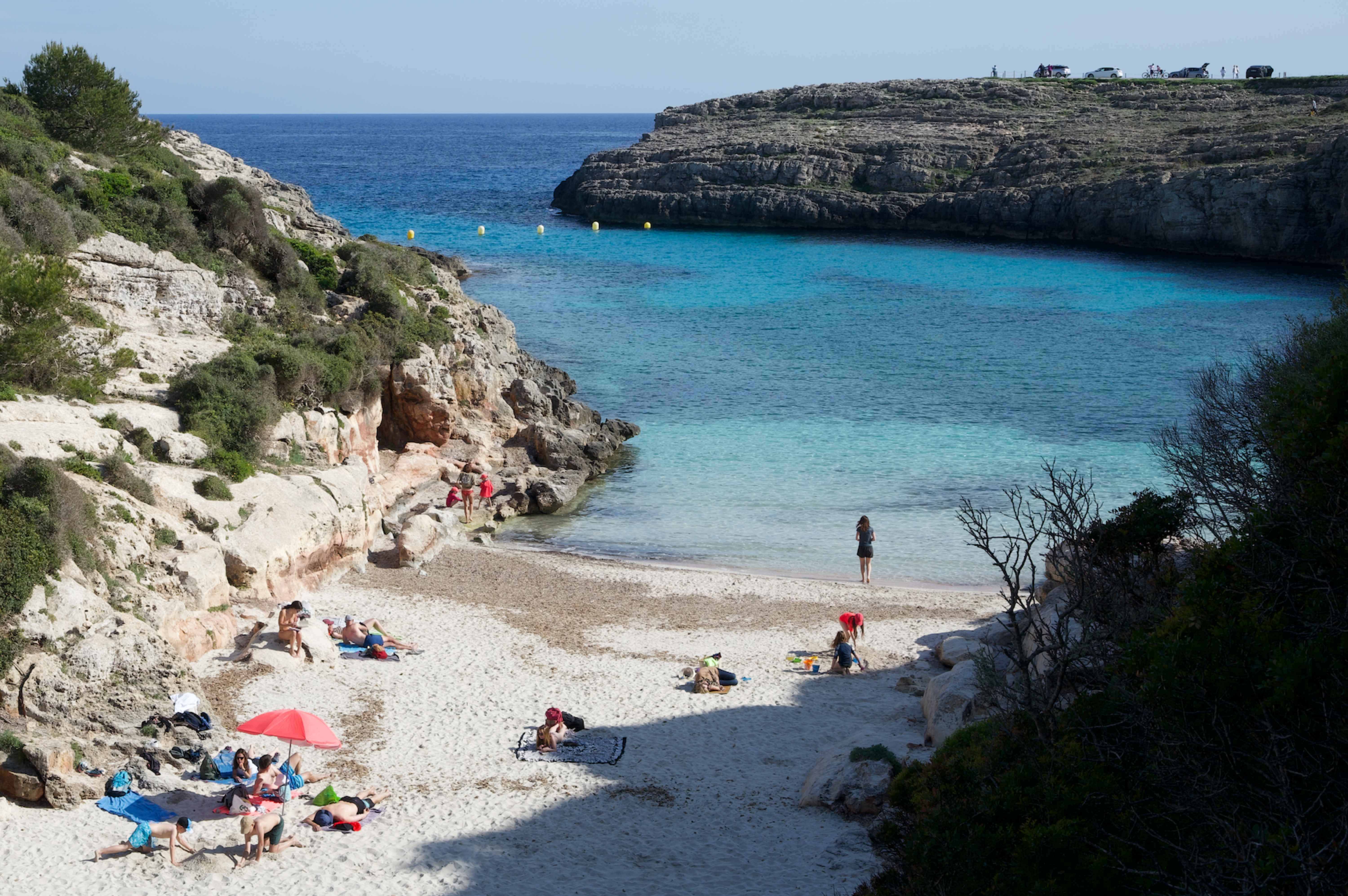 May in Spain is considered one of the coolest months of the year, as it is neither very hot nor cold. Although it changes depending on the region and how to the South or to the North you are, its maximum temperature is 24ºC, and the minimum is 14ºC.
This is why I am leaving you a table with the average temperature in May for the different areas for more accuracy.
However, keep in mind that this can vary, so I recommend that you check the specific weather app for the city or town you visit on the days you visit to avoid surprises and plan according to the weather.
| Region | Minimum Temperature (°F) | Maximum Temperature (°F) | Minimum Temperature (°C) | Maximum Temperature (°C) |
| --- | --- | --- | --- | --- |
| Andalusia | 57°F | 77°F | 14°C | 25°C |
| Aragon | 46°F | 68°F | 8°C | 20°C |
| Asturias | 48°F | 59°F | 9°C | 15°C |
| Balearic Islands | 57°F | 73°F | 14°C | 23°C |
| Basque Country | 48°F | 61°F | 9°C | 16°C |
| Canary Islands | 66°F | 76°F | 19°C | 24°C |
| Cantabria | 48°F | 59°F | 9°C | 15°C |
| Castile and León | 46°F | 70°F | 8°C | 21°C |
| Castilla-La Mancha | 52°F | 74°F | 11°C | 23°C |
| Catalonia | 55°F | 73°F | 13°C | 23°C |
| Extremadura | 59°F | 79°F | 15°C | 26°C |
| Galicia | 52°F | 61°F | 11°C | 16°C |
| Madrid | 50°F | 73°F | 10°C | 23°C |
| Murcia | 59°F | 79°F | 15°C | 26°C |
| Navarre | 48°F | 66°F | 9°C | 19°C |
| La Rioja | 48°F | 70°F | 9°C | 21°C |
| Valencia | 59°F | 75°F | 15°C | 24°C |
Now you know the best places to travel in Spain in May and the most fun and iconic activities during this time. In addition, we have reviewed the weather in each autonomous community so that you can decide with peace what your next destination will be and know what to expect.
Thank you very much for reading, and let us know what you think of these places; which one have you added to your bucket list?