Travel to Toledo: 5 Best Attractions, Food & Activities
October 18, 2023
Updated:

October 25, 2023
Published: October 18, 2023
If someone tells you that one day is enough to explore this charming city, they may not be giving you the best advice. I would rather spend 1 day here than an extra night in Madrid.
That being said, I understand that time is precious when you're traveling (so you might see it suggested as a day trip option in other articles). But seriously, Toledo is an absolute must-visit for anyone exploring Spain, and worth allocating a whole weekend!
Let me show you the best places to visit, where to eat, and options for staying a night in so you can enjoy the coolest spectacle that only happens at night: Puy du Fou, the ideal place to complete your visit to Toledo, where you'll travel in time with shows about the life of the Cid Campeador, the Visigoths, Christopher Columbus, and other historical figures.
Toledo is really special in a way that captures our culture, history, and nature, allowing you to appreciate the passage of time. Let's dive into it!
---
What is Toledo?
Toledo is a beautiful city nestled at the top of a hill, offering stunning views of Castilla-La Mancha in central Spain.
You may have heard of Toledo as the city of Three Cultures. This is because churches, synagogues, and mosques coexist. The city has a unique blend of Christian, Jewish, and Muslim influences, which make it rich in history, art, heritage, culture, and gastronomy.
With so many fascinating landmarks and things to see, Toledo is genuinely one of Spain's friendliest and most welcoming cities.
It is easy to access as it is just 71 kilometers from Madrid and also has efficient road connections and a high-speed railway line.
This makes it an almost mandatory destination for foreign visitors coming to Spain. Also, Toledo is a typical place for locals to escape on a weekend getaway.
Best Things to Do in Toledo
1. Toledo Cathedral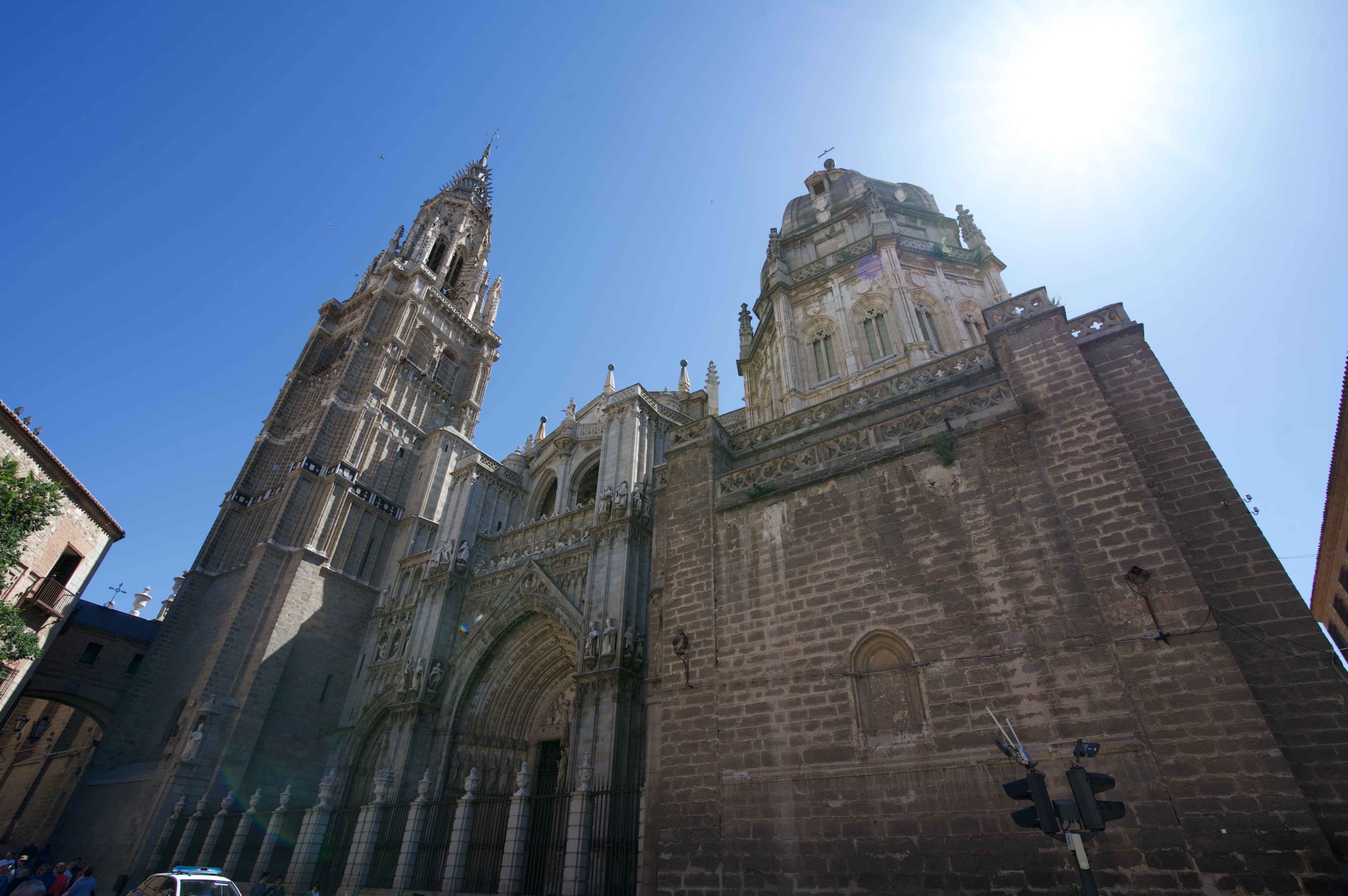 In the heart of the city of three cultures, Toledo, where Christians, Arabs, and Jews coexisted, a large Gothic cathedral stands next to the Jewish Quarter, surrounded by churches that once were mosques or synagogues.
The Toledo cathedral did not escape this fate of reconversion, except that the main mosque, the most sacred place for Muslims, was chosen to transform it into the great Christian temple that the victors needed. 
It is a genuine work of art worth visiting for any traveler!
After the reconquest in 1085, Alfonso VI promised to respect the great mosque in exchange for surrendering the city without bloodshed. Still, this promise was not faithfully fulfilled. Although the architecture of the building remained still, it was adapted to dedicate it to Christian worship.
This was the case until the 13th century when Ferdinand III decided that the time had come to raise a grand temple. The first stone was laid in 1227, while the last vaults were laid at the end of the 15th century.
2. Alcázar de Toledo
Locating the Alcázar of Toledo is an easy task for anyone, wherever they come from. If you do it from Madrid, the most common thing that stands out in the solid rock of Toledo is the Alcázar, grandiose and elevated, as befits an ancient fortification of the first order, within the walls of the city, but at the same time dominating this.
It is at the eastern end of Toledo, next to the Alcantara Bridge and the Santa Cruz Hospital, today an Archaeological Museum, and a few meters from the Plaza de Zocodover.
It has an impressive and extensive history. Its location is in the most dominant place in the city, which it was taking advantage of from the first centuries to locate the corresponding fortress.
3. Monasterio de San Juan de los Reyes
Trust me, you don't wanna miss the awesome story that's within these walls. It's seriously outstanding and totally worth your time.
In 1476, the troops of Isabel and Ferdinand, the Catholic kings, emerged victorious in a decisive battle over Juana la Beltraneja in Toro. She was Henry IV's sister who had claimed the throne of Castile.
After her victory, the Catholic Monarchs decided to commemorate it by building a convent that would become her mausoleum.
They chose one end of the Jewish neighborhood of Toledo and the designer who got along best with the queen: Juan de Guas.
Things became complicated when the cathedral canons opposed the creation of a competing chapter. In addition, the Kings achieved the seemingly impossible dream of taking Granada.
Then, San Juan de los Reyes remained as a convent and was entrusted to the order of San Francisco.
Come on in and see for yourself!
4. Jewish Quarter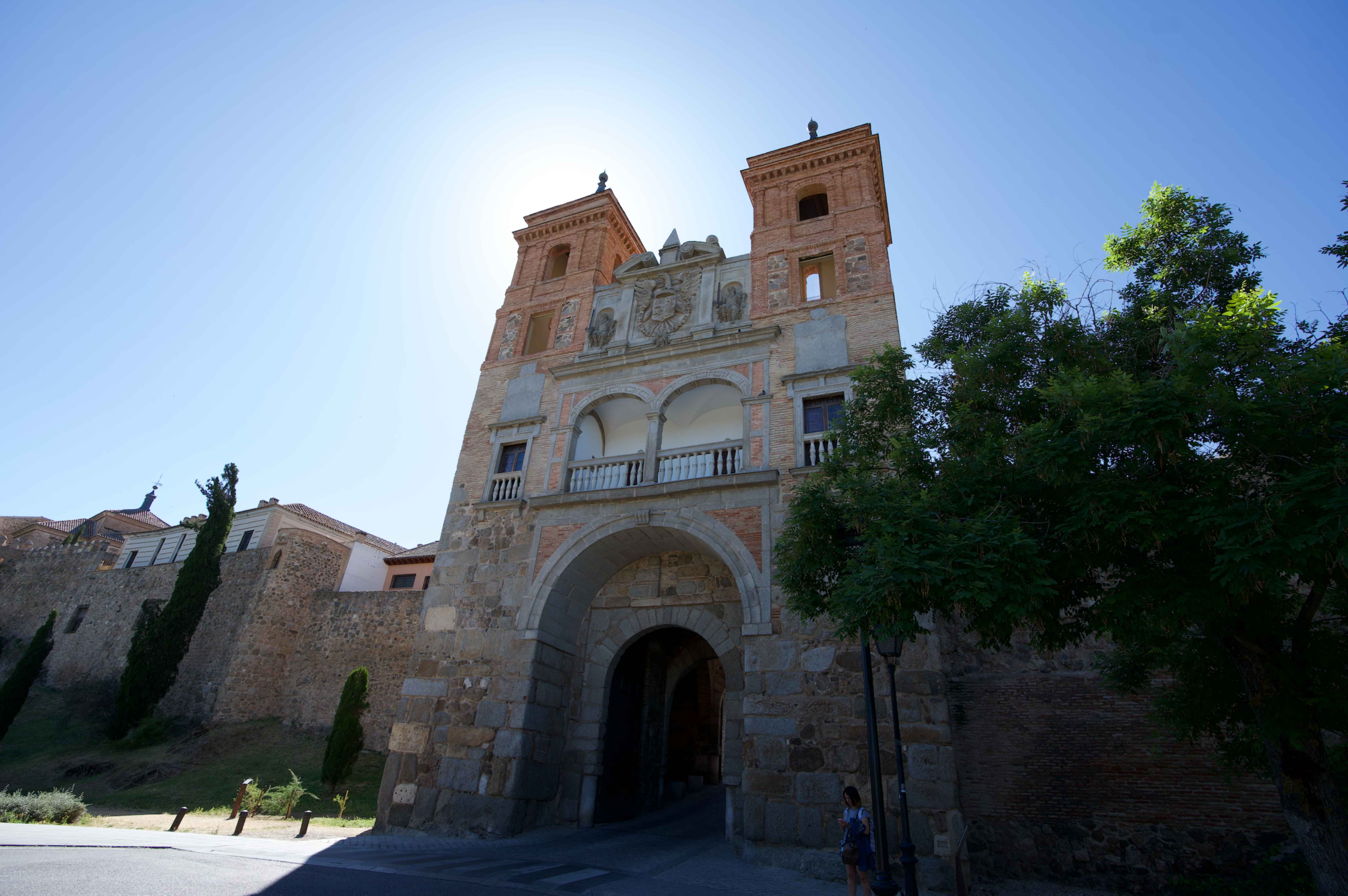 You can access the Jewish Quarter from the current Puerta del Cambrón, where the Jewish community built a little neighborhood that looked like a mini city in the Middle Ages. 
It has many narrow streets and enchanting doors, and some walls and passages connect different areas within the Jewish Quarter and the rest of the city.
The area has several important spots that are worth mentioning. These include the ancient Jewish Quarter, Santo Tomé Street, which served as the main entrance to the Jewish Quarter during the 15th century, the Assuica and Arrianza neighborhoods, the Montichel fence, the Alacava neighborhood, which was the most populated, and the Bab Alfarach neighborhood.
It was the most populated and richest Jewish Community in the 12th and 13th centuries.
If you have enough free time, why not visit some markets or arab baths nearby? And while you're at it, don't forget to visit the beautiful Museo del Greco and Santa María la Blanca synagogues. They're definitely worth visiting!
5. Celebrate Corpus Christi
Toledo is one of the most important and symbolic places for the Corpus Christi Procession. Preparing the city streets to celebrate this day takes over a month! They are decorated with awnings, aromatic flowers, and arches of green branches. 
The Cathedral is the starting and ending point of the Corpus Christi procession. As it moves through the city's charming streets, you can glimpse various highlights, such as Cuatro Calles, the famous Zocodover Square, or even the narrow Alfileritos Street. 
It's a truly magical experience to witness the procession move slowly through the city, surrounded by a large crowd. You're in for a treat if you ever get the chance to see it firsthand!
House owners decorate their balconies with flags, banners, and other ornaments. Some streets adjacent to those where the procession passes and the patios of private homes are also decorated. 
So, any place is good to witness the passage of the Corpus Christi procession. 
Best Time to Visit Toledo
The best time to visit Toledo is undoubtedly during Spring (April-June). The city comes alive with bustling streets, fun festivities, and picture-perfect weather. Plus, if you plan ahead, you can enjoy all of this at moderate prices. It's definitely an experience you don't want to miss!
| Season | Temperature | Max Temp (°F) | Max Temp (°C) | Min Temp (°F) | Min Temp (°C) |
| --- | --- | --- | --- | --- | --- |
| Summer | Warm to Hot | 86-95°F | 30-35°C | 57-64°F | 14-18°C |
| Autumn | Mild to Cool | 64-77°F | 18-25°C | 43-54°F | 6-12°C |
| Winter | Cool to Cold | 41-54°F | 5-12°C | 30-41°F | -1 to 5°C |
| Spring | Cool to Warm | 57-73°F | 14-23°C | 41-54°F | 5-12°C |
How to get to Toledo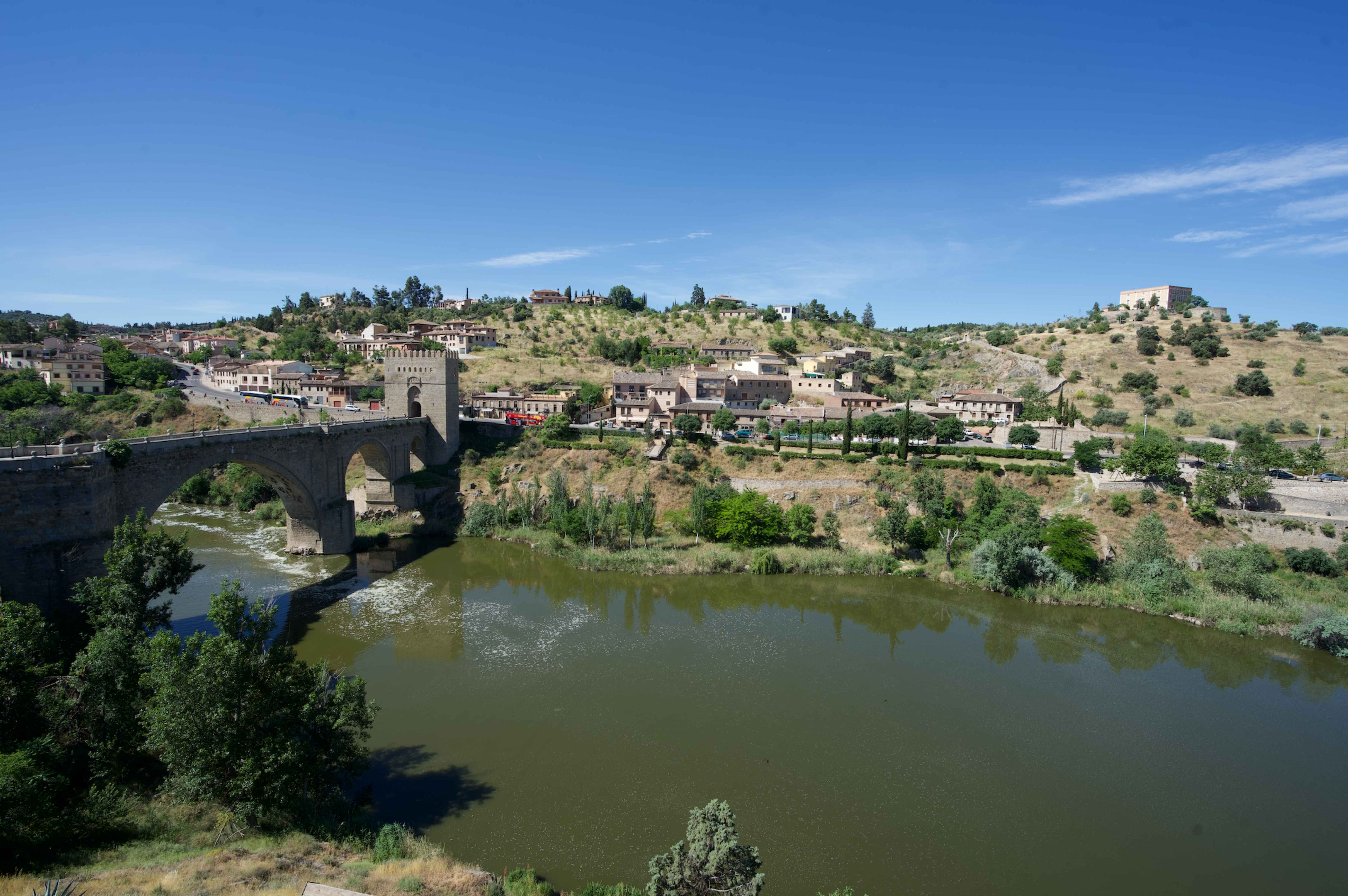 The biggest city near Toledo is Madrid, so you may visit this town for a weekend getaway or a day trip from Madrid.
The cheapest way to get from Madrid to Toledo is by taking an ALSA bus that leaves from the Plaza Elíptica station.
The price is around €10 for a round trip, and the duration is about 50 minutes if it is direct, or 1 hour and 25 minutes if it stops in some towns.
The comfiest and fastest way to get from Toledo to Madrid is to take the high-speed AVE train that leaves from Atocha Station.
Trains leave every hour, but buy tickets the day before at the latest to avoid any issues. Tickets are around 22.20€.
Once you arrive, you'll easily find your way to the city center, as it is very close. Another option is taking an urban bus that costs around 5 €. I suggest walking instead.
How to get to Puy du Fou: It is located just outside Toledo. You can access the park via CM40 (Exit 13). Just 55 minutes from Madrid by car.
Where to Eat in Toledo
Have a wonderful gastronomic experience at Restaurante Victor Sánchez-Beato
Have lunch with a view in Hierbabuena
Taste traditional food in Taberna Botero
Eat local at Restaurante Fábula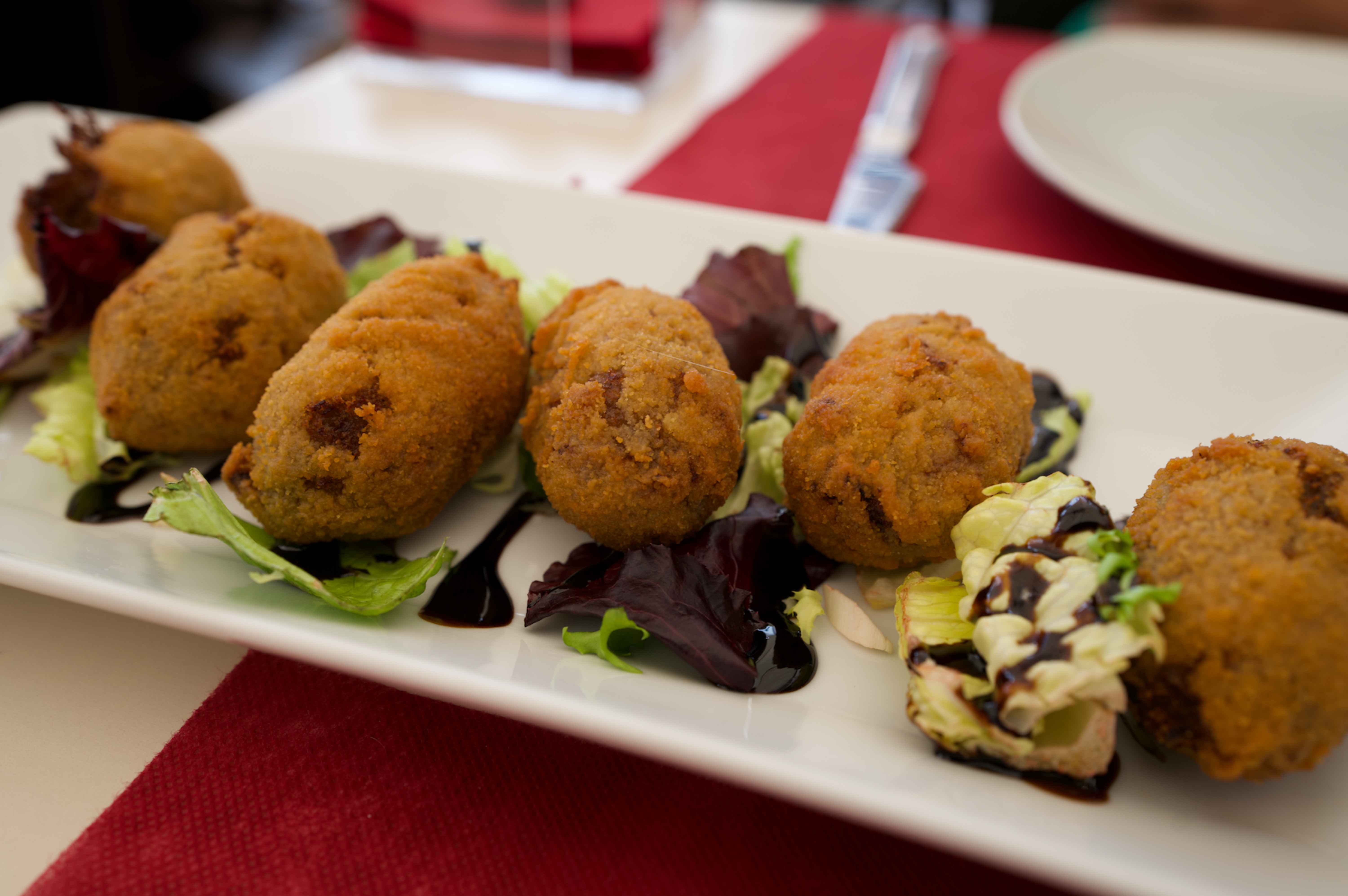 Where to Stay in Toledo
Stay in a convenient location at Adolfo Hotel Boutique
Have a luxury stay at Eugenia de Montijo Hotel
Budget-friendly stay at La Posada de Manolo
How much does it cost to visit Toledo?
Request information: hello@sensationalspain.com
How much money you need for your trip to Toledo depends on many things, such as how many people are traveling, the type of activities you want to do, accommodation, the duration of your stay, restaurants, and most importantly, the time of year.
To help you more accurately, please don't hesitate to reach out to us via email! Share the details of your desired trip to Spain, and we will provide you with a price estimate and offer local advice for all your travel needs. 
Choose your Spain Itinerary
1 Day in Spain? 10 Best Things to Do in 24 Hours!
2 Days in Spain: Trip Ideas & Itineraries to Enjoy Your 48h
3 Days in Spain: What's the Best Itinerary for Your Trip?
4 Days in Spain - Best Travel Itineraries for Short Trips
5 Days in Spain: Itineraries to See (almost) Everything!
6 Days in Spain: The 3 Best Itineraries for Your Trip!
7 Days in Spain: The 3 Best Itineraries for Your Trip!
---
I promise this visit is worth it! Give Toledo a try, and let yourself be amazed by the history and enchanting streets of this medieval city.
Tell us about your experience in Toledo, or ask any questions. We are happy to read you! :)