How Many Days to Visit Mallorca? Best Tips & Itineraries
October 4, 2023
Updated:

October 6, 2023
Published: October 4, 2023
Ready for the most amazing five days of your life? This five-day itinerary in Mallorca will take you through a beautiful journey of beaches, nature, old towns, and relaxation.
The point of traveling to such idyllic places is to rest, enjoy, and be happy. I have created an itinerary throughout Mallorca that will help you experience a bit of all the good things the island has to offer.
During your trip, you will also find some breakfast and lunch recommendations to smooth the search for these places.
At the end of the article, you will also find very helpful information about transport, weather, things to do in Mallorca, and much more.
How Many Days to Spend in Mallorca?
When planning your dream escape to Mallorca, finding the optimal duration for your stay is an important decision. With its diverse offerings of amazing beaches, historic sites, and captivating landscapes, Mallorca is a place to relax, explore and enjoy. 
Some say that three to four days is the minimum stay in Mallorca. But after careful consideration and reviewing activities, the perfect amount of time to spend in Mallorca is five days, offering a balanced experience of its diverse attractions and laid-back island lifestyle. 
Why Five Days in Mallorca?
Five days in Mallorca provides a complete experience encompassing popular attractions and lazy beach afternoons. It gives you plenty of time to immerse yourself into the heart of Mallorca without feeling rushed but instead like one more local. 
What to expect from your itinerary in Mallorca?
The following itinerary was thoughtfully curated to show you all of the island's beauties. From the unique La Seu Cathedral in Palma to Serra de Tramuntana, this itinerary will create a complete memory of Mallorca.
To make the most of your Mallorcan experience, consider arriving in the morning on Day 1 and departing in the late afternoon or early evening on Day 5. Or, even better, make your arrival and departure day two extra days, so traveling doesn't take time from the important activities.
Five days in Mallorca: Full Itinerary
Day 1: Exploring Palma de Mallorca
So, for five days in Mallorca, especially if you are a first-timer, the best thing is to arrive and stay in the capital, Palma de Mallorca. 
Remember the previous tip? Please arrive a day before from the start of the itinerary so yuo make the best out of your time on the island.
Morning 
Start your day with a good breakfast and coffee at La Molienda Bisbe and try their spectacular toast with Mahon cheese, which is called Pa Amb Oli.
After charging yourself with nutrients, head to the stunning Cathedral- Basilica Santa Maria de Mallorca, also known as La Seu. This stunning building is the biggest gothic Cathedral in Spain, with a spectacular rosetta crowing the place. 
The basic ticket for the Cathedral is €8, but if you want to go to the roof and see the island skyline or maybe hire a guide, the tickets will cost yuo between €20 and €25. You can get your tickets here! Additionally, arriving early to avoid long queues and enjoy a calmer atmosphere is advisable. 
After visiting La Seu, walk a few steps and explore the Royal Palace of the Almudaina, an official royal residence in Spain. The Almudaina was originally a Moorish "alcazar" built in the 13th century and restructured by the Christian king James II of Mallorca in the 14th century. 
The tickets are available only 90 days in advance.
The tickets to the Royal Palace of the Almudaina are 7€, and you can get a digital guide on your phone for 4€. Check out the tickets here!
Head to Ses Voltes, a picturesque Parc de la Mar square, for charming pictures.
Afternoon
After visiting these two landmarks in Mallorca, you must be starving! Grab a bite at OMBU Passeig del Born, a delicious fusion-tapas restaurant where you can delight yourself with unique dishes. 
During the rest of the afternoon, wander around Palma's Old Town and stroll through the narrow cobblestone streets. Another landmark you can visit is La Llotja, a medical building that used to reunite merchant from the city to exhibit their products. 
Night
Finish the day with some shopping at Passeig de Born, the most famous street in Palma de Mallorca, for renovating closets. You can find different types of stores, from luxury to fast fashion. What you are looking for will be right there. 
Finally, get some dinner at La Bodeguilla, close to Passeig de Born in Carrer de Sant Jaume, 3.
Day 2: Cala Day in Mallorca
Morning
I told you your days in Mallorca would be the perfect combination of popular landmarks and a lazy, peaceful time at the beach. 
To get to this cala, you will need to rent a car. To travel to Mallorca, renting a small car or a motorcycle is best.  
So, the activity of your second day in Mallorca is enjoying a day at the beach. For this, it would be best to arrive early, maybe around 10:30 or 11, to get better spots in the public parking. 
After parking your car, you must walk fifteen minutes to the beach.
As you will be spending a day at the beach, take a picnic with you to avoid moving from the beach and losing your parking spot; additionally, remember your snorkeling gear to explore the underwater beauty.
Afternoon
In the afternoon, you can drive north to Cala Anguila-Cala Mendia, which town has a restaurant for you to get some lunch. Get some food at Bar & Restaurant Chringo to try some traditional beach day tapas. 
 After eating, take a walk through the town and then enjoy the last bits of the sun in S'Estany d'en Mas.
Night
Drive back to Palma de Mallorca around 6 pm or 7 pm to ensure you will find a place to eat dinner.
Day 3: Hike Through Sierra Tramuntana & Sóller
On your third day in Mallorca, you will explore Sierra Tramuntana, Deia, and Sóller; on this day, you will experience a moderate exercise level, amazing views, and delicious beach moments. 
Morning
So, today, you also have an early start, get some light but energetic breakfast at your hotel or Airbnb, get some smoothies and coffee, and travel to Deià.
You have two options to get to the hiking route: the drive from Palam de Mallorca to Deià is 50 minutes, or the bus takes a similar time. The hiking route goes from Deià to Port Sóller, where you can get well-deserved beach rest. 
This hiking route is part of AllTrails suggestions, and I will link you to the website right here for further details AllTrails: Deià - Port de Sóller. 
The trail lasts approximately four hours, and once you complete the trail, you will find yourself in the stunning area of Port Soller. 
Afternoon
By now, you must be starving! A few more steps won't make the difference, so open Google Maps and find El Sabor, a great restaurant by the beach where you can get delicious dishes such as patatas bravas, croquetas, and fresh fish.
Eat calmly, take some coffee, and once you feel ready, head to Sóller Beach to enjoy some time under the sun, resting your feet from the hard work they did during the hike. 
Evening
If you didn't take the car, this is your chance to ride the traditional tram from the port of Soller to the main town. If you have time, visit the Gothic church of Sant Bartomeu de Sóller, and after that, take the train back to Palma de Mallorca. 
Day 4: Adventure Alcudia & Pollença
Morning
Now is the time to explore the north side of Mallorca! On your fourth day in the island of Mallorca, you will explore the cities of Alcudia and Pollença. 
It is very easy to arrive at any of them, but we will start the day with Alcudia. Alcudia, just like Pollença, the town you will visit in the afternoon, was a Roman settlement famous for the Platja de Alcudia with crystal clear waters and white sand.
Again, if you didn't rent a car, you can take the bus from the main station in Palma de Mallorca, the ride is 8 euros, and it only takes one hour. 
Once in Alcudia, you must visit the Medieval Wall, the Porta de Vila Roja, Portal del Moll, and the neo-gothic church of Sant Jaume d' Alcudia. 
After that, head to the beach Platja del Muro or to the Platja de Alcudia.
Afternoon
Change coastal towns and take a bus to the neighboring town of Pollença. 
I imagine you must want to have lunch by now, so head to La Trencadora in the old town. It is an Italian restaurant with homemade pizzas and pasta that I am sure you will love!
After you recharge your energy, look around the old town of Pollença. Venture through its Roman bridge, the Church of Maria Pollença, the Plaça Major, and the Cavari Hills.
On top of all, two things you can't miss in Pollença are the Cala de Formentor and Cap de Formentor Lighthouse, with breathtaking ocean views. 
If you are not driving a car, an alternative but equally fantastic place to visit is the Cala and lookout of El Colomer. It is an 11-minute drive from Port Pollença or an hour's hike. 
In case you decide to take a taxi to the lookout, ask them if they can wait for you or ask for his or her number so you have a secure drive back to the port.
Night
From Pollença, take a bus back to Palma de Mallorca and rest for the night!
Day 5: Day Trip to Ibiza
Morning
Your trip to Mallorca should end with an appetizer of a future trip: Ibiza. Now that you have traveled almost the entire island of Mallorca, it is time to prepare for your following holidays by looking at the beautiful old town of Ibiza. 
Take an early ferry to the island of Ibiza and have some breakfast at Arabay Coffee. The Ferry from one island to another will cost you between €50 to €100 depending on the company and discounts available on that day. 
Try to book all your ferries and tours ahead of time; otherwise, the prices might be crazy expensive. You can compare ferries prices with Direct Ferries.
Afternoon
After you get a good breakfast on the island, start exploring the old town called Dalt Vila.
You should know that Dalt Vila is one of the oldest towns in Europe, founded by the Phoenicians and occupied by Romans, Moorish, and Spanish; this town is a UNESCO World Heritage site that you must see at least once in your life visit to Spain.
While you are exploring, you must see the Castell d'Eivissa, the Cathedral of Our Lady of the Snows, and the Portal de Ses Taules ( ancient entrance to the old town).
This is a full list of the places you must visit in Ibiza:
Baluard de Sant Pere
Baluard de Sant Jaume
Museu d'Art Contemporani d'Eivissa (MACE)
Puig des Molins
Plaça de Vila
Ses Taules Gateway
Santa Lucia Bastion (Baluard de Santa Llúcia)
Ses Taules Bastion (Baluard de Ses Taules)
S'Hort des Fassers
Ses Taules Street
Can Ventosa Cultural Center
You can grab lunch at La Brasa de Ibiza at Carrer de Pere Sala, 3. After eating, stroll along the marina, where luxurious yachts are parked away and waiting to be sealed. 
If you have some extra time, visit the Platja de Talamanca and have a relaxed afternoon on one of the most popular islands worldwide. 
Night
Hope on your ferry back to Palma de Mallorca, prepare your bags for the flight the next day. If you didn't rent a car (to take yourself to the airport), then make sure to ask the hotel to help you book a cab in advance. 
Palma de Mallorca doesn't have Uber, so you won't be able to call a ride whenever you want. 
Top Attractions You can't miss when you visit Madrid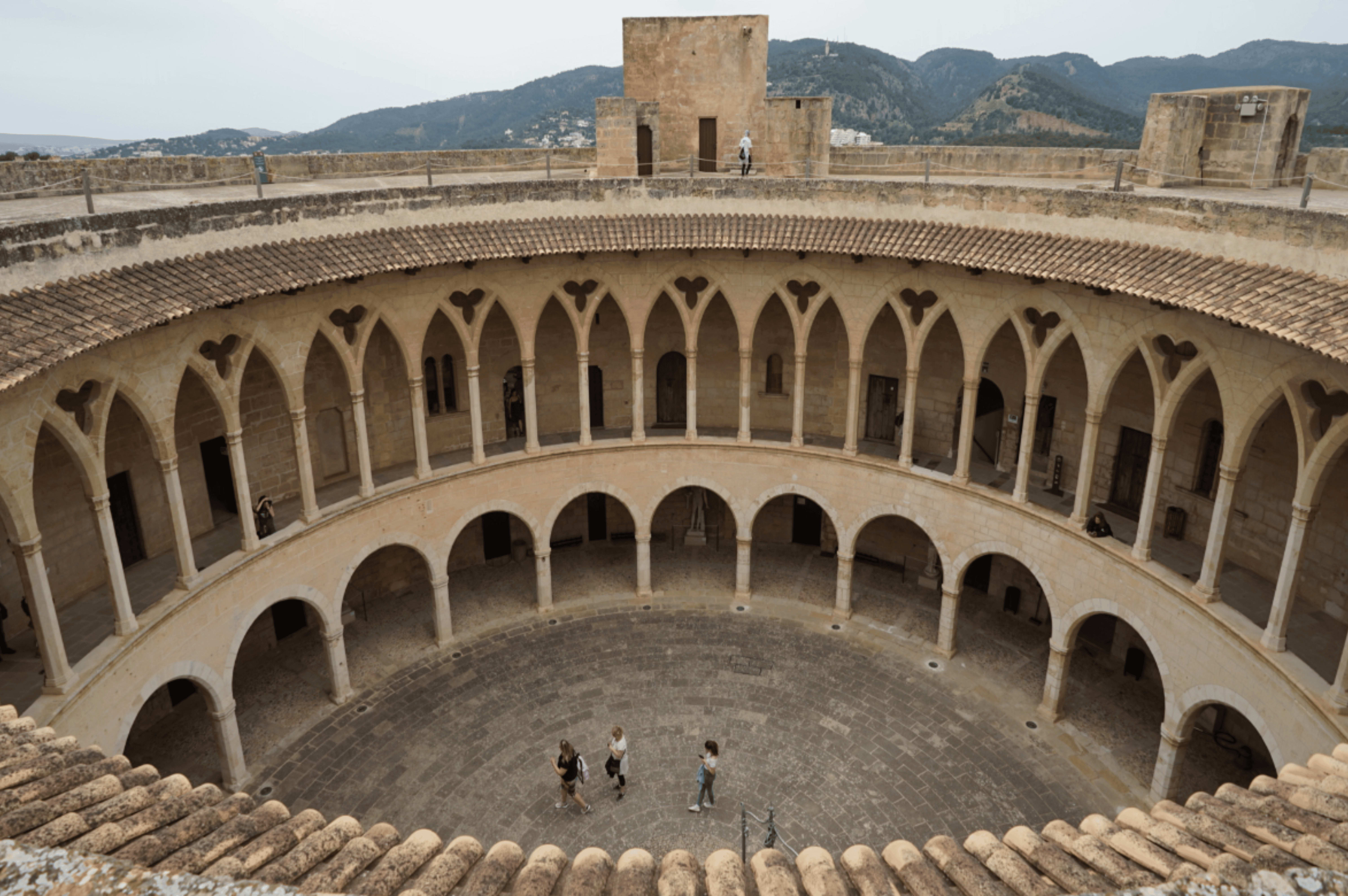 Now, in this list, I will summarize all the must-see and do landmarks and attractions in Mallorca. In case you have more days or simply want to add more activities to your free itinerary in Mallorca, this list will be a very helpful resource.
Castell Bellver
Castell de Capdepera
Castell de la Punta de n'Amer
Castell Santueri
Drach Caves
La Seu Cathedral (Palma Cathedral)
Palace of the Almudaina
Serra de Tramuntana
Cala Varques
Valldemossa
Alcudia Old Town
Pollensa (Pollença)
Roman Ruins of Alcudia
Market Day in Alcudia
Torre del Verger
Deià
Robert Graves Museum
Coastal Drive: Valldemossa to Banyalbufar
Banyalbufar
Manacor: Rafael Nadal's hometown
What is the best time to visit Mallorca?
Even though Mallorca and most of the Balearic islands are packed in summer, specifically in August, the best months to visit are June, September, and the beginning of October. 
During these months, the tourists wave has decreased or is yet to arrive, and the weather is delicious, hot during the day, and fresh at night, and you will find more species everywhere to enjoy the island. 
I will link you to our featured articles on what to do in Mallorca each season!
Mallorca in winter
Winter in Mallorca? 7 Best Plans for the Perfect Off-Seaso
Mallorca in spring
Mallorca in Spring: 7 Reasons Why It's My Favorite Season
Mallorca in summer
Summer in Mallorca: 13 Best Things To do (or Avoid!
Mallorca in autumn
Top 9 Reasons to Visit Mallorca in Autumn
Extra resources to visit Mallorca
Now I know all of the following articles will be very handy while planning your trip to Mallorca, especially information on moving around Mallorca and restaurants.
I will link everything down below!
Landmarks & Attractions in Mallorca
17 Best Things to do in Mallorca: Top-Rated Attractions!
15 Best Tips & Tricks to Enjoy Mallorca to the Fullest!
Top 13 Famous Landmarks in Mallorca that aren't Beaches
The 10 Best Museums in Mallorca You Must Check Out!
9 Best Shopping Places in Mallorca: Streets, Outlets & Mor
Food & Drinks
11 Best Bars in a Mallorca for a Fun Evening
The 9 Best Restaurants in Mallorca: A Food Lover's Guide!
11 Best Markets in Mallorca to Explore Food & Crafts
11 Dreamy Cafes in Mallorca for the Greatest Coffee
Party Mallorca
11 Best Party Spots in Mallorca for a Night Out
Nature & Beaches in Mallorca
9 Best Beaches & Hidden Calas in Mallorca by a Local
7 Most Beautiful Towns in Mallorca: Authentic Local Gems
Top 5 Best Beach Clubs in Mallorca: Enjoy the Island's Vibe!
Accommodations in Mallorca
9 Best Hotels in Mallorca for the Vacation of a Lifetime
9 Best Places to Stay in Mallorca: Your Ideal Island Guide
Transport in Mallorca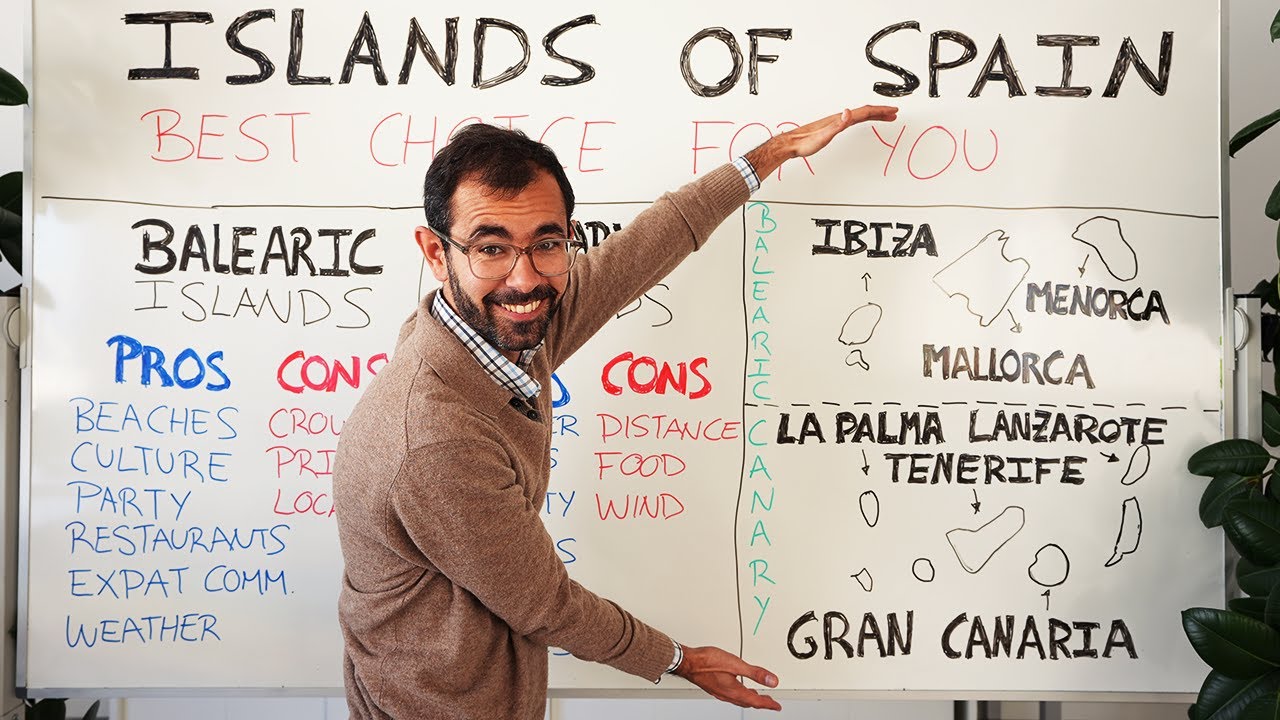 How to Get Around Mallorca: 9 Tips I wish Someone Told Me
---
I hope you liked this five-day itinerary in Mallorca; feel free to change some landmarks for others on the list to make your trip as personalized as possible. Afterall, traveling is about you, not what Instagram or other people say.
If you have any questions, let us know!
Happy travels!