Travel to Lisbon: 7 Best Attractions, Food & Activities
October 10, 2023
Updated:

October 18, 2023
Published: October 10, 2023
If I am fully honest, I traveled to Lisboa two years ago, and while planning the trip, the city didn't excite me that much. My mom wanted to visit Lisboa for a while now, and I wanted to make her wishes come true.
So, I followed my usual planning process: read about the city, set a budget, researched and selected all the landmarks and things to do in Lisboa, created itineraries depending on the hotel location, and finally chose some cafes and restaurants.
I arrived in Lisboa by train from Oporto. The sights were stunning: ocean view, comfortable seats, and smooth ride. That was when my heart began clicking, a train with an ocean view!
It was early June, and the heat was intense! We took a taxi from the train station to the hotel. The ride was smooth; I remembered my former roommate and one of my dearest friends wishing me luck on my job interview at noon in Spain (I had an online video call to land my first job).
I remember being totally confused because my phone marked 10:49, and that was when I realized Portugal was an hour earlier than Spain.
While I was in the interview, my family left the hotel. After it was done, I walked to them. I remember feeling safe and enjoying the peaceful vibe you could get from people.
Long story short, I was truly impressed and in love with Lisbon by the journey's end. I spent only three days, and I need at least three more to complete my dream itinerary fully.
In this article, you will find all the general information you need about Lisbon, including some nice tips for when you go.
What is Lisboa, Portugal?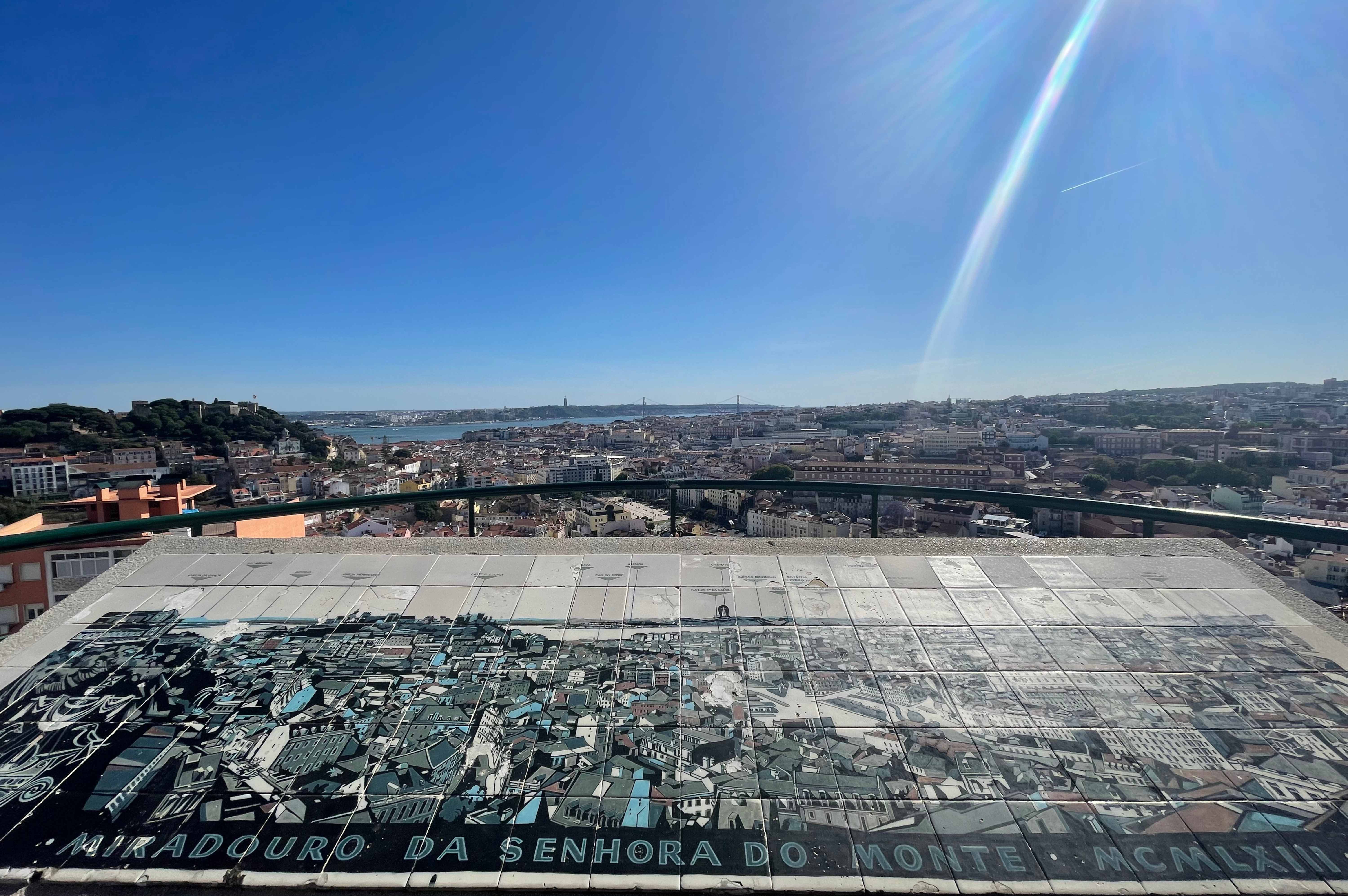 Lisboa, often called Lisbon in English, is Portugal's capital and largest city, with Porto as second and less-known Vila Nova de Gaia as third most populated city. 
Lisbon is located in the western part of the country, along the Atlantic Ocean coast, and it is famous for its stunning blend of old-world charm and modernity. 
Best Things to Do in Lisboa
1. Explore Alfama and Barrio Alto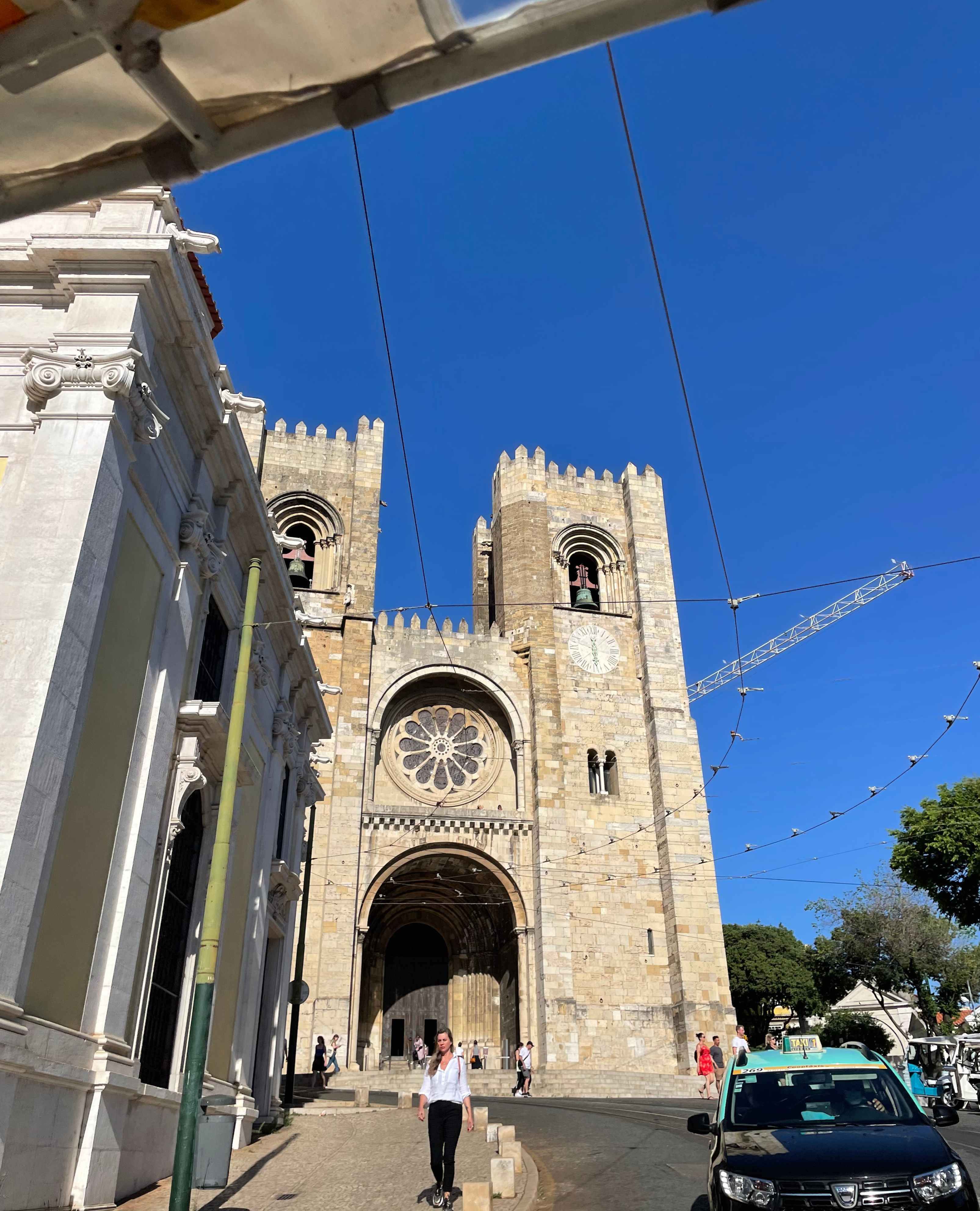 Barrio Alto and Alfama are two of the oldest and most visited neighborhoods in Lisbon. 
During my time in Portugal, my family and I stayed at the Hotel Botanico in Barrio Alto. Wandering around the area showed us charming and picturesque houses typical of Lisboa. 
By staying there, we were close to the following landmarks and attractions:
Liberdade Avenue (famous for shoppping)
Praça dos Restaurandores (where you can hire a tuk tuk)
Rossio Train Station with a Neo-Manueline style from the 16th century
Santa Justa Elevator (beautiful views)
If you move to Alfama, you will be in one of the older neighborhoods in Europe. It was settled by the upper class of the city around the 12th century, and it was also known as the Jewish Quarter. However, when the Jews and other non-Christians were expelled from Portugal, the neighborhood was left to the fishing community. 
What can you see if you are in Alfama:
11th-century Sant George Castel
The Cathedral of Lisbon
Portas do Sol Viewpoint
São Vicente de Fora Monastery
National Pantheon
Santa Luzia Viewpoint
2. Visit the Belém Tower & Jerónimos Monastery - UNESCO World Heritage
Not far from Lisbon lays the Belem Tower and Jeronimos Monastery; you can get there from the city center of Lisbon by train via Cascais or the bus line 15E.
The Belém Tower is a 16th-century building constructed when Portugal ventured through the seas to conquer new lands. The tower served as a fortress from where explorers sailed to the new lands. Years later, the Belem tower was also used as a prison and a tax house. 
Once you get off the bus, you must walk approximately 15 minutes to the tower, and there are long lines to buy tickets!
I suggest you get your tickets online on the official webpage of the historical landmarks. Once there, the lines are long (especially in summer), and there could even be a waiting time until the ticket office is re-opened.
The Jeronimos Monastery is a building from the 16th century with a "Manuelin" style (Portuguese version of the Gothic architecture). It is worth visiting the church and taking a stroll around, as the architecture is awe-inspiring.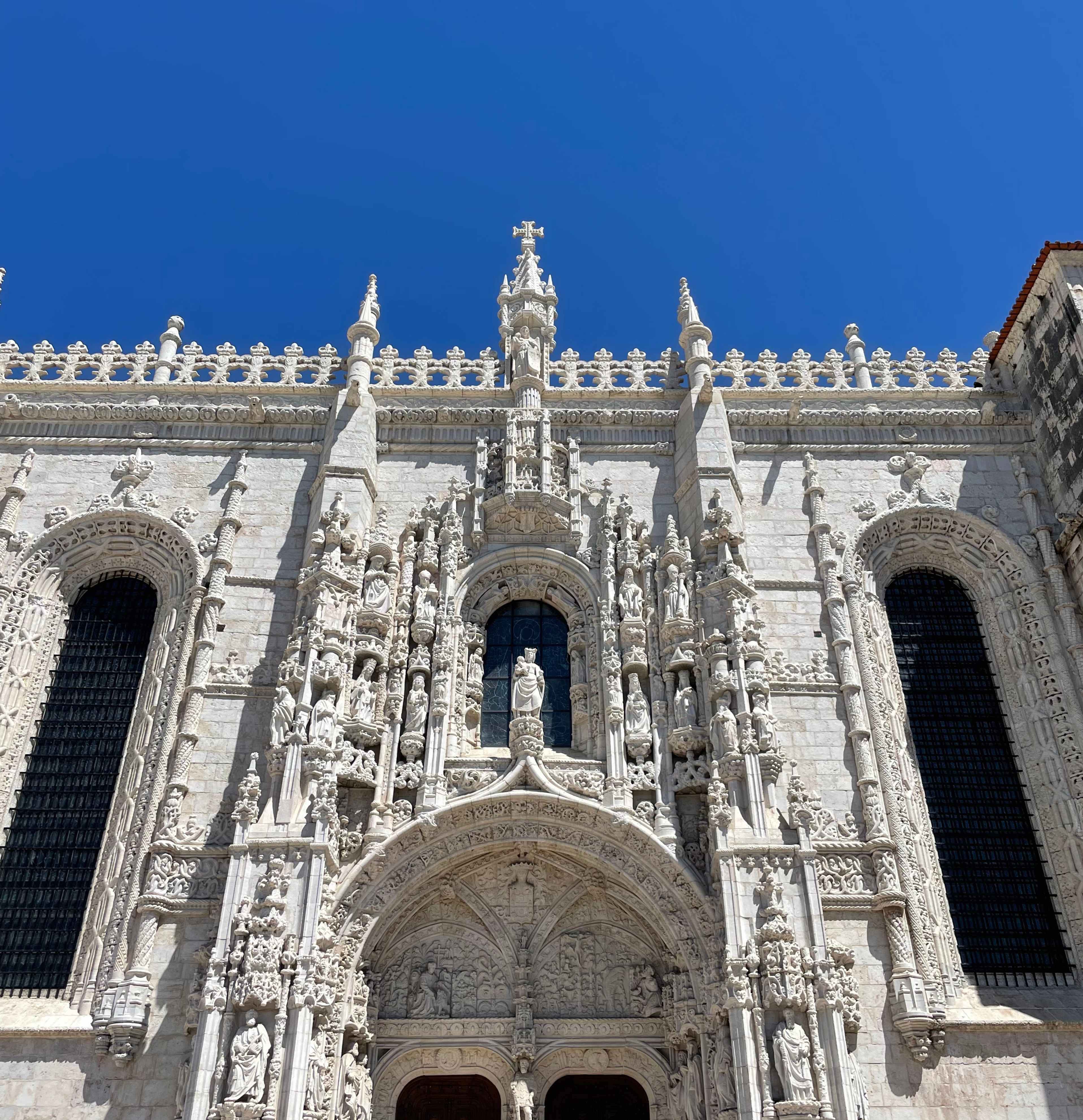 3. Eat Pastéis de Belém!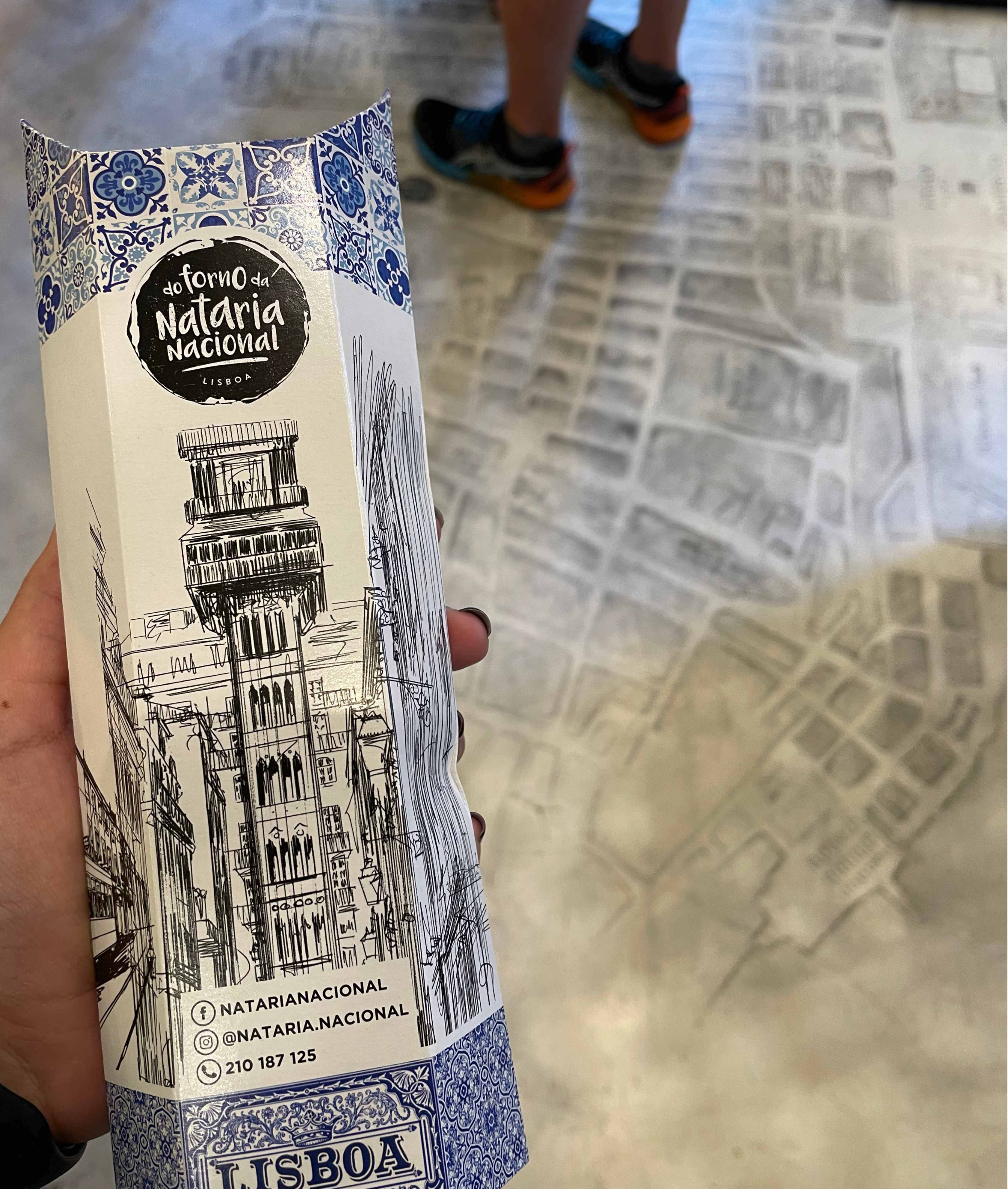 The Pastéis de Belém is a famous pastry from Portugal, and it consists of pastry custard filled with a dough of egg yolk, milk, vanilla, and cinnamon. The original story is a few steps away from the monastery, and it has been baking this delight since 1837.
If you see a long line, ask if it was for the restaurant on the to-go side. When I visited my sister, I waited about 15 minutes and then realized we were in the wrong line; the to-go side moves faster!
4. Ride the tram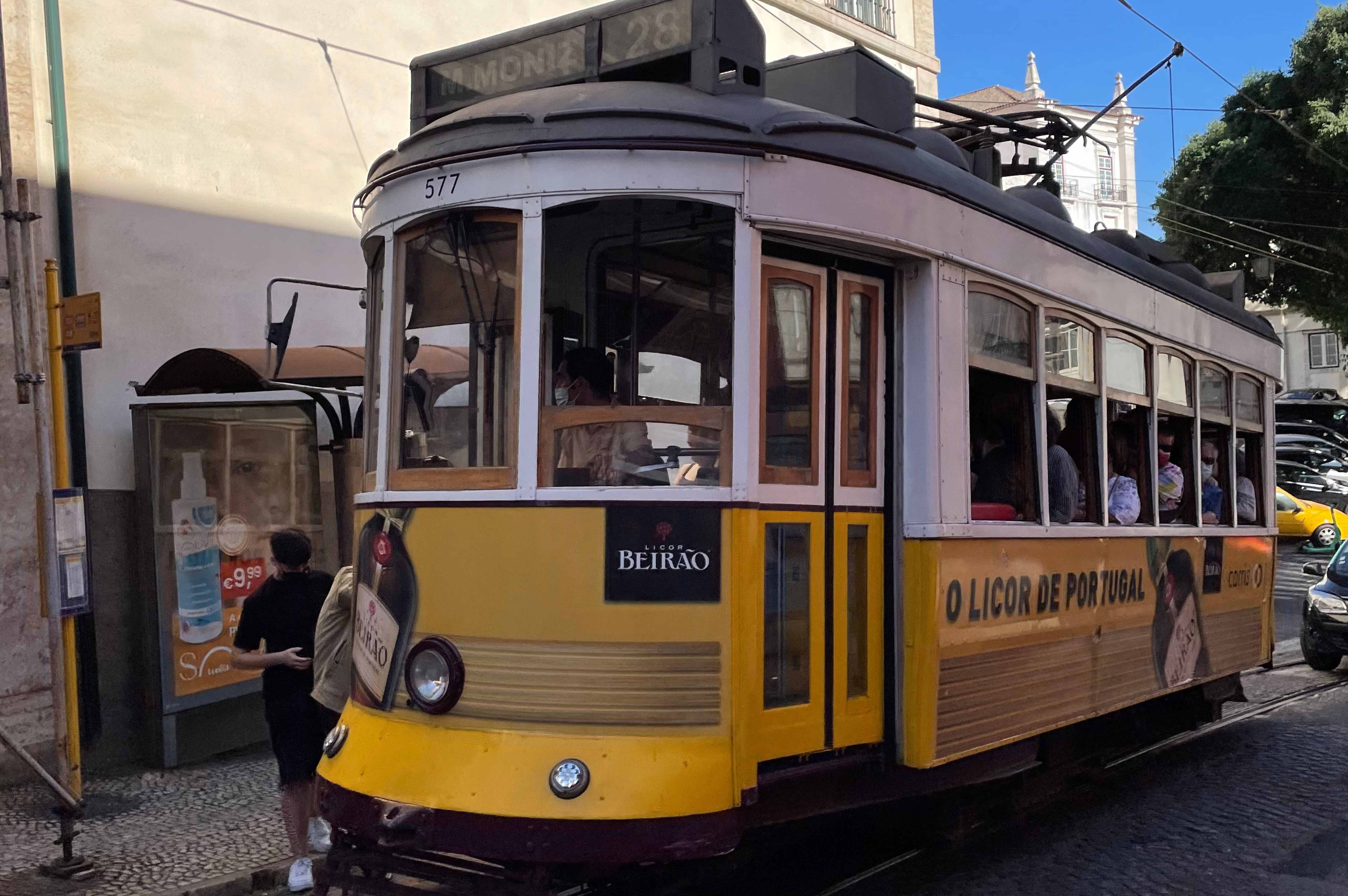 Lisbon's tram is a historical line that has been working in the city since 1873. it used to have 27 lines; today, only six are functioning.
Hop on on tram 28 to see important landmarks and experience the ride! You can get your tickets on the tram and don't forget to take cash with you!
5. Visit Praça do Comercio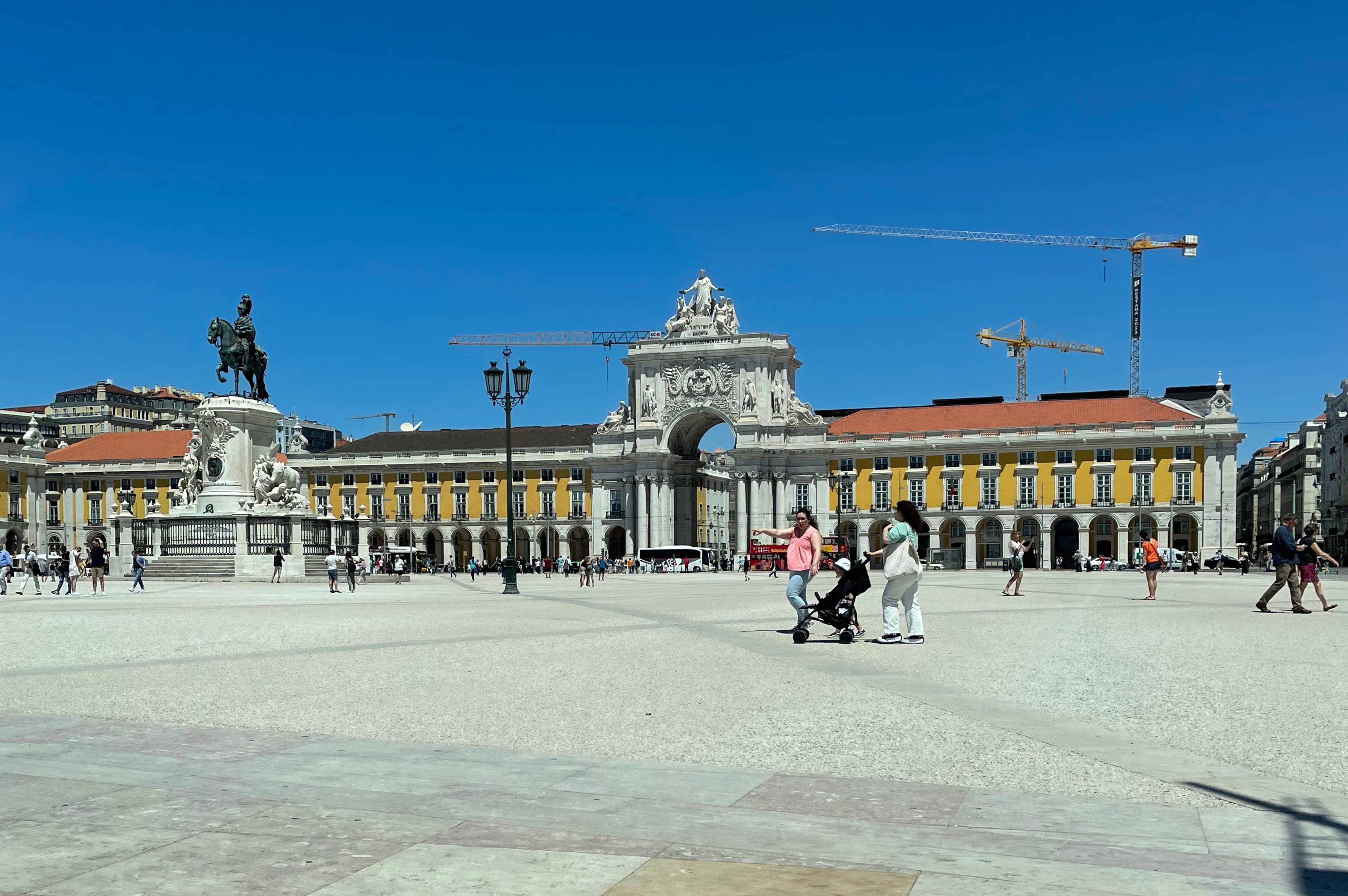 The Praça do Comercio is the 18th-century construction that replaced the royal palace of Lisbon.
The palace was destroyed in 1755 by the Great Earthquake of Lisbon, which nearly destroyed the city.
Today, the plaza is a beautiful place to have some coffee or a glass of wine where you can look at the Tajo River's estuary (even swim in it!).
6. Take a Day Trip to Sintra
Well, I recommend sleeping there for more than a day trip because a day is not enough to appreciate Sintra's beauty. Being a UNESCO World Heritage Town, Sintra is home to stunning castles and Roman ruins, a great example of European Romantic architecture.
In Sintra, beautiful structures like the National Palace of Pena or the Initiation Well would be seen.
7. Enjoy a Fado Music Show
Fado is the equivalent of Flamenco in Spain; it is an Intangible Cultural—Heritage of Humanity filled with passion.
I recommend you book a Fado show during your trip and enjoy one of Portugal's most stunning arts.
How to Get to Lisbon from Spain
Lisbon is well connected by bus and air. There are possibilities to travel by train; you would have to make more than two changes and always depart from Galicia. 
So, you can get to Lisbon from Spain by most airports, but it is constantly better to depart from Madrid or Barcelona as you will get cheaper tickets.
Flying from Madrid to Lisbon can be as cheap as 35 euros round trip if you don't mind traveling with a backpack. You can also take a bus for 36 euros round trip from Terminal 4 of the Barajas Airpot to the Airport Humberto Delgado. The difference is that the flight will take 1h25 while the ride by bus takes 8 hours. 
Another option to get to Lisbon from Spain is going through Oporto first! Oporto is a stunning city in the northern part of the country; you can fly from Madrid to Oporto and then take a train to Lisbon. 
Best Time to Visit Lisboa
Let's clarify: the worst time to visit Lisbon is in August! Just don't do it; the accommodation and tourist costs are endless. 
The best time to visit Lisbon is between March and May; I visited the city in late May and the beginning of June, and the heat was intense. The crowds weren't too big, but the sun was very much to die.
You will find very comfortable weather, better prices, and less crowds from September to November. It is a very pleasant time to visit if you are not planning to visit the beach.
Where to Eat in Lisboa
Brunch & Coffee
The best place to get some breakfast and coffee in Lisboa is Buna Specialty Coffee Shop. Tucked in a narrow street of Barrio Alto, Buna offers coffee from three different roasters and a breakfast menu with different types of pastries. (I bought a bag of Rwanda Origin from SUMO Coffee Roaster, and it is the best coffee I have ever had!)
You must try their filtered coffee, flat white, granola bowl, and avocado toast!
Lunch
If you want to have some delicious and unique Portuguese food, you must go to the terrace of the Bairro Alto Hotel, where the restaurant Bahr.
It is also perfect for some drinks in front of the Tagus River!
Diner
Bistro 100 Maniers is the perfect place to have dinner. You will try dishes from Michelin chefs that create a perfect blend of Portuguese and Eastern European food.  
Must try!
Lisbon offers a rich culinary scene, from traditional Portuguese dishes to international cuisine. Here are some recommendations:
For authentic Portuguese flavors, try Tasca do Chico in Bairro Alto.
For seafood lovers, Cervejaria Ramiro in Intendente is a must-visit.
For a taste of pastéis de nata (custard tarts), head to Pastéis de Belém in Belém.
Where to Stay in Lisboa
Luxury
Located in front of the Eduardo VII Park, the Four Seasons Hotel Ritz in Lisbon is a dream of a place. With two pools, 24-hour room service, and luxurious rooms, the Four Seasons Hotel Ritz is available for an average of 900 euros the night.
Standard
Hotel Lisboa Plaza in Avenida da Liberdade is our standard Portugal accommodation option. Not because it is not amazing, but because the price is more affordable than the Four Seasons. 
For an average of 150 nights, the Hotel Lisboa Plaza offers a central location, a lovely cafe lounge for breakfast or lunch, and a bar for night drinks!
Budget
The Hotel Botanico in Lisbon is not the prettiest or the one with the most amenities, but it is very well located, comfortable for sleeping, and offers an affordable price. 
With an 8.5 ranking in Booking and an average price of 80 per night, I can tell you it is a fine hotel when you need something affordable and centric. 
How Much Does It Cost to Visit Lisbon?
Request information: hello@sensationalspain.com
How much money you need for your trip to Lisbon depends on many things, such as how many people are traveling, the type of activities you want to do, accommodation, the duration of your stay, restaurants, and most importantly, the time of year.
To help you more accurately, please don't hesitate to reach out to us via email! Share the details of your desired trip to Spain, and we will provide you with a price estimate and offer local advice for all your travel needs.
Choose your Spain Itinerary
1 Day in Spain? 10 Best Things to Do in 24 Hours!
2 Days in Spain: Trip Ideas & Itineraries to Enjoy Your 48h
3 Days in Spain: What's the Best Itinerary for Your Trip?
4 Days in Spain - Best Travel Itineraries for Short Trips
5 Days in Spain: Itineraries to See (almost) Everything!
6 Days in Spain: The 3 Best Itineraries for Your Trip!
7 Days in Spain: The 3 Best Itineraries for Your Trip!
---
Now you have all the essential information yuo need before traveling to Lisbon! It is a beautiful city that blends old and modern architecture into one place. A place where history is tangible in each corner.
If you have any doubts, let us know! We are happy to help you with your trip (:
Happy travels!