Spanish Christmas: How We Celebrate a Merry and Bright Holiday
September 28, 2022
Updated:

February 20, 2023
Published: September 28, 2022
What's on your "Reyes Magos" list for this holiday season? I hope it's a trip to Spain since you'll definitely want to come and celebrate with us after I show you how Spaniards celebrate Christmas.
I'll explain what it is like to spend Christmas in Spain like a true local. And I will begin by describing what we do by dates: From the very beginning of Christmas until we remove our Christmas trees on the last day.
But I'll do more than that! I went out to the beautiful streets of Madrid to ask Spaniards how they celebrate Christmas. This is what they had to say: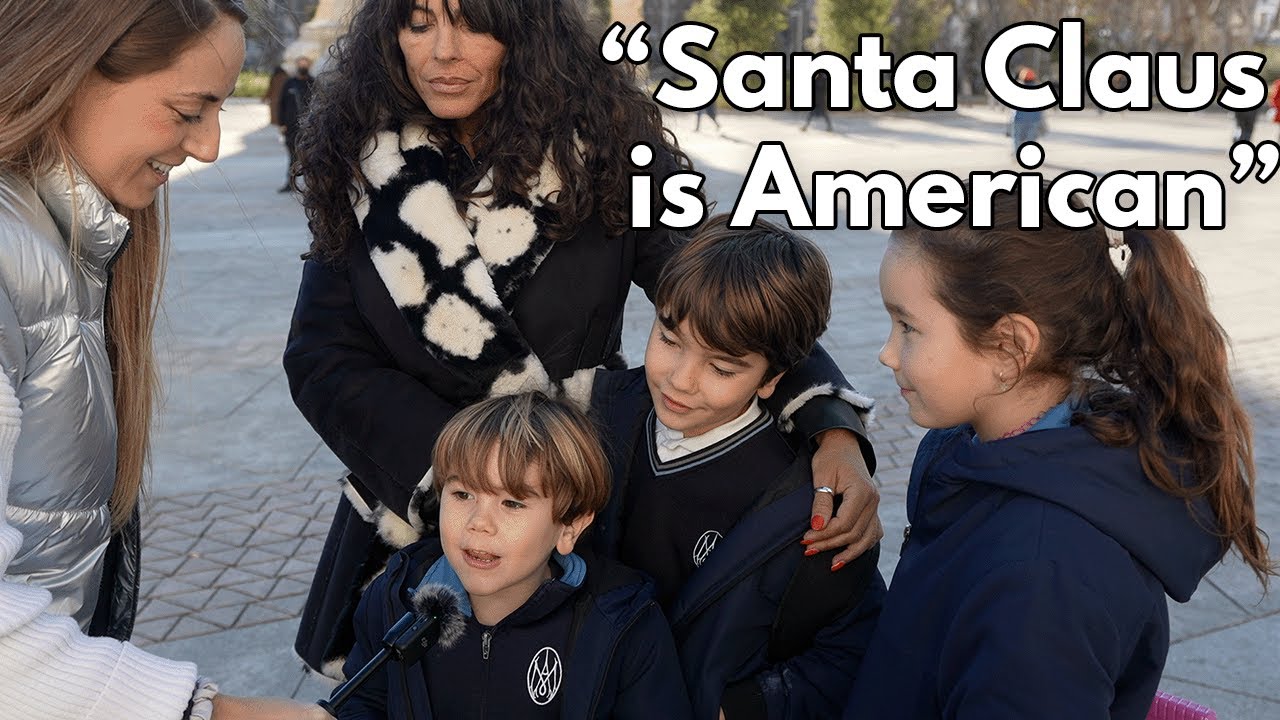 You'll understand how things work here and feel a little magic as I tell you the most beloved traditions in our Christmas calendar!
---
1. Feast of the Immaculate Conception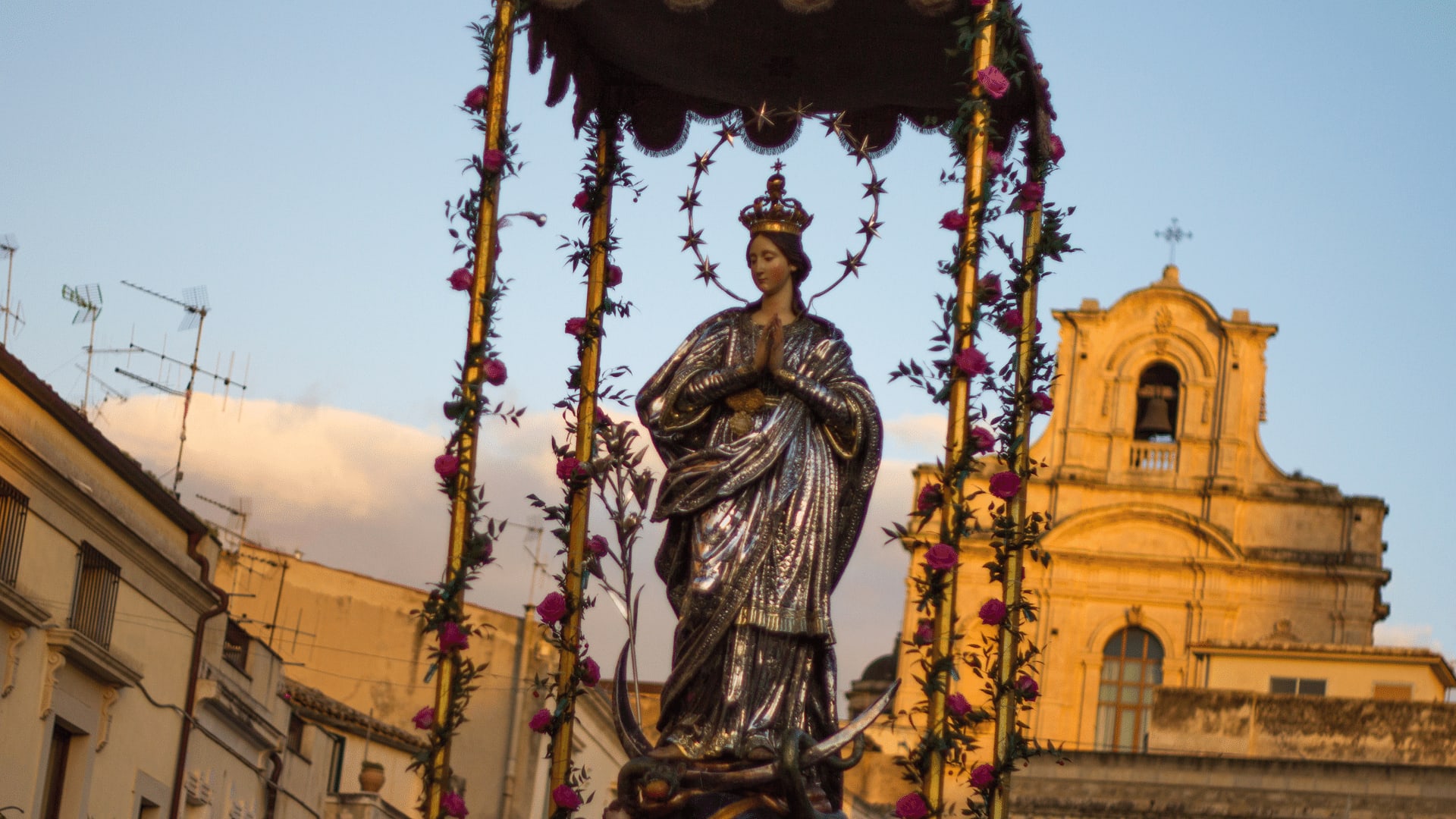 December 8
In Spain, Christmas officially begins on the day of the Immaculate Conception on December 8. This Catholic feast celebrates Mary's conception without sin. 
It is considered a patronal feast day on which many Christians attend special church services for this occasion. Also, many other Hispanic Countries have this holy day as well. It was celebrated for the first time in Spain in 1644, being declared a holiday in 1854 by Pope Pius IX.
Spanish families begin decorating the Christmas tree and the manger during this period! (I Already got chills by thinking about it) 
How is it celebrated?
In Andalusia (Cádiz, Málaga, and Tarifa), they carry out their Rosaries to practice their prayers on the streets instead of the churches. It is also a national holiday, and the The Virgin Mary was proclaimed patronness of the ecclesiatical body ot the army and of Spain.
2. "Nochevieja Universitaria"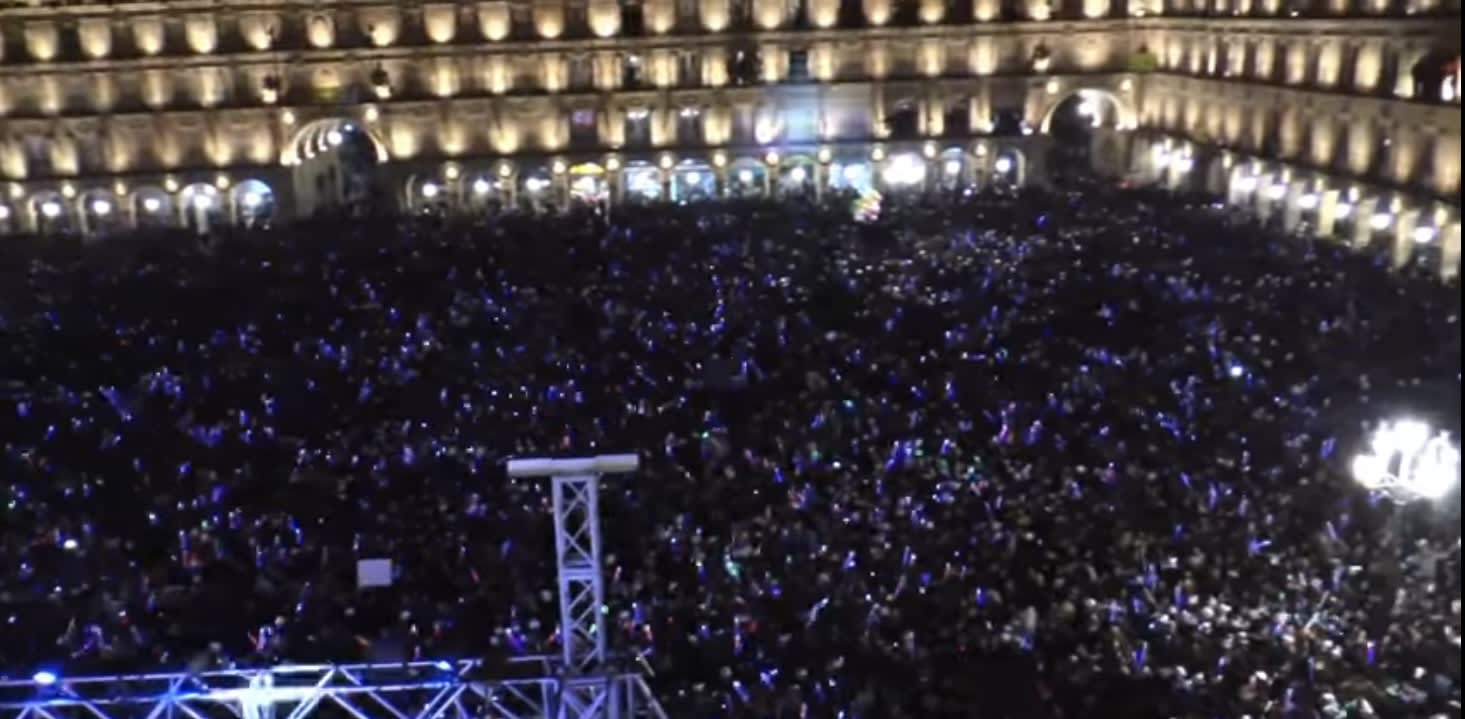 Last School Thursday
"Nochevieja Universitaria" is how university students and young people in Salamanca, Castilla y León, say goodbye to the year before returning home for Christmas.
It has been celebrated in Spain since the 90s. Every year, a few hundred university students gather together in the main square of the city, or "Plaza Mayor de Salamanca." At midnight, the crowd gathers to eat 12 jellies instead of the traditional 12 lucky grapes.
This Spanish New Year's tradition has become so essential in this city, and you won't believe how it began…
It was literally a spontaneous idea from a group of university students on a random night. They wanted to celebrate with their classmates, flatmates, etc., before returning home to their families.
Over the years, this custom became a true tradition in which more than 35,000 people have participated in its last edition!!
Seems like the "Spanish love to party" stereotype is very accurate… we're just born sociable!
3. Granada the celebration of "Hogueras" (Bonfires)
December 21
"Hogueras" or Bonfires are a unique Spanish Christmas tradition celebrated in Granada, Jaén in particular. Where people in southern Spain jump through the flames of a bonfire at the winter solstice on December 21.
They do it because it brings good health, prosperity, and wealth to your family and yourself. Also, they say it is an excellent way to welcome the coming new year. There are many other New Year's superstitions only practiced by Spanish people.
These bonfires are also seen on Spanish beaches for the Fiesta de San Joan to celebrate the summer solstice. I've never been to one, but it seems like an ideal way to warm up during winter in Spain.
4. Spanish Christmas Lottery ("El Gordo")
December 22
As holidays arrive and expectations flourish, everyone begins to attract good luck for the popular draw. (not that I'm a big fan of that concept of "luck") but the Spanish Christmas Lottery is the most celebrated and awaited draw run by the state-owned National lottery every year.
It originated from the War of Independence in 1812 because it was supposed to compensate for the war's cost, which had driven the country into a deep economic crisis. 
Kids from the School of San Ildefonso are chosen to take the lottery numbers from the lottery drum and read them. This school is devoted to children whose families can't afford their education. And today, they have the best pronunciation and a pleasing timbre. 
And they'll become famous! No, I'm kidding, but the kids will also be on the front page of magazines and newspapers telling us their anecdotes and experiences during the draw with the winning numbers in their hands (which are very generous amounts, I must say) 
The draw is also live-streamed by all national TV and radio channels, so everyone in the nation can get the results.
Spanish Christmas Lottery is a famous Christmas tradition that most Spaniards believe brings good luck to the new year that's coming!! And what does "El Gordo" means? Well… I guess you'll need to find out for yourself in this post: Spanish Christmas Lottery and the Secret to Win "El Gordo"
5. Christmas Eve ("Noche Buena")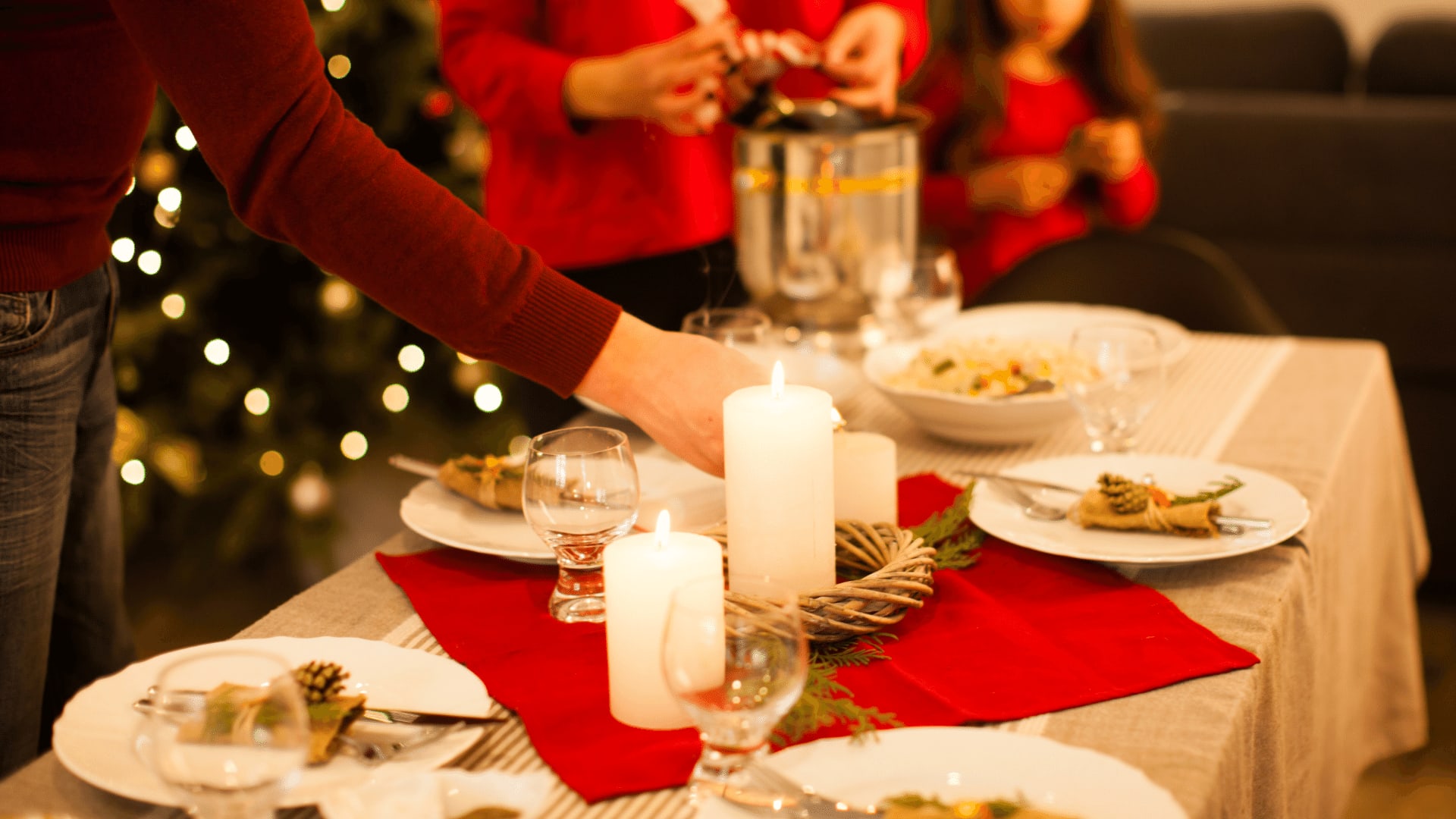 December 24
Our beloved Christmas Eve Tradition is fundamentally distinguished by being a family party.
December 24 is Christmas Eve, and all Spanish families celebrate it with a lovely dinner. Also, many Catholic people go to Midnight Mass at 12'o clock.
The typical food of this dinner is turkey or "Pavo de Navidad." We always have our meals with a gigantic and mixed assortment of Christmas cookies such as mantecados, polvorones, puff pastries, marzipan, and the famous nougat!!
We also have many Spanish Christmas Drinks explicitly taken at different times of the night.
When dinner is over, families and children sing Christmas Songs and popular carols called "Villancicos." I love them since they all use special instruments such as the zambomba, tambourine, sticks, and pestles. I even have my go-to playlist when I want to get in a Christmas mood!
6. Christmas Day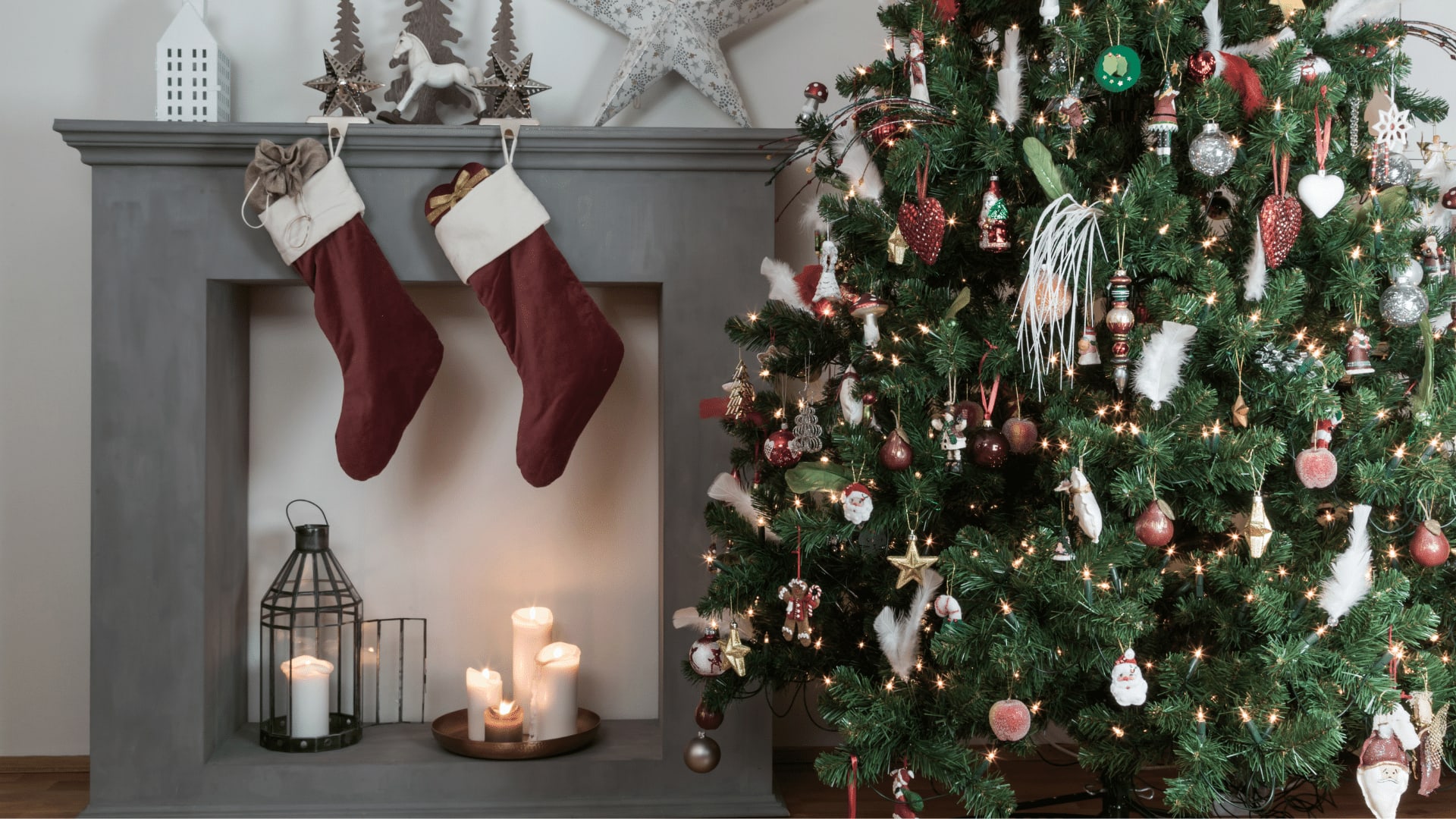 December 25
It is the official Christmas Day when Jesus Christ's birth is celebrated in Spain.
It is usual to meet your family, friends, or loved ones to have a meal (mostly leftovers) while children enjoy their gifts!
This date is also the perfect time to enjoy our most beloved and unique Spanish Christmas Markets, full of Christmas lights, colors, and flavors. They are very different depending on the region you're in! And all of them represent regional and cultural traditions.
However, to spend a chill Christmas, Spanish people often resort to our most famous Christmas Movies to spend the day enjoying some wine with pastries!
Talking about gifts, the tradition says they must be placed under the Christmas tree on December 24. Once the clock strikes 12 midnight, the children must prepare to open their gifts. But, I have to say that kids often go to bed early… So they just leave cookies and milk to Santa Clause under the Christmas tree to wake up nervously in the morning (sometimes way too early) to open the gifts.
But again, it varies from family to family because some people wait for the Three Kings' arrival on January 6 to open gifts. And, the figure "Olentzero" brings gifts to Basque Country and Navarra children. While in Galicia, the one who gets the gifts is the Apalpador.
7. New Year's Eve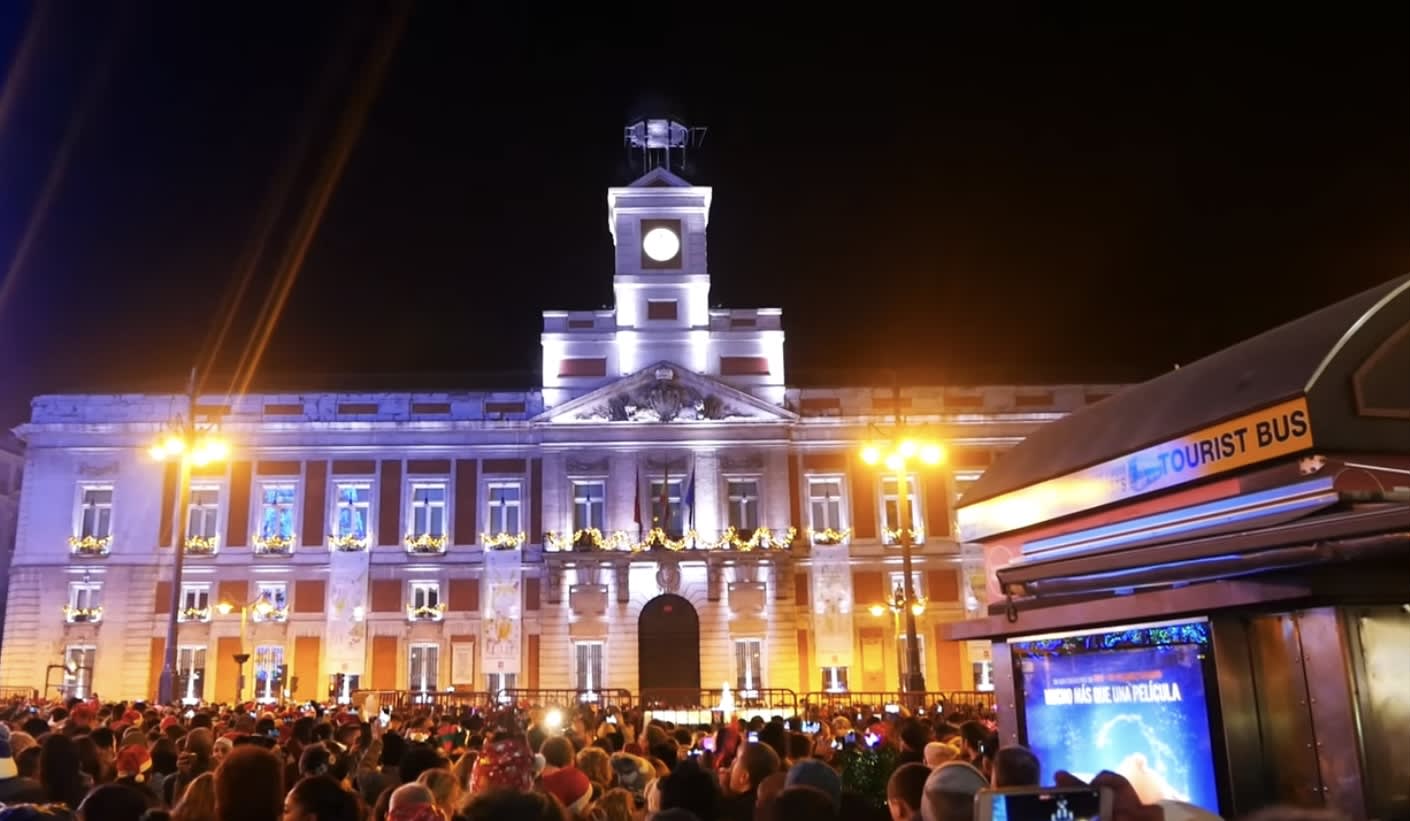 December 31
We all know what New Year's Eve is about. But, what I love about celebrating it in Spain is that there's an experience for every type of personality and group of friends.
You can make any type of plan, and many tourist-friendly options are available. Christmas decorations, Spanish people's warmness, and Spain vibes are lovely.
Also, the party starts right after you wake up! So.. be prepared and keep in mind that you will be up until the next day. Parties only stop when your legs can't handle it anymore. Even if you are going to a small town or the principal capital.
In Madrid, "Puerta del Sol" is the most famous spot for celebrating New Year's Eve. People gather in the big square to be present at the stroke of midnight. Here you can see everyone eating the traditional 12 grapes at the rhythm of twelve chimes (also done at any Spanish house).
Then, they party in the streets or bars until the sun comes up.
8. Feast of the Epiphany, the three wise man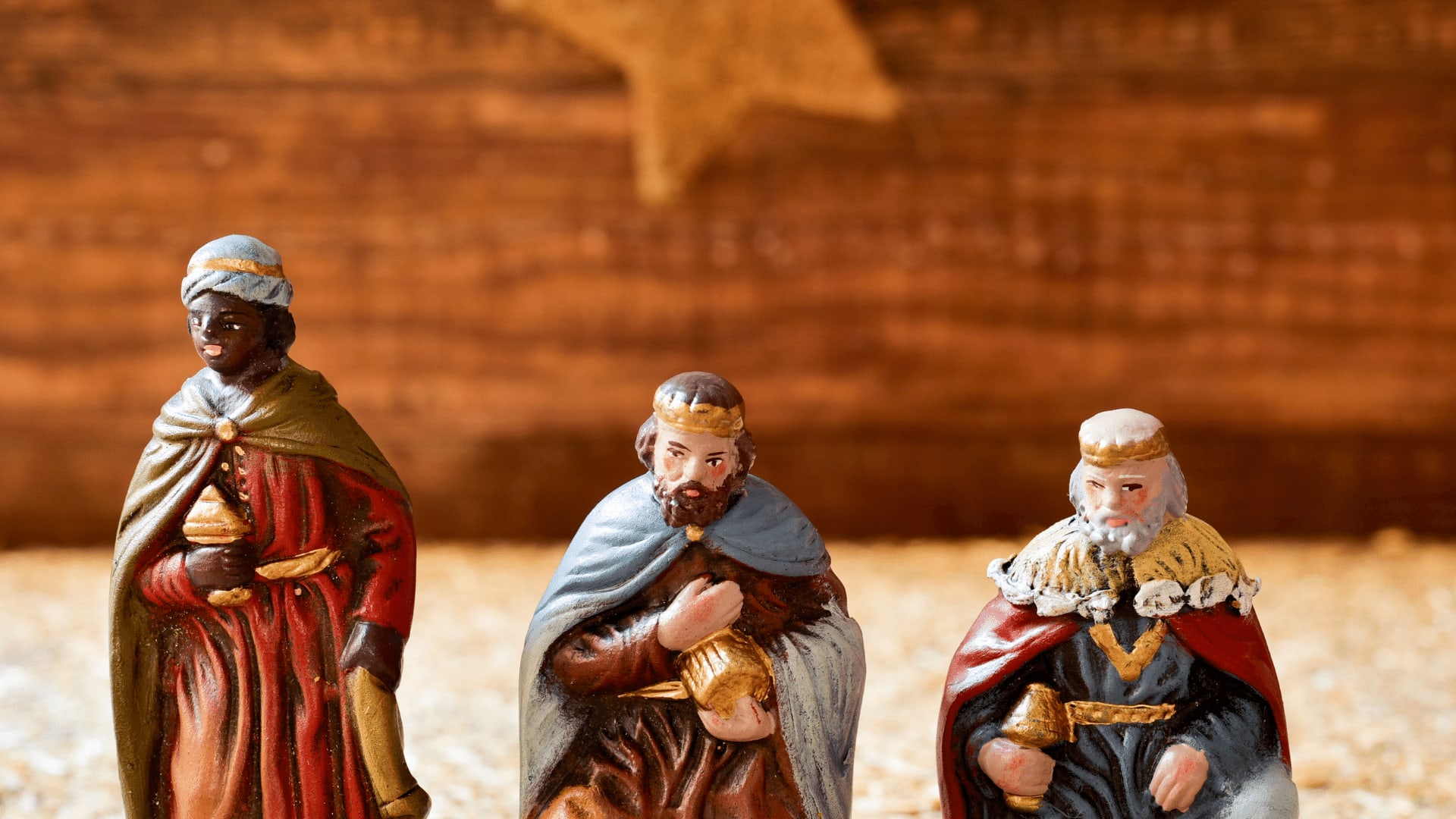 January 6
"Dia de Los Reyes Magos" or Three Kings Day OR Three Wise Men Day is a massive deal for Spaniards celebrated on January 6.
It is celebrated similarly to Christmas. On January 5, we have The Three Wise Men Parades, or "Cabalgata de Los Reyes Magos." Here, most cities in Spain organize their parade with different floats, music showing "Los Reyes Magos," riding their camels!
When the parade is over, children return home, leave candies for the camels and fall asleep expecting gifts the following day. It's the same concept as receiving gifts from Santa Claus but with three magi.
On January 6, kids wake up and see that the Three Wise men brought them gifts! (beautiful moment) 
Afterward, they go to the kitchen for a traditional "Reyes" breakfast. In Spain, we have "Roscón de Reyes" or Three King's Cake and hot chocolate for breakfast. 
The "Roscón de Reyes" is a ring-shaped cake covered with candied fruit to symbolize the gems the Three Wisemen were supposed to have on their clothes.
Celebrating Christmas in Spain is a one-in-a-lifetime experience you definitely can't miss! Holidays are full of gratitude, joy, celebration, and tons of quality time with your loved ones. Where everyone is well received and has a space for enjoying a great time!