9 Best Specialty Coffee Shops in Madrid (and Brunch!)
February 27, 2023
You opened this article for one of the following reasons: one; you want places to get delicious, Instagram-worthy pics, or two, you genuinely value specialty coffee. 
All of Spain is famous for its endless list of bars where you can get some great tapas with a glass of beer or wine. These same bars are usually the same frequented early in the morning for a café con leche and pan con tomate. The price for that typical Spanish breakfast is around €3, perfect for travelers on a budget or those needing food in their system. 
But, if you are into specialty coffee accompanied by mouthwatering food and unique atmospheres, then the bar around the corner where you got some delicious tapas last night isn't the right place for your breakfast, brunch, or midday cafe. 
In this article, you will get my top 9 cafes with the best specialty coffee I have had in Madrid. The coffee community is wonderful and growing in the city, so take advantage of all of the unique cafes in Madrid.
PS: Find bonus itineraries at the end!
1. Misión Café
📍C. de los Reyes, 5
🏙️ Malasaña
Imagine you walked all Gran Vía to Plaza de España as I recommended in our article '30 Best Things to do in Madrid: Fun Activities & Food!'. You would have walked for around an hour, looking at stores for around an hour, and now is time for brunch. 
Well, if you made it to Plaza de España, walk back to the biggest Zara store in the world right behind you, but don't go in! Instead, walk straight to Calle de los Reyes, and you will find Misión Café and the Bakehouse. 
I am not lying when I say everything is crazy delicious. Misión gets its coffee from madrileños roaster, Hola Coffee, usually having coffee from Ethiopia, Brazil, Peru, and Costa Rica. 
My top recommendations at Misión 👉🏽 The batch brew if you want coffee to go, but if you sit down for brunch, get a flat white, a Chai bun, french toast, and a grilled cheese sandwich.
The vibe at Misión is very cozy and international, you might find a queue to eat inside, but if patience is your virtue of choice, I promise you won't regret it.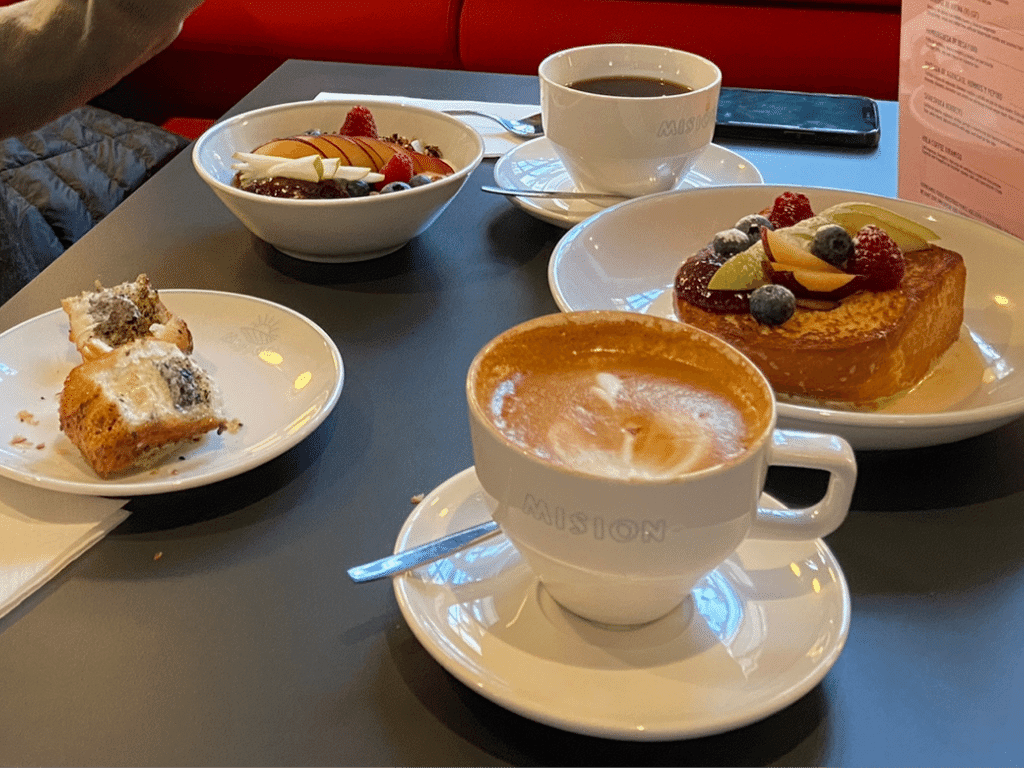 2. HanSo Cafe
📍C. del Pez, 20 and Cost.ª de los Ángeles, 7
🏙️ Malasaña
If you didn't get a table at Misión Café, you could try your luck at HanSo Cafe. So, keep walking straight, and you will leave Calle de los Reyes behind; you will pass the metro of Noviciado and enter Calle del Pez. Walk-in a bit more, and you will find HanSo on the left side of the street, right in front of Carrefour. 
You might also find a queue at HanSo, but again, this cafe in Madrid is worth the wait. HanSo is a family-owned coffee shop with two stores in Madrid; the other one is called HanSo 2, so you will know which was the original. 
HanSo is not a roaster, but they work with expert baristas to ensure you get the best cup possible. HanSo uses coffee from different roasters, but the one I have noticed the most in their espresso machines is The Fix.  
Here are my top recommendations for HanSo 👉🏽 Start with a cappuccino (they make an excellent oat cappu with Oaltly), then move on to a Bikini sandwich which consists of a soft omelet in homemade Hokkaido bread and a protein of choice, I went for the bacon, and to close your brunch order the White Chocolate matcha cookie (the best in all Madrid!).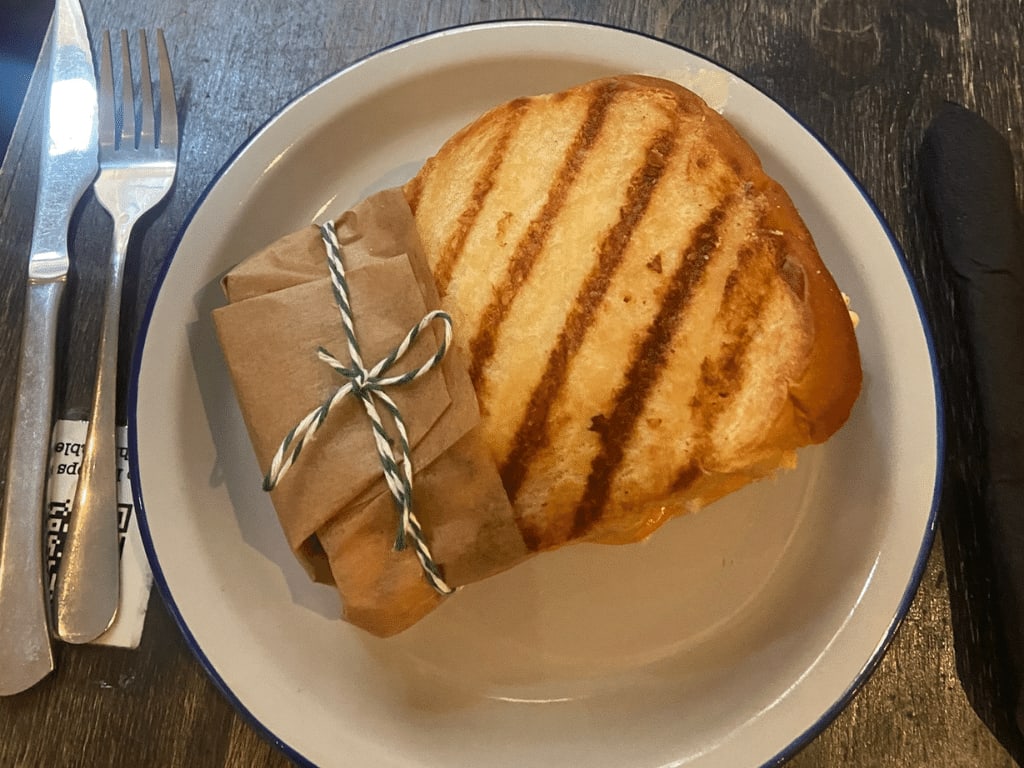 ---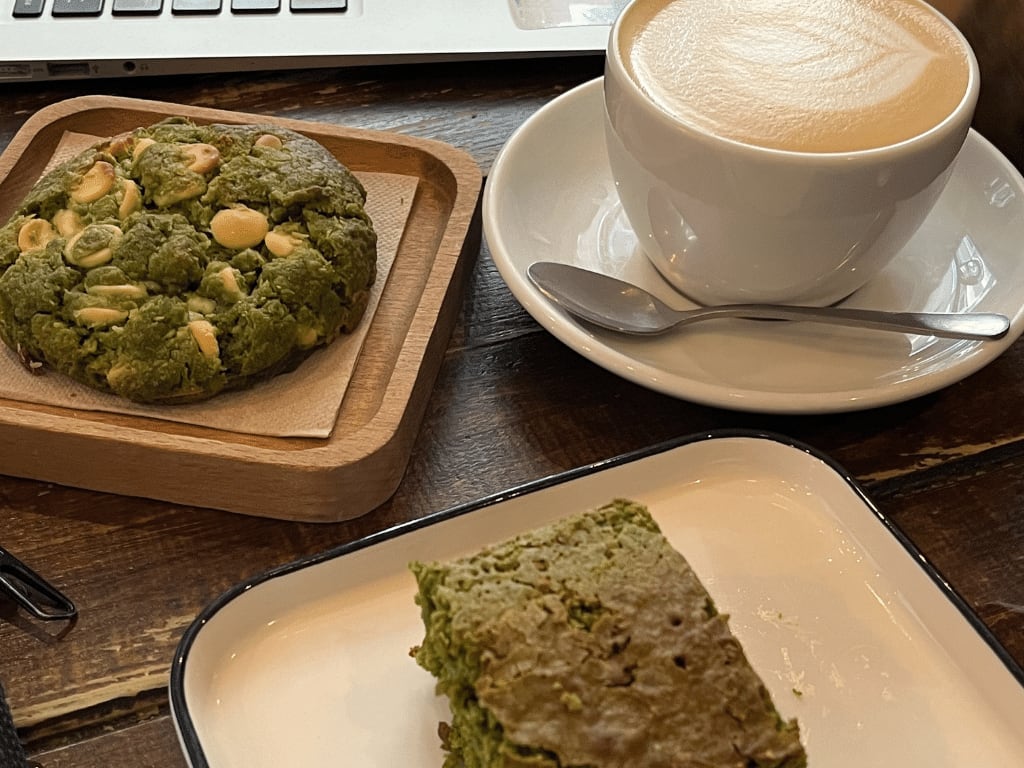 3. The Fix
📍Calle de Luisa Fernanda, 15
🏙️ Argüelles
The Fix was created from one of those stories that fill your heart. The founders of the coffee shops are Hugo Jimenez, Colombia, and Marta Castillo, Spanish, who met at a coffee shop in London. 
#1 The Fix has two floors; the first one only has four tables, but don't let the window from fooling you! They have a comfortable basement, perfect for work on weekdays.
Since then, this cafe, madrileño opened its doors in 2018 and delighted people with great coffee and mouthwatering breakfasts. The Fix is roasters, so they know every detail about their machines' coffee.
Here are my top recommendations at The Fix 👉🏽 Go for either a V60 or a flat white if you prefer coffee with milk, then get the chili-avocado toast with extra halloumi, and finish with one of their brownies. Something I love about The Fix's brownies is their moisture and variation between hazelnuts and pistachio. 
#2 Ask your order to go and drink your coffee in the park next to Debod Temple. Pure bliss 😌.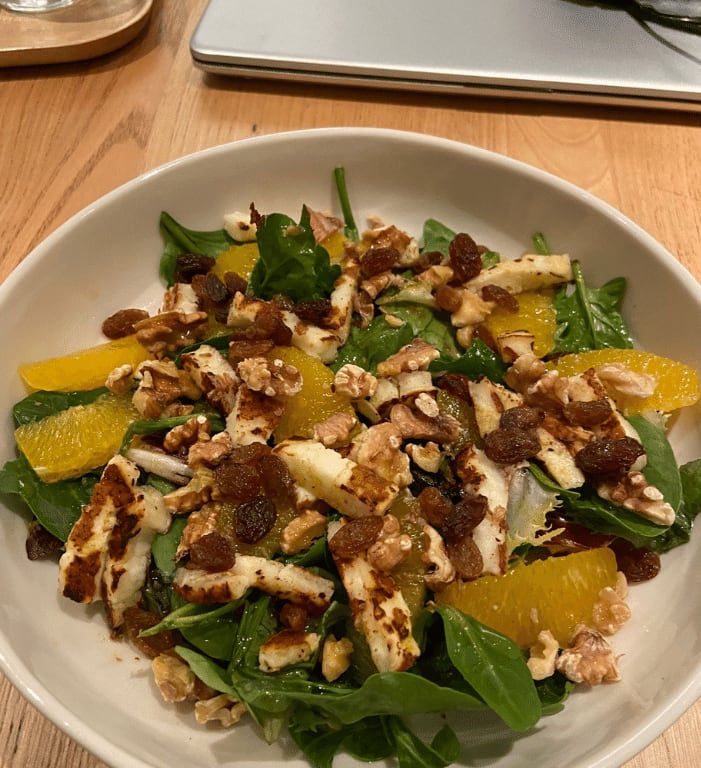 4. Hola Coffee 
📍Calle del Dr. Fourquet, 33
🏙️ Lavapiés
Hola Coffee was one of my first loves. Before moving to Madrid, I studied in Pamplona and Navarra, and every time I visited family in Madrid, I tried to stay as close to Atocha as possible. 
Well, one of those times that I would wait until my cousin finished school, I would walk around Atocha looking for nice cafes. Hola Coffee was close enough for me to run back to Atocha, and the photos on Google maps transmitted an incredibly cool vibe. 
Hola Coffee is located in a small quaint space in Lavapiés; the tables are small and intimate, and one of my favorite pieces inside this cafe in Madrid is the wooden furniture of "two floors" that saves and creates space at the same time. 
Here are my top recommendations at Hola Coffee 👉🏽 Are any coffee, but the iced mocha latte and their pain au chocolate are amazing.
5. Toma Cafe
📍Toma Café 1 C. de la Palma, 49
📍Toma Café 2 C. de Sta. Feliciana, 5
📍Toma Café 3 C. de Raimundo Lulio, 16
🏙️ Malasaña y Chamberí
Toma Café has been roasting specialty coffee since 2011; their first cafe in Madrid was opened in Malasaña, just a few minutes away from HanSo and Misión. 
Toma was born out of the initiative of drinking good coffee in Madrid, "toma café" when specialty coffee cafes were still scarce in the city. 
Toma's shops are friendly, welcoming, and usually pretty full. I have been in their original store more than once, and they are perfect for meeting with friends or working. I truly enjoyed their tall table behind the coffee bars, which allowed me to stand up occasionally. 
Here are my top recommendations at Tomá Café 👉🏽 Take their americano and flat white with one of their pastries. I had the vegan chocolate cake, which was amazing!
6. Syra Coffee 
📍Multiple addresses
🏙️ All over Madrid
Syra Coffee has a different concept from the other specialty cafes in Madrid. The purpose of Syra is to democratize good coffee around Spain, and they do so by focusing on excellent coffee to go. 
Their shops are small, and the idea is that you order your coffee and pastry of choice and take it with you wherever you go. 
One of Syra's core values as a provider of great coffee to the world is transparency. Part of the specialty coffee chain is knowing and appreciating every detail of the coffee's journey, from who harvested it to the perfect preparation. You will feel that in your cup.
My designated store in Madrid is Syra Coffee in Calle Leganitos (parallel to Gran Vía) or the one in Calle Ferraz in Argüelles. 
My top recommendations at Syra Coffee 👉🏽 Are the flat white (again 🤭) and the cinnamon bun.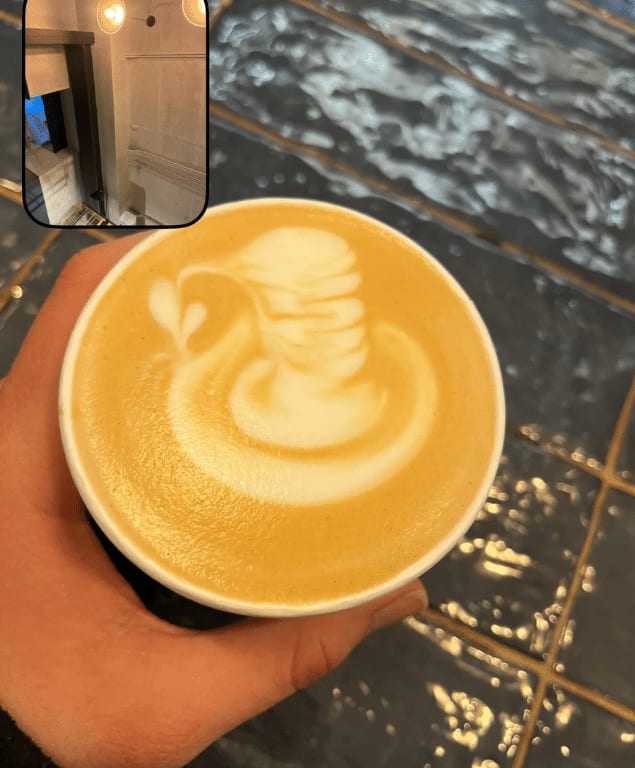 7. East Crema Coffee 
📍Multiple addresses
🏙️ All over Madrid
East Crema Coffee is all about specialty coffee. The concept came from specialty coffee capsules in Tokyo, Japan, and the brand's name has a precise meaning. 
East: the owner's love for Asia.
Crema: means cream and is part of the expression "crème de la crème" which means the best of all, encapsulates the coffee and the store's design. 
Coffee: the reason why they began their journey.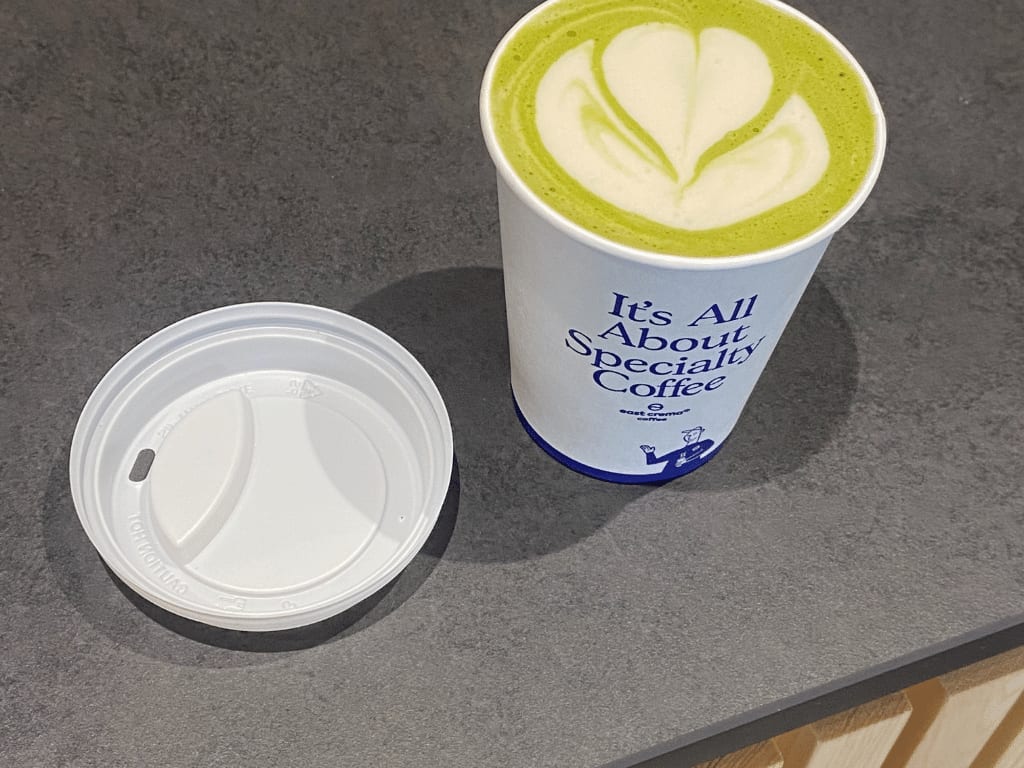 This cafe has several locations in Madrid, and the concept is similar to Syra, which specializes in coffee-to-go. Some stores do have a bit more space to get great breakfast or eat in.
Their heartwarming cappuccino with oat milk is the best thing you can have on a cold day, and even better if you pair it with their delicious toast.

East Crema offers a great variety of breakfast options. As you can see, their avocado toast is very generous, and every bite is pure happiness! You should try the one with poached eggs or feta cheese!

Plus… They're very generous with the avocado. Worth every penny! Besides, the minimalist and cozy atmosphere makes you feel at home - Titi, 22 years old from Madrid.
My top recommendations at East Crema Coffee 👉🏽 Are the matcha latte, espresso, and toasts.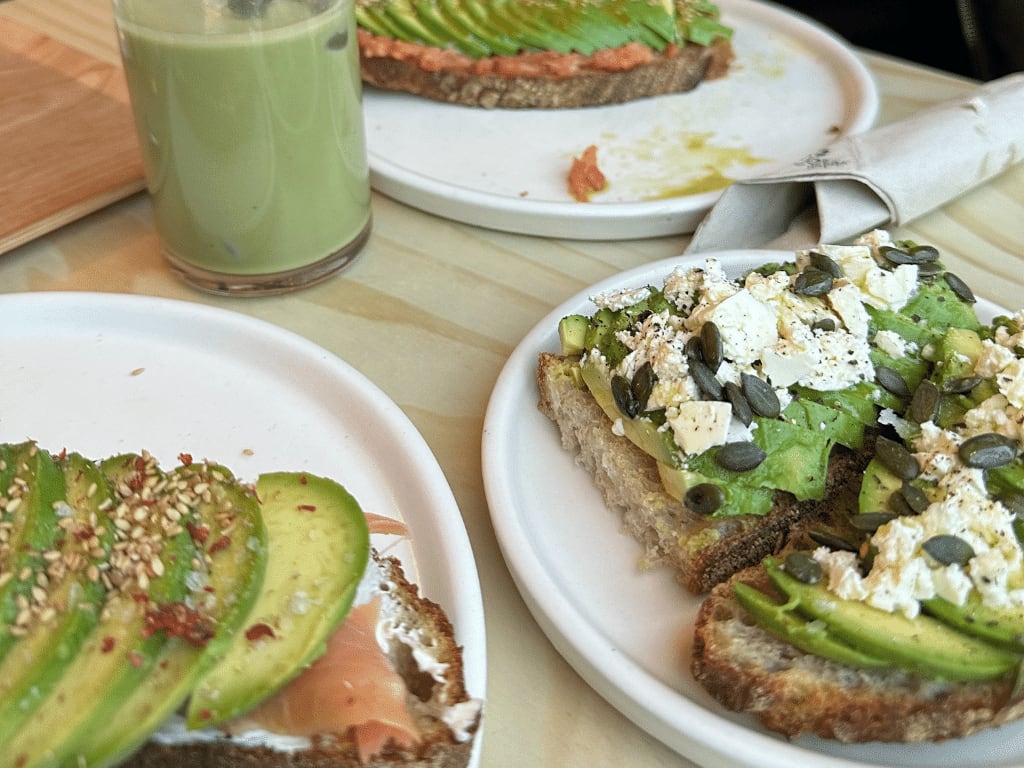 8. Federal Cafe 
📍Pl. de las Comendadoras, 9
📍Pl. del Conde de Barajas, 3
🏙️ Malasaña and Austrias
Unlike the other coffee shops I have mentioned, Federal Cafe is the perfect cafe in Madrid to spend hours with friends or sit down and work for a while.
Federal Cafe always has a wide menu of breakfast, brunch, and dinner, alongside a complementary coffee list that will light up your day. 
I have only visited the Federal Café in Malasaña, and the vibe is friendly with a decoration that transmits minimalism and hipster style. 
Even though I am an absolute coffee lover, you will be surprised to hear that 80% of the time I have been to Federal, my drink of choice was their iced matcha latte with oat milk. 
My other top recommendations 👉🏽 are the burger, the hummus salad, and the pastries.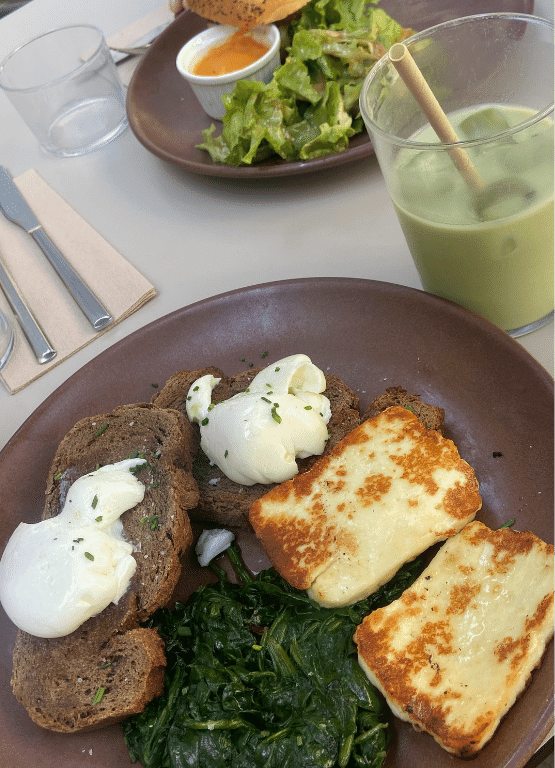 9. Siniestro
📍C. del Conde Duque, Nº 5
🏙️ Malasaña
Last but not least cafe in Madrid is Siniestro. I found this coffee shop while strolling through the streets of Malasaña, and to be honest, the first thing that caught my attention was their cute logo: a coffee cup with a sinister but cute face. 
The store is small but comfortable, and it works as a photo gallery for upcoming artists. The tables are small, but the beautiful thing about this cafe in Madrid is that it has loyal customers who visit it daily. 
The owner is extremely nice and attentive and will always welcome you with a smile. He gets his coffee from Toma Cafe roasters and also offers certain breakfast dishes that he prepares on his own. 
My top recommendations at Siniestro are 👉🏽 the vanilla latte, the cappuccino, and the flat white.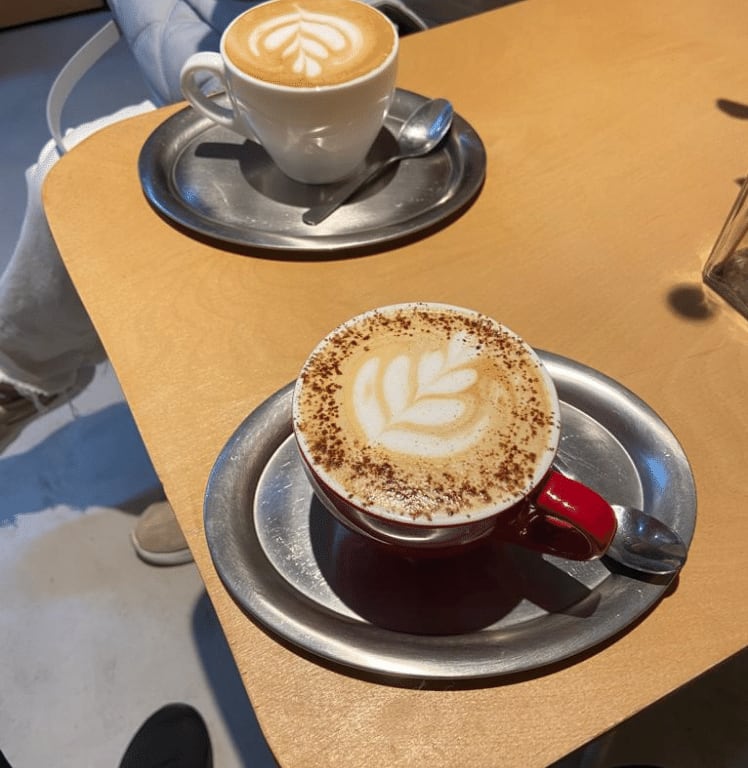 ---
Itineraries Spain
Do you need an itinerary? I am going to link you to the rest of our itineraries in Spain for you to read and choose which of the following fits best with your traveling vibe and interests.
---
This list could go on! Actually, we could write a second edition of the best cafes in Madrid. I know you will find the one with the vibes you want, and if you don't, I will have more coffee shops for you!
This first guide is a great beginning to your specialty coffee journey in the Spanish capital. If you have a friend who loves great coffee, share the article with him or her and tell us what you think!