Travel to Valencia: 5 Best Attractions, Food & Activities
October 26, 2023
Updated:

October 27, 2023
Published: October 26, 2023
Do you know where apella comes from? Valencia is the birthplace of the famous dish paella. Historians had traced the use of rice in Valencia back more than 1300 years, when the Moors brought the seed to Eastern Spain.
However, the tradition of paella began in the mid-19th century alongside the field workers in Valencia. They would cook rice with whatever ingredients they had on hand over an open fire and eat it directly from the pan, called paella. As rice became more widely available, Valencians developed and perfected their paella recipe into the international dish we know today.
If you're feeling hungry, visiting Valencia is a great idea. It's a beautiful port city with a rich history and modern attractions you'll love.
In this article, I'll provide all the essential information you need to visit Valencia on your next trip to Spain.
What is Valencia in Spain?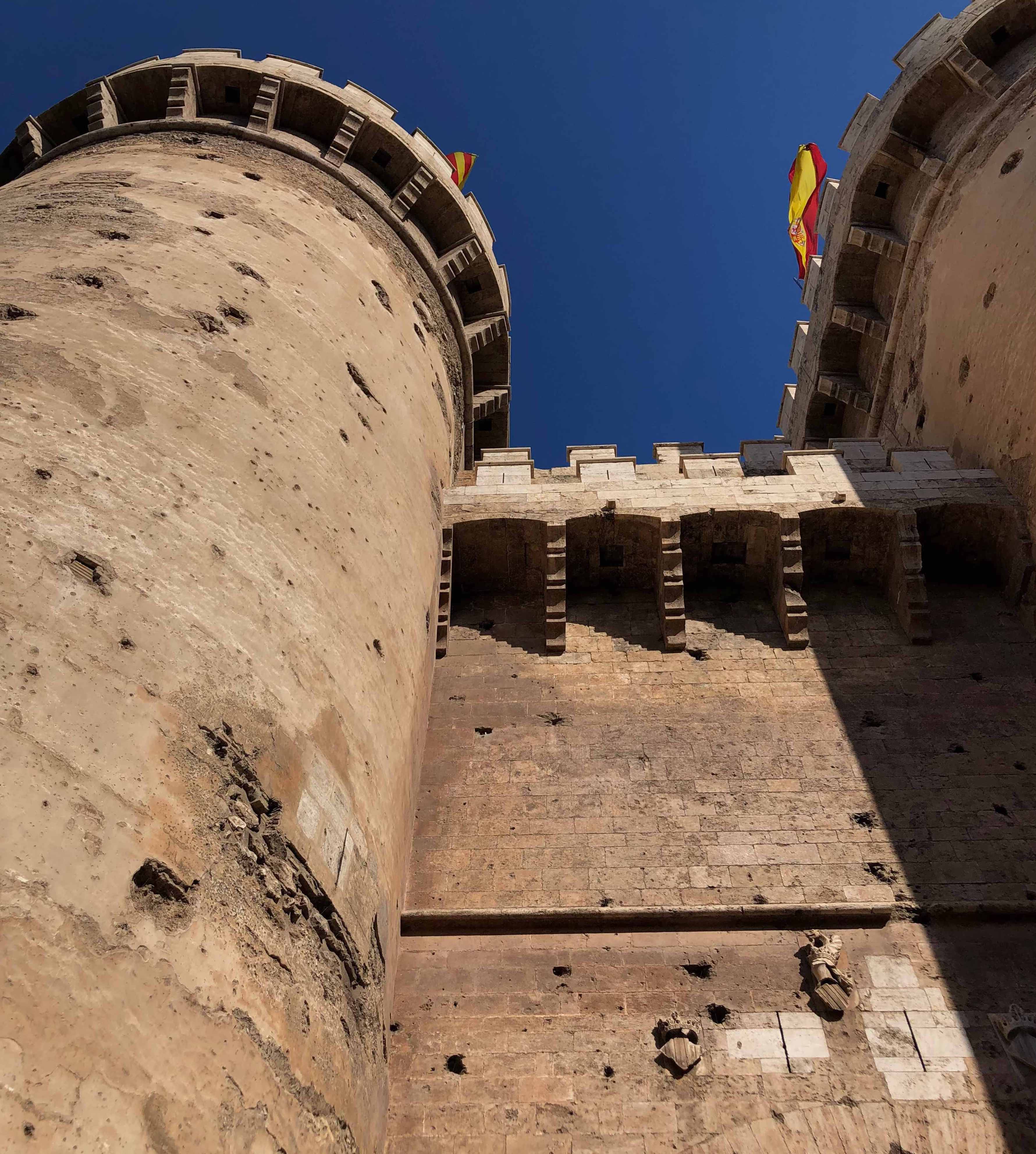 Valencia, which forms part of the autonomous community of Valencia, has a population of more than 790,000 residents. It is the third-largest city in Spain and has the second-biggest commercial port in the country.
 Valencia, just like Andalusia, enjoys wonderful Mediterranean weather that attracts people from all over the world.
The city's history dates back to the Romans when they founded the city as Valentia Edetanorum in the year 138 before Christ. The territory was occupied by Germanics and Moorish people, which makes Valencia beautiful and historic.
Nowadays, it is widely known for its City of Arts and Sciences and stunning coast.
Best Things to Do in Valencia
1. City of Arts and Sciences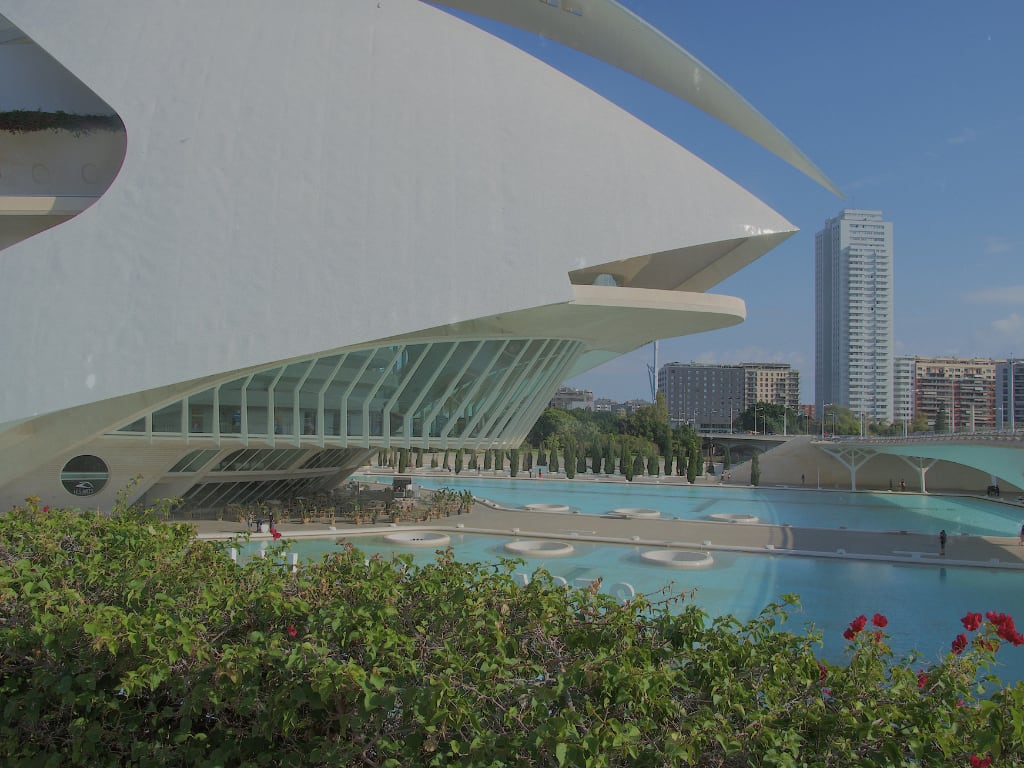 The City of Arts and Sciences is a futuristic architectural complex built by the architect Santiago Calatrava in between 1998 and 2009. The City of the Arts and Sciences houses several attractions, including a science museum, an opera house, and Europe's largest aquarium.
The complex is closer to the beach and is 40 minutes away from the Beach Cabanyal and the restaurant La Pepica.
2. The Central Market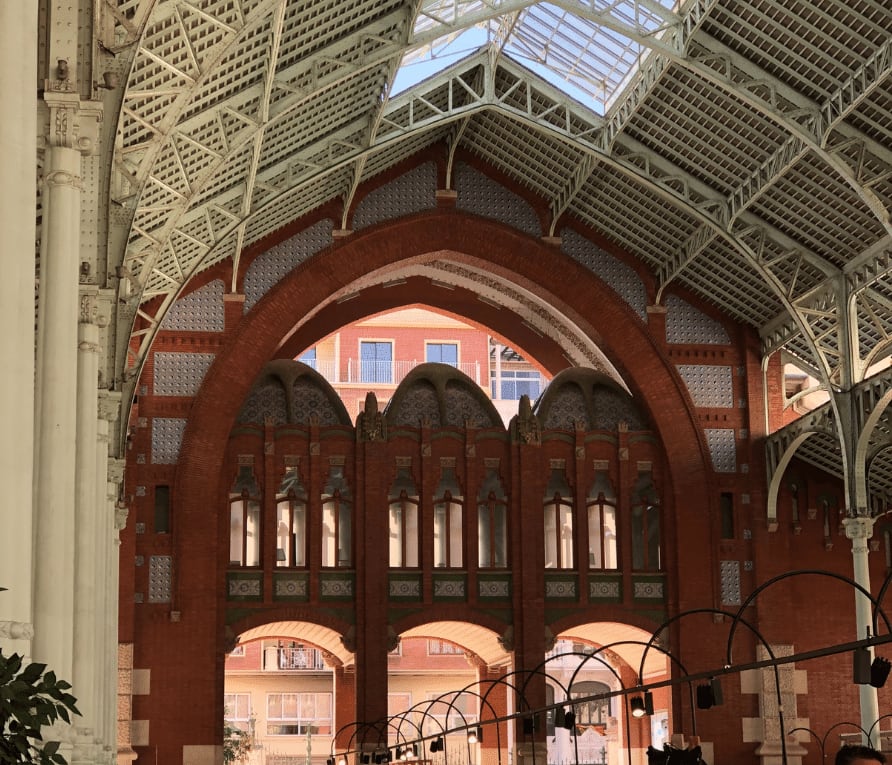 The Central Market, also known as the Mercado Central, was inaugurated on January 23, 1928, after seven years of construction work. The market's construction was an ambitious project to modernize the city's food supply system. Today, the market remains a significant historical landmark and a hub for food lovers, attracting visitors from all over the world.
The architecture belongs to the Art Noveau movement in Valencia, and today, it houses several delicious restaurants to stay in and dine in. 
Another option for dinning is the Colon Market with great restaurants!
3. Lonja de la Seda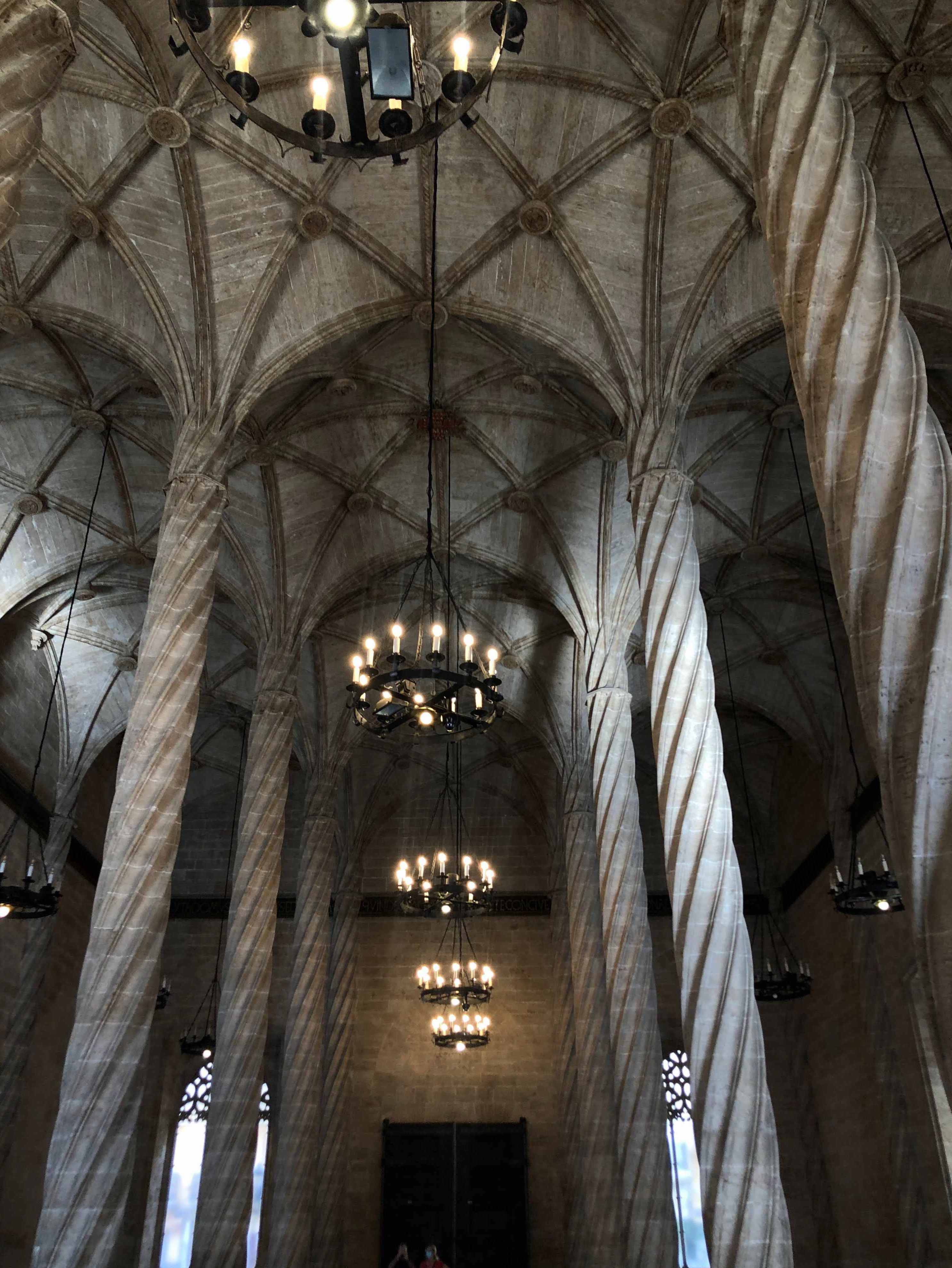 La Lonja de la Seda, a UNESCO World Heritage site, was built between 1482 and 1548 and is in front of the Central Market. It was originally used as a silk exchange market and as a meeting point for merchants and traders. La Lonja showcases Valencia's Gothic architecture and is a must-visit for history and architecture enthusiasts. 
La Lonja symbolizes Valencia's economic and cultural prosperity during the Middle Ages, making it an important historical landmark.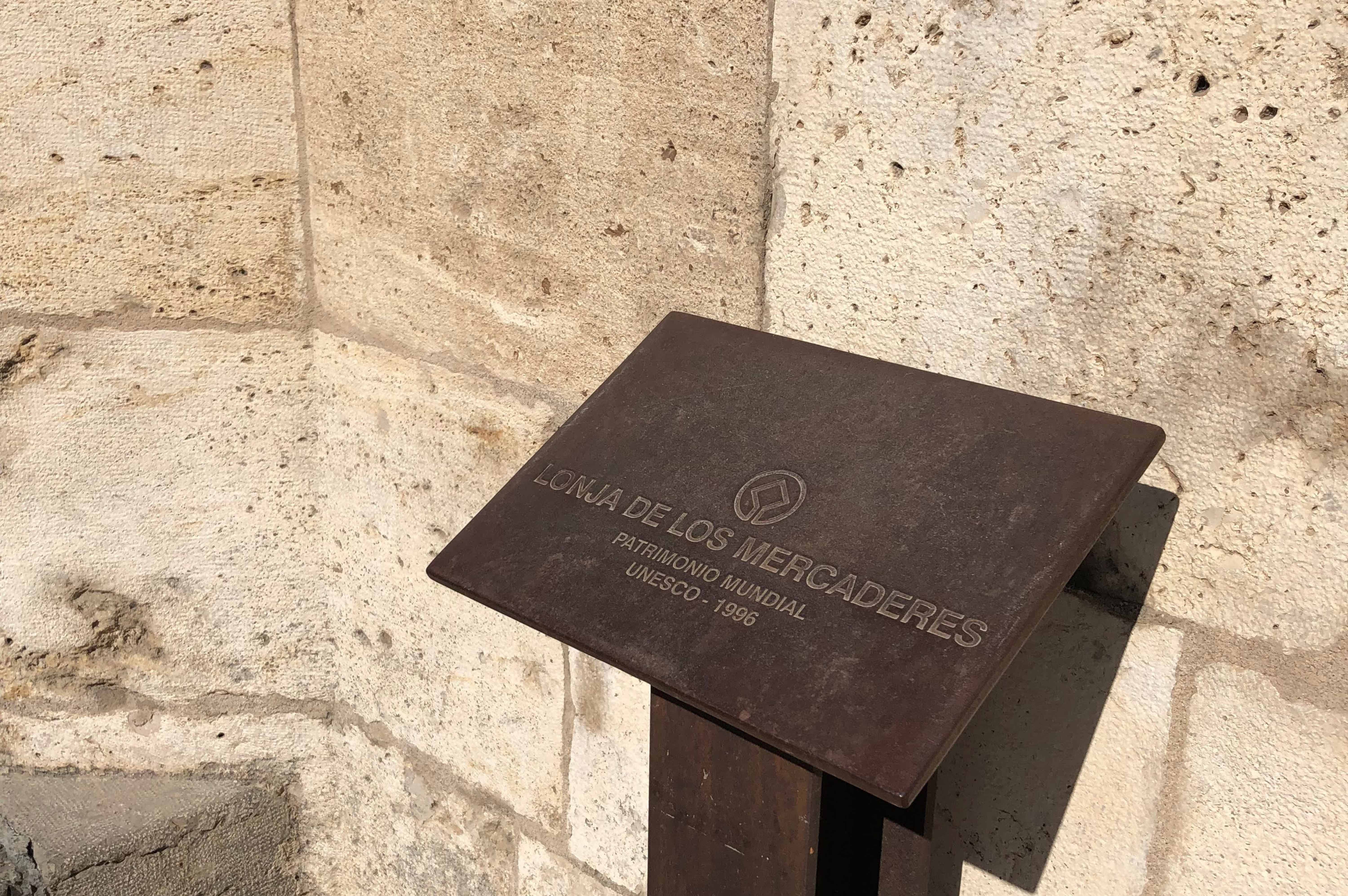 4. Turia Gardens 
If you open Google Maps on Valencia, you will notice a long green band representing Turia Park. It is 9 km long, stretching through the city, providing great space for outdoor activities such as strolls, cycling, and fun-filled playgrounds. What makes this park even more unique is its history. 
The park's gardens were developed in the former bed of the Turia River, which was rerouted after a catastrophic flood in the 1950s that caused widespread damage and claimed many lives. So, the city council was like, "Let's change the river's course and make a park there instead". That way, people can have a nice green space to chill in.
Today, Turia Park serves as Valencia's lungs, providing fresh air and a tranquil environment to its inhabitants.
5. Valencia Cathedral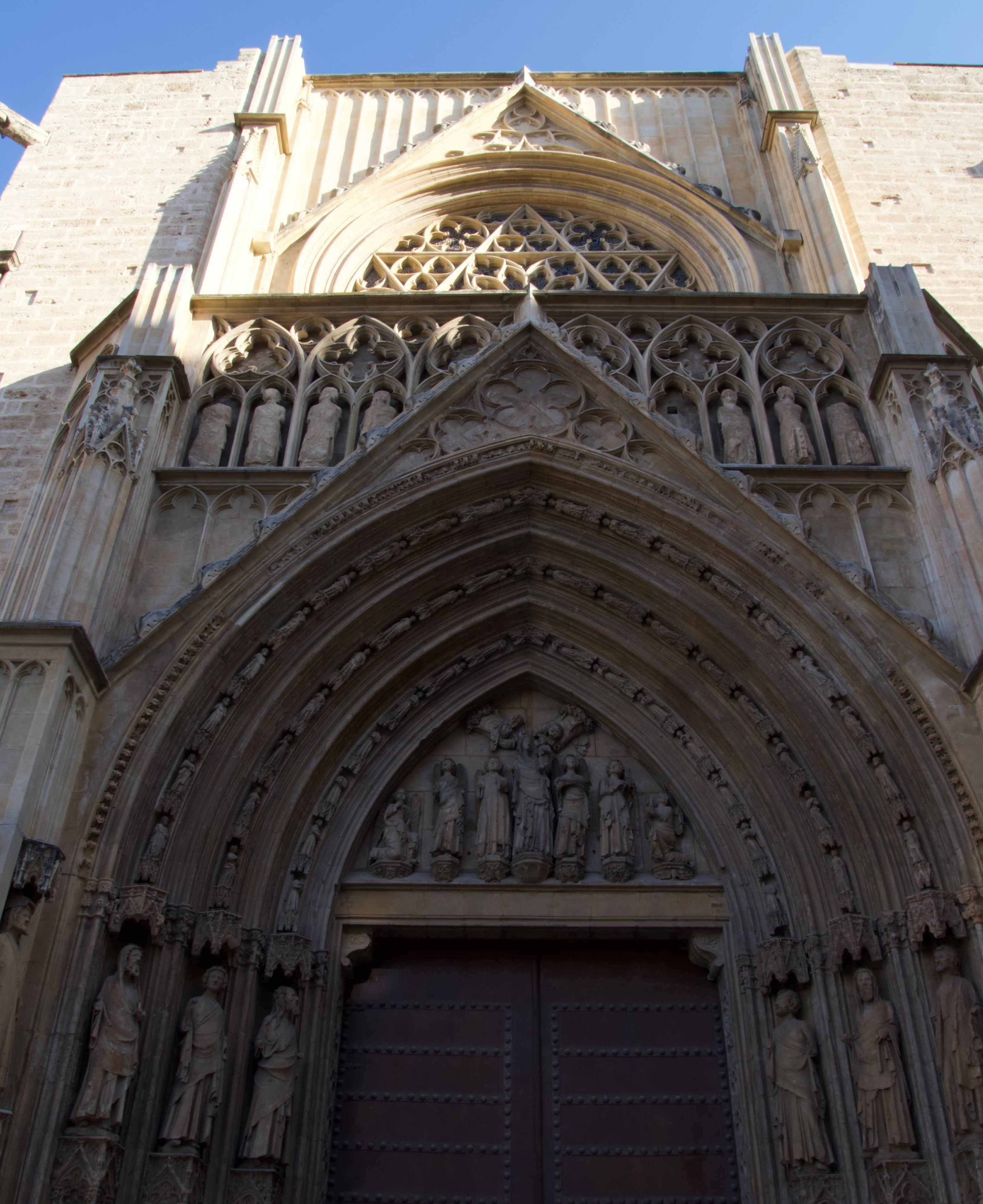 The Cathedral of Santa Maria of Valencia, also known as Valencia Cathedral, is a stunning example of Gothic and Romanesque architecture.
It was built between the 13th and 15th centuries, with renovations and additions made in the 17th and 18th centuries. Next to it is the impressive Miguelete Tower, where you will get panoramic city views. 
The Holy Grail, believed to be the cup used by Jesus Christ at the Last Supper, is housed in this cathedral, making it a significant pilgrimage site.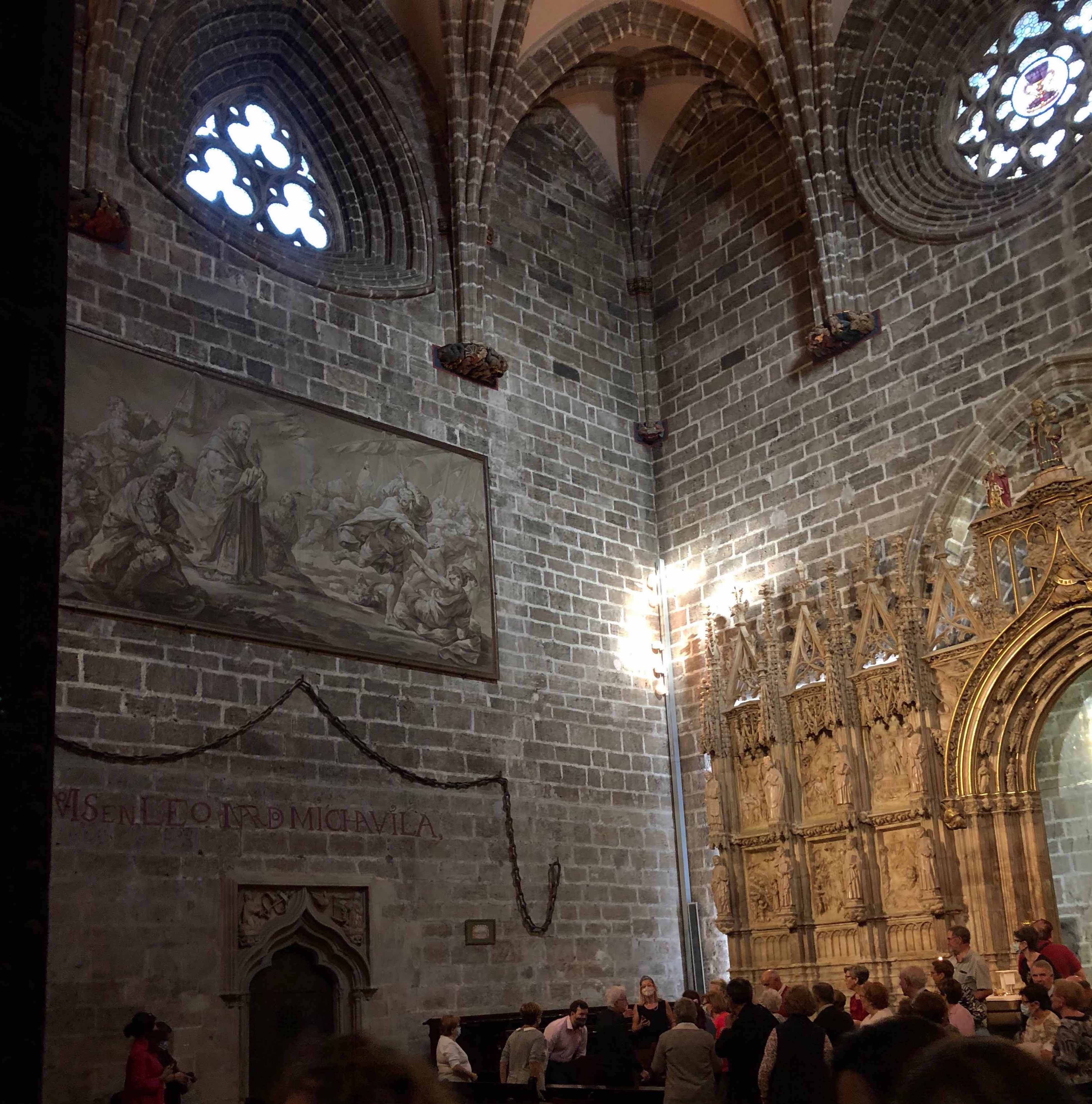 How to Get to Valencia
The autonomous community of Valencia is situated between Catalonia and Murcia. Flights from Barcelona to Valencia city take only one hour and cost around €100 for a round trip. Alternatively, you can take a direct train from BNC-VLC, which lasts almost four hours and costs €50 for a roundtrip.
For travel between Madrid and Valencia, you can take a one-hour flight for around €80 or a two-hour train trip for as little as €50 round trip.
Best Time to Visit Valencia
| Season | Min Temperature (°C) | Min Temperature (°F) | Max Temperature (°C) | Max Temperature (°F) |
| --- | --- | --- | --- | --- |
| Spring | 9°C | 48°F | 19°C | 66°F |
| Summer | 18°C | 64°F | 31°C | 88°F |
| Autumn | 14°C | 57°F | 25°C | 77°F |
| Winter | 5°C | 41°F | 15°C | 59°F |
---
Due to its wonderful location in the Mediterranean, Valencia usually enjoys wonderful weather during the colder seasons of Autumn and Winter. In both seasons, maximum temperatures are 25 and 15 degrees, respectively, while the weather in Madrid reaches a temperature of 20 degrees. 
The favorite seasons by tourists are Spring and Summer because those offer the perfect conditions for a great time at the beach, exploring the city center, and, of course, all the stunning beaches. 
However, I visited Valencia in the middle of October. Hence, during Autumn, and for me that, Autumn was the right reason to explore Valencia for a city trip (not a beach holiday). I could even wear some shorts when the days were warm and the nights were fresh and cool. 
I visited the city with my family, and we could dine out in the Valencian terraces during the middle of October.  
Where to Eat in Valencia
Coffee & Brunch
BlackBird is a specialty cafe in the neighborhood of Ruzafa (C/ de la Reina Na Maria, 7) with the BEST PASTRIES, coffee, and brunch you will ever taste. Everything is 10/10, including the staff, who are very welcoming and nice.
Lunch
La Pepica is a traditional paella restaurant in Valencia. It was founded in 1898, and it is located on the beach side of the city (Passeig de Neptú, 6); if you want to experience the original flavors of the paella, that is your place to go!
Dinner
For dinner, I will recommend another great Valencia restaurant, named el Rodamon de Russafa (Carrer de Sueca, 47), where contemporary mixes with traditional Valencian dishes. 
In the Rodamon de Russafa I ate croquetas and paella, and it was delicious! 
Where to Stay in Valencia
Luxury
Located in South Ciutat Vella, Caro Hotel is housed in a 19th-century palace and seamlessly blends historic charm with contemporary design. Each of its uniquely decorated rooms offers guests a truly special experience.
For around 200 euros per night, this hotel offers luxurious accommodations in Valencia, complete with an incredible restaurant and stunning amenities – don't miss the pool!
Standard
One Shot Colón 46, located at Carrer de Colón 46, is a chic hotel with a modern design and cozy rooms. It boasts a prime location near the Colón Metro station, which provides convenient access to Valencia's popular attractions. For instance, you can reach the Cathedral of Valencia in just 13 minutes either by metro or on foot.
For approximately 100 euros per night, you can enjoy a comfortable bedroom, breakfast, and a range of amenities that will make your stay in Valencia more than perfect.
Budget
**SOM Hostel Boutique (**Carrer del Mestre Racional, 4), located in the neighborhood of Gran Via, offers a more affordable stay in Valencia for around 80 euros per night.  
Valencia has many great hotels, but are generally expensive, so book your tickets ahead of time to avoid overpaying or losing a good spot.
How Much Does It Cost to Visit Valencia?
Request information: hello@sensationalspain.com
How much money you need for your trip to Valencia depends on many things, such as how many people are traveling, the type of activities you want to do, accommodation, the duration of your stay, restaurants, and most importantly, the time of year.
To help you more accurately, please don't hesitate to reach out to us via email! Share the details of your desired trip to Spain, and we will provide you with a price estimate and offer local advice for all your travel needs.
Choose your Spain Itinerary
1 Day in Spain? 10 Best Things to Do in 24 Hours!
2 Days in Spain: Trip Ideas & Itineraries to Enjoy Your 48h
3 Days in Spain: What's the Best Itinerary for Your Trip?
4 Days in Spain - Best Travel Itineraries for Short Trips
5 Days in Spain: Itineraries to See (almost) Everything!
6 Days in Spain: The 3 Best Itineraries for Your Trip!
7 Days in Spain: The 3 Best Itineraries for Your Trip!
Map of Valencia
---
Now you have all the essential information yuo need before traveling to Valencia! It is a beautiful, highly underrated city where you can perfectly get an international crowd assembling for some Spanish experience.
If you have any doubts, let us know! We are happy to help you with your trip (:
Happy travels!