Travel to Alicante: 5 Best Attractions, Food & Activities
October 27, 2023
Updated:

October 31, 2023
Published: October 27, 2023
Are you aware that the Santa Barbara Castle in Alicante was named after a tragic love story involving an Arab princess and two contenders who both met their demise? If you're intrigued, I can tell you the full story shortly. But first, let me introduce you to Alicante!
Alicante is renowned for its golden sands, crystal-clear waters, and idyllic beaches, as well as its rich culture and history that will keep you entertained throughout your visit.
In this guide, I'll provide you with all the essential information you need to explore Alicante's many attractions. From the best restaurants to the most picturesque sights, you'll have everything you need to plan the perfect trip to this beautiful city.
What is Alicante in Spain?
Alicante is a beautiful coastal city located in the autonomous community of Valencia, on the Eastern side of Spain, the Mediterranea Paradise. It is home to over 334,000 people, making Alicante the 11th biggest city in Spain.
Due to its rich history, Alicante has a blend of Christian and Moorish architecture. For example, one of the most prominent architectural landmarks in Alicante is the Castle of Santa Bárbara, which the Moors built in the 9th century and later renovated by the Christians in the 16th century. 
Today, this city is mainly popular for its Mediterranean coast, the "Costa Blanca," called that because of its white sand and crystal clear water. 
Best Things to Do in Alicante
1. Santa Bárbara Castle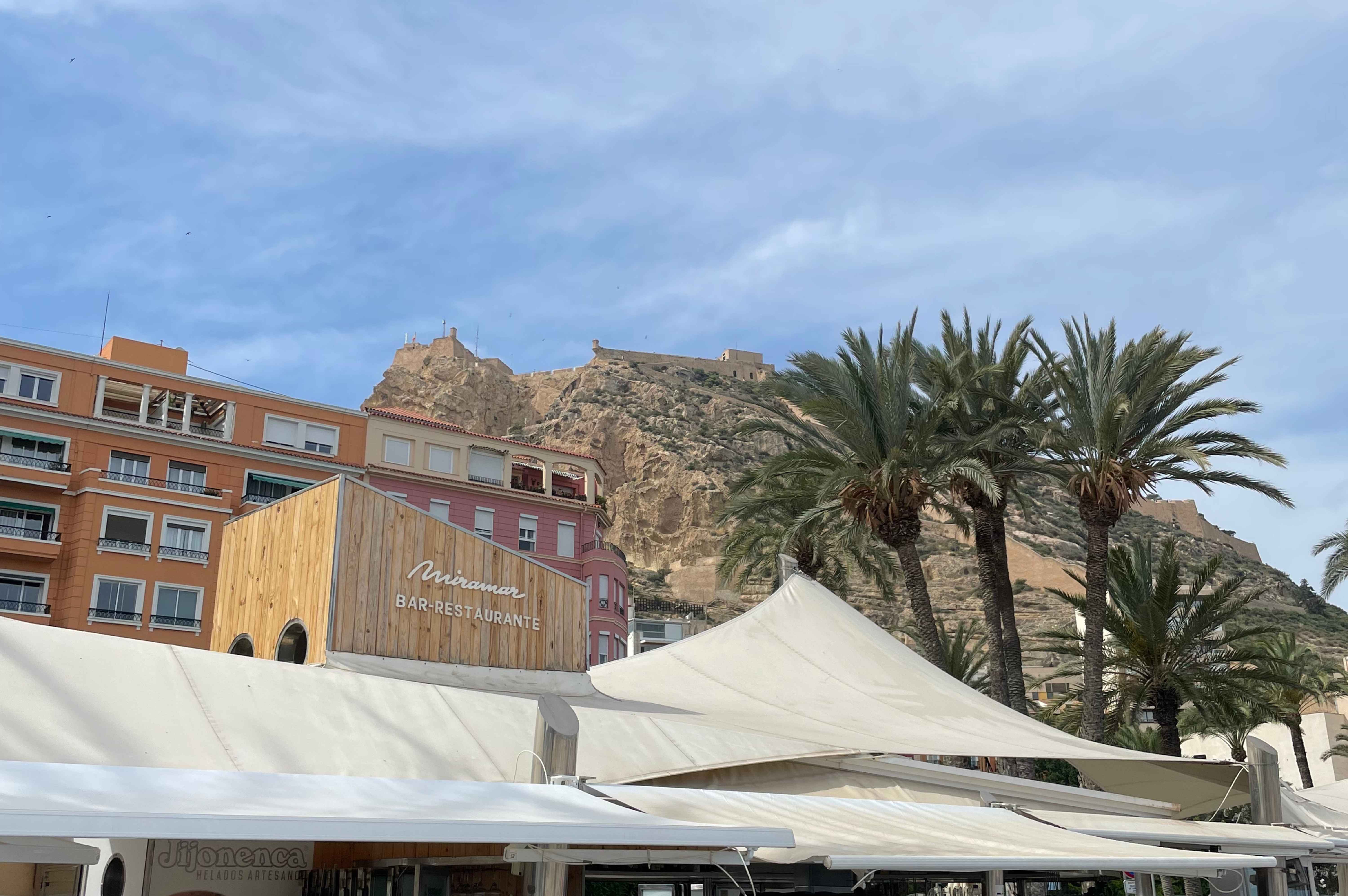 Located on Mount Benacantil, Santa Bárbara Castle is a magnificent fortress that towers over the city of Alicante, offering visitors breathtaking panoramic views of the Mediterranean Sea and the surrounding landscapes. 
The castle dates back to the 9th century; it has a rich role in Alicante's history, working as a Moorish fortress and later on as a prison.
Today, the castle has become a popular tourist attraction, allowing visitors to explore the castle's fortified walls, towers, and dungeons while admiring the stunning views of the surrounding area.
2. Explanada de España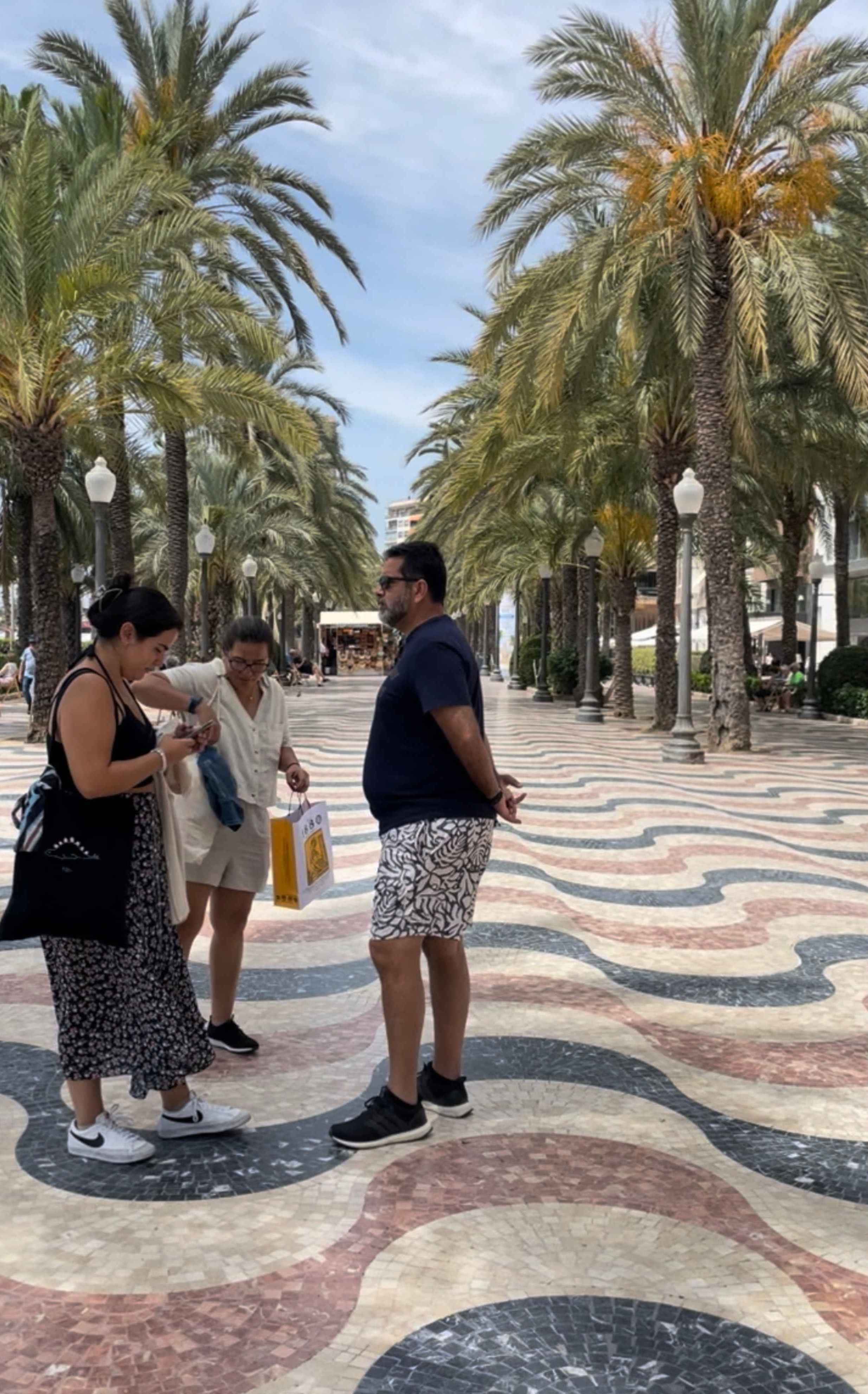 This place is just perfect for a relaxed walk. It's got thousands of marble tiles and palm trees all around. You can enjoy the view of the marina, too - it's just so peaceful and calming. Both locals and tourists love it here!
When I visited Alicante with my family, we went from the train station from the beginning of the "Explanada de España" until the end right next to the Postiguet beach, where we rented two chairs for the day and spent the entire morning sunbathing!
3. Postiguet Beach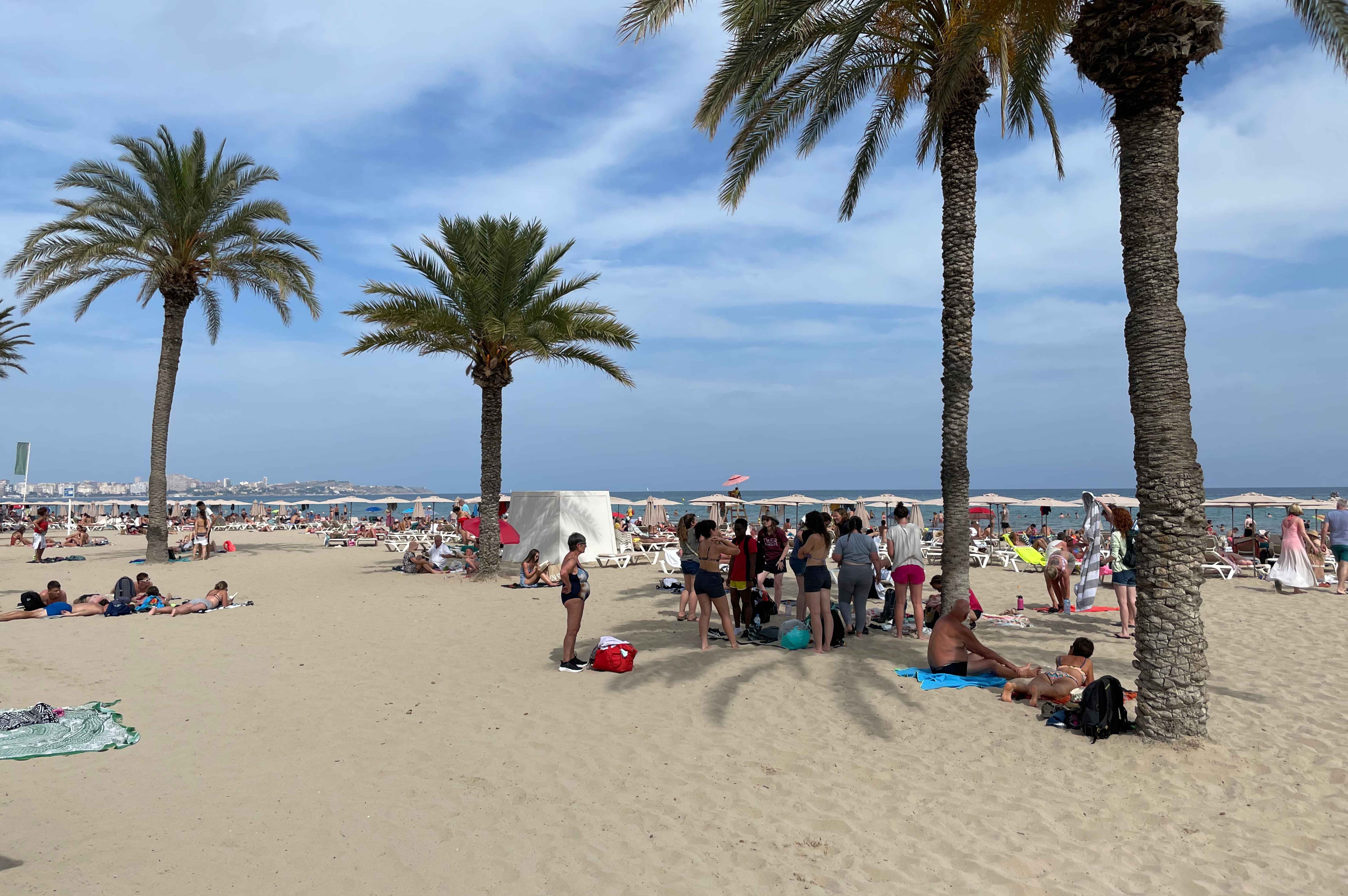 Poatiguet Beach is conveniently located near the city center, making it an easily accessible spot to soak up the Mediterranean sun. It is not the best beach in Alicante, but it's spacious and comfortable and offers plenty of amenities like chairs, showers, chiringuitos (food stalls), and more. 
If you visit the city briefly, it is perfect to taste the summer vibes!
4. Island of Tabarca
Tabarca Island is a perfect trip for a different activity in Alicante. It is a small but charming getaway located just off the coast of Alicante, Spain. The island is only accessible by boat, which adds to its secluded and peaceful atmosphere. 
The island's beaches are truly special, offering a variety of options for visitors. Playa de la Nau is a popular spot for swimming and sunbathing, while Cala Tabarca is known for its rocky landscape and is also perfect for snorkeling lovers.
5. San Nicolás Cathedral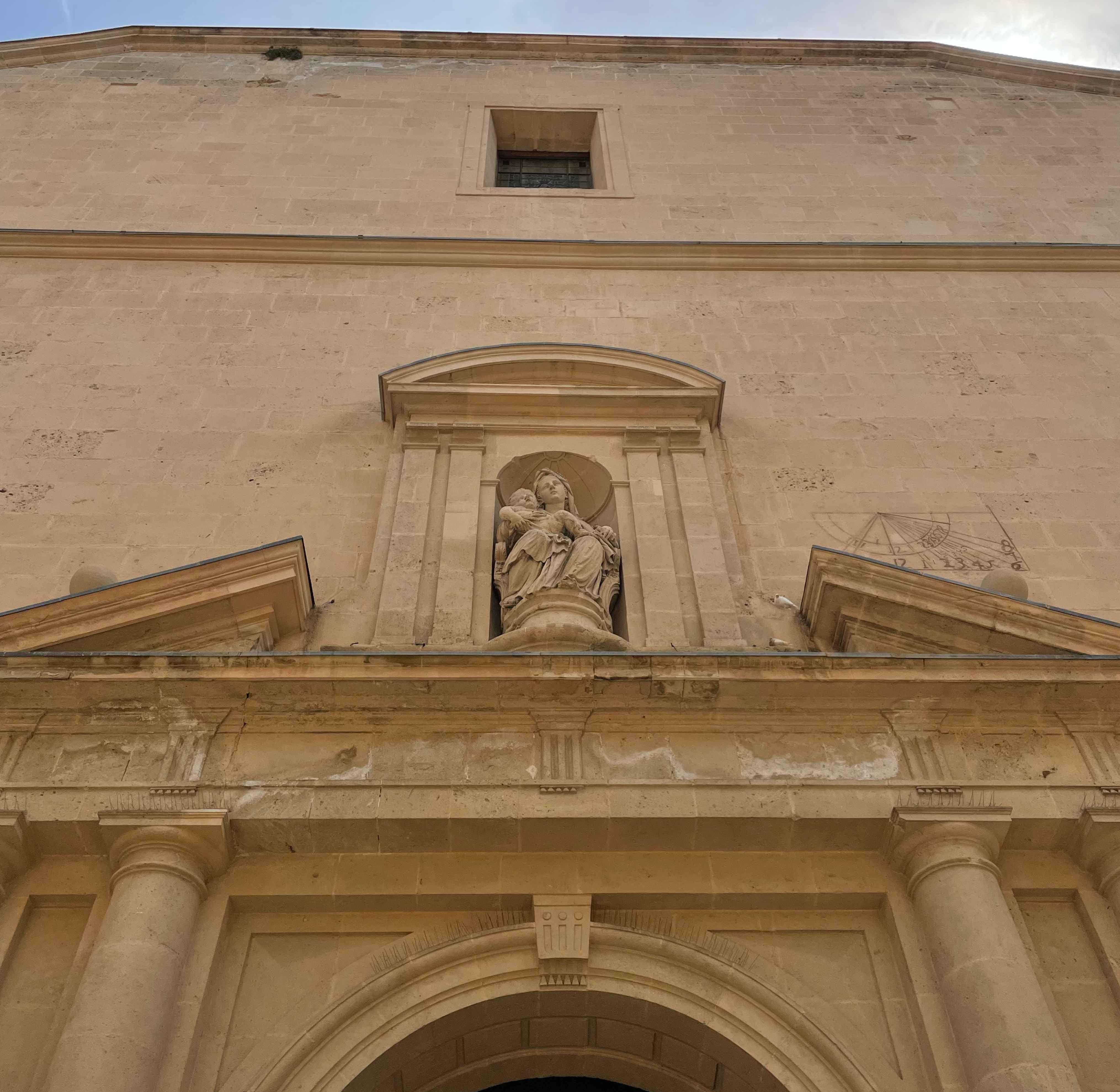 This cathedral has stood in Alicante for centuries, with construction beginning in the late 1600s and continuing for over two hundred years. 
The cathedral's ornate Renaissance facade and intricate Baroque-style interior design reflect the history of the city and the dedication of those who built it. Today, it remains an important cultural and religious site, attracting visitors worldwide who marvel at its beauty and learn about its rich history.
How to Get to Alicante
Alicante is extremely well-connected with an airport of its own, a train station, and a bus station; the city is very easy to reach and perfect to escape the bigger cities.
I visited Alicante in June of 2022 during a city trip to Madrid with my family. It was a bit last minute, but the train tickets were affordable, and we wanted to escape the busy city to breathe some ocean breeze. 
My family and I traveled in a very early Renfe train and came back around 7 pm, which gave us time to have breakfast, walk around the city center, lay for three hours on the beach, get dinner, and head back to the train station walking. 
But let's get back to transportation in Alicante!
Madrid-Alicante
If you are going from Madrid to Alicante by train, you can choose to travel with Ouigo. You will be there in 2h20 for 18 euros for the round trip! Amazing, I know!
If you are okay with traveling for longer, at least 5 hours, you can take the bus from Madrid to Alicante for only 10 euros round trip! (these offers can change depending on the season, but if you book ahead, you will find very sweet deals!).
The third option would be traveling by plane, which takes 1h10 and will cost you approximately 75 euros. 
Barcelona-Alicante
Now, to travel from Barcelona to Alicante, Ouigo is unavailable, so you will have to settle for Spain's train company, Renfe (usually more expensive). The train takes around 5 hours, and the round-trip fares for this journey typically start at around 60 euros, though prices may fluctuate based on the season and availability. 
If you're open to spending 7 hours on the road, there's the option of taking a bus. This route, while longer and round-trip fares for the bus ride, generally start at about 800 - 100 euros.
Lastly, flying from Barcelona to Alicante is the quickest option, with a travel time of around 1 hour and 10 minutes. However, this convenience comes at a slightly higher cost, with round-trip airfare averaging around 100 euros.
Valencia-Alicante
When traveling from Valencia to Alicante, there are various modes of transportation available for you to consider. 
Renfe takes about 2 hours and 20 minutes to reach Alicante, and round-trip fares for this journey typically start at around 20 euros.
Another budget-friendly option is taking a bus, which takes approximately 2 hours to reach Alicante. Round-trip fares for the bus journey usually start at about 40 euros. 
I don't recommend flying because direct flights are not usual.
Best Time to Visit Alicante
| Season | Max Temperature | Min Temperature |
| --- | --- | --- |
| Winter | 16°C / 61°F | 7°C / 45°F |
| Spring | 20°C / 68°F | 10°C / 50°F |
| Summer | 30°C / 86°F | 20°C / 68°F |
| Autumn | 25°C / 77°F | 15°C / 59°F |
---
Alicante has mild winters and warm summers, which makes it an appealing destination throughout the year. 
However, the best time to visit is during late spring and early autumn when the weather is pleasantly warm and the crowds are thinner. This allows for a more relaxed and enjoyable experience for visitors.
As mentioned before, I visited in late spring, the first days of June; the crowds were still bearable on the beach, and the weather was just perfect! We got a spot in Postiguet Beach for three hours, and we didn't even have to hunt or fight for a place. 
Where to Eat in Alicante
Coffee & Brunch
 Madness Specialty Coffee is hidden away in the old town of Alicante, very close to the Cathedral of Saint Nicolas. Additionally, the street of Saint Nicolas is filled with great restaurants; you definitely walk by!
A must in Madness Coffee is their filter coffee (V60) and desserts!
Lunch or Dinner
Bodeguita 1999 offers traditional Spanish dishes that are also mouthwatering!
Dinner or Lunch
If you are in Spain, Italian food is not at the top of your list, but In Bocca, al Lupo, it is simply delicious and incredibly mouthwatering! Located in Street Muñoz 5 very close to the cafe!
Where to Stay in Alicante
Luxury
Located in a historic Dominican Convent, this five-star hotel offers a luxurious retreat in the heart of Alicante. With elegant rooms, a rooftop pool, and gourmet dining, it's a haven of indulgence. The night will be around 200 euros.
Standard
For around 70 euros per night, the Eurostar Centrum is situated near Alicante's city center; this modern hotel offers comfortable accommodation and easy access to main attractions. It is an excellent choice for travelers seeking convenience and comfort.
Budget
Hotel Maya Alicante offers affordability without compromising on quality for an average of 80 euros the night! It provides a pleasant stay with amenities such as a pool and terrace. It's an excellent option for budget-conscious travelers.
How Much Does It Cost to Visit Alicante?
Request information: hello@sensationalspain.com
How much money you need for your trip to Alicante depends on many things, such as how many people are traveling, the type of activities you want to do, accommodation, the duration of your stay, restaurants, and most importantly, the time of year.
To help you more accurately, please don't hesitate to reach out to us via email! Share the details of your desired trip to Spain, and we will provide you with a price estimate and offer local advice for all your travel needs.
Choose your Spain Itinerary
1 Day in Spain? 10 Best Things to Do in 24 Hours!
2 Days in Spain: Trip Ideas & Itineraries to Enjoy Your 48h
3 Days in Spain: What's the Best Itinerary for Your Trip?
4 Days in Spain - Best Travel Itineraries for Short Trips
5 Days in Spain: Itineraries to See (almost) Everything!
6 Days in Spain: The 3 Best Itineraries for Your Trip!
7 Days in Spain: The 3 Best Itineraries for Your Trip!
---
After reading this article, you should now have all the information you need to travel to Alicante. If you have any questions, please don't hesitate to reach out.