Travel to Ibiza: 5 Top Attractions, Food & Activities!
October 29, 2023
Updated:

October 31, 2023
Published: October 29, 2023
If you were to ask your typical party-loving friend "how was your trip to Ibiza?" they would probably tell you all about the amazing time they had. But, let's be honest, they may not be the most useful source of recommendations if you're looking to explore the city beyond its party scene.
It has so much more to offer! You'll fall in love with the breathtaking landscapes, perfect for hiking, and the unique monuments and galleries. And the food? Oh my! The restaurants are out of this world! Plus, the hotels are just incredible and will make your stay unforgettable. Trust me, Ibiza is the ideal destination for your next vacation!
I am here to guide you through everything there is to know about Ibiza. I will help you discover the must-visit places, the best beaches to swim in, stunning resorts worth checking out, and, of course, the most popular nightlife spots in Europe!
But before we get started, please promise you'll try your best to avoid being hungover on the first day and missing out on all the sightseeing fun. Okay? Now, let's begin!
---
What is Ibiza?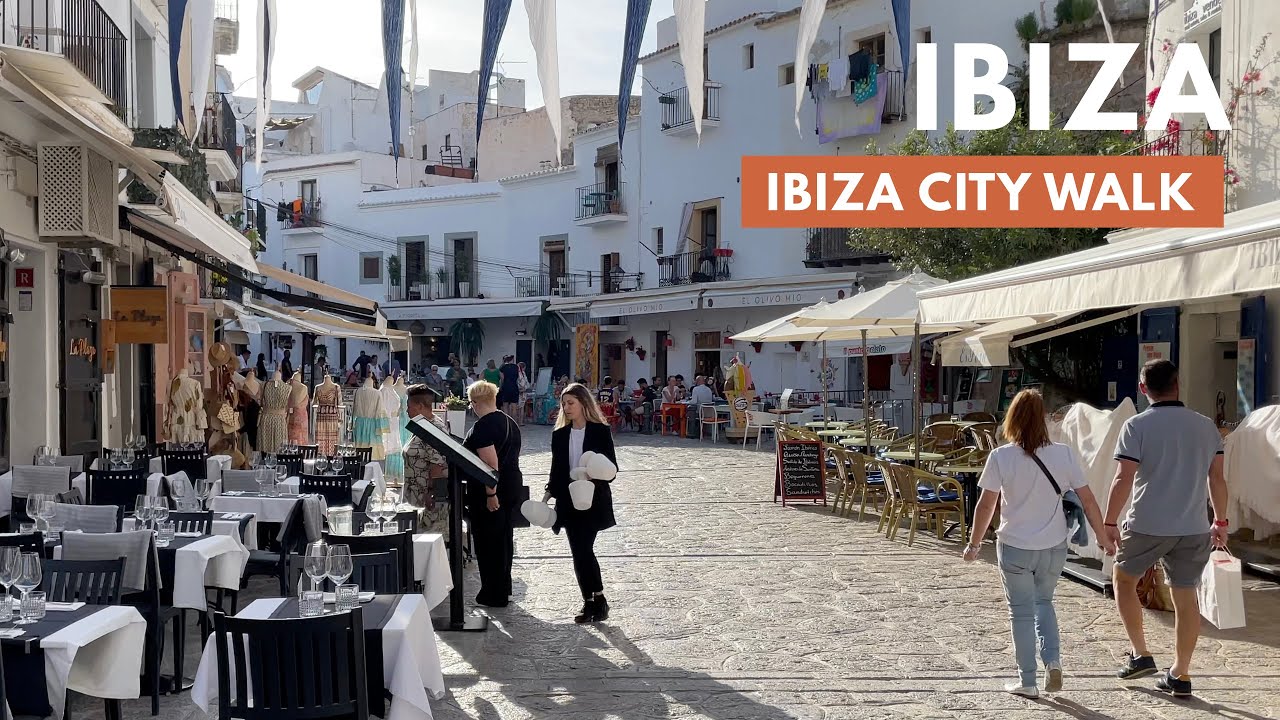 Ibiza is an island in the Mediterranean Sea, part of the Balearic Islands in Spain. It is a famous destination for its vibrant nightlife, beautiful beaches, and stunning natural landscapes.
Due to its medieval architecture and rich history, the ancient town of Dalt Vila in Ibiza has been declared a UNESCO World Heritage Site.
Ibiza is a popular destination among celebrities and well-known people who enjoy the island's beauty, privacy, and laid-back lifestyle.
Best Things to Do in Ibiza
1. Take a dip in the most amazing Calas 
1. Cala Vadella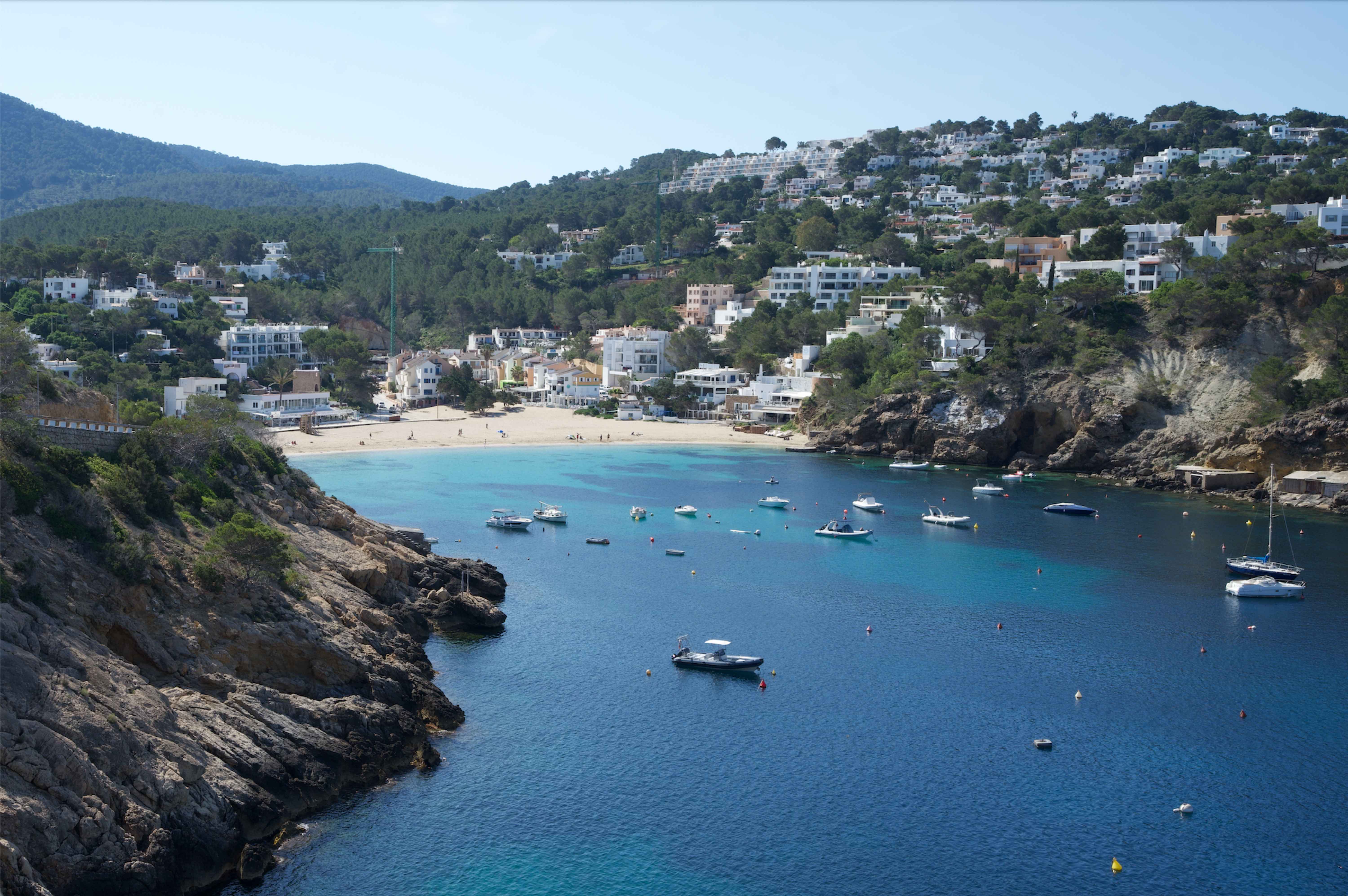 Cala Vadella is a beautiful destination since the bay has stunning scenery, a wide sandy beach, shallow waters, and a peaceful atmosphere. 
The calm and peaceful waters of the bay are just waiting for you to dive in and enjoy some fun water activities! You can choose from kayaking, paddle boating, Stand-up Paddleboarding, or diving.
Cala Vadella is just 25 minutes away from San Antonio or Ibiza Town and only 10 minutes from the San José village. You can rent your car, or you can grab a bus or a taxi. 
2. Sa Pedrera de Cala D'Hort
More than a beautiful cove with beautiful views, this unique place has strange rock formations called Atlantis that make up a most peculiar dreamlike landscape, in which we find natural saltwater pools and many symbols and carved marine elements on the rocks.
To find the Cala Atlantis, also known as Sa Pedrera, you must take a path that connects Es Cubells in the southeast of Ibiza with Cala d'Hort, a famous beach. 
When you spot the peak of Es Vedrà behind a mountain of pine trees, take a left turn where a sign points to Sa Pedrera. Follow a dirt road until you arrive at a small parking area. 
3. Cala Tarida
Cala Tarida is one of the most beautiful beaches in Ibiza. It has crystal clear waters and gorgeous views. It's very clean, perfect for a dip, and it is also very family-friendly. 
Additionally, the beach is located in Cala Tarida, a popular tourist area (to the west of the island). This area is home to over 20,000 people and offers so many fun things to do.
The beach is open and exposed to the Levante Winds. To get there, you have a couple of options. The first is to cross the entire Bay of San Antonio to the detour that indicates "Platges de Comte and Cala Bassa." The second is to follow the detour on the left just past the town of Sant Josep, which also leads to Cala Vedella.
4. Cala Comte
You can't miss Cala Conta, one of the most famous spots on the island. It has gorgeous pearly sands, and the turquoise waters are simply breathtaking! 
To get there, just hop on the PM-803 road towards San José and follow the signs for Cala Comte. Oh, and don't forget to pack your snorkeling gear if you want to see some fish; it's totally worth it!
5. Cala Salada & Cala Saladeta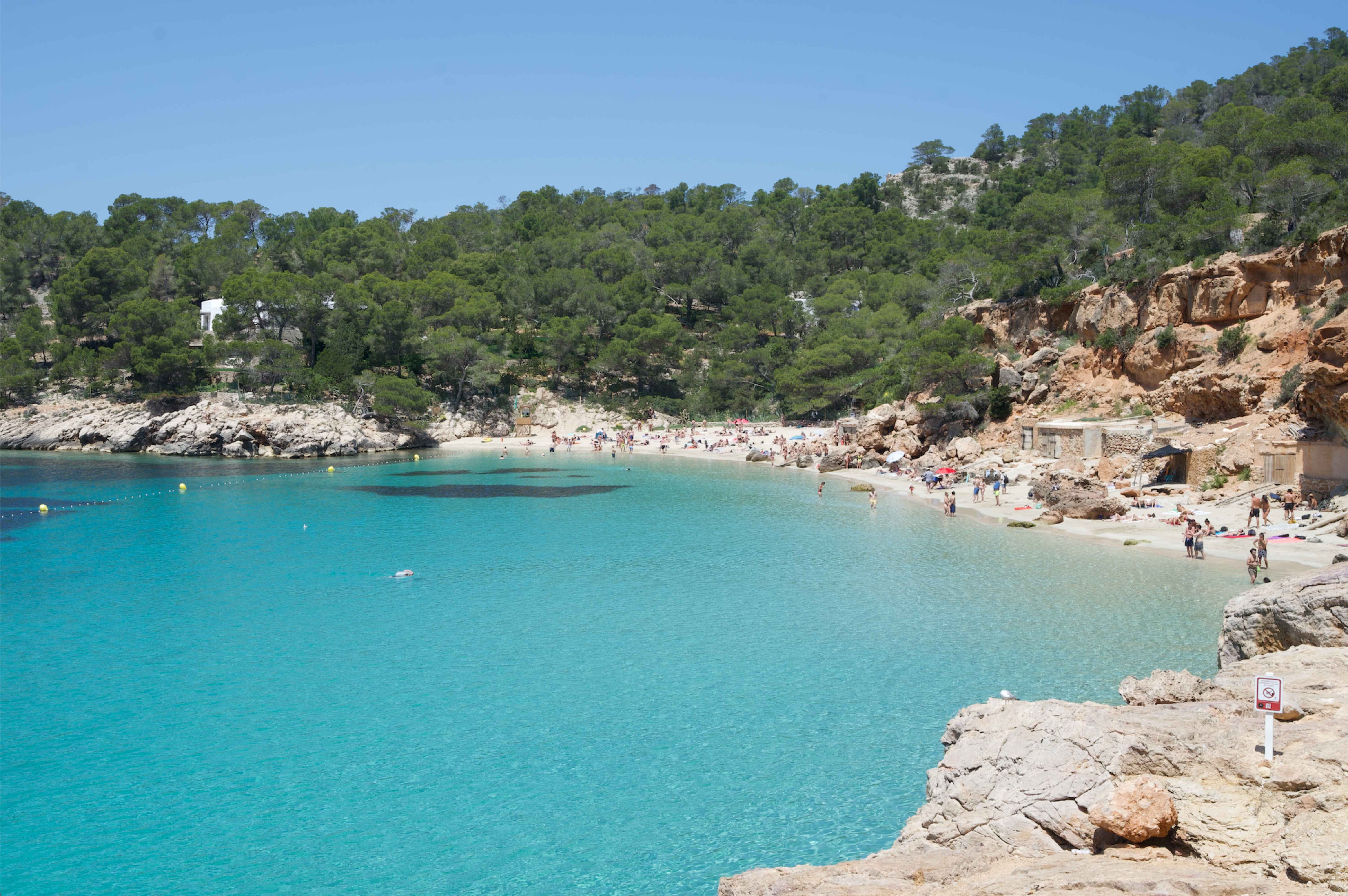 Cala Salada took my breath away. It has a perfect blend of sandy and rocky areas to explore, and you can even go diving if you're feeling adventurous. You're going to love it there!
Although it is a small beach that requires a short hike to access, it is nicely located and ideal for taking great photos.
Right next to it, you will find Cala Saladeta; the two beaches combine, creating a gorgeous landscape. This is a paradise, and its waters feel like a pool.
If you're coming from San Antonio, the best way to get there is by taking the PM-812 highway towards Santa Agnes. After a drive of about two kilometers, you'll pass the Can Coix sports area and arrive at Camí Cala Salada, and you'll easily find the cove. 
2. Explore Cova de San Marçà
It's surprising how little recognition this place gets in Ibiza. The Caves of San Marca is an absolute gem that offers a glimpse into Ibiza's intriguing past and guarantees a unique experience on this lively island.
The cave is a perfect blend of natural and artificial wonders that showcase Ibiza's rich history and modern, tourist-friendly vibe.
The walk down to the caves is incredibly scenic, and you'll get some fantastic pictures along the way. Once inside, you'll experience a spectacular light show with a waterfall that is entertaining. 
If you're up for some adventure, you can take the 45-minute guided tour through old underground paths, where you can still see signs of smugglers from long ago. And the best part? You don't have to worry about buying tickets in advance; show up and purchase them there.
Trust me, this is a must-visit spot you won't regret exploring!
3. Experience the hottest party scene in Ibiza
Let's get down to business.
Most people visit Ibiza for the epic party scene, to be fair. It's famous for having one of the best nightlife experiences in the world!
You've got plenty of options. One of the best places to check out is in Ibiza Town. You'll see fantastic restaurants, bars, and shops to explore, like the super-club Pacha, as well as other smaller venues like Club Chinois and Lío Ibiza. 
Another one is Playa d'en Bossa, located on the east coast. It has the longest beach and plenty of restaurants and bars to suit all tastes and budgets. You'll find cool clubs like SWAG, as well as popular super-clubs like the world-renowned open-air venue Ushuaïa and the famous Hï Ibiza.
If you're looking for a more laid-back vibe, Santa Eulalia is a great option! You'll find plenty of fantastic restaurants and a handful of cozy bars. 
And, have you heard about San Antonio on the west coast of Ibiza? It's a lively place with a broad beach and a bustling town center full of bars and smaller nightclubs. You can party all night long in the huge clubs of Eden and Es Paradis, right next to the palm tree-lined promenade. You will love it there!
4. Wander in the lovely town of Portinax
If you plan a trip to Ibiza, you can't miss Portinatx. It's a fantastic spot in the northern area of the island that Iñigo and I fell in love with. And there are so many reasons why! 
First off, the area is stunning, and it's like stepping into paradise. You'll feel entirely at peace with the world. And the town itself is perfect for families because the atmosphere is so welcoming and friendly. But it's also an excellent spot for anyone who loves water sports, festivals, and nightlife. There's always something to do and see here. 
You can take boat trips, snorkel, hike, cycle, play mini golf, and more. And if you love to party, don't worry because there are plenty of options for you, too. The options may be less than in other places, but it's still awesome.
One of the highlights of Portinatx is the picturesque landscape of its beach, full of small boats, views of the islet of Sa Guardiola, and the boathouses. And if you want to explore the environment on your own, you can walk to the tallest lighthouse in the Balearic Islands. The views are breathtaking!
You also have many coves; one of my favorites was Arenal Petit, a small beach, but it's perfect for families and anyone who loves water sports. You can try stand-up paddleboarding or diving, and there are umbrellas, hammocks, and beach bars where you can relax.
5. Discover the Eivissa Old Town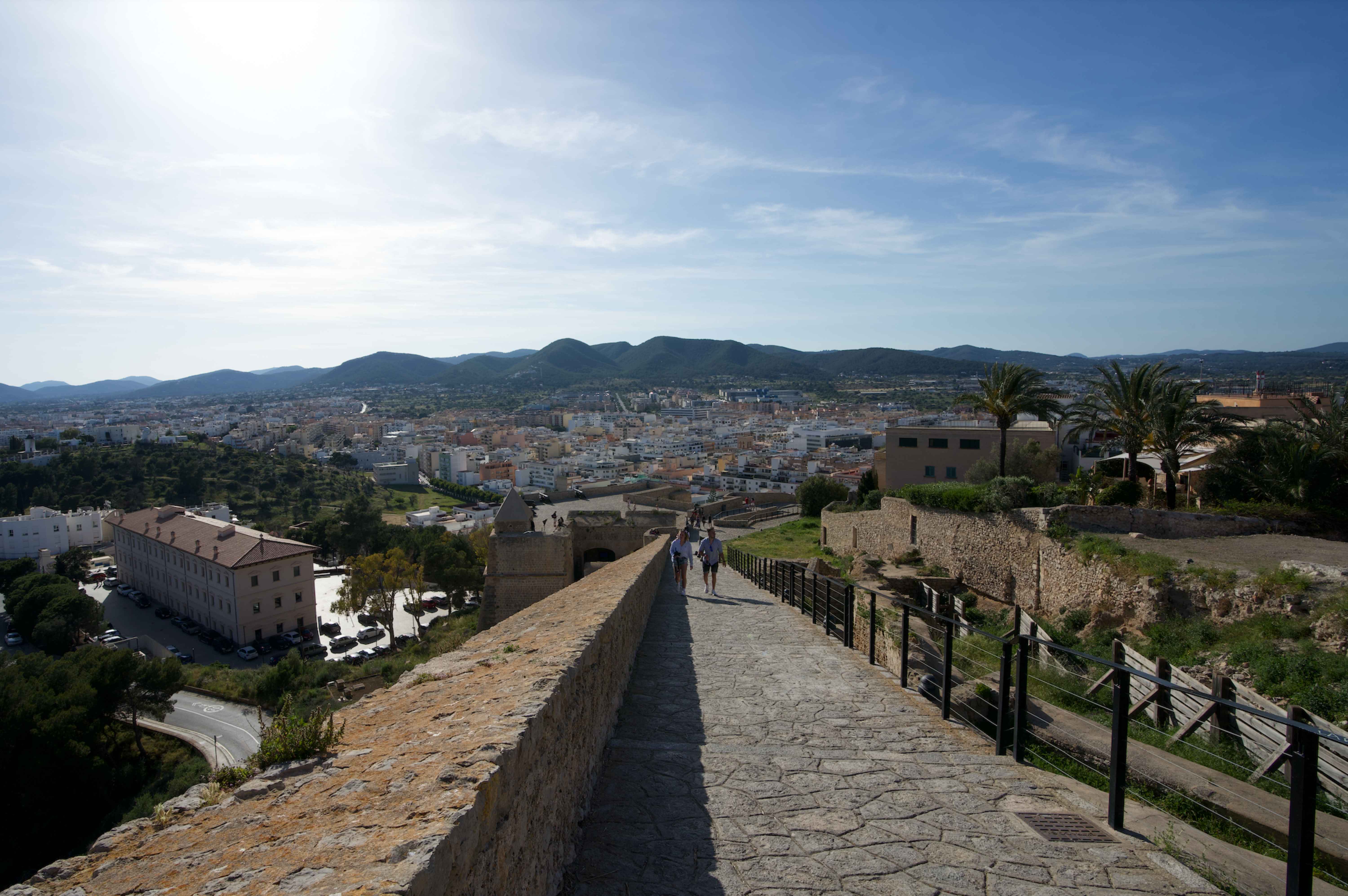 There are a few things you absolutely can't miss while visiting Eivissa! Of course, you'll want to wander the charming streets and soak up the nightlife, but have you tried its delicious seafood dishes? They're a must-try. 
For a bit of history, start your adventure at the Necropolis of Puig des Molins, the oldest and most important in the Western Mediterranean! You can also check out the Puig des Molins museum and the Portal Nou while you're there.
Be sure to explore the narrow streets of Dalt Vila, surrounded by beautiful whitewashed houses. You won't want to miss the stunning Cathedral of Santa María or the castle right next to it.
Take the breathtaking views from Baluard de Sant Bernard and enjoy people-watching in the charming Plaza de la Vila. Lastly, visit the Paseo Marítimo de Ibiza and see the beautiful views!
Best Time to Visit Ibiza
The best time to visit Ibiza depends on what you're looking for! Generally speaking, April, May, September (second half), and October are great times to go. During these months, you can experience all the fantastic things the island offers, but with fewer crowds.
Spring and early autumn are perfect for enjoying aquatic activities, such as snorkeling, diving, paddle surfing, kayaking, sailing, and jet skiing. But there are also many other activities, such as hiking, cycling, golfing, and even wellness retreats. Weather-wise, the temperatures are pleasant. 
Read more: Spain in October: 7 Travel Tips, Activities & Weather
But, if you're interested in the nightlife scene, the best parties with the top DJs are in July and August at iconic places like Hï, Ushuaïa, Pacha, Amnesia, and Es Paradis.
Just keep in mind that July and August are the busiest months, but June (second half) and September (first half) are also famous and have very hot Summer weather. 
Oh, and if you're planning a winter getaway, Ibiza is perfect for those who love a peaceful environment, outdoor activities, and breathtaking views.
How to Get to Ibiza
Ibiza is an island perfectly connected both with the rest of Spain and with other European countries.
By flight
Getting to Ibiza via plane is likely the most comfortable and quickest option. Plus, it's often the most reasonably priced. Also, by booking your flights on time, you can find round-trip offers for just over €50.
Once you arrive at the airport, you have the option of using several bus lines to get you where you need to go.
Line 10: airport – Ibiza city
Line 24: Airport – Santa Eulalia – Es Canar – Cala Nova
Line 9: Airport – Sant Josep – Sant Antoni de Portmany
Or grab a taxi: around 20 euros, depending on the location.
By boat
If you plan a trip to Ibiza, arriving by boat can be a great option, especially if you're from Barcelona, Denia, Formentera, Mallorca, or Valencia. 
Ibiza has plenty of connections to major national and international destinations throughout the year, and during the tourist season, there are even more options.
From Barcelona to Ibiza: approximately 9 hours
From Valencia to Ibiza: between 4:45 and 6:45 hours
From Denia to Ibiza: 3 hours
Where to Eat in Ibiza
Have a delicious lunch with atmosphere at Cala Gracioneta Chiringuito
Experience Modern fine dining at Ibiza Food Studio
Enjoy freshly harvested food at Cas Gasi
Have a nice dinner in the Old Town at El Olivo Mio
Where to Stay in Ibiza
Delight yourself in Hotel Nobu Ibiza
Enjoy a green atmosphere at Can Sastre Boutique Hotel
Enjoy an affordable and convenient stay at Pikes Ibiza
How much does it cost to visit Ibiza?
Request information: hello@sensationalspain.com
How much money you need for your trip to Ibiza depends on many things, such as how many people are traveling, the type of activities you want to do, accommodation, the duration of your stay, restaurants, and most importantly, the time of year.
To help you more accurately, please don't hesitate to reach out to us via email! Share the details of your desired trip to Spain, and we will provide you with a price estimate and offer local advice for all your travel needs. 
Choose your Spain Itinerary
1 Day in Spain? 10 Best Things to Do in 24 Hours!
2 Days in Spain: Trip Ideas & Itineraries to Enjoy Your 48h
3 Days in Spain: What's the Best Itinerary for Your Trip?
4 Days in Spain - Best Travel Itineraries for Short Trips
5 Days in Spain: Itineraries to See (almost) Everything!
6 Days in Spain: The 3 Best Itineraries for Your Trip!
7 Days in Spain: The 3 Best Itineraries for Your Trip!
---
I know you are probably already excited about coming to Ibiza, and who wouldn't be? It's an amazing destination that has so much to experience.
But, listen up, my friend! Make sure you take care of yourself by putting on sunscreen, drinking plenty of water, and avoiding those annoying hangovers that can ruin your mornings.
You don't want to miss out on all the fun things Ibiza has to offer! If you have any questions, just ask. I'm here to help you out, and I'm always happy to do so!