11 Best Shopping Places in Madrid: Streets, Outlets & More
February 9, 2023
Updated:

September 26, 2023
Published: February 9, 2023
Deciding where to go shopping can be overwhelming, especially in a big city. You may need some help finding the best streets or spots to find the best deals.
This is why I'll be your guide through the best shopping stores, outlets, and streets and give you tons of pictures so you can get an idea and decide which place is the best for you.
Madrid has everything from the most exclusive to the most unusual for all tastes and pockets.
Also, most of these places are surrounded by green areas, places to eat, and unique locations to grab lunch or a snack.
Let's dive into it!
---
If you are also looking for itineraries, we have created 11 itineraries for you to travel Spain! Click to get a planned trip (all free)!
---
---
Serrano
Serrano street is one of the most expensive and exclusive streets in Madrid. Here you will find the best luxury stores offering premium and high-quality products.
As it is a fashion axis of the city, it has become one of the main tourist destinations. Serrano is a very vibrant and energetic street full of people most of the time.
I highly suggest you walk up the street from the Puerta de Alcalá at the Plaza de la Independencia and walk up the road while enjoying the beautiful architectural wonders the street offers.
Some of the stores you can find when you visit are:
| Stores in Serrano | Address |
| --- | --- |
| Carolina Herrera | C.Serrano, 16 |
| Versace | C.Serrano, 16 |
| Kenzo | C.Serrano, 17 |
| Nike | C.Serrano, 19 |
| Longchamp | C.Serrano, 20 |
| Ermenegildo Zegna | C.Serrano, 21 |
| Zara | C.Serrano, 23 |
| Prada | C.Serrano, 26 |
| Agatha Ruiz de la Prada | C.Serrano, 27 |
| Purificación García | C.Serrano, 28 |
| Pronovias | C.Serrano, 31 |
| Michael Kors | C.Serrano, 32 |
| Loewe | C.Serrano, 34 |
| Sephora | C.Serrano, 36 |
| Max Mara | C.Serrano, 38 |
| Emporio Armani | C.Serrano, 44 |
| Swarovski | C.Serrano, 44 |
| Gucci | C.Serrano, 49 |
| Montblanc | C.Serrano, 50 |
| Chopard | C.Serrano, 51 |
| Miu Miu | C.Serrano, 54 |
| Uno de 50 | C.Serrano, 54 |
| Ikea | C.Serrano, 55 |
| Manolo Blahnik | C.Serrano, 58 |
| Suárez Joyería | C.Serrano, 62 |
| Stella McCartney | C.Serrano, 62 |
| Louis Vuitton | C.Serrano, 66 |
| Lottusse | C.Serrano, 68 |
| Saint Laurent | C.Serrano, 70 |
| Botegga Veneta | C.Serrano, 70 |
| Cartier | C.Serrano, 74 |
| Zara Home | C.Serrano, 88 |
| Maison Du Monde | C.Serrano, 90 |
---
Gran Via
If I had to define this iconic street of Madrid, I would say it is an authentic outdoor shopping center that attracts 10 million people every year.
Gran Via is the most traveled street as it is also a Landmark in Madrid. It is very touristy and crowded every day of the year.
To see more famous Landmarks, visit this article:
However, suppose you get easily overwhelmed and prefer a peaceful shopping day. In that case, you should keep reading for the next recommendations instead.
Still, it's perfect for shopping as it hosts some of the most demanded stores in the city.
There are shops of all kinds, clothing stores, gift stores and accessories, shoe stores, jewelry stores, cinemas, theaters, restaurants, and bars.
Some of the well-known stores and brands you can find in Gran Via are the following:
| Stores in Gran Via | Address |
| --- | --- |
| Loewe | C.Gran Vía, 8 |
| Adidas | C.Gran Vía, 21 |
| Bershka | C.Gran Vía, 25 |
| Kiko Maquillaje | C.Gran Vía, 25 |
| Aristocrazy | C.Gran Vía, 26 |
| Perfumerías Douglas | C.Gran Vía, 27 |
| Tienda Movistar | C.Gran Vía, 28 |
| La Casa del Libro | C.Gran Vía, 29 |
| Primark | C.Gran Vía, 29 |
| Stradivarius | C.Gran Vía, 30 |
| Real Madrid Store | C.Gran Vía, 31 |
| Pull & Bear | C.Gran Vía, 31 |
| Mango | C.Gran Vía, 32 |
| H&M | C.Gran Vía, 32 |
| Zara | C.Gran Vía, 34 |
| Nike | C.Gran Vía, 38 |
| Springfield | C.Gran Vía, 40 |
| United Colors of Benetton | C.Gran Vía, 41 |
| Parfois | C.Gran Vía, 42 |
| Five Guys | C.Gran Vía, 44 |
| Atlético de Madrid Store | C.Gran Vía, 47 |
| Huawei | C.Gran Vía, 48 |
| Lacoste | C.Gran Vía, 51 |
| Camper | C.Gran Vía, 54 |
| Carmina | C.Gran Vía, 58 |
| Clarks Zapatería | C.Gran Vía, 68 |
---
Fuencarral
Fuencarral is another must-go if you are looking for good clothing stores in Madrid.
This street is the central axis of a large shopping area between the neighborhood of Malasaña and Chueca.
It is also a lively zone with various national and international stores.
The street vibe is authentic, and you can find a little bit of everything. The best thing is that it is very well communicated.
So, if you are in the middle of Gran Via and you feel dazed by so many people, then Fuencarral is your perfect escape street.
Here you can continue browsing stores and strolling since cafes, bars, and very top places are available to make a little pit-stop, recharge your batteries, and continue shopping.
10 Best Cafes in Madrid: Your Guide to the Best Coffee Shops
| Stores in Fuencarral | Address |
| --- | --- |
| Foot Locker | C.Fuencarral, 4 |
| Adolfo Domínguez | C.Fuencarral, 5 |
| Hawkers | C.Fuencarral, 10 |
| Victoria's Secret | C.Fuencarral, 14 |
| Cos | C.Fuencarral, 16 |
| Pepe Jeans | C.Fuencarral, 23 |
| Levi's | C.Fuencarral, 24 |
| Custo Barcelona | C.Fuencarral, 29 |
| Decathlon | C.Fuencarral, 45 |
| Poète | C.Fuencarral, 55 |
| Sfera | C.Fuencarral, 56 |
| Kling | C.Fuencarral, 71 |
| La Tienda de Valentina | C.Fuencarral, 92 |
| Tiger | C.Fuencarral, 103 |
| Benotac (Apple Reseller) | C. Fuencarral, 104 |
| Casa del Libro | C.Fuencarral, 119 |
---
Preciados
Preciados street is a central street between Puerta del Sol and Plaza de Callao.
This shopping area is one of the few streets with pedestrian access to the city, making it a good choice for shopping.
It has many brands available, so you will have plenty of choices, from the smaller ones with prices for all budgets but with quality products to renowned brands.
| Stores in Preciados | Address |
| --- | --- |
| El Corte Inglés | C. Preciados, 1 |
| Primor | C. Preciados, 2 |
| El Corte Inglés | C. Preciados, 3 |
| Sfera | C. Preciados, 4 |
| Foot Locker | C. Preciados, 6 |
| Sport 2000 | C. Preciados, 7 |
| Parfois | C. Preciados, 7 |
| Mac Maquillaje | C. Preciados, 7 |
| Mango | C. Preciados, 8 |
| Pull & Bear | C. Preciados, 9 |
| Hard Rock Cafe Rock Shop | C. Preciados, 11 |
| Intimissimi Lencería | C. Preciados, 12 |
| Stradivarius | C. Preciados, 14 |
| Levis | C. Preciados, 15 |
| Zapshop | C. Preciados, 16 |
| Zara | C. Preciados, 18 |
| Camper | C. Preciados, 23 |
| Desigual | C. Preciados, 25 |
| FNAC | C. Preciados, 28 |
---
El Corte Inglés
If you have visited Madrid, you have undoubtedly come across more than 5 times the famous "El Corte Inglés," the largest department store group in Europe and the third largest in the world.
Besides clothing, you can also find shoes, toys, accessories, supermarkets, pharmacies, coffee shops, sportswear clothes, appliances, household goods, hardware stores, everything, even rooftops!
The list of stores is endless. So here is the official link of El Corte Inglés.
They also offer free parking for customers (which is rare in Madrid), cafes, hairdressers, and packaging. This shopping center has an excellent reputation, and you can quickly get a refund if you are unsatisfied.
I definitely recommend visiting this department store. I'm sure you'll find everything that you're looking for. There is even a supermarket!
And there is a rooftop terrace on the last floor of El Corte Inglés in Callao. It has incredible views of the city and a Gourmet Experience floor.
To see other famous rooftops to enjoy the Skyline of Madrid, tap here:
The 11 Best Rooftops in Madrid: Drinks and Stunning Views!
---
ABC Serrano
ABC Serrano is a shopping mall in the middle of Serrano street and Paseo la Castellana, being location its main advantage.
You can find different stores, such as fashion, home, shoe, and service stores. On the positive side, most of them are different from the typical stores we're tired of seeing in the city center.
However, only a few people visit it regularly. It is true that since the opening of Mercadona (a well-known Spanish Supermarket), the mall has gained in customer traffic, life, and stores, but it has never really taken off.
Still, it is a good stop, especially if you're strolling in Serrano Street in the middle of summer and want to get some fresh air-conditioned air.
ABC Serrano is also famous for its terrace on the last floor. At night, you can visit this fantastic place to enjoy drinks and tapas with friends or a date night!
Besides, the mall is very clean and organized (which is a plus.) Moreover, it has a gym, the Reebok Sports Club, which offers longer opening hours than the other establishments.
And, fun fact, there's a free arcade machine on the lower floor, perfect for having a good time.
---
Centro Comercial Principe Pio
Another one for the list!
Principe Pio is a shopping mall in Madrid with a very peculiar design. The place was an old station renovated by architects who gave it a special touch. Definitely worth visiting.
This center has a bit of everything. It has stores, casual dining restaurants, cinemas, and supermarkets. So you can do all kinds of shopping, hang out and drink.
There are very inexpensive places and good deals almost every time I visit.
Also, this place is located in a strategic point of the city since exchange students live near the Ciudad Universitaria neighborhood, so the well-known district of Moncloa makes Principe Pio a reference point for meetings and social gathering points.
The mall has two floors for stores, one on the first floor and one on the ground floor. Some of them are Zara, Stradivarius, and H&M, to name a few. Moreover, there are beauty, shoes, books, item stores, and even a basic supermarket.
The only thing is that there should be more high-quality brands since there are few options for buying quality clothing in this square. Above that, it's a great spot to find good deals and the specific stores you want.
As for the food hall, there's a Starbucks, McDonald's, Burger King, Mexican food, kebabs, hot dogs, buffets, Chinese food, and so on. A little bit of everything.
---
WOW Concept Store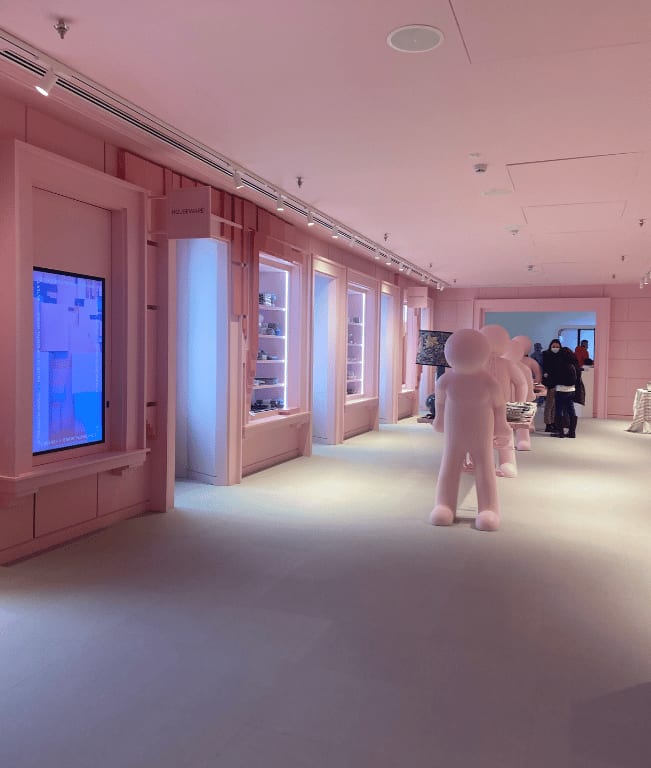 The wow concept store, located in the heart of Gran Via, arrived in Madrid to revolutionize the shopping experience we are used to.
In this space, the digital and the physical come together under a super cool "phygital" concept, resulting in a mandatory stop if you come to Madrid.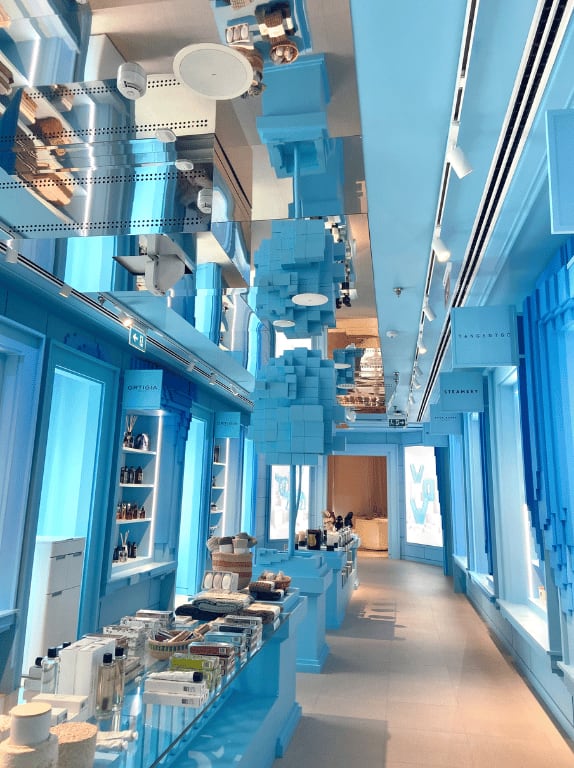 The stores found in WOW want you to live the complete experience of their brand essence.
Among the renowned brands are Marni, Lacoste, Collina Strada, Cecilie Banhsen, Moisés Nieto, The (Real) García, Mans or Amul, Gala González, French Musier, Sunnei, Samsoe, Miista, Nodaleto, SiMuero, SafSafu, By Far, Bang & Olufsen, Devialet, Taschen, Assouline y Phaidon, Scandel, Sargadelos, and Branqueta. To name a few!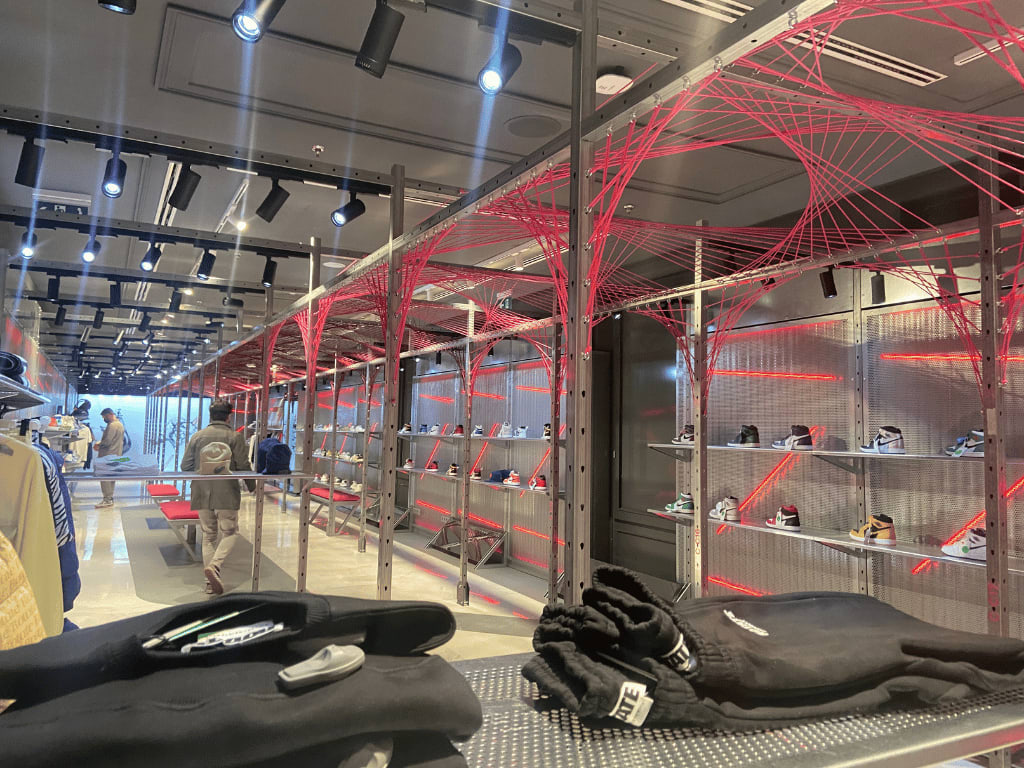 Visiting Wow concept is an experience, almost an immersive one. It has super crazy rooms and spaces decorated with colorful, vibrant themes that present the brands in a fun way that will definitely surprise you.
---
El Rastro
Diversity, simplicity, and culture make El Rastro market an iconic place in Madrid and unique for all its visitors.
You can shop, stroll, take pictures, let yourself be, get some good deals, have a few beers, meet up with friends, and listen to music.
There are infinite things to do along the streets, squares, galleries, and stores that occupy this market.
El Rastro de Madrid is basically a street market that extends through the neighborhood of La Latina and alternates street stalls with permanent stores selling antiques and curiosities.
The perfect time to visit the Rastro is something you want to keep in mind. I highly suggest you arrive around half past ten or eleven in the morning to enjoy it at its best.
You will find a lot of informal stalls, stores full of knick-knacks and relics, and luxurious stores and magazines.
Living Retro is one of my favorites. This store has a little bit of everything, and sometimes they have turntables with old vinyl. There are also Galería Piquer and Nuevas Galerías, but take notes because some others are not always open.
Lastly, your tour of El Rastro can end in one of the tapas bars in the area, like the Santurce bar that never fails, where you can have a vermouth or a beer.
If you want to learn more about this unique market of El Rastro, read this article that will guide you through the best Spanish Markets.
---
Las Rozas Village Outlet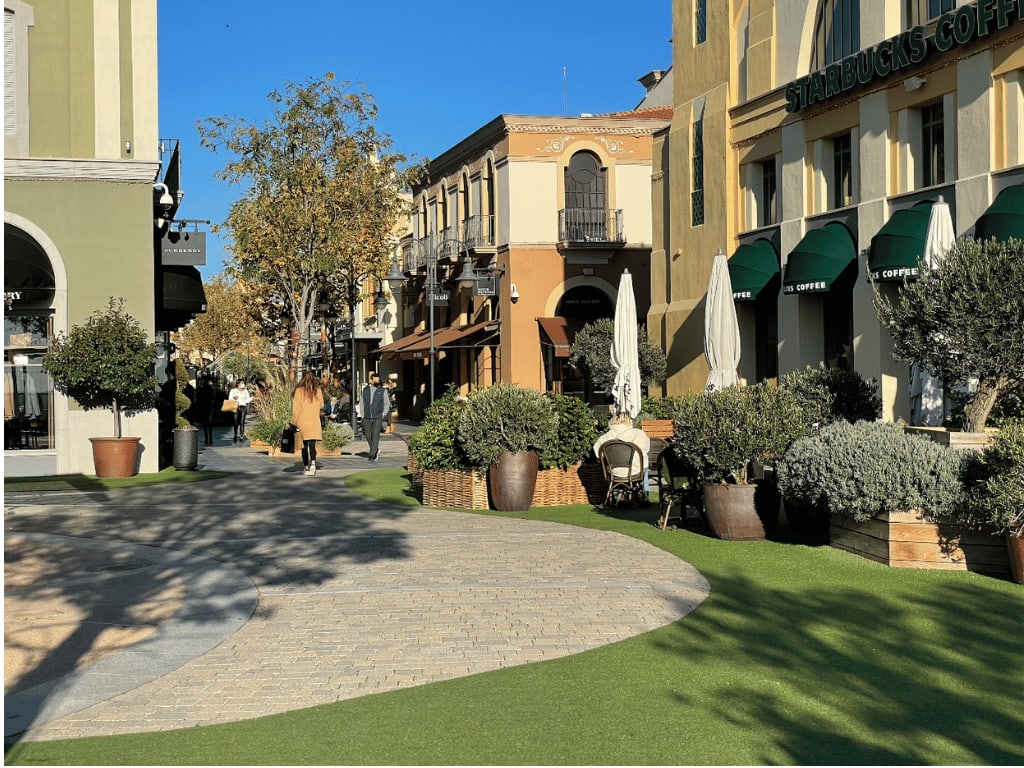 Las Rozas Village is an Outlet on the outskirts of Madrid that has stores of all kinds.
It is super convenient because you can find discounts of up to 60% on high-end brands.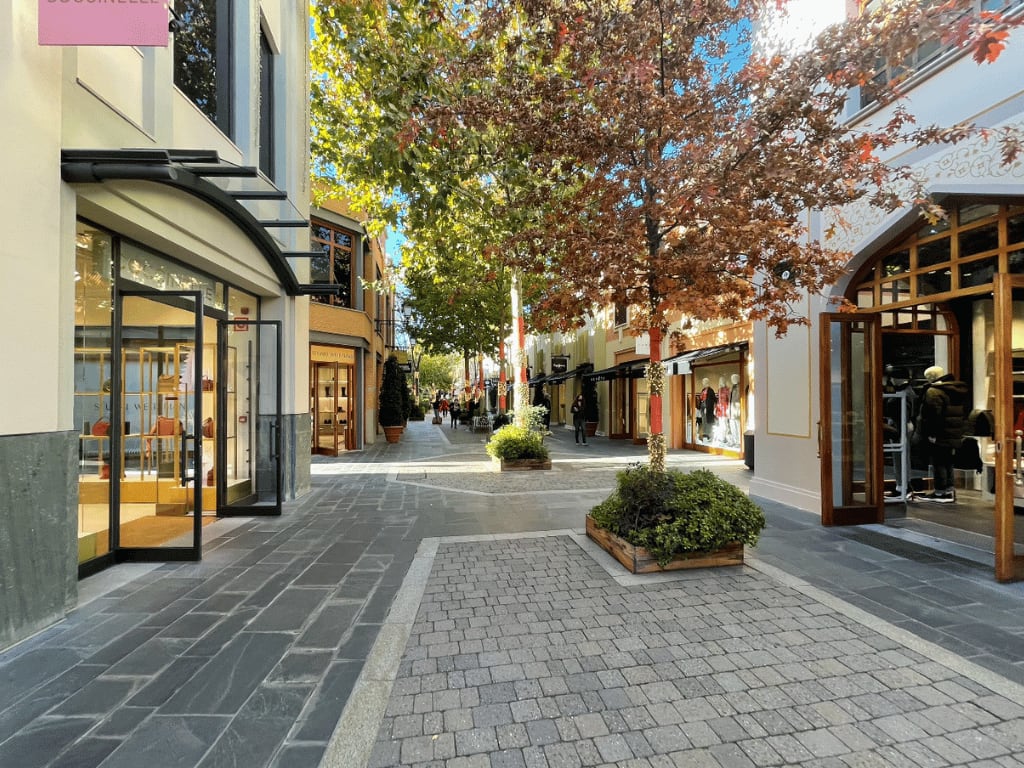 The Outlet has over a hundred boutiques of the best national and international fashion and lifestyle brands. You can find a timeless piece for very little money if you are lucky.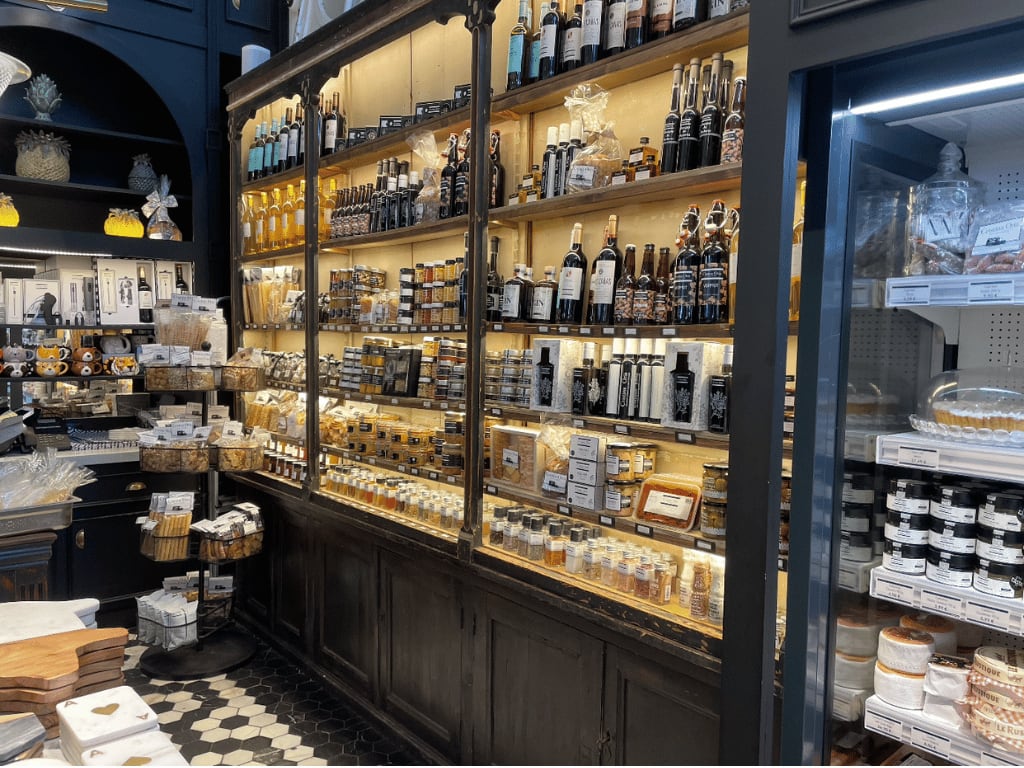 The truth is that the Outlet is in a privileged location, surrounded by green areas and vegetation where you can stroll along its boulevards, get deals in its boutiques, spend time with loved ones, and enjoy a nice mid-day snack in one of its terraces.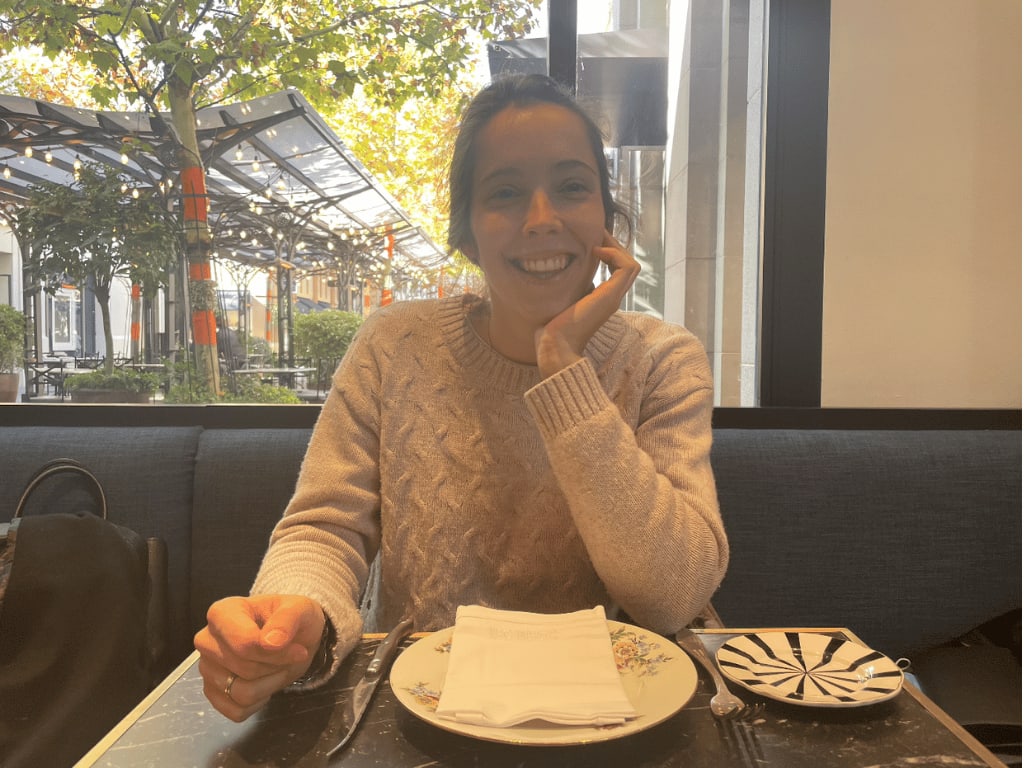 Speaking of food, this place is spectacular for lunch. The last time I was there, we ordered a little bit of everything and ate wonderfully.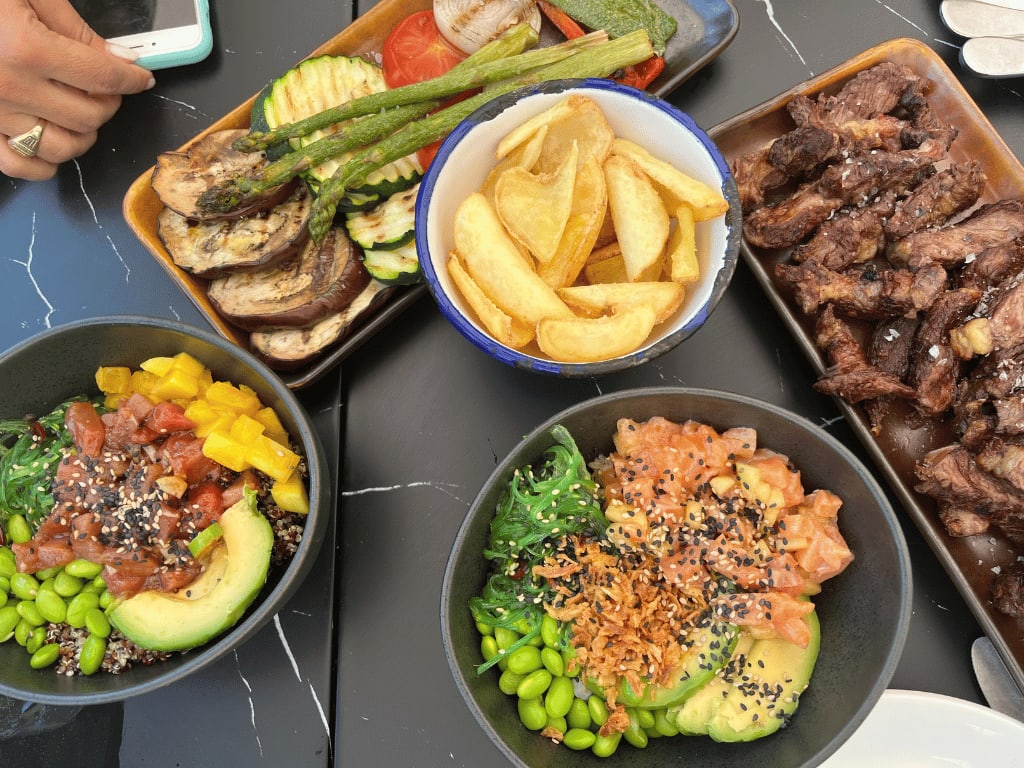 They also offer a Personal Shopping service with image consultants who will help you with all the tips you need to complete your closet.
No doubt, Las Rozas Village, besides being an excellent place to go shopping, is a great weekend plan!
---
Galeria Canalejas
Galeria Canalejas is the most exclusive mall in Madrid, where luxury shops and high-end brands are.
This is a space to live a global experience, and it is not only luxury but also history and architecture.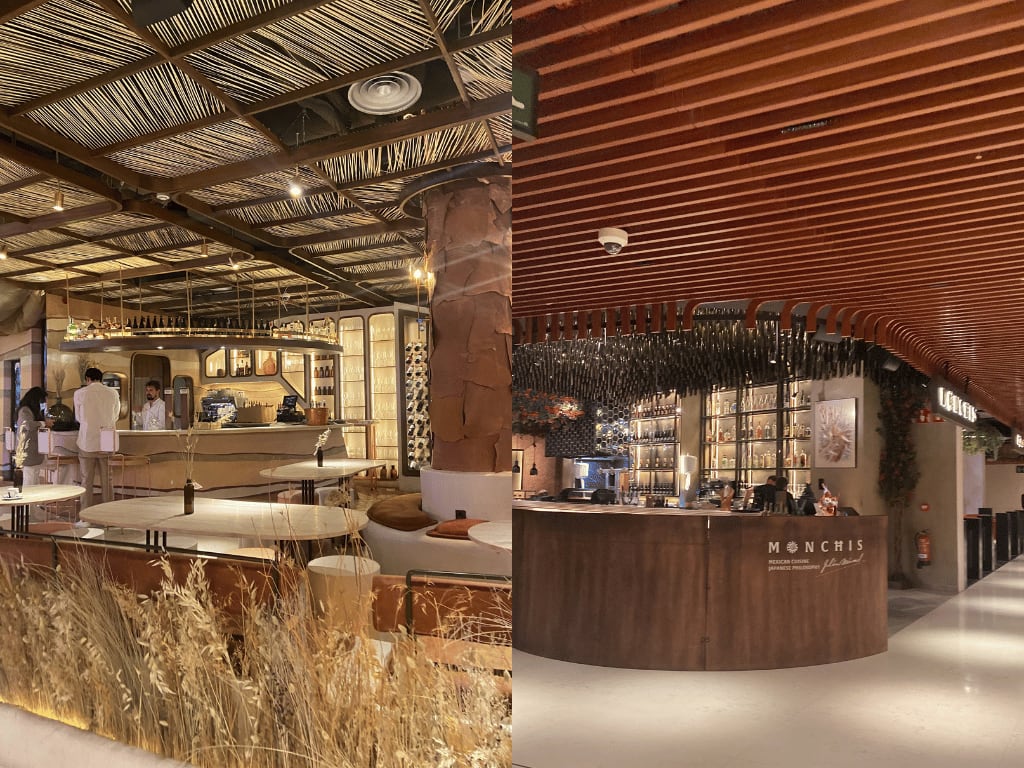 So you can have an idea, the concept is similar to Harrods in London or Galeries Lafayette in Paris.
More than 40 fashion boutiques, accessories, perfumery, fine jewelry, and watches of the most prestigious luxury brands worldwide can be found.
Brands like Hermès, Aquazzura, OMEGA, Rolex, Saint Laurent, Valentino, and Zegna are in the mall.
But let's be honest. That huge mall is not about "shopping"; it has visitors and is a statement for all those brands occupying the space. Still, it is worth visiting for the experience.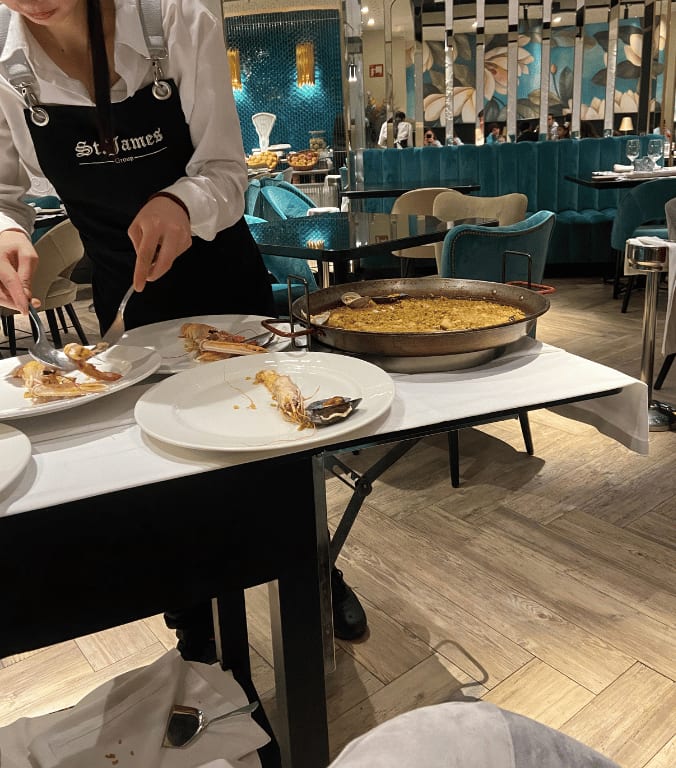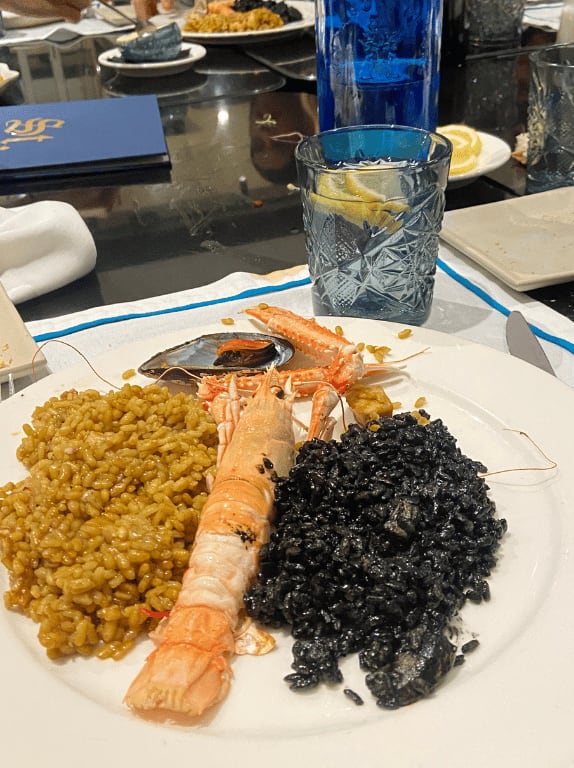 On top of that, Galeria Canalejas also has a food hall that I highly recommend you try.
It has high-quality restaurants and food on the first floor, an excellent gastronomic offer, and proposals from renowned Michelin-star chefs. For example, Saint James prepares great rices you should try!
And, if you don't want to sit down and have a full-course meal, don't worry because they have their own "street market" inside the mall with top and trendy bars like the restaurant Salvaje, where you can go to grab drinks.
To see other top restaurants you can't miss in Madrid, visit the following article: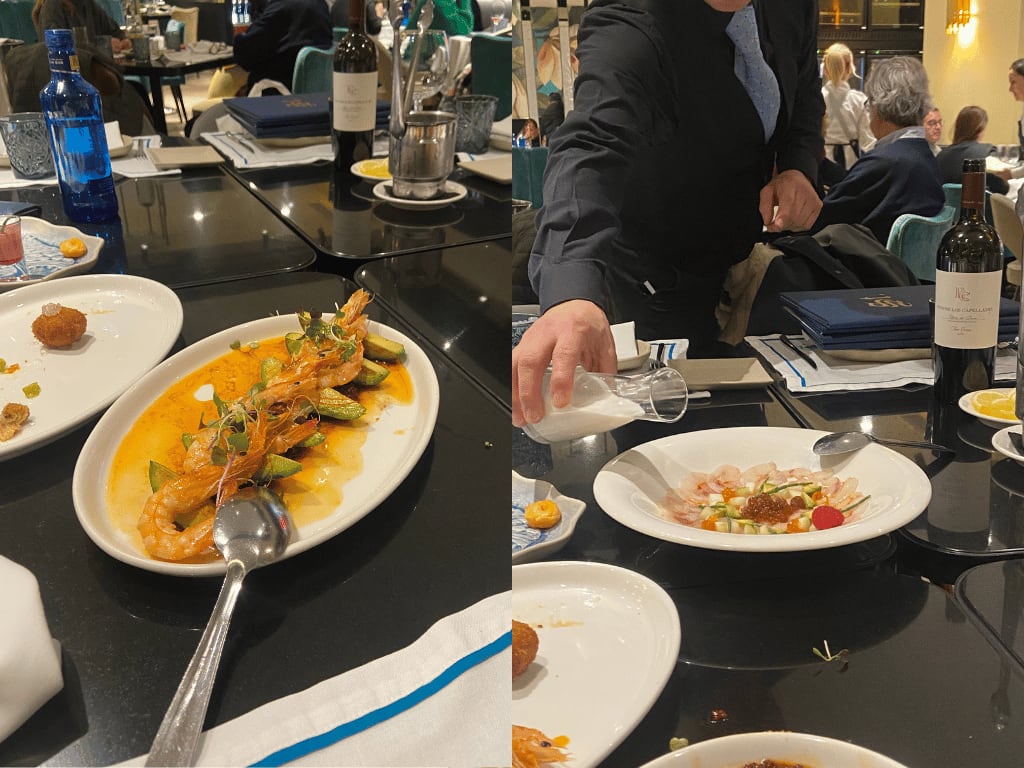 Also, they have other options for tapas, beers, and cocktails that are worth trying. Moreover, if you're visiting with children, Amorino is the perfect place to grab an ice cream and coffee in Galeria Canalejas.
---
Malasaña
Malasaña is a wonderful neighborhood in Madrid. It has it all. Bars, clubs, food, the best specialty coffee shops in town, and vintage stores to get good thrift deals.
I add this neighborhood to this list because it's another place other than a street, mall, or Outlet where you should go shopping.
This location primarily attracts young people who identify with the alternative community.
These stores offer second-hand or pre-loved items from the sixties to the eighties.
For example, The The Storage offers its visitors vintage denim stockings, including the iconic '70s dungarees to original Levi's from throughout the decades.
Also, Americans love Quality Sportswear. It specializes in pre-loved items of designer clothing, retro sportswear, vintage fashion, and collectibles. Another one is Alphaville, which stocks clothes and accessories from the United States (mainly).
There is also Ekeko, with recycled handmade clothing.
As you can see, Malasaña has a lot to offer when talking about second-hand boutiques and vintage stores. It is one of the go-tos if you're looking for a vibrant vibe while strolling the streets of Madrid.
As you can see, Madrid has a lot to offer when it comes to shopping. The fashion industry and clothing in Madrid are a big deal.
We've even done interviews about it! Look what people have to say about what we wear in Madrid:
Fun, right? Hope this article was helpful and let me know other places to find good deals in Madrid! I'll be happy to read you :)