15 Best Beach Holiday Destinations in Spain (by season)
July 28, 2023
Updated:

September 6, 2023
Published: July 28, 2023
Has it ever happened to you that you dream of the beach while enduring a hard winter? Most of us dream of enjoying the warmth of the beach and the sun's rays during winter, and it is very possible.
If you are looking for beach holiday destinations for winter, summer, Spring, and autumn, I have got you covered!
This article will give you the 15 top beach holiday destinations to book for your next trip. The article is divided by season, so you can choose a beach any time of the year.
With no further a do, let's get to it!
Best Beaches for Winter Holidays
Learn more about how to spend your winter in Spain☃️

Explore Barcelona's Winter Charm: 11 Cool Things to Do

Madrid in Winter: 13 Cool Things to do in this Magical Season

Winter in Mallorca? 7 Best Plans for the Perfect Off-Season

Seville's Warm Winter: 11 Top Things in our Best Season!
1. Tenerife (Canary Islands)
December, January, and February are tranquil winter months. December comes with so much hustle and spending that January and February are months to retrieve, rest, and save money for summer. 
However, if budget is not a problem and you have holidays within the winter months, your destination is Tenerife. 
Tenerife, the capital of the Canary Islands, is located on the off-northwestern side of Africa, right next to Morocco. It is one of the biggest islands of the Spanish Atlantic archipelago. 
Because of its tropical location, close to the equator, Santa Cruz de Tenerife enjoys mild temperatures during winter. Ranging from 18°C to 23°C (64°F to 73°F), this beach destination is significantly warmer than many other European destinations during winter.
One of the most important because the island is the "Playa de las Teresitas," renowned for its golden sand, enjoyable waves, and stunning beachscape. 
Besides Playa de las Teresitas, Tenerife has other gems such as Playa Benijo, Los Cristianos, and the Adeje Coast. The calm, crystal-clear waters make it ideal for swimming and snorkeling, and the surrounding palm trees provide a relaxing and tranquil atmosphere.
Playa de las Teresitas was rebuilt in 1970, and its sand was imported from the Sahara desert.
Winter is the best season to visit Tenerife, as it is also the lowest for tourism, so that you can find great travel deals during these months. 
The best place to stay in Tenerife is Costa de Adeja. This area has plenty of hostels, restaurants, and activities that will allow you to have everything you need right next to your accommodation. 
For your stay, I recommend renting a car and driving through the island to make the best of your journey. 
Visit the Teide National Park and marvel at the tallest mountain in Spain. You can choose hiking and stargazing activities that will give an amazing plus to your trip.
Learn how to rent a car in Spain 👉 Travel Spain by Car: Top 25 Rules Foreigners Should Know!
2. Malaga (Costa del Sol)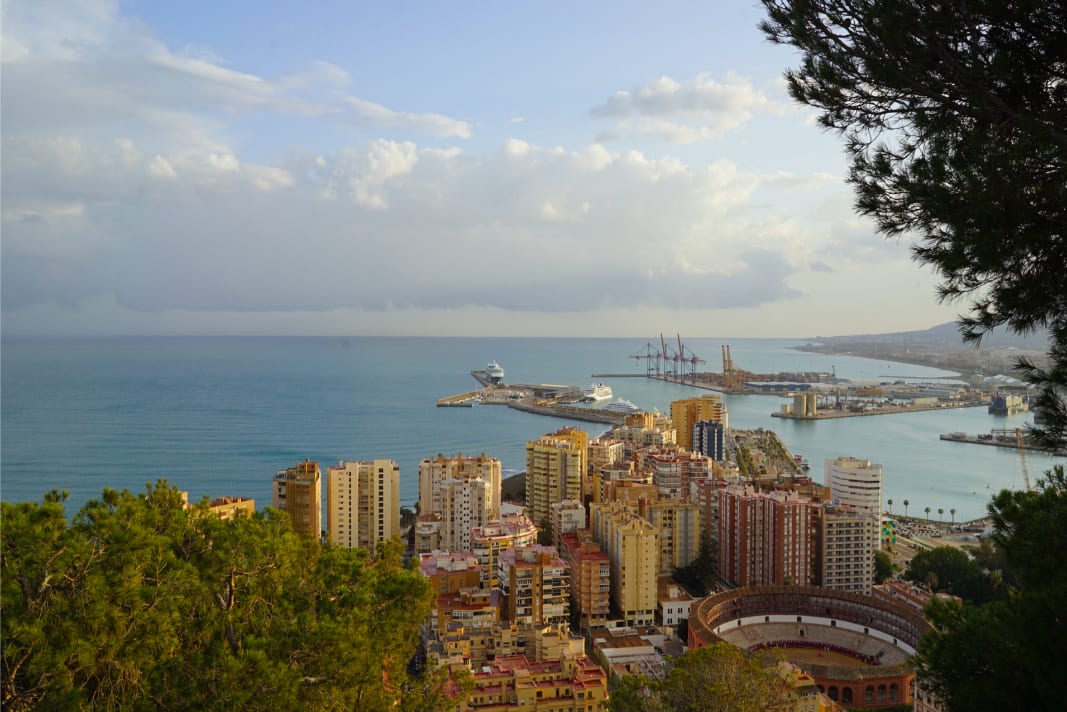 If you travel in peninsular Spain during winter, your beach destination should be Malaga. The coastal city of Andalusia guarantees days of sunshine even in February, as it is located in the southern area of the community.
During winter, Malaga enjoys a pleasant Mediterranean temperature ranging from 12°C to 18°C (54°F to 64°F). These temperatures usually go with nice, sunny weather that makes spending a day at the beach possible.
Expect a lively promenade lined with restaurants, bars, and shops. The beaches are well-maintained, and the calm waters make it suitable for swimming and water sports.
Marbella is one of the most beautiful day trips you should do from Malaga. Reknown for its luxurious Puerto Banús, this white town has plenty of stunning beaches, such as Guadalmina, Playa de la Fontanilla, Playa del Faro, and Rio Verde, which will offer crystal blue waters from the Mediterranean.
Two of the best locations to stay in Malaga are the Centro Historico (Old Town), which offers lots of history, restaurants, and small shops; this location is best if you are a first-time visitor to the coastal city.
Another option is Pedralejo, fifteen minutes away from the Old Town, which offers a peaceful setting for a beach vacation. Pedralejo is an idyllic beach town for your next beach holidays.
Best Beaches for Spring Holidays
Learn more about how to spend your spring in Spain🌻**:**

Barcelona in Spring: 9 Reasons Why It's My Favorite Season

Spring in Madrid: 13 Best Places To See & Things To Do

Mallorca in Spring: 7 Reasons Why It's My Favorite Season

Visit Seville in Spring: 10 Best Activities, Places & Food

10 Best Spring Destinations in Spain: Weather & Fun Activities
3.Tossa del Mar (Costa Brava)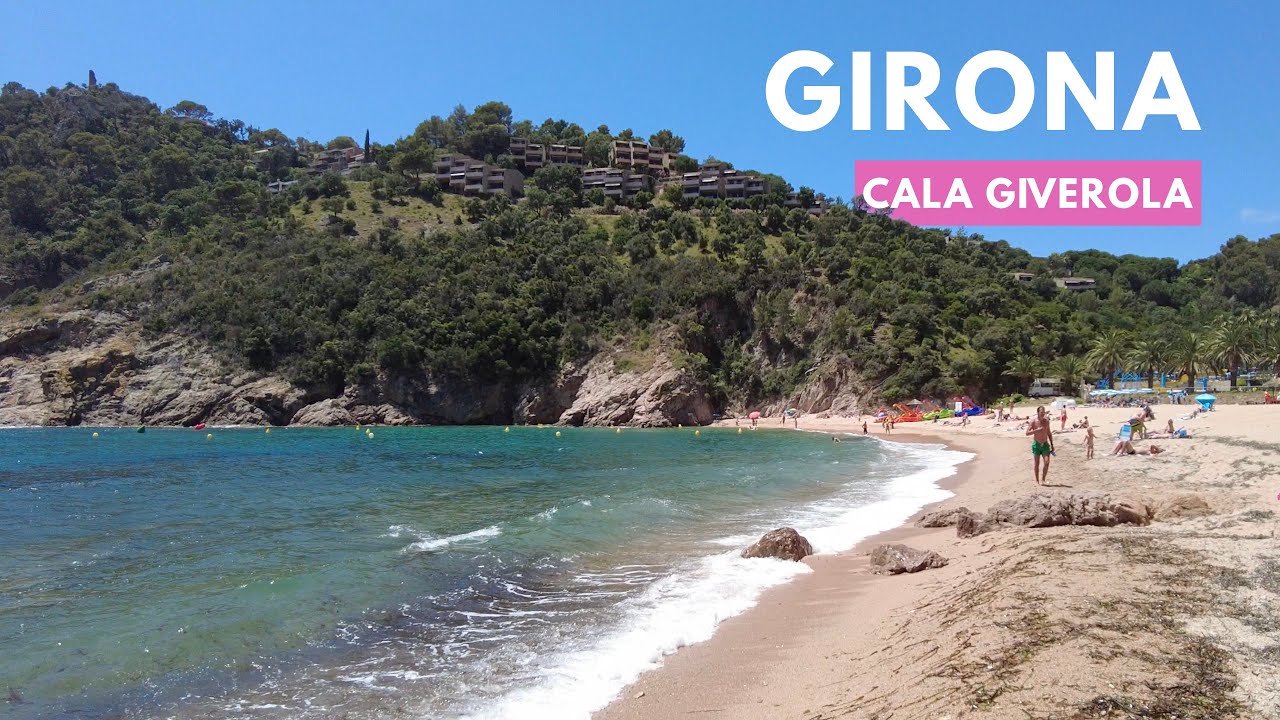 Spring is the pre-season to summer, prices start to rise, people start to move, and beaches begin to host bigger and bigger crowds. 
Catalonia is one of the most popular regions in Spain thanks to its capital, Barcelona, and its stunning coast, the Costa Brava. The Costa Brava is located in the northeastern side of Spain and stretches along the Mediterranean. 
Tossa del Mar is just one of many, many, many beach towns in the Costa Brava, but the Tossa del Mar is a stunning gem where you can spend your spring beach holidays with temperatures ranging from 12°C to 20°C (54°F to 68°F). 
Tossa del Mar offers great things, such as a Roman Villa, a 12th-century castle, the 15th-century Saint Vicent Church, clear blue calas, and Mediterranean food.  
Tossa del Mar is a coastal town, so you have two options for your accommodation. You can choose between the Old Town, just like in Malaga, where you will have a lot of facilities way closer, or you could go to outer parts like the camping areas like La Pola I Giverola.
For more beach experiences in Catalunya🍹**!**
4. Ibiza (Balearic Islands)
Read more on:
Ibiza is a very well-known name outside and inside Spain. It's the destination everyone wants to book for summer to enjoy stunning calas and international parties. 
However, we are not recommending Ibiza for summer but Spring! Choosing Ibiza as your beach holiday destination in Spring will guarantee cheaper offers and less crowded beaches to enjoy by yourself or with your family. 
Ibiza is located in the Mediterranean Sea, the third biggest island in the Balearic archipelago. From March to May, Ibiza enjoys warm temperatures during the day and ideal breezes at night, ranging from 13°C to 23°C (55°F to 73°F), it's a perfect time to enjoy the island's natural beauty before the summer party season kicks in.
Ibiza is full of crystal clear calas such as Vala Bassa, Cala Comte, and Cala de Portinatxn, with plenty of restaurants and stores and a historic old quarter; Dalta Vita is considered the best preserved coastal fortress in the Mediterranean. Another hidden gem in Ibiza is Sa Caleta, the nearby Phoenician settlement, and the necropolis at Puig des Molins also form part of Ibiza's UNESCO World Heritage assets.
Even though Ibiza has a party reputation during summer, the island is peaceful and calm during the rest of the seasons.
If this is your first time visiting the island, I recommend staying in the Old Town or Dalt Villa. This UNESCO World Heritage site is the perfect place to learn about the city and see life through the eyes of its residents. 
If you want a more beachy option, head to Cala Talamanca. Here, you will experience a quiet beach stay where you can take long promenades and enjoy a delicious dinner at the terraces.
Best Beaches for Summer Holidays
Learn more about how to spend your summers in Spain☀️**:**

Summer in Spain: 10 Best Places To Visit & Weather Info

Summer in Madrid: 10 Fun Activities You Can't Miss!

Summer in Mallorca: 13 Best Things To do (or Avoid!)

Summer in Seville: 13 Top Activities to Beat the Heat
5. Alicante (Costa Blanca)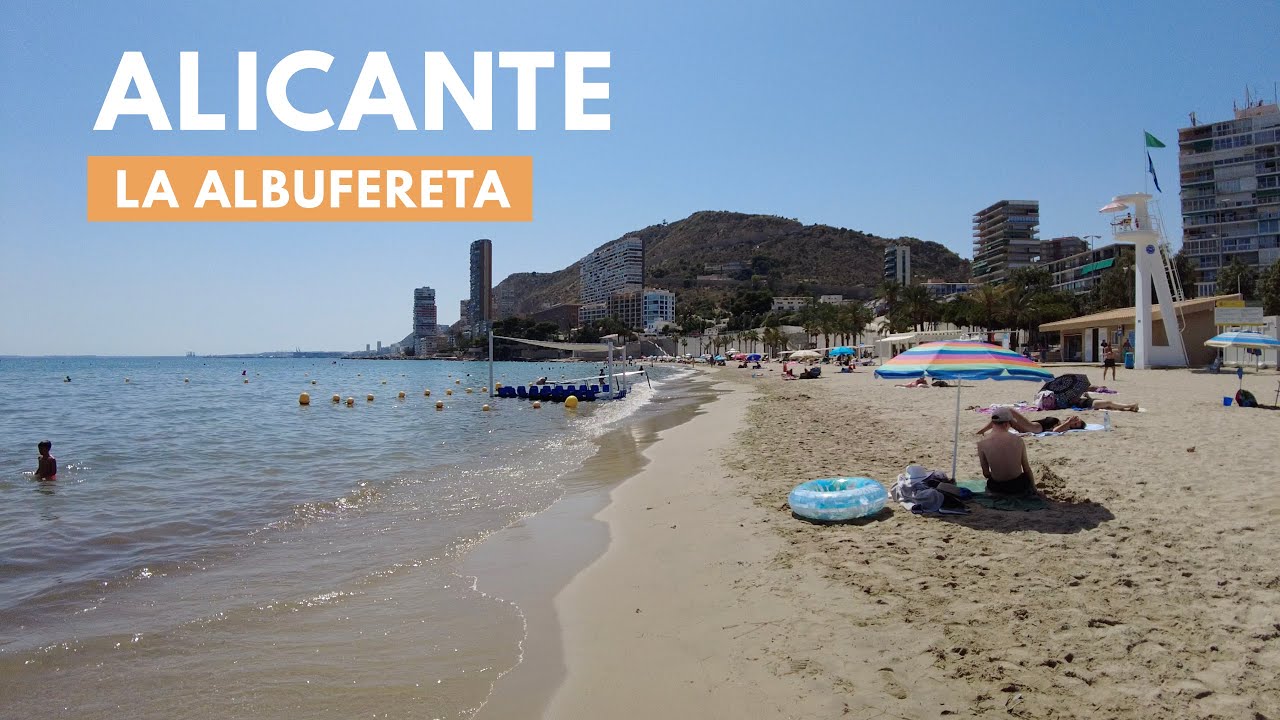 Alicante is a stunning Mediterranean city located in the autonomous community of Valencia. It is situated to the south of Valencia, and I must say that it is one of the most underrated holiday destinations in Spain. 
Because of its strategic position, travelers use Alicante as a transportation hub to travel to Benidorm. But this small coastal city has much more to offer than you would think. 
First, as part of the Costa Blanca, Alicante has a long coastline and vibrant beach towns. During Summer, the temperatures in Alicante change from 23°C to 32°C (73°F to 90°F), what temperatures all travelers want after a long working year. 
The Costa Blanca is a perfect hotspot for water sports, beachfront restaurants, and entertainment options. Other popular destinations that compete with Alicante are Benidorm and Calpe, which have bustling promenades, lively nightlife, and family-friendly beaches.
In Alicante, you can spend some beach time at Playa de San Juan, and I highly recommend getting on the bus ALSA - Ali-Val Gl Valencia to visit the stunning beach at Altea. Another great beach just 15 minutes away from the city is Playa Albufetera; you can take tram number 1 or 3 to get there (video).
Now, in Alicante, I recommend staying at San Juan Beach for a peaceful and delay beach holiday accommodation. San Juan is a resort town with a beach five minutes away from your accommodation. This water sport-friendly location offers many restaurants for open-night dinners. 
An hour's drive from Alicante lies the Platja Granadella, with crystal clear waters and peaceful water where you can swim and snorkel.
6. Menorca (Balearic Islands)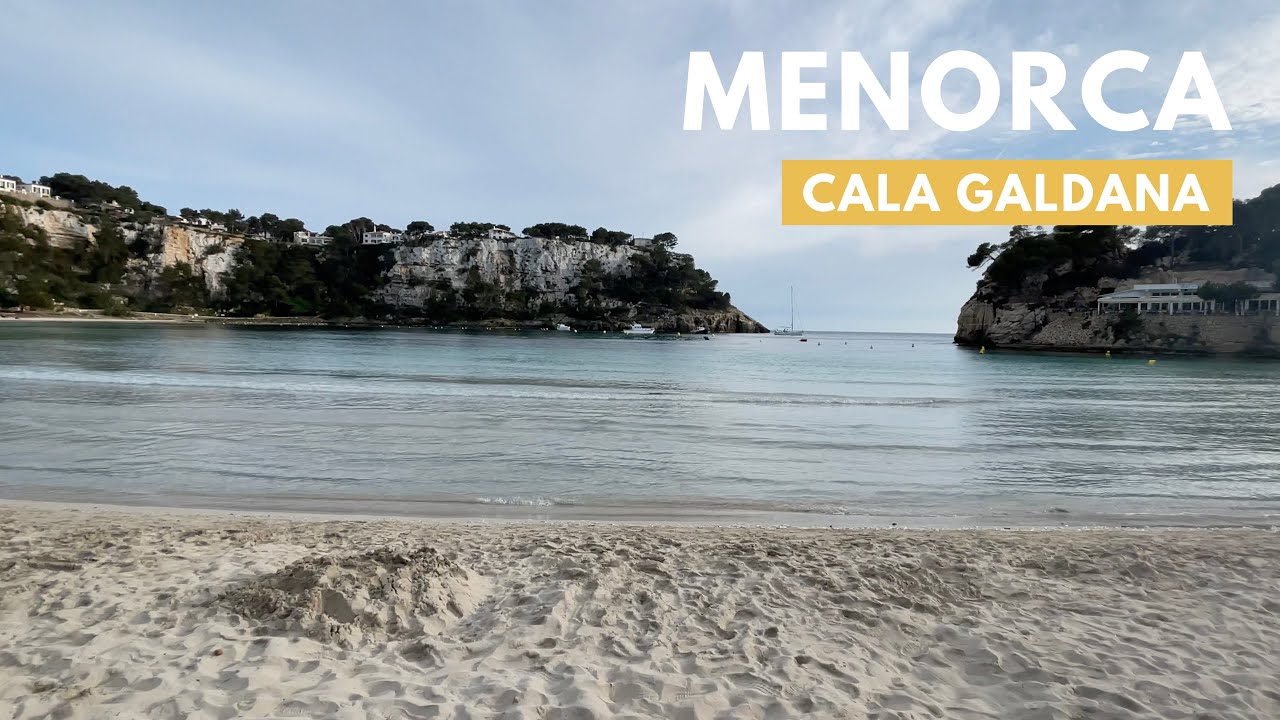 When people talk about the Balearic Islands, they usually choose Ibiza or Mallorca. However, Menorca is an equally stunning island that gets less attention. A perfect quality when choosing a holiday destination!
Menorca is located to the north of Mallorca in the Mediterranean Sea. During summer, it offers high temperatures that range between 20°C to 30°C (68°F to 86°F). This island has a bit fewer tourists than Mallorca or Ibiza, so you will be able to enjoy less crowded beaches.
So, what beaches should you visit in Menorca? Cala Macarella, Cala Turqueta, and Cala Galdana. With white sand and turquoise waters, these beaches will offer full-on relaxation and paradisiac views.
Suppose Menorca is your beach holiday destination, and you have never been to the island before. In that case, I recommend staying at Mahon (the capital) to enjoy the charm of the Old Town, cute shopping corners, and delicious restaurants.
Suppose you prefer a quieter place, head to Binibeca. This is a beautiful coastal white village 20 minutes from the capital. Binibeca is a water sports town with stunning calas like the Cala Torret and Cala Fondo. You will have a regular bus line and supermarkets with British products.
Did you know that Menorca makes its own wine and gin? Choose a vineyard on the island and experience a wine tasting. Prefer gin? Book a visit at the Gin Xoriguer factory and get to know the place alongside some gin degustation.
7. Almeria (Andalusia)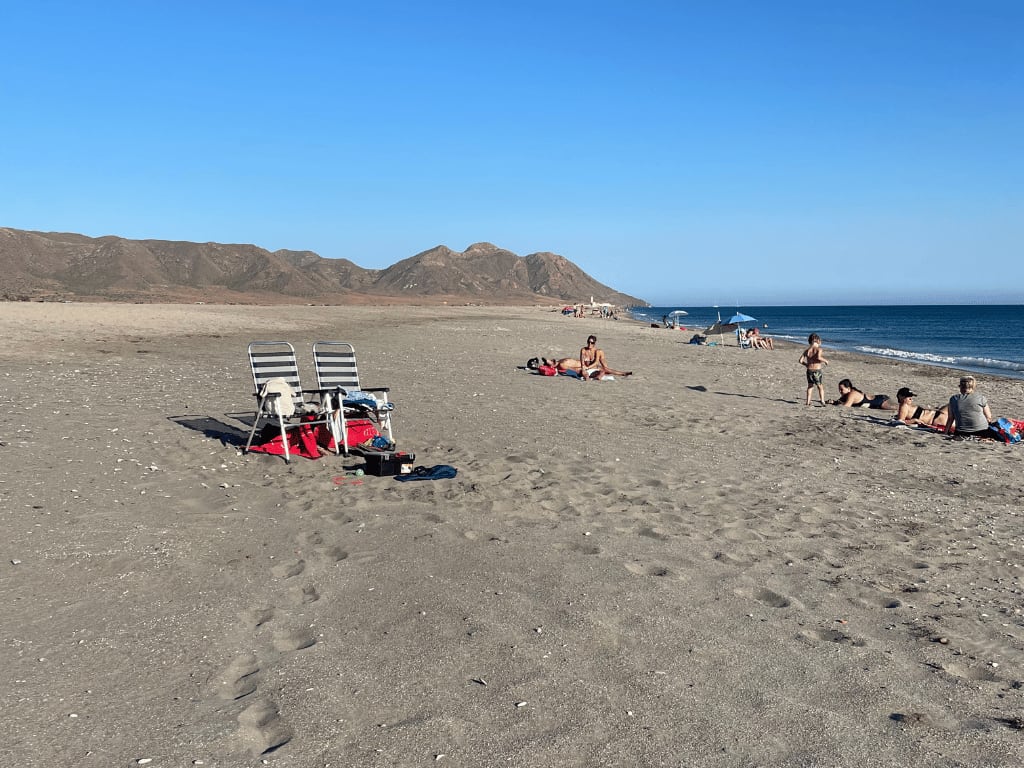 Almeria is located on the eastern side of Andalusia and is mostly known for their excellent agriculture and greenhouse, more than for its beaches. However, I believe what I just mentioned makes it a great quality for a summer beach destination.
Almeria doesn't have the charm of other southern cities like Malaga or white villages like Frigiliana. But this underexplored city offers stunning beaches, great food, and affordable prices.
In Almeria, temperatures range from 24°C to 32°C (75°F to 90°F), which can make it incredibly hot during peak hours. From the landscapes, you should expect a desertic view (the only one in Spain) and a stunning combination between mountains and sea.
Regarding staying in Almeria, I recommend renting a car, public transport is a bit slower, and villages like Roquetas de Mar are a better option for finding a cute accommodation close to the beach. Renting a car will also give you more freedom regarding mobility and getting some groceries with you.
The top beaches I recommend in Almeria are Playa de los Muertos, Playa Las Negras, and Playa Aguadulce.
Best Beaches for Autumn Holidays
Learn more about how to spend your summers in Spain🍂**:**

Seville in Autumn: 13 Best Activities to "Fall" in Love!

Barcelona in Autumn: 10 Best Activities to "Fall" in Love!

Madrid in Autumn: 15 Best Activities to "Fall" in Love!

Top 9 Reasons to Visit Mallorca in Autumn

5 Best Autumn Destinations in Spain: Weather & Fun Activities
8. Cadiz (Costa de la Luz)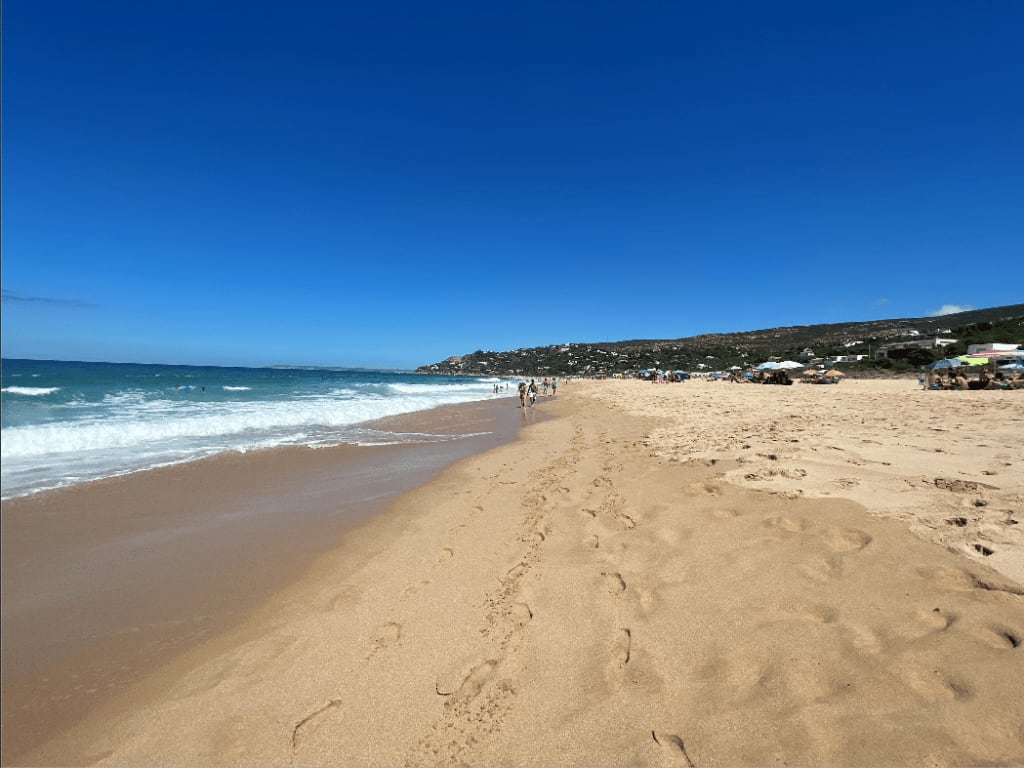 Cadiz is a stunning little paradise in the southernmost tip of Spain; it is the perfect beach holiday to choose for when autumn climbs through your window and makes you double up the heater. 
Caliz, on the western side of Andalucia and the capital of the homonymous province, is right in the middle between Portugal and Morocco, along the Atlantic coast. During autumn, Cadiz enjoys warm and pleasant weather, with temperatures ranging between 18°C to 26°C (64°F to 79°F). It's your perfect opportunity to enjoy the beach after a crowded summer. 
If you choose this coastal city as your holiday destination, you will have plenty to do! First of all, you will enjoy golden sands, rolling dunes, and clear waters. Also, if you are active, now you can enjoy plenty of water sports like windsurfing and kitesurfing. 
If there is not enough sun during one of your holidays, then take a walk in the old town and discover the Baroque Cathedral that took 116 years to build. 
If you are a history lover, book a tour of Baelo Claudio! One of the first Roman settlements in Spain. The Romans' archeological site is located 1 hour from the city of Cadiz, and you can get there by car or a booked tour. 
Two of the most stunning beaches next to the city are La Caleta Beach and Fuentebravia Beach. I recommend renting a car so you can drive to Tarifa and Jerez de la Frontera. 
In October 2021, Baelo Claudia was used as the set for the Netflix series 'The Crown.' It was filmed as Princess Diana's visit to Egypt in 1992.
9. Gran Canaria (Canary Islands)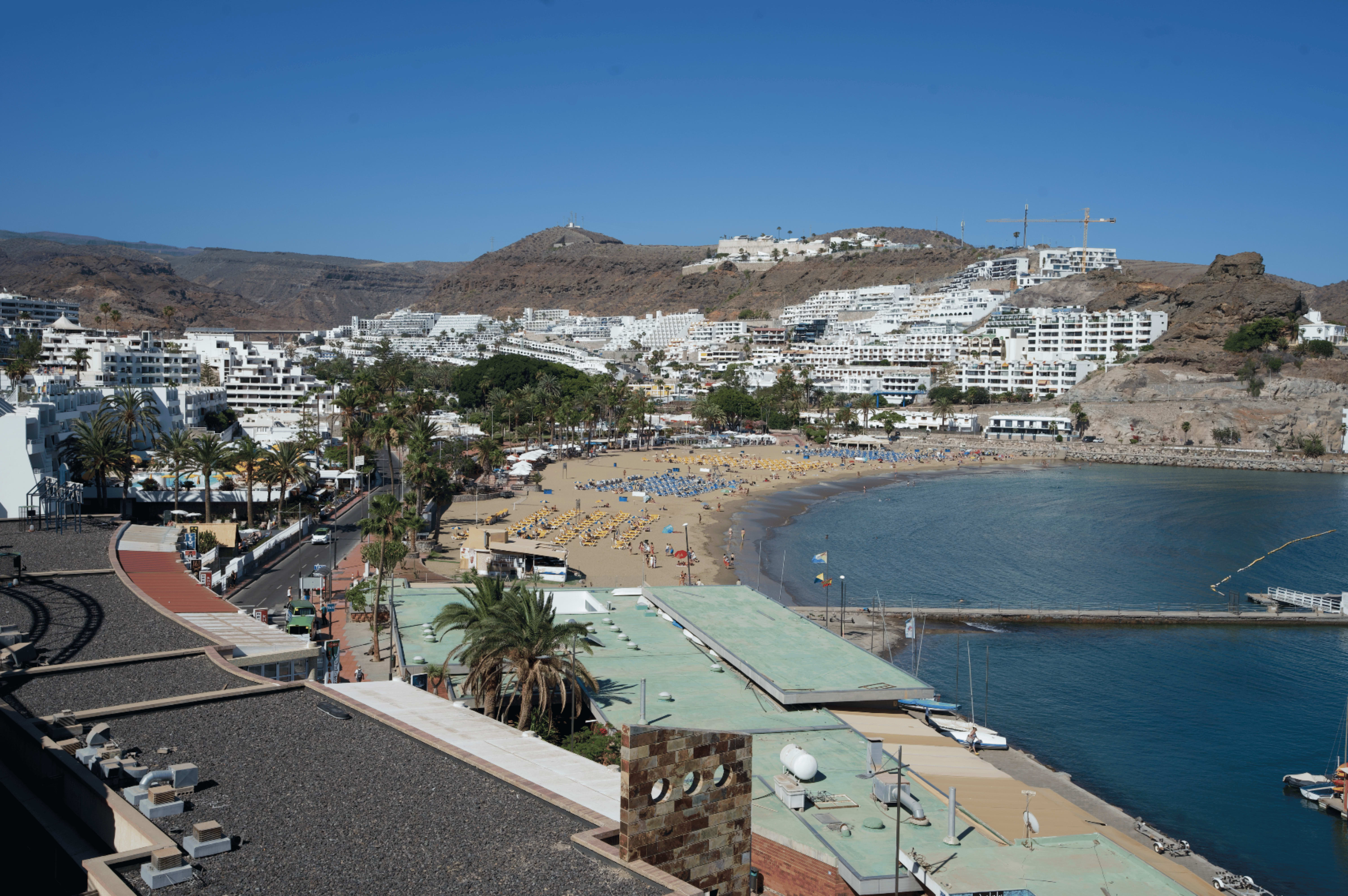 Gran Canaria is part of the Spanish Atlantic archipelago, the Canary Islands. It is located between Santa Cruz de Tenerife and Fuerteventura.
Gran Canaria is famous for its marked contrast; you will enjoy stunning beaches, dunes, and hikes in ancient craters and mountainous pathways like the Caldera de Bandama or Roque Nublo.
During the months of autumn, Gran Canaria enjoys pleasant warm temperatures, ranging from 22°C to 28°C (72°F to 82°F). The island offers a mild climate all year round.
Playa del Inglés and Maspalomas are known for their wide sandy shores and various water sports. You can also explore the iconic Maspalomas Dunes and enjoy a lively atmosphere in nearby resorts.
Note: Playa del Inlgés has a lot of movement and part during the night, so it might be better to avoid it if you don't enjoy the partying environment. Instead, go to Playa Amadores for a more calming experience.
You can also enjoy an afternoon at an old western movie set in Sioux City Park, exploring a "saloon" and watching a cowboy show.
Finally, I recommend staying in Puerto Mogan or Puerto Rico, suitable for families and couples.
Best Beaches for Year-Round Holidays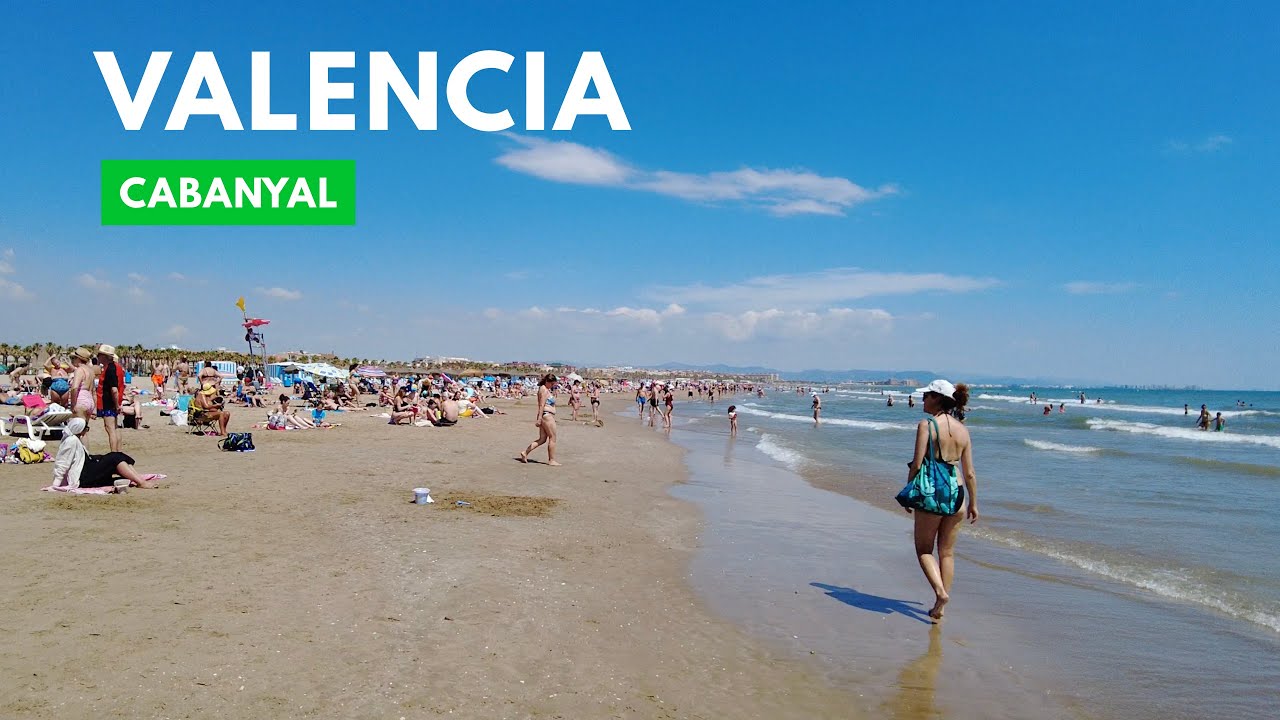 All the coastal cities above are my best recommendations for holidays at the beach in the different seasons of the year. However, if you want more options, I will leave you a list of the other six beaches you can vacation at on your next trip. 
10. Fuerteventura (Canary Islands)
Best Beaches: Corralejo and Sotavento beach; there are stunning beaches in Fuerteventura with crystal clear waters. 
11. Tarragona (Costa Dorada)
Best Beach: Llevant Beach in Salou is a popular choice, offering a wide range of amenities and activities.
12. Asturias (Costa Verde)
Best Beach: Playa de Barro is a hidden gem along the Costa Verde, perfect for those seeking a quieter and more secluded beach escape. Compared to the other two, Asturias is in the northern part of Spain, and it enjoys cool weather during the winter months. Praia del Barro is perfect for Spring, Summer, and even Autumn; during winter, you need to wear warmer clothes and enjoy the ocean breeze. 
13. Granada (Costa Tropical)
Best Beach: Playa de San Cristobal is a great choice for those looking for a year-round beach experience with Andalusian charm.
14. Mallorca (Balearic Islands)
Best Beaches: Both Palma Nova Beach and Playa de Alcudia are excellent choices, depending on your location and preferences. I don't recommend Mallorca in Summer; it is overcrowded and overpriced! It is best if you visit in Spring and Autumn. 
15. Valencia Beaches
Best Beaches: Malvarrosa Beach and El Cabanyal Beach are great choices for a year-round beach escape, offering a slice of Mediterranean paradise within the city limits. Valencia is sunny most of the year; during autumn and winter, nights might get a little chilly, but nothing that churros con chocolate can't cure. 
---
And there you have it! A list of 15 beaches and coastal cities to book for your next holidays in Spain. I hope you get to book amazing holidays, and remember; we are here to help!
If you have any doubts about traveling to Spain, leave us a comment and we will get back to you!